Nakivo 7.5 was just released. This is by far the best release ever as it includes multiple features that will change the way you look at the backup product. As VMware vSphere 6.7 is being adopted by the businesses, latest vSphere support comes at the right time. Another feature that will be praised by the enterprises is extended support for deduplication appliances.
If you remember, Nakivo added support for deduplication appliances in version 7.3, for major devices like EMC Data Domain, HP StoreOnce, Quantum DXi and NEC Hydrastor. With version 7.5, support has been extended to the very popular EMC Data Domain Boost – appliance which by Nakivo claims can reduce storage consumption by up to 17x and it can even accelerate VM backup. Please note that savings will vary, depending on the type of data. For example, you won't see such savings with compressed files, while on the other hand such savings can be matched when backing up databases and word documents for example.
Nakivo Backup and Replication 7.5 improvements
Let's take a look at all the goodies in the latest release
vSphere 6.7 support I think deserves a top spot. While this feature is nothing to brag about it is important to support the latest VMware version as enterprises are upgrading now.
Cross-Platform Recovery Wow, I was not expecting this. Imagine that your infrastructure is based on VMware only. Up until now, there was no way to export that data for Hyper-V or Amazon AWS. The same applies to Hyper-V or Amazon AWS backup. With version 7.5 you can choose the export format of your choosing – VMDK, VHD or VHDX. That is the amazing portable solution. Now you can migrate between the hypervisors easily or you could just export to various formats for archive purposes.
Advanced Bandwidth Throttling – Nakivo improved throttling functionality in the latest version. Extended functionality enables you to set up global bandwidth throttling rules. You can still use a per job rules though.
Netgear ReadyNAS VM Backup Appliance Nakivo is quickly extending NAS support to all the main vendors. In addition to WD, Synology, QNAP, Nakivo is supporting Netgear NAS devices in the latest version. In addition, Nakivo estimates up to 2x faster backup and up to 10x storage space savings which is pretty amazing.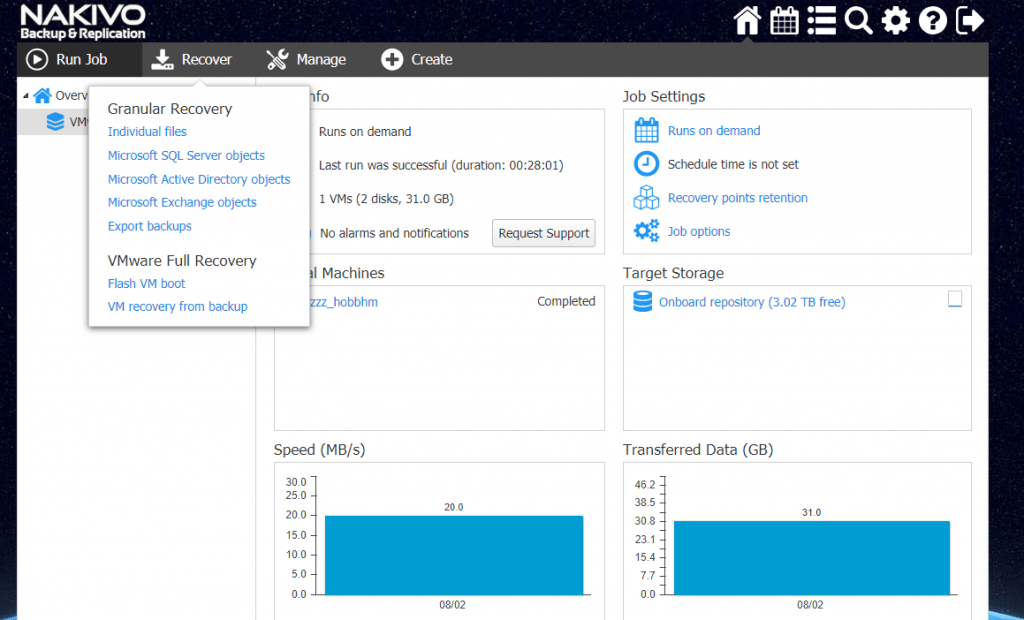 EMC Data Domain Boost Combination of Nakivo and Data Domain Boost can bring amazing results. You can expect a backup to become faster, much faster than what you were used to. If Nakivo is right, you can see some crazy numbers, even up to 15x increase in speed and you can expect better storage savings – up to 17:1 which is possible because EMC /Dell deduplication technology which is integrated into the appliance. Nakivo is officially certified by EMC Data Domain. If you have one, you can be sure that integration is perfect.
Small improvements that make the product even better
I like a Nakivo way of pushing out releases. Every point release brings some really important features. In addition, they add small bits and pieces that make the product even better, yet improvements are not so major as to bring out multiple bugs. Consistency is the key here. Let's take a look at what else is new:
Woot, Ubuntu users, you can use latest 18.04 LTS for Nakivo installation.
File recovery to a specific server was made the default option
IP address of the target server for File Recovery can be entered manually
Custom SSH port of the target server can be used during File Recovery
Hyper-V VMs created with Flash VM Boot can be migrated to production storage
VMs are seamlessly tracked across different Hyper-V inventory items
An ability to specify a certain start date for the job schedule was added
Maintenance end notification improved to be shown 60 days before maintenance end
Error messages for the File Recovery were extended
Performance of Hyper-V Transporter automatic selection was improved
VM templates are excluded from jobs automatically
Target host RAM requirements are checked more thoroughly
Temporary snapshot removal notification behavior was improved
Source VM is unlocked right after the temporary snapshot is removed
Conclusion
Nakivo again released a worthy update. It is packed with features and fixes yet is not so big in changes that would bring additional problems. My favorite feature is the ability to export backup to multiple virtual hypervisors. Having said that, I love the way how they extended bandwidth throttling and added ReadyNAS support. If you want, you can read the release log for all the changes. One thing is for sure, next release will rock.