The Backup Bible is a FREE e-book from Altaro that will teach you everything about the backup. It's great for beginners in IT as well as backup admins to explain everything about backup, data protection, and disaster recovery in an easy to understand way. But don't think that it is a newbie material. It's great even for well versed IT admins with plenty of experiences. If you follow the e-book to the end, it can serve as a blueprint for your company's disaster recovery plan. What is backup? When to use Cloud Backup? What is a Bussiness Process for Disaster Recovery? What is Replication? What is the difference between RPO and RTO?
My friend was working for a retail company. The company is quite popular, and you buy really nice furniture there. I was able to buy furniture at a discount, which was great. Now, about my friend. He was working as an Internet Manager. He was responsible for online advertising, e-commerce CMS, content, marketing activities, and social network activities.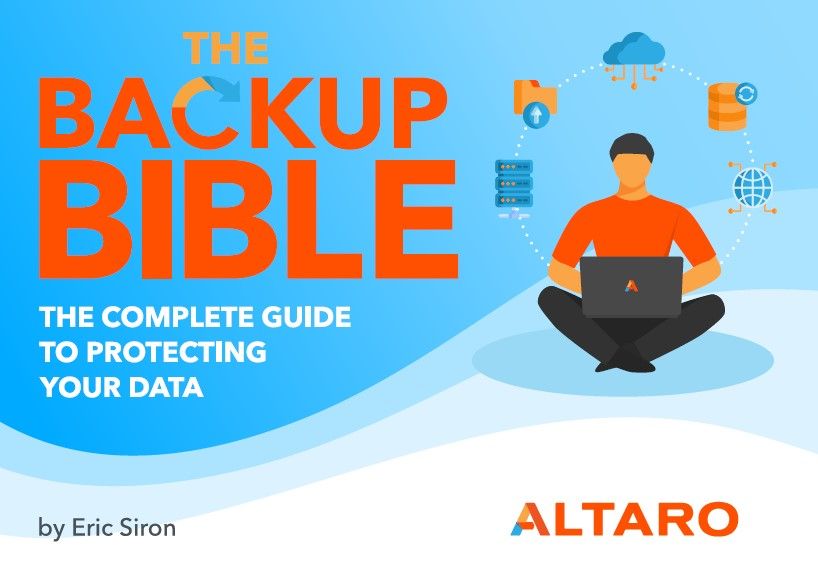 One day his phone rang. It was a director inviting him to a quick meeting. As it happened, the IT Manager was relieved of duties, and he was invited to step in. As he was the director's protege, he was selected for a quick replacement. He accepted. He needed a new challenge. Managing the IT department is a big responsibility. There are times when you need to learn and absorb as much knowledge as possible in the least amount of time. Taking over IT is one such example. We went out for a drink several times to explain IT and Backup & Disaster Recovery basics.
When you need to learn about the backup, you can google it. You will find hundreds of sites explaining the basics of backups. But usually, that is not enough. You can buy a book, spend some money and wait until you receive a book. Or, you get The Backup Bible from Altaro and learn all there is to know about data protection, business continuity, and the latest trends like cloud backup.
The Backup Bible free e-book from Altaro
What can you expect to learn from The Backup Bible? The first chapter starts with Creating a Backup & Disaster recovery strategy. You will learn the power of the Disaster Recovery Checklist. Once you go through it makes so much sense, and it is effortless to start with your backup project.
You will assess the risks that necessitate a disaster recovery strategy and get to know the common risks.
What is the difference between RTO (Recovery time objectives) and RPO (Recovery Point Objectives)?
This a common question when discussing backup. You will get the book's answer: RTOs establish the desired maximum amount of time before a system returns to a defined usable state. At the same time, RPO sets the maximum acceptable time span between the latest backup and the data loss event.
Another term that belongs to the same topic is Retention Policy. Do you know how retention policies influence data consumption? You will find a simple explanation of how 2-hour RPOs can increase data consumption by 250 GB per day In the book. Knowing this, you will be able to plan properly to have enough space for the backup.
Translating a business plan into a technical strategy is an important step. You can determine how IT will deliver a business continuity design. Once you break down the list of business items to applications and specify services that your organization uses, you will create a backup and replication plan and map the business-level items to the technologies that are in use.
Knowing how backup and replication works is just a small part of disaster recovery. We can prevent many problems by using fault tolerance where possible. You will learn where and when to use it. The most common use of fault tolerance is with storage devices and hard drives, but we can apply fault-tolerance on the operating system level. It is great that the author mentions caveats of fault-tolerance. Do you know the saying RAID is not a backup? We can improve reliability with High Availability. One such example is HA with clustering, for example, with Microsoft Servers. The author also lists services that can be used with High-Availability, like SQL.
Backup Best Practices in action
Backup is tricky. You don't know if it works until you need it. It is usually too late to fix backup configuration when the worst happens, and you are without data to restore. There are best practices for the backup. If you follow them, you minimize a chance for problems down the road.
You will learn how to choose the right backup software, the difference between free and trial versions, where to place backup software, consistency, and application-aware backup.
Backup Storage Targets
For effective backup, you can't back up your data to the same server where you keep your applications and data. Knowing types of backup mediums is essential for an effective backup policy. You can backup to magnetic tape, optical media, Networked storage, Cloud storage, etc… Knowing the options and price range, you can choose a perfect option for your organization.
Disaster Recovery and Business continuity blueprint
Disaster Recovery and Business Continuity is not easy. Especially if you never did something remotely similar. This e-book guides you on how to implement Disaster Recovery and how you can achieve Business Continuity. It also explains what services and technologies you need to use.
Perhaps the best part of the book is the many templates you can use. From checklists that you can use in the meetings for the planning phase, Risk identification, Data protection Questionnaire, IT Department checklist, Backup systems deployment checklist, Sample Backup documentation for a Small Organization, Sample Backup Documentation for a larger organization, and many more.
There many useful tips and best practices you can lean on to improve your procedures. It has many additional topics on backup and disaster recovery that It's hard to cover all.
I recommend reading The Backup Bible even if you are using the XYZ backup system. You will find many valuable things on more than 200 pages. Did I mention it is free?