If you remember, I covered AdRem NetCrunch review before. At that time I was Impressed by the product, so I wanted to check how the product evolved after several months. Boy, Adrem guys have a fast pace. So many improvements, they could easily bump the version up to v10. Now, as a reminder, I would like to point to the few facts why I like the NetCrunch so much.
Great looking Interface where you can quickly navigate and pinpoint the problems
Simple to use
Fast and low on resources
It looks like there is another feature which I just discovered and this feature is called a fast development pace. To me, it's important that a product I use daily keeps improving. Let's take a look what improvements you can expect from the latest AdRem NetCrunch version.
Review, Refine, Improve
I am a big fan of usability. There are two type of software products I think. The first type of product is created by nerds for nerds. You need a couple of hours and a manual just to figure out how the product works, then how to configure it. A Second type of product is a software created for the people by the people. Where first priority is  how people will use it.
NetCrunch is in the second group. It's amazing that guys sat down and reviewed their interface. There are many improvements that improve interaction with the program.
Visual improvements
In previous versions, you saw the same page when you were navigating in the Atlas. In version 9.3, AdRem implemented Smart Pages. The program automatically selects the most relevant content to your selection. That means that navigation becomes intuitive as the most appropriate content is served . You still have the ability to override "smart pages" and set the page manually.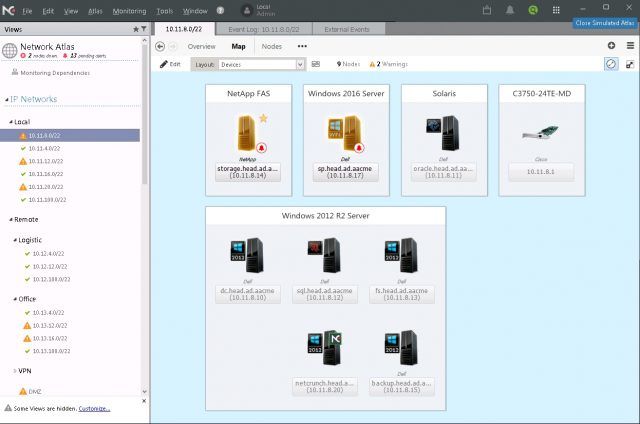 Better Layer 2 maps
NetCruch always had great looking layer 2 maps. In the latest version, you can now see, in real-time, inbound and outbound traffic. That way you can easily spot devices which are over utilized.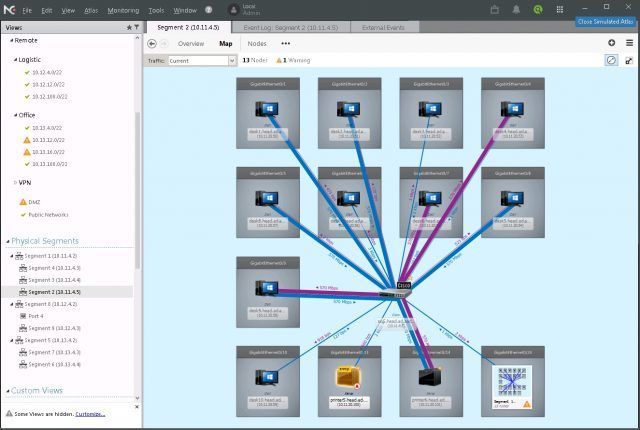 Nodes overview dashboard
Dashboard was always a great asset of NetCrunch. With version 9.3, they made many improvements which make it ideal for views with up to 50 devices. The goal of improvement is that you get a better overview of your devices, faster. You will see more information about devices in the view. That way you don't need to drill down to get to the bottom of the problem. Information is there and visible.
Let me tell you about my case, I had today. A technician called me from a remote location. Apparently, they had an issue with the speed of the network. Transfer speed should be around 1MB/s, but it was merely 6Kb/s. With Netcrunch is so easy to pinpoint affected router, down to a switch and to the port which is flooding the network. A problem is solved almost instantly.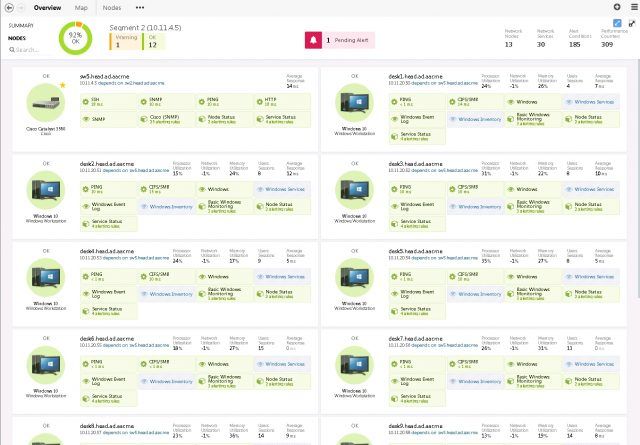 Improvements in Search
In the latest version, search functionality has seen many improvements. Now, when you start typing, NetCrunch will present multiple options for the same term.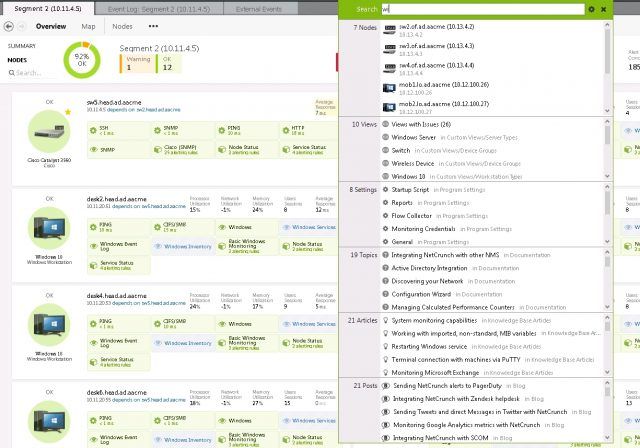 Multiple monitoring credential profiles
One of the improvements which I was really looking forward is multiple credentials manager. You may have a network, Linux or Windows devices which require multiple credentials. For example, you may use one SNMP community for Cisco routers, the second community for printers and so on. Or you may have one credential for Linux web servers, one Linux credentials for database servers and so on. The same could be also true for Windows, where you need to monitor multiple domain accounts. The possibilities are endless.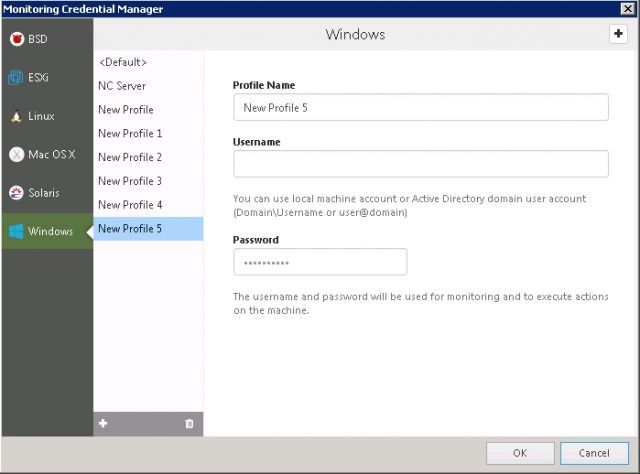 Settings improvements
Settings are often overlooked in terms of usability. You can decrease a time needed to set up the system, or you can increase the time and frustrate the user if the settings are hidden or being logical. I think that having logically organized settings makes a huge difference in every product. In the latest NetCrunch version,  all the settings are on one page. In addition, settings are searchable, meaning that you will spend less time finding the setting you need.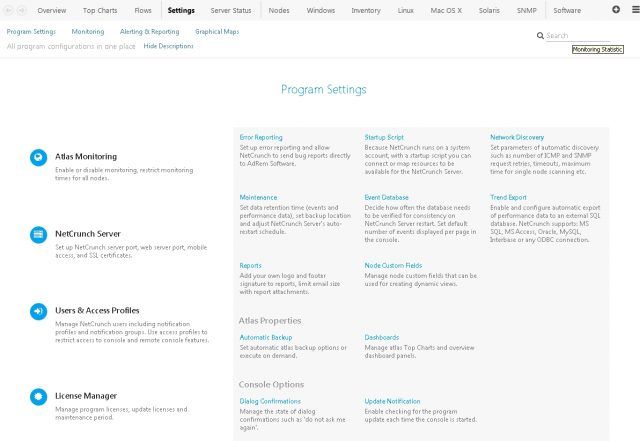 13 additional alert integrations
Latest NetCrunch 9.3 added 13 new integrations with the most popular ITSM tools:
For example, you can configure NetCrunch to automatically open a ticket in a Helpdesk of your choice, send a message via Twitter, Slack, Pushover about the issue in your infrastructure. This feature is really important. Partly also because in order to use the alert notification, a configuration has to be simple and fast. Support for major services is there and so is simple configuration.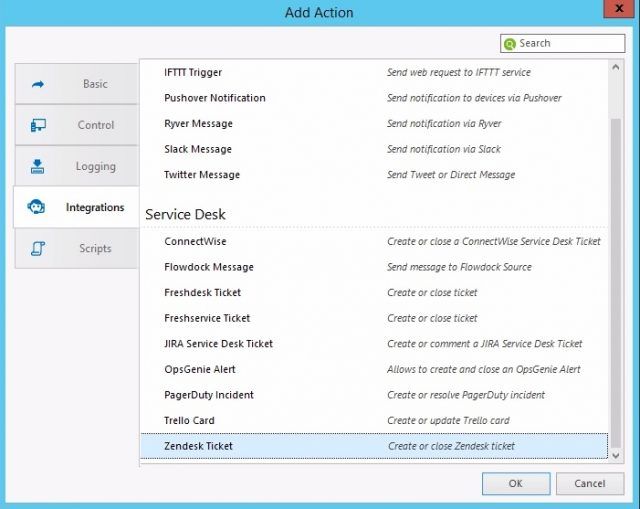 API Interface
Adrem implemented REST API in NetCrunch 9.3 via generic agent data sensor. It allows services to send status values so that it makes it easier to visualize statuses.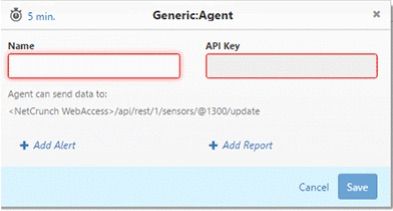 Under the hood Improvements
There are many improvements which make using version 9.3 a better experience. Some of the more popular are:
Domain re-scanning – in order to discover new nodes, a domain can be automatically re-scanned.
Top menu has been redesigned as part of usability improvements
Atlas Rescan – you can now re-scan the whole atlas, for example when you add new SNMP profiles.
Display Name – you can custom name nodes globally before you could only do it on a per view basis.
Backup finished event – When a backup is complete, you get notified by the event.
Event Suppression – Event Suppression has been improved
Proxy support – Proxies are now supported with HTTP sensors
Documentation – documentation has seen a lot of updates with new topics and content
Console – The Administration Console uses about 30% less memory compared to the previous version
OpenSSL – OpenSSL is now at version 1.0.2j
Conclusion
NetCrunch v9.3 has been greatly improved. What I like with NetCrunch is that it receives constant updates, some which can improve performance greatly on already totally optimized software. Did you know that NetCrunch uses a 3 layer performance booster technology? First, it uses RAM to store the most important data – data which is accessed frequently, Then it uses an embedded and NOSQL database for the best performance. In addition, a lot of thought has been put in usability. How we, IT people use the product, what information we need to see on a dashboard to act proactively.
Great update overall. You can download a no limit – 30 days trial on Adrem software website.