Altaro started their VM backup on the Hyper-V platform. They made this decision easily as VMware backup market was already crowded with various backup products. Their decision was a right one as they were chosen by many established companies who started using or migrated to Hyper-V.
Altaro was reviewed before on ITSMdaily and it scored very well, but what makes the latest version so special, are the features which make Altaro VM Backup a complete backup solution. Altaro supports both, Hyper-V and VMware. The latest version brings Windows Server 2016 support. It also brings what Altaro calls Augmented Inline Deduplication. Let's take a look at the new Altaro VM Backup 7.
New look for backup server
Altaro user interface was always great looking, I think it was one of the best. With the latest version, Altaro reviewed the interface and found areas that could be improved. They made the product more accessible to the end users and created a brand new look. It's like a BMW that always looks good, but with every new version, it brings some refinements and makes driving the car better, easier, faster, quieter. Improved UI really shines.
The first time you start Altaro VM Backup, you will find a dashboard which has a quick setup wizard to guide you to do the basic configuration. The basic configuration enables you to start backing up your infrastructure quickly. With the help of the wizard, you will add Hyper-V and or VMware Host. You will set up a backup repository and you will take the first backup.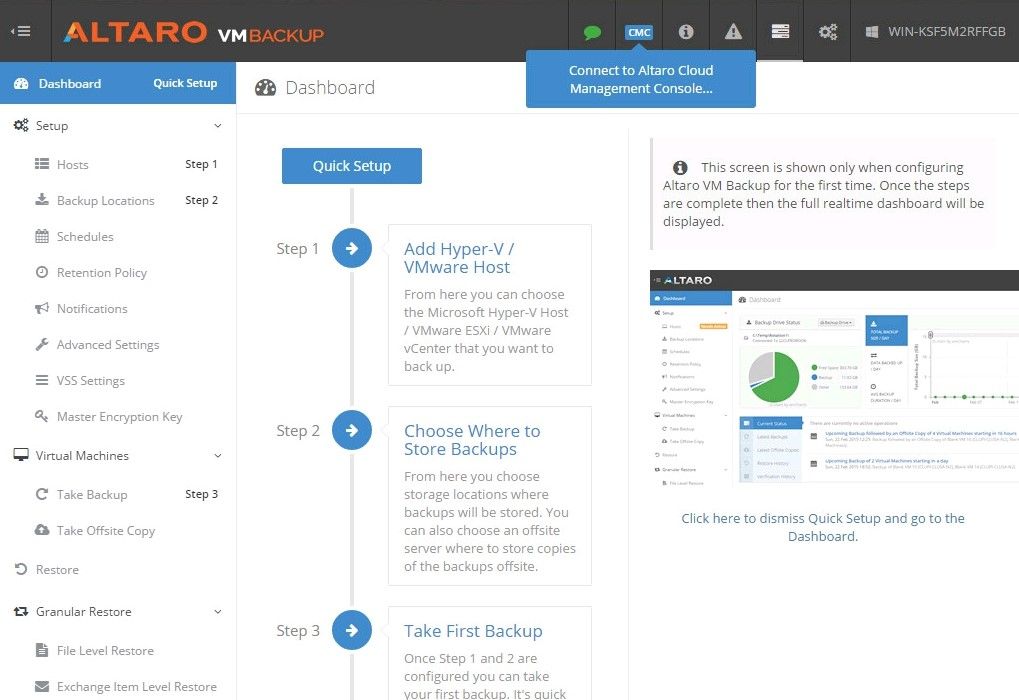 Experience for first-time users is top notch, every step is wizard driven. Several minutes and you are operational, you will add hosts and set up a repository.
Augmented Inline Deduplication
I would like to make a small comparison from not so distant past with the product most people know. When you created a backup job with Symantec Backup, for example, you had to calculate how much space it will need. A reason was simple, hard drives were expensive. To fix the problem with expensive storage, you had to use tapes. While tapes were great in theory,  they were a pain to use when you had to restore your data. One of the major problems was they were slow. Symantec tried to fix this problem with a deduplication Add-on, which was a premium and was charged separately. If you were lucky and deduplication was working for you, you could afford to make at least some sort of backup to disk. Backup on the local storage is perfect for restore speed. You can restore data quickly as local storage is much faster than the tape.
Altaro luckily found a solution to the high cost of the storage. Local storage is still expensive, but what if your data could take less space? Much less space? Solution to the problem is deduplication which is now included in the product. Just look how much space you save with advanced Altaro deduplication/compression. Looking at the jobs, at least 50%.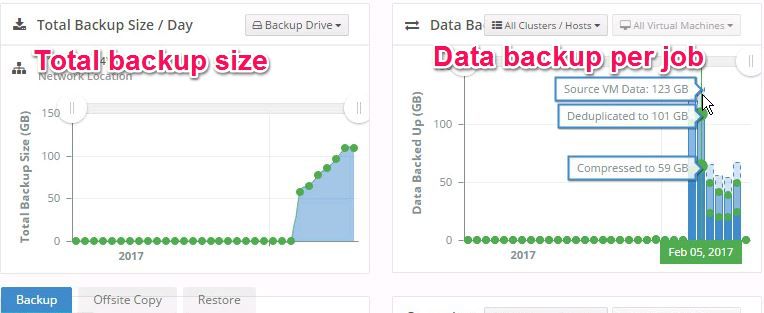 Boot from backup
Altaro can solve another problem that was present not so long ago. When a server failed, you had to restore a server first, once that was done, you could restore data. Running restore took a very long time. With Altaro, you can boot from the backup entire VM. VM can be run directly from the backup repository. Let's take a look at the following scenario. You run a Windows update on the server and after server restart, you stumble on a problem. Login area is missing and so is network connectivity. This is a disaster. It happened. Microsoft patch caused similar problems. Another example is Microsoft Exchange. Let's say that you use 3rd party software for signature management which you have to update. What happens when the update borks MS Exchange ability to send emails, for example, transport service? In both cases, you can start VM directly from the backup. There are many scenarios where this feature comes handy but I think it will be appreciated the most by the companies where they have the short maintenance window, like factories where they need to operate 24/7.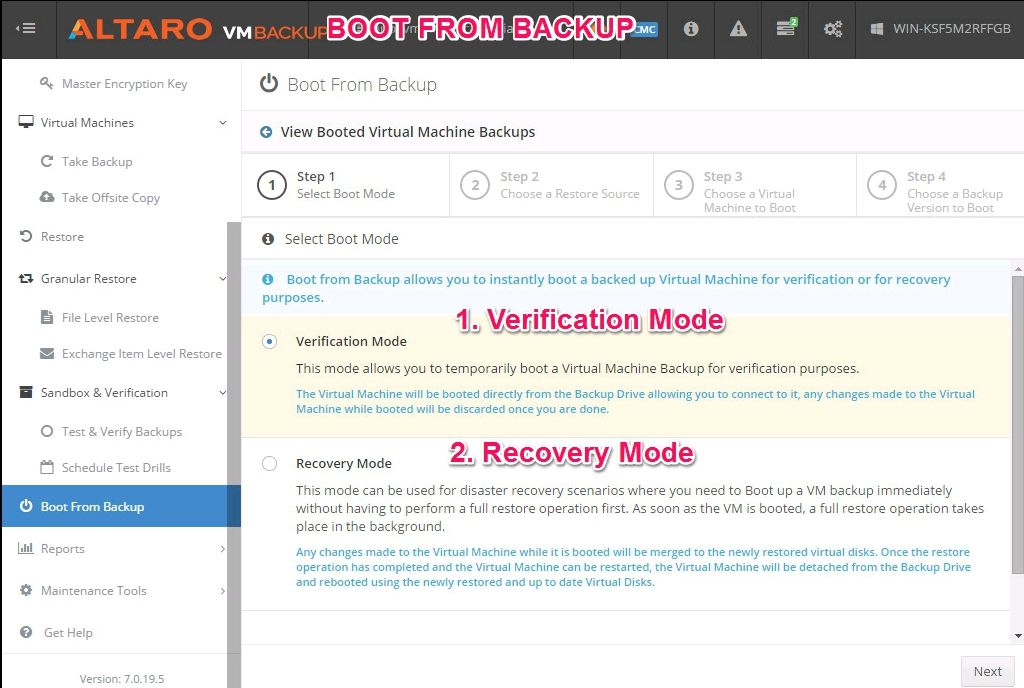 In fact, every business needs to restore quickly. If you are able to boot directly from the backup you will save some time. And time is something you don't have when disaster strikes.
New compression algorithm
In order to save backup space, you can use two technologies. Deduplication and Compression. Altaro uses both. A compression algorithm is very important. Some compressions are very slow. Altaro uses multithreading and parallel processing to lower the CPU requirements and thus still giving a boost to backup speed.
Altaro VM Backup v7 in use
The Technology behind a successful backup product is not everything. While it's true that it defines how reliable the backup is and how fast it completes the backup, great backup also has a wide array of features. Perhaps the most important is a great looking interface, where you feel right at home. Some tasks should be very simple. For example, it should be easy to create a backup job, easy to set up replication and easy to restore the backup in case of disaster.
Altaro has most of what is considered a package of enterprise features. With the latest version, it's very easy to navigate and operate as well. Let's take a look at top functionalities and usage.
Offsite Backup
Storing backup in one place is almost as dangerous as having no backup at all. When you install Altaro VM Backup, you can also install Offsite Server. The Offsite server like the name implies makes sure that the transfer of the backup is done in the fastest possible manner and it also handles an offsite backup repository. Now is time to make sure you have an offsite copy. If you don't have a remote office you can use the power of cloud which got very affordable to store backups. Did I mention that Offsite functionality is part of the package? Since we are talking about offsite, we have to mention that to make things even better, WAN acceleration is included in the price.
You see, the offsite backup functionality was recently a premium feature. "Enterprise" vendors were charging an arm and a leg and there were only a handful of customers who could afford it. Now, Altaro is set to change the way backup product is perceived. If you had to make compromises in the past, in 2017 you don't have to. Altaro is one of the most affordable Backup vendors and at the same time, it comes packed with features that most companies could not afford with other vendors.

The Offsite server has one great functionality. Rather that sending the first backup over the slow internet link, you can send a Seed to the remote site. For example, you can create the first backup on a USB HDD and send it to the remote site. There you can easily import the data, much faster than by using the slow WAN link. Just imagine a 4TB backup over the slow internet. On the other hand, if your connection is fast, WAN acceleration will help you with the transfer.
Sandbox & Verification
Once you have successfully deployed backup ask the following question: Who will test the backup? I mean, you have to trust that your backup can be restored, right? Compared to the old way of doing a backup, testing the backup now, is much easier. But still, you have to dedicate your time. Luckily, Altaro has a Sandbox and Verification functionality built-in in order to save some of your time. You have two options, you can choose to only verify the integrity of the data without attaching Virtual Machines to the hypervisor. The second option performs a full test restore in the sandbox. It will attach the VM to the hypervisor and attempt to boot the server. Since this will be done in the Sandbox, it will not affect your running VM's.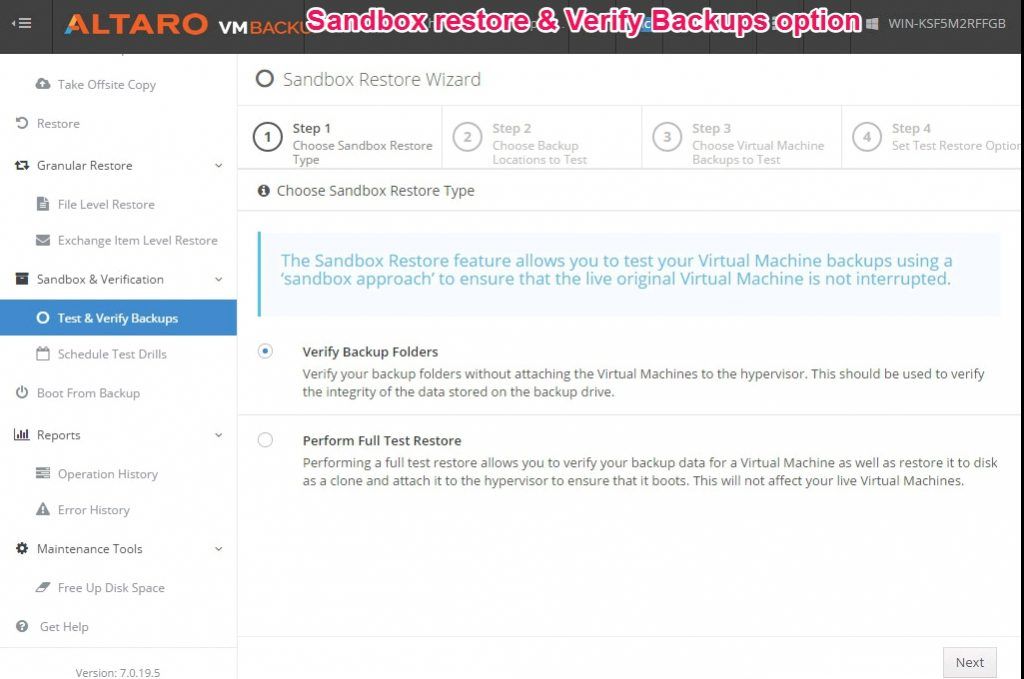 In addition, you can schedule Test drills. You can make sure that backup is working and data can be recovered automatically.
Granular Restore
Having virtual machines compared to physical boxes is a godsend for admins. While you can restore virtual machines quickly, you can even boot the VM from the backup directly.
There are still scenarios when you have to recover only an object from the backup. For example, someone in Finance deleted MS Excel spreadsheet that is needed by the reporting team to build reports. Let's not even consider cryptovirus recovery where you would need to recover most of the file shares. In such cases, you can simply recover needed files or even folders by using a File level restore for files.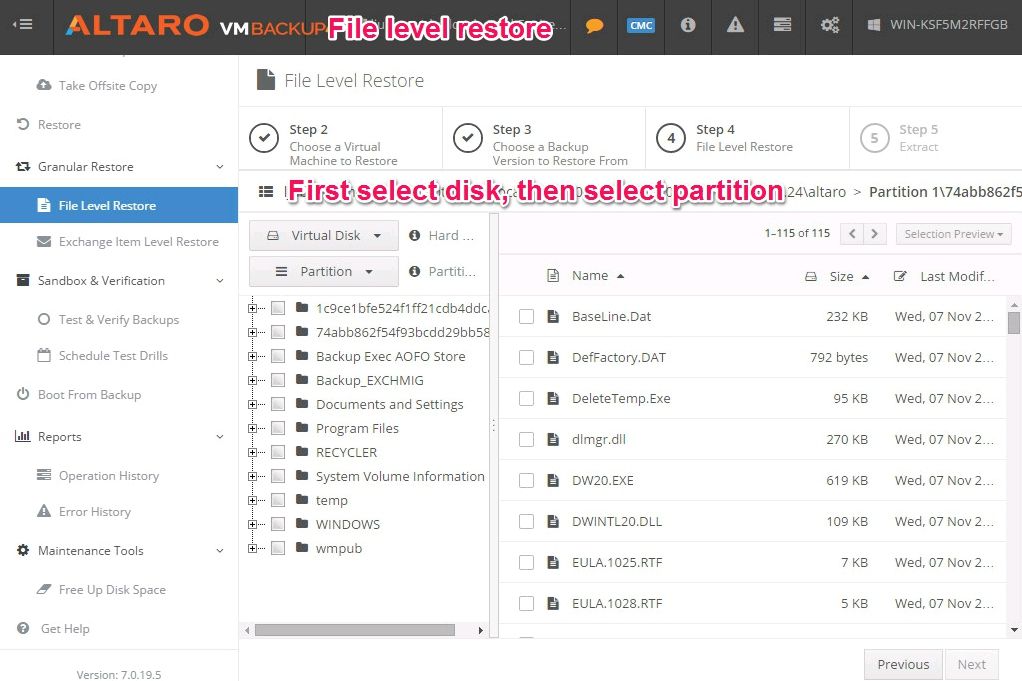 In similar style, you can recover Microsoft Exchange items. When you receive a call from a manager that he accidently deleted an email which is required for his presentation you don't need to boot an MS Exchange image just to restore his email. All you have to do is to use Exchange Item Level Restore and recover an item for the Manager. You can restore entire inbox or individual items.
Pricing
Pricing is surely one of the best aspects of the Altaro VM Backup. Pricing is per host. In addition, Altaro provides 3 editions. Free, Standard and Unlimited. The price difference between the Standard and Unlimited is only marginal and the features you get in Unlimited are well worth the price difference. Thinking about this system, I know only one thing. I love the pricing. In the time when competitors are charging per socket and per edition (multiple editions, where edition with WAN acceleration is insanely expensive) Altaro came up with a simple pricing where WAN acceleration is very affordable. And it does not matter how many sockets and virtual machines you have, as you pay per host..
Example – (you have two hosts, each has 4 sockets):
Host 1  – $625 / 520EUR / Unlimited edition
Host 2 – $625 / 520EUR / Unlimited edition
Total = $1250 / 1040EUR (this price includes unlimited VM's, WAN Replication, Object recovery, Offsite server, Sandbox & verification, boot from backup…)
I call this deal a steal.
On the other hand, I am sure you witnessed much higher prices with competition.
Conclusion
Altaro VM Backup 7 is the best release from Altaro. It has all the features that make a backup product complete. Your backup will take less space, will be sent to offline location much faster due to WAN acceleration and you will know that every backup is recoverable due to sandbox & verification. To make a purchase more interesting, Altaro has one of the best pricing policy.