Computer Technology is advancing rapidly, we have more and more digital data on computers. From scanned invoices, school work, work we do for a job to pictures we take on holidays. People have greater awareness for data security, because they know that due to a virus, system breakdown, or physical malfunction they will loose all the data. Data loss can occur anytime, anywhere, even on a new computer.
Windows has a built-in backup tool but it has limited options. Third party, free backup software with enhanced features can satisfy even the most demanding users. Recommendation for a free backup – goes to AOMEI Backupper Standard.
AOMEI Backupper Standard Review
As a free and professional backup software, compared to other softwares, AOMEI Backupper Standard has a simple, easy and clear operation interface. AOMEI Backupper standard has support for files & folders backup, system backup, partition backup and disk backup. You can choose to backup data according to your own schedule and requirements. The layout is very simple and easy to understand. Users have no problems using the product.

After you backup data, if data is lost, you can use the backup to restore it quickly and safely. Under "Home", you can see the backup that you have backed up is listed. Click "Restore" to recover data.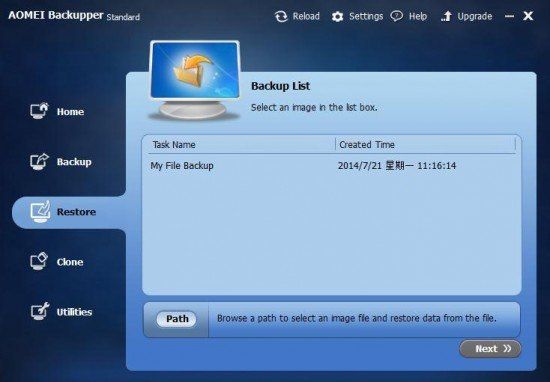 In addition to backup and restoring data, AOMEI Backupper standard also supports cloning. You can use it to clone disk or partition.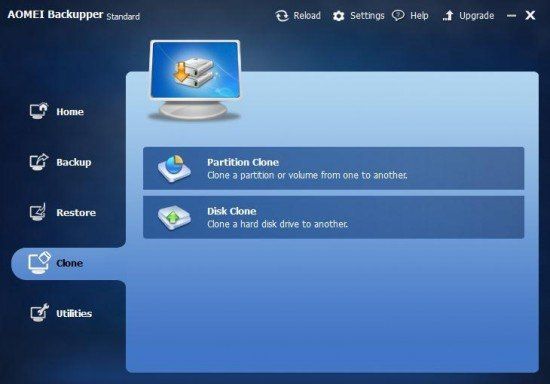 AOMEI Backupper Standard Features
In addition to the above functions, AOMEI Backupper 2.0.1 has features, more advanced compared to V1.0.
 Schedule backup, incremental and differential backup
 WinPE bootable CD/DVD/USB
 Backup to NAS/CD/DVD/USB/local hard drives, or backup & restore data from a network to another network
 EFI/UEFI boot
 VSS(Volume Shadow Service)
 During restore or clone, it supports partition alignment to optimize SSD
 Bugs fixed, supports Windows 7, 8, 8.1 etc. PC system
 Email notification after finishing backup
 Export/Import configuration to manage backup task
 View backup logs during a backup progress
 Check/explore/edit/locate backup image
 Add comments for backup, compress/encrypt/split backup
With so many useful functions, AOMEI Backupper standard will help users solve many problems with backup and restore. Another advantage is that you can create a WinPE bootable CD/DVD. If a computer crashes, you can restore the system without reinstalling Windows and drivers. Many troubles will be avoided.
After proper backup solution, you will never worry about data loss. You can use following link to Download AOMEI Backupper Standard.
In addition to a Free Standard version, AOMEI have Professional, Server and Technician versions.
I hope that by reading AOMEI Backupper Standard Review, users who are not used to backing up their computer, will try for the first time and complete their first backup.