If you have remote locations, you need a way to remote control devices you have connected there. Server usually have an option to add remote functionality, but maybe you have some devices that don't have that option. Those could be Video recorders, Servers, Computers or Custom built firewalls. We opened several new locations and there was a need for KVM over IP. I have been using Aten IP KVM switches for 2 years now and I have to admit they proved really useful, saving me in couple occasions.
Once it was a problem with Untangle firewall and the second time it was our NVR that had some problems. By using IP KVM I was able to solve problems remotely. No driving to another location or using expensive contractors.
Aten KH1508Ai IP KVM Switch review
Aten is using Altuscn brand for enterprise KVM product, some resellers are using one or both brands when presenting their products, so don't be surprised if you see Aten or Alutuscn only on the price list or their web shop.

The Aten / Altuscn KH1508Ai is a Cat 5 High-Density KVM over IP Switch, it supports up to 8 computers. Size is 1U, it's easy to mount it in the rack. You can use it locally or you can connect to it remotely.


It's using RJ-45 connecotors and Cat 5e/6 cables, benefit is that you can use long cables up to 50m without the need for KVM extenders, in the end you connect KVM adapter's for connection to device. It's compatible with PC's, Mac's and Sun computers. If you add more devices through time you can daisy chain it with additional IP KVM devices effectively extending connections to up to 128 devices. Whew.
KH1508Ai Specifications:
Computer
Connections
Direct
8
Maximum
128 (via daisy chain)
Port Selection
OSD; Hotkey; Pushbutton
Connectors
Console Port
Keyboard
1 x 6-pin Mini-DIN Female (Purple)
1 x USB Type A Female (White)
Video
1 x HDB-15 Female (Blue)
Mouse
1 x 6-pin Mini-DIN Female (Green)
1 x USB Type A Female (White)
KVM Port
8 x RJ-45 Female
Daisy Chain Ports
1 x DB-25 Male (Black)
Power
1 x 3-prong AC socket
LAN
1 x RJ-45 Female
F/W Upgrade
1 x RJ-11 Female (Black)
PON
1 X RJ-45 Female
Laptop USB Console
(LUC) Port
1 x USB Mini Type B Female (Black)
Switches
Reset
1 x Semi-recessed Pushbutton
Power
1 x Rocker
Port Selection
8 x Pushbutton
LEDs
On Line
8 (Green)
Selected
8 (Orange)
Power
1 (Blue)
Station ID
1 x 2-digit 7-segment (Orange)
Link
1 (Orange)
10 / 100Mbps
1 (Orange / Green)
Emulation
Keyboard / Mouse
PS/2; USB
Video
Local
1600 x 1200 @ 60 Hz (40m) ;
1280 x 1024 @ 75 Hz
(50 m with KA7xx Adapter Cable)
Remote
1600 x 1200 @ 60Hz
Scan Interval
1–255 secs
I/P Rating
100–240 VAC; 50/60 Hz; 1A
Power Consumption
120V/12.5W; 230V/12.7W
Environment
Operating Temp.
0 – 40°C
Storage Temp.
-20 – 60°C
Humidity
0–80% RH; Non-condensing
Physical
Properties
Housing
Metal
Weight
2.80 kg
Dimensions
(L x W x H)
43.70 x 16.10 x 4.40 cm (19″/1U)
There is this strange thing with Aten KVM switches, first time you start using them, you forget there is UI you have to use. I like web user interface. It's super easy to use.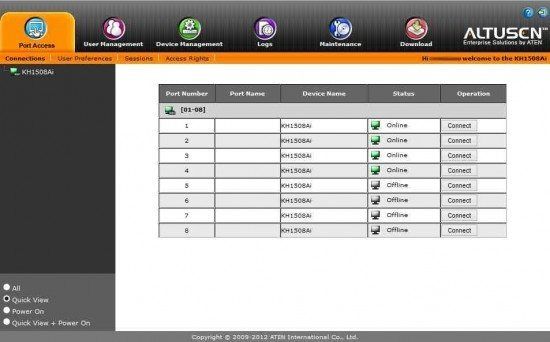 If you want to connect to remote device, just click connect and start managing.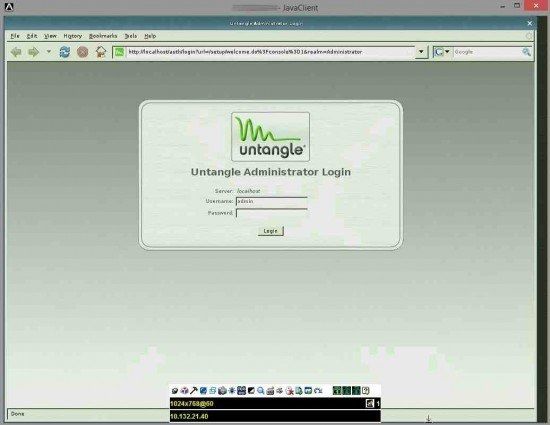 You can really see that KH1508Ai is an enterprise product, you can configure authentication via RADIUS or LDAP instead of local authentication. Also you can send logs to a log server, to comply with security requirements you may have.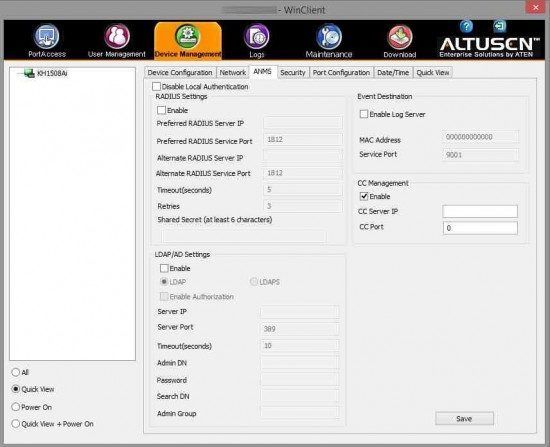 Security is another asset of KH1508Ai, it has a firewall, you can set IP filtering, MAC filtering, you can disable PING, Browser or Mulituser operation. In addition it has multiple encryption options.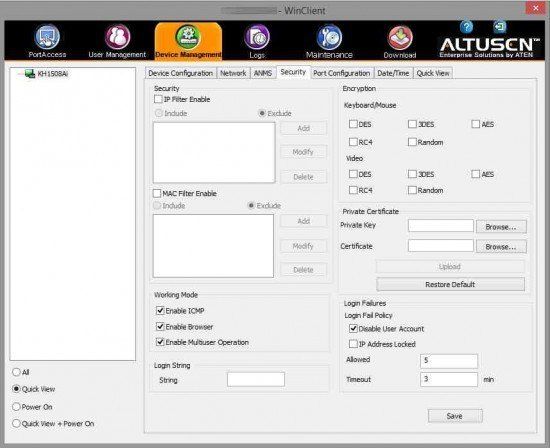 One of my favourite features is that you are not required to use Java like with some similar products, you can download windows client from the web interface and off you go. No Java. No problem with Java security or Java compatibility.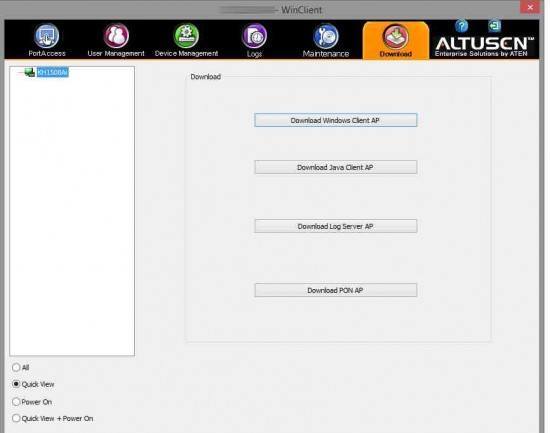 KH1508Ai is a well balanced product, is secure, easy to use, configure, and best of all, it's very affordable. Aten KVM switch is now a standard equipment for every new remote location I have to manage.
What's more, I had a minor problem with one of devices (my fault) so I registered device on their webpage, sent support request and in one minute I received an answer with a solution. At first I thought it's just an automated response: "Hey, we received you request, you were assigned number xxx, we will get back to you in the X days."  But when I opened it, there was a solution. How great is that?