Finding a great network monitoring solution can be a tough process. There are so many options available you can spend months comparing them. They all claim to be the best, but once you start testing them you quickly find their shortcomings. Either they lack in features, are over expensive, difficult to use, or difficult to configure. There are so many products that lack usability which has a direct impact on the overall experience. 
What makes a great Network monitoring solution? Usability is very important. You don't want to spend hours looking at the UI just to find out how to perform an action, for example, add a device, set up alerting, etc… Those actions have to be easy to find. What about features? A couple of years ago, it was fine if the product was able to monitor the performance of the various network equipment, the ability to backup configuration was a big plus, usually part of enterprise-grade products. But we are now in 2022 and it is expected for products to go one step above what we had before. For one, automation is one area that can save a lot of time for network administrators. And in this time, we can expect products to use it extensively.
Auvik Network Monitoring and Management review
Auvik is a cloud-based netowrk monitoring and management solution. It has a great user interface and is a joy to use. Everything can be quickly accessed and configured. With Auvik you can finally use a topology map, easily configure backup, and set up alerting system.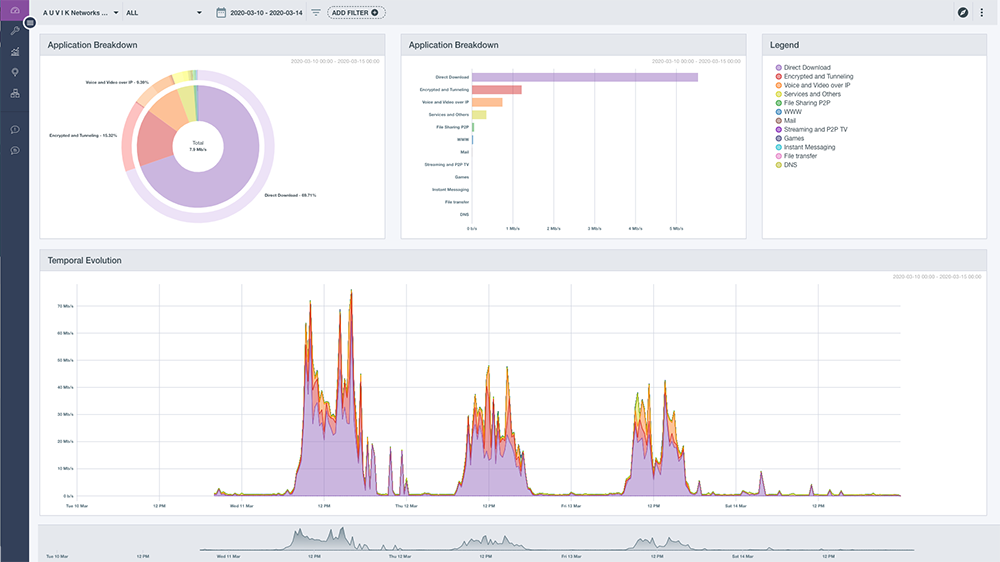 Before you can use Auvik, you have to install a tool called collector onto the network. Collector will discover, map, and monitor the network. Monitoring includes an extensive set of functions such as up/down status, bandwidth usage, traffic analysis, and much more. Based on preconfigured settings Auvik will send alerts. 
Network automation and documentation made easy
The most exciting part of Auvik deployment is watching how it finds devices and all connections to create a map of the network. The topology map automates the process of tracing the network which makes up-to-date network visibility for admins.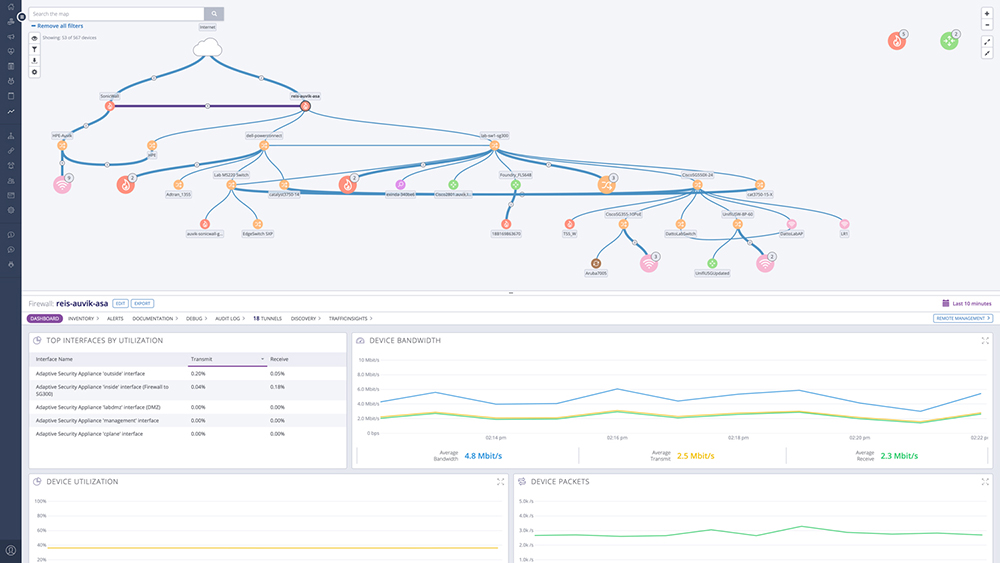 Backups are a big part of Auvik. Auvik reads devices configs and it keeps a record of updates. You can store previous versions and compare configs on the fly so you can easily sport the changes affecting the network.
Alerting is automated

. Alerts will be sent for just any form of unusual activity. Alerting settings can be adjusted to the needs of the network team and there are also different levels of alerting.

Documentation

is one of the not-so-pleasant tasks every network admin has to face or is rather part of their job. It is very boring and takes a lot of time that can be used for other, useful tasks. Auvik will automatically generate device profiles for every device on the network discovered by the collector. When you have to start trouble sooting you will have instantly available Information such as serial numbers and support contracts. The data can be easily exported to an Excel spreadsheet when needed.

The network map

displays physical and logical topologies. You won't have to manually draw complex topologies. The entire network can be documented in a matter of minutes. And anyone who needs information can know instantly how devices are connected and configured.

Password manager. One of the benefits of Auvik is that it also serves as a password manager for the network meaning that credentials can be stored for easy access to interfaces right from within the software. By using a remote browser it's simple to log in to any device's web interface. With the in-app terminal, technicians can securely access any Telnet or SSH-enabled device on a network—from anywhere. That is a huge productivity and security boost.
Auvik features
Two-factor authentication is available for increased security. For example, if your password is exposed, bad actors can not gain access to your account.

Role-based user access ensure that everyone has an appropriate level of access.

Auvik TrafficInsights™

is an amazing feature. It shows you deep insight into networks traffic, regardless of whether it is encrypted. You will see which users are on the network, what they are doing, and where their traffic is going.

Configuration analysis

 suggests ways to improve the performance and stability of networks.
Auvik in real life
Looking at the features is one thing, but how does the product perform in real life? What benefits does it bring to your team? Let's start with some examples of how you can benefit.
Having an up-to-date diagram of all devices and how they are connected is possible in theory, but in real life that does not work. Too many people moving equipment around. With Auvik it is easy. It will automatically update, in real-time all the devices and their connections and you will always have an up-to-date diagram.
You may be able to spot a problem way before it escalates. For example, packet discards packet errors and high interface utilization show a potential problem. Auvik will alert you on such problems so you can check before the major problem.
Do you use equipment from one vendor or do you have multiple vendors? It is quite common to use different equipment across sites, a different vendor for switches, a different vendor for firewalls, load balancers, office switches, Next-gen firewalls, access points, etc… Auvik supports more than 15.000 network devices from over 700 vendors. That means that you don't have to mess with the configuration. having support for so many devices also mean that you can backup configuration easily and can revert back in case of problems.
Network loops are very common. I once worked for an MSP and you can't believe what kind of companies are having such problems. Banks, insurance companies, retail shops… Auvik monitors Layer 2 protocol and immediately detects problems like this. When the network stalls, a procedure is usually to log in to every switch until you find a problem. The more switches you have, the more time you need to isolate the problem. It can take days… But if you install Auvik just for that task, well you have a solution in no time. After install, it will take some time to scan all devices, and then it finds a problem. All you have to do to unplug the cable and you are a hero.
Ever tried finding rogue devices? When Auvik scans the network it will read SNMP and WMI information from devices. You can find device information like make, model, and vendor and can in turn find devices that don't match your inventory.
The benefit of having multiple permission levels in Auvik can increase productivity in your team, as you can also grant access to the helpdesk team. They can see and respond quickly without burdening the network team. You can also reduce on-site technician visits and save money.
Another common problem with networks is performance issues. Either with the internet link or bandwidth at a local resource. You can easily prove to ISP that the problem is on their end. And you can quickly spot the local device/port which is consuming a lot of bandwidth, like a backup server working its magic during the day, rather than at night.
With Auvik, you can easily make a data-driven decision on which devices have to be replaced and include them in the budget. You can also use it to find vulnerable devices. You can compare OS versions between devices… There are so many cases where you can prevent problems, patch exploits, and make budgeting easy.
Conclusion
Auvik set a new standard for network monitoring and management software. It is such a pleasure to use. As it is a SaaS service data is available just by looking at your phone. I used to work for a retail company and have received calls on weekends and holidays. Time passed by before I logged in to my computer, connected via VPN… With Auvik you can find problems much faster. Because of automation, you will probably already have alerts visible and be aware of the problem. Perhaps the best part is how easy it is to track all the issues that were fixed before they happened. When the time comes to negotiate your salary you can pull out the list of the issues you fixed before they escalated and show management what a great job did.
You can try the Auvik trial – free of charge for 14 days. Highly recommended