Are you in charge of the backup in your company? Great, I am, too, among other things. We mostly use virtual infrastructure. But we also run several physical servers. If your core infrastructure is virtual, you will likely use a backup that is great at backing up virtual servers. Until now, most top virtual backup companies didn't have the ability to backup physical servers. The reason is simple. At least for Nakivo. Nakivo planned to be the best in the virtual backup. Now that they implemented most features, they also added support for the physical devices.
If you used a separate product for various physical devices such as workstations, laptops, and servers, you could now use Nakivo for backing up remaining assets. Having a good backup is essential for every corporation. In a way, it's the last line of defense. In a time ridden with ransomware infections, backup plays a significant role in business continuity. No matter how great is your anti-virus, new viruses pop out daily intending to infect your computer and cause damage so that your company can be extorted.
Modern backup is amazing. Replication to a remote location with WAN acceleration, even to the cloud, is now a reality. You don't need expensive storage like it was done in the past. Besides, you can also back up to the tape for bulletproof protection. One of the benefits of bringing virtual and physical backup to a unified solution is two-fold. The first benefit is that you gain space savings as global deduplication kicks in. The second benefit is that you can recover very quickly. Now, let me give you an example. Let's say that a director's hard drive fails. In the past, you had to get a computer, install Windows, or deploy an image. Restore data., The procedure could last up to two days. With Nakivo, all you have to do is to recover the physical device as a VM. Director can connect via remote desktop and continue working. The same applies to the server. When a physical server fails, you can start a backup instance and continue working.
How to Backup Physical Server with Nakivo Backup and Replication
Let's start by going to the Nakivo trial website and download the installation package. One benefit of Nakivo is that it can be installed as a virtual appliance, Windows, and Linux installation. Besides, you can install Nakivo to most NAS appliances. Have you ever consider installing a backup on a Raspberry PI? Well, with Nakivo, that is not a problem. Once you install Nakivo, login to the web UI.
Click on the Settings icon on the top right corner. Click on the Add New… and click on the Physical server(s) button to add a new physical device.

On the Inventory screen, you have to enter a Display Name, Hostname or IP address, and credentials of the new server.

When you click the Add New… button, you will see a progress bar.

Once complete, you will have a new device in the Inventory. Now you can backup server, workstation, or a laptop.

Now it is time to create a backup job of the newly added device. On the home screen, click on the Create menu, select Physical server backup job.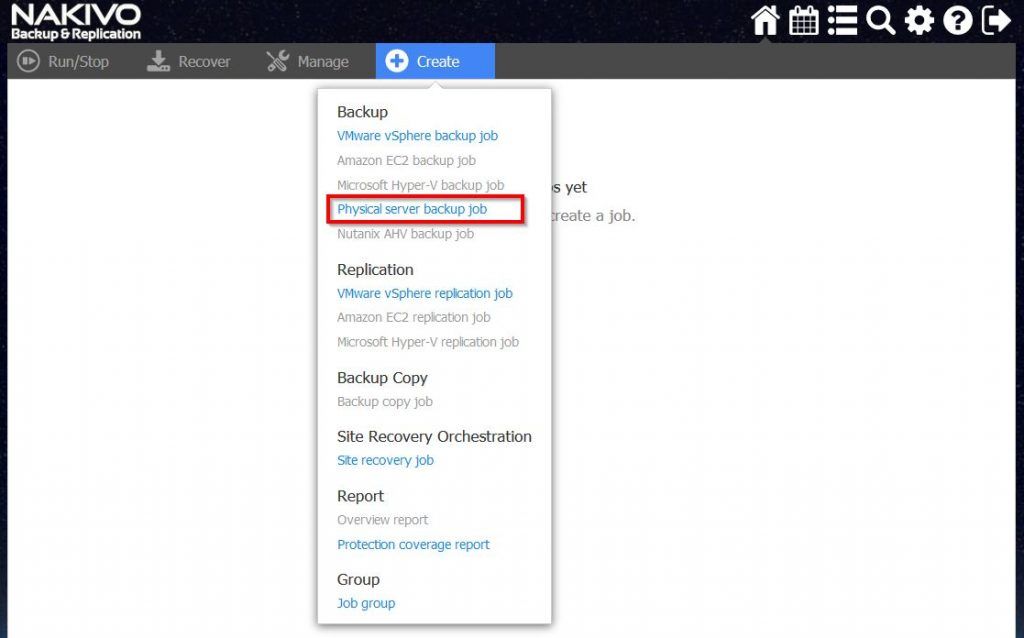 On the servers tab, select Windows device, and click on the Next button.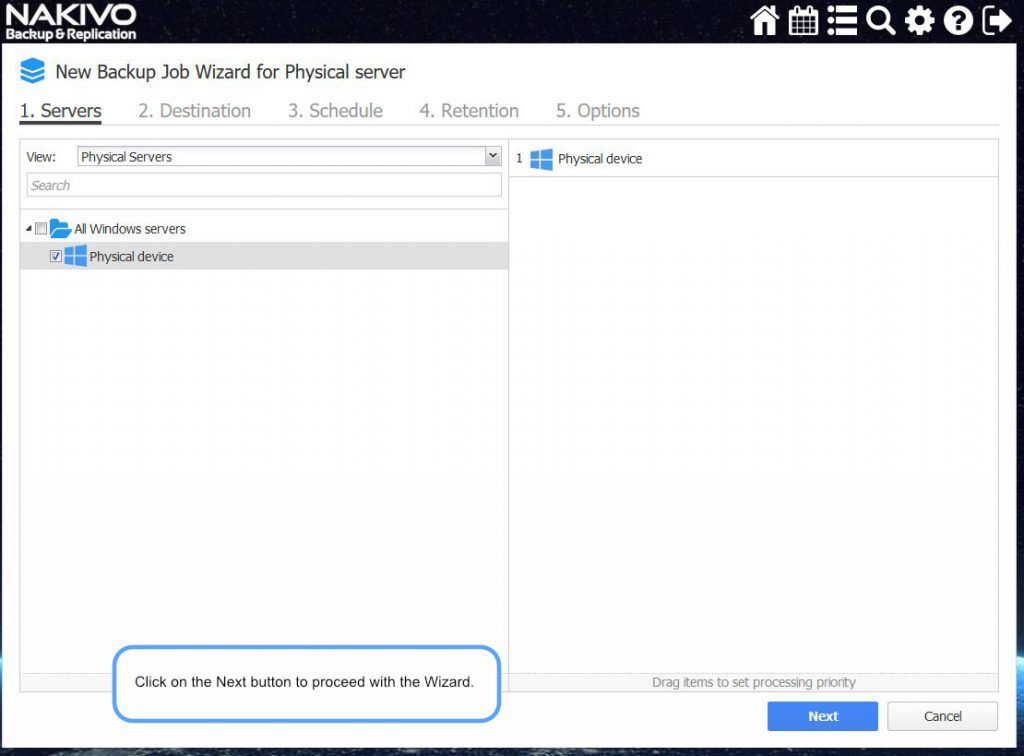 On the destination Tab, choose disks of the physical device. Here you can also select a backup repository if you have multiple. Click Next to proceed to the next screen.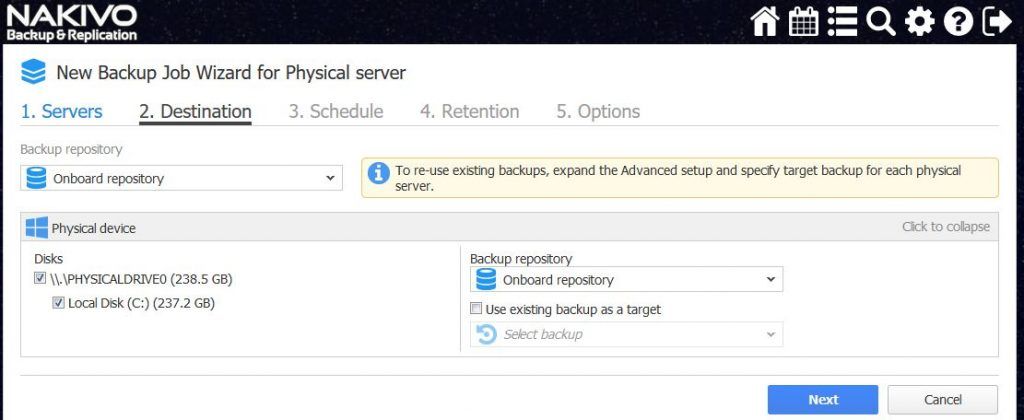 On the schedule tab, you can configure the backup schedule. You can also add multiple schedules. Click on the Next button to proceed to the Retention tab.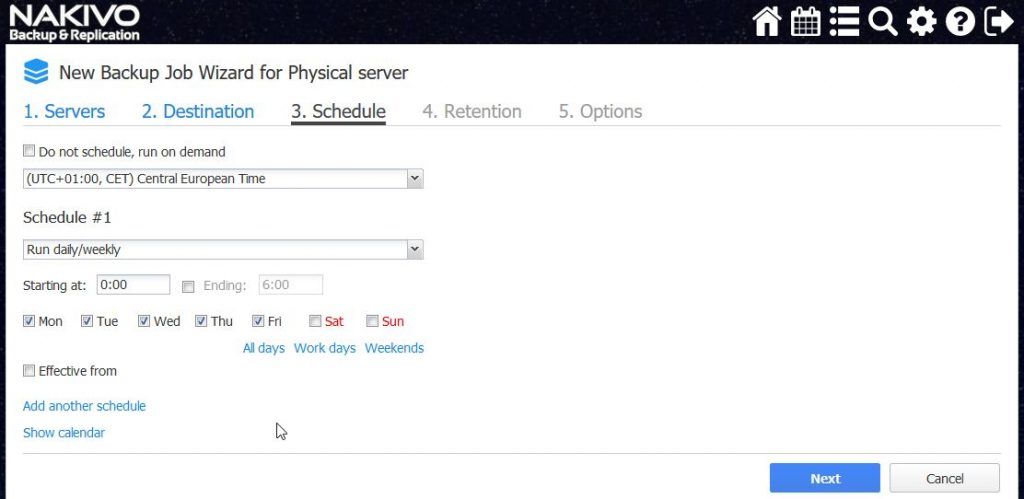 On the Retention tab, you configure how many recovery points to keep. Also, you can configure GFS (grandfather, father, son) rotation most simply. Also, you can choose to keep multiple weekly, monthly, yearly, and daily points. Click next to proceed to the Options tab.

On the Options tab, you can select App-aware mode. You can enable the app-aware mode with either the fail or proceed with the error.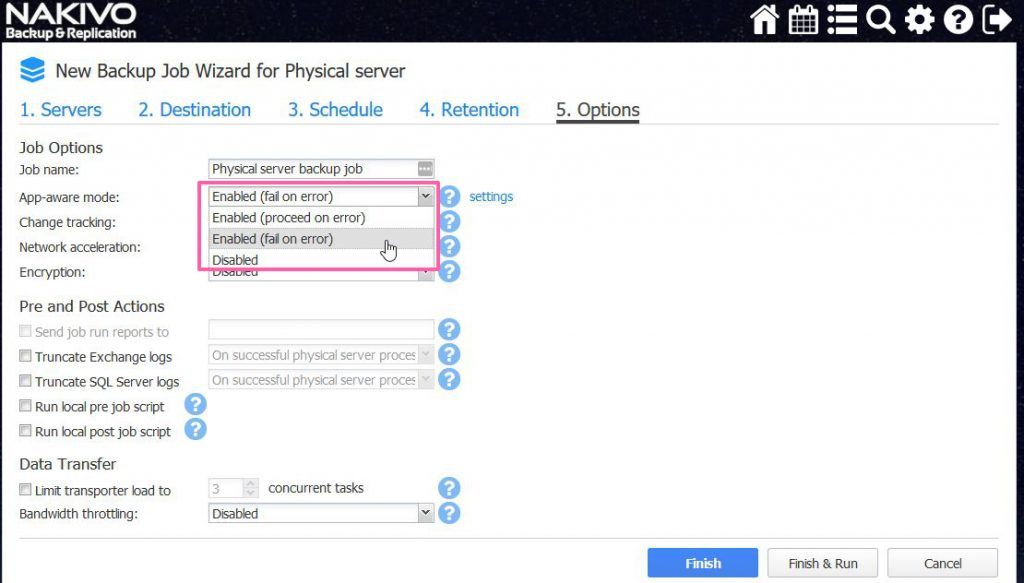 You can also enable change tracking or choose no change tracking and instead choose always a full backup.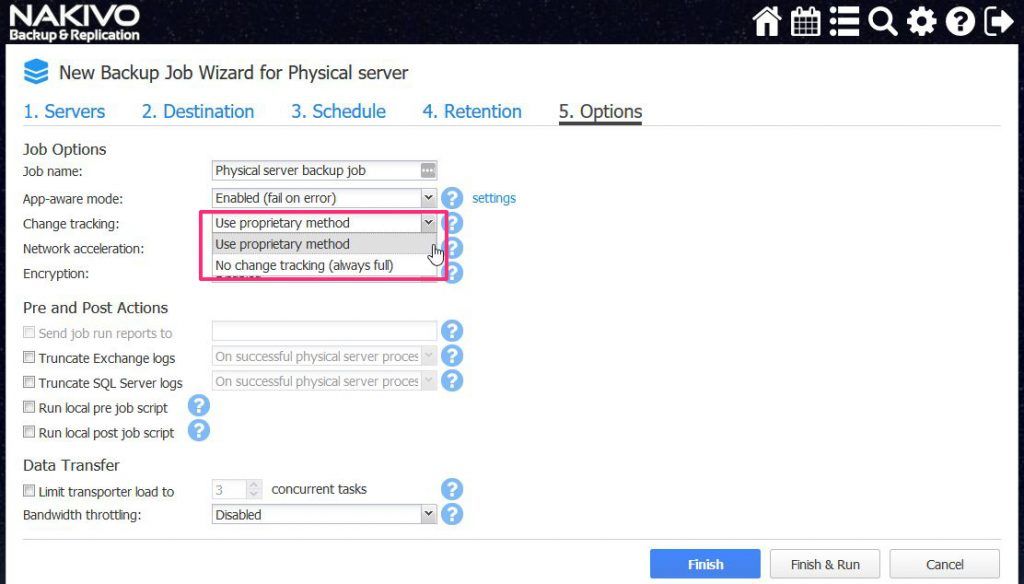 Also, you can choose to enable Network acceleration, which is perfect for the backup to a remote location. Like with virtual jobs, you can use the same features. For example, Truncating of logs, running of scripts before and after the jobs, limit transported the load to X number of concurrent tasks, and Bandwidth throttling. You can click on the Finish button and wait for the schedule to kick in, or you can click on the Finish & Run button to start the job immediately.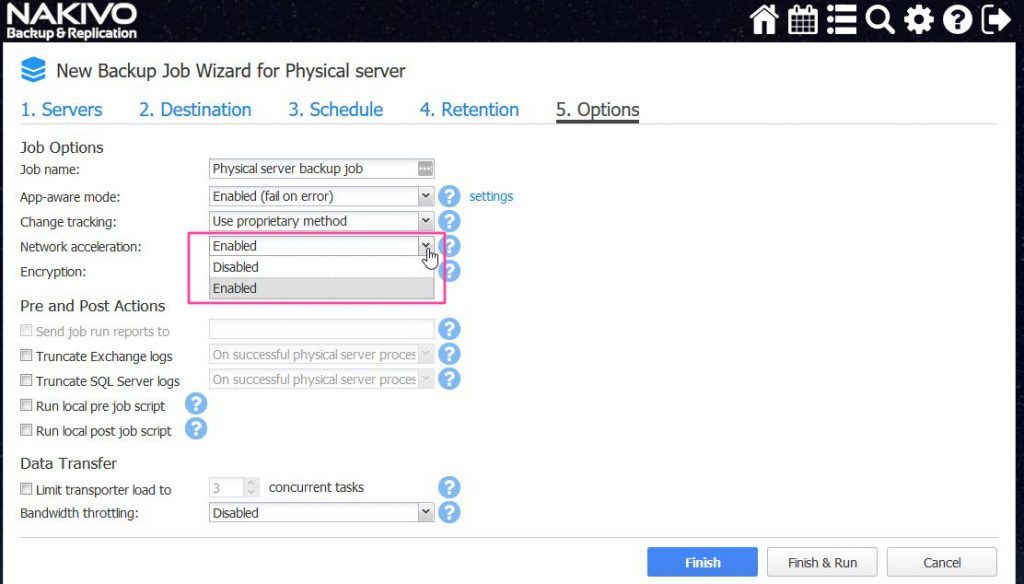 Once the job is running, you will see the same information as you do with regular, virtual jobs.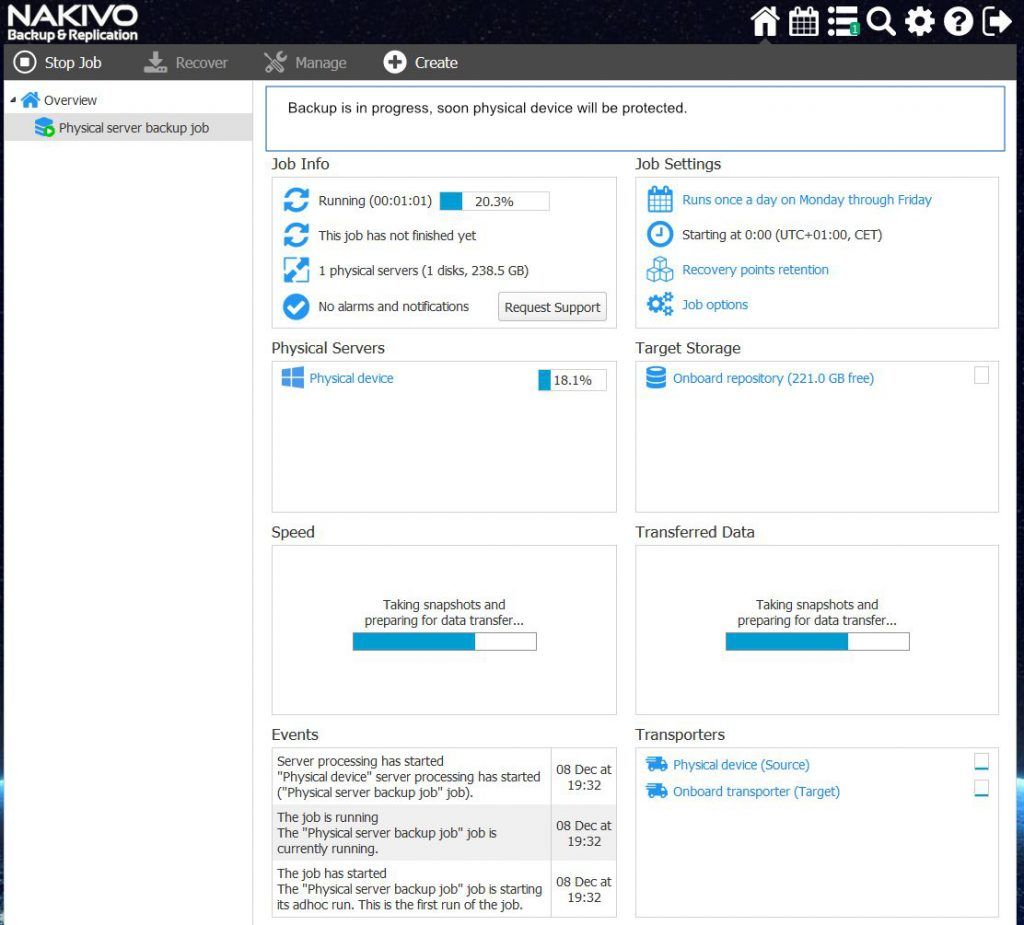 Conclusion
I can say that Nakivo is now: feature complete. You can use Nakivo to protect virtual infrastructure. It was great with virtual, but now you can also protect physical assets. Which is excellent as you can use only one product now. You will save on the cost as you don't have to maintain two products. You will also save on storage space and cost. And since you know one product already, you don't have to learn and troubleshoot secondary products for physical backup. You can quickly test the product for 30 days, which is excellent. They are a transparent company as they don't hide pricing, as some companies do. And support is excellent as well.