BDRSuite Endpoint Backup solution offers a robust solution for safeguarding your crucial data on individual devices. With a focus on simplicity and efficiency, BDRSuite Endpoint Backup provides several key benefits.
Firstly, it ensures continuous data protection, automatically backing up files and folders in real-time, preventing data loss due to unexpected events or system failures. The intuitive user interface makes it easy for both individuals and IT administrators to manage backups effortlessly.
Endpoint Backup basics
Windows: Windows, like any other operating system, is susceptible to hardware failures, software glitches, and the ever-looming threat of malware. A corrupted update, a sudden power outage, or a hard drive failure can render your system useless. Backing up ensures you have a snapshot of your system to restore.
Linux: Linux is known for its stability, but it's not immune to data loss. Accidental deletions, disk failures, or even a misconfigured update can wreak havoc. Having backups in place guarantees you a safety net in case of any unforeseen circumstances.
Mac: Macs are pretty resilient, but they are not invincible. Hardware malfunctions, software conflicts, or accidental data deletion can occur. Regular backups provide a way to recover your data and system settings.
Common Problems:
Virus Threats: Malware can target any operating system. Regular backups help you restore your system to a state before the malware infected it.
Hardware Failures: Hard drives can crash, and other components may fail. Without backups, you risk losing valuable data.
Accidental Deletions: Human error is inevitable. Clicking the wrong button or deleting the wrong file can have serious consequences without a backup.
Private Data and Security: Imagine your computer gets stolen or your hard drive fails irreparably. Without backups, your personal and sensitive data could be lost forever. Backing up ensures that your private information remains intact even in the face of hardware problems.
Restoration Time: The time it takes to restore an operating system depends on various factors:
Backup Method: A full system image might take longer than just restoring specific files.
Storage Medium: Restoring from an external SSD will be faster than a traditional HDD.
System Specifications: A high-performance system will restore faster than a slower one.
In essence, the time can range from a few minutes to several hours. It's always a trade-off between the depth of the backup and the time it takes to restore. But trust me, the peace of mind it brings is absolutely worth it!
Local Backup vs Cloud Backup
Cloud Backup:
Accessibility: Your data is accessible from anywhere with an internet connection. This is great for remote work or accessing files on the go.
Automated Scheduling: Most cloud backup services allow you to schedule automatic backups, ensuring that your data is constantly up to date without manual intervention.
Scalability: Cloud storage is scalable. You can easily increase or decrease your storage capacity based on your needs without worrying about hardware limitations.
Redundancy: Reputable cloud services often have multiple data centers and employ redundancy measures. This means your data is backed up in multiple locations, reducing the risk of data loss.
Collaboration: Cloud storage facilitates collaboration. Multiple users can access and collaborate on the same files, making it ideal for team projects.
Security Measures: Cloud services usually implement robust security measures, including encryption and authentication protocols, to protect your data.
Local Copies:
Offline Access: Having local copies means you can access your data even without an internet connection. This can be crucial in areas with unreliable or no internet connectivity.
Control: You have full control over your local backup. You decide where and how your data is stored, providing a sense of ownership and security.
Speed: Restoring from a local backup is generally faster than downloading large amounts of data from the cloud. This is particularly important when you need to quickly recover from a system failure.
One-Time Cost: While cloud storage often involves subscription fees, creating local backups might involve a one-time cost for external drives or other storage solutions.
Privacy: Some individuals or organizations might have privacy concerns related to storing sensitive data in the cloud. Local copies give you peace of mind regarding data privacy.
Best of Both Worlds:
Ideally, a combination of both cloud and local backups provides a comprehensive solution. This is known as the 3-2-1 backup rule, where you have three copies of your data, two of which are local but on different devices, and one copy is stored offsite, often in the cloud. This ensures redundancy, accessibility, and protection against various types of data loss scenarios.
How does BDRSuite Endpoint Solution solve the endpoint backup problem?
The benefit of the BDRSuite Backup solution is that it can safeguard your entire disk or specific files and folders seamlessly across Windows, Linux, and Mac endpoints.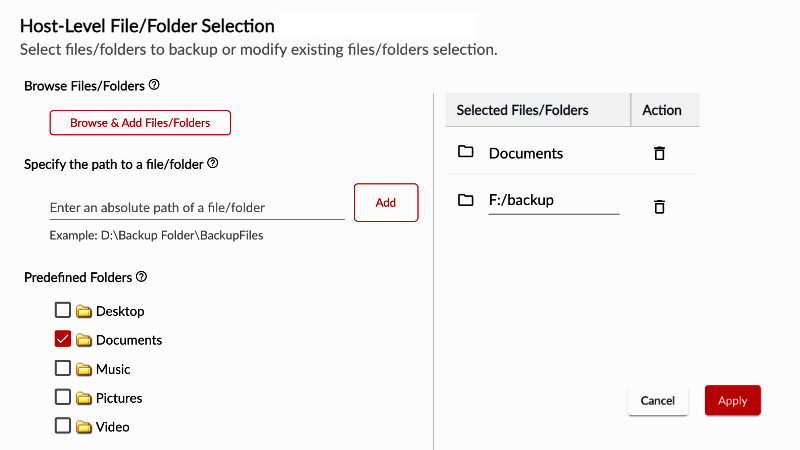 Easily incorporate multiple hosts effortlessly by importing through CSV files or utilizing AD/LDAP options. You can tailor your backups with precision by excluding particular files or folders through Standard and Advanced filters.
Another benefit is near-continuous data protection for the most exposed users like management or accounting, achieving Recovery Point Objectives (RPO) and Recovery Time Objectives (RTO) in less than 15 minutes. Enjoy flexibility in scheduling, whether it's every few minutes, hours, weekly, or monthly, adapting to your specific needs.
You can optimize network efficiency by reducing time and bandwidth usage. This is achieved through the creation of synthetic full backups in the backup repository, ensuring a streamlined and resource-efficient backup process.
BDRSuite's Endpoint backup solution empowers organizations to fulfill regulatory compliance standards such as GDPR, HIPAA, and PCI-DSS. The suite's compliance capabilities encompass data encryption, secure data transfer, and the implementation of data retention policies.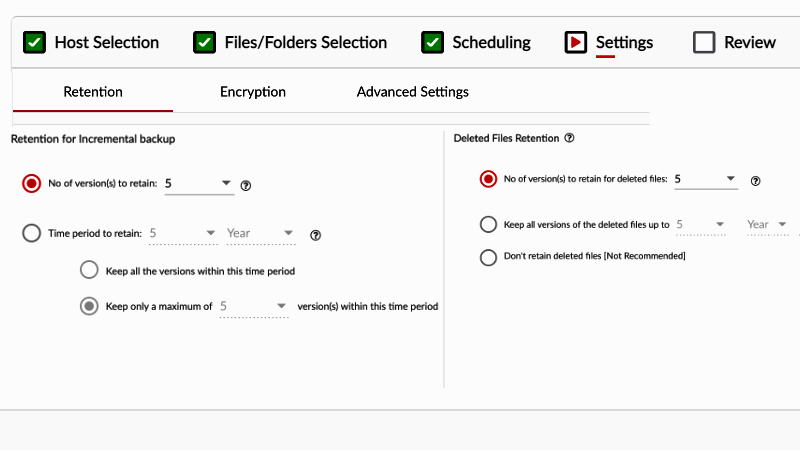 Leverage BDRSuite's flexible backup retention options to tailor data retention according to your specific requirements, allowing you to retain crucial data for as long as necessary. Additionally, the solution enables the retention of any number of deleted files or folders, offering customization based on version count or the number of versions created within a specified time frame.
The comprehensive encryption functionality ensures the security of your backup data, employing the AES-256 bit algorithm to encrypt all data during transmission and storage. Opt for the system-generated encryption key or tailor your own, giving you the flexibility to choose the level of customization that suits your needs. With the custom encryption key feature, you have the option to encrypt all your backup data using your personally chosen encryption key.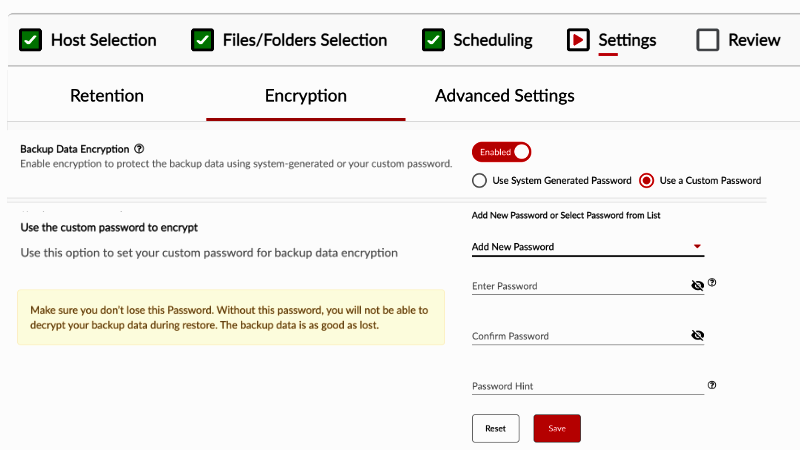 You can customize the number of versions you want to keep for your backup data, whether it's collectively or within a specific timeframe.
BDRSuite enables you to secure a duplicate of your endpoint backup data in a remote or offsite data center, including the option of BDRCloud. This adds an additional safeguard against data loss or disasters, guaranteeing the safety and recoverability of critical data. Additionally, you have the flexibility to generate a secondary backup copy of endpoint backups, storing it in the same or a different location, or on a diverse storage medium.
After the completion of each task, whether it's backup, recovery, offsite copy, etc., reports are automatically generated. These reports can be accessed at various levels, including job level, Endpoint Level, or through the overview on the report dashboard.
By enabling email notifications, you stay informed about the status of backup and recovery tasks. Receive notifications for various outcomes such as success, failure, partial completion, and missed tasks.
With the combination of reports and email notifications, you can rest assured that you are consistently kept up-to-date on the current status of your backup infrastructure.
Conclusion
BDRSuite solution also supports cross-platform compatibility, allowing seamless data protection across Windows, Mac, and Linux devices. The flexible recovery options enable users to restore their files to any point in time, ensuring comprehensive data retrieval.
The centralized management console enhances control and monitoring, streamlining backup tasks for multiple endpoints. Additionally, BDRSuite Endpoint Backup employs encryption and secure transmission protocols, prioritizing the security of your sensitive information.
In summary, BDRSuite Endpoint Backup stands out for its user-friendly interface, cross-platform support, robust data protection, and centralized management, making it a reliable choice for safeguarding data on individual devices in diverse computing environments. Did I mention they offer a free version which is limited to 10 endpoints?