VMware vSphere is a powerful tool. When backing up virtual machines you can use all the strength the platform provides so your backup strategy can thrive. It is important to what you need to backup and how often. Also, it is great if you know any specifics you may have in your environment.
In general, traditional principles apply to virtual backup as well. When backing up the VMware environment it is good to follow the best practices so you won't get problems with the most important defense of your assets.
The following are eight vSphere backup best practices.
Use a modern backup solution
With traditional backups, you typically install a backup agent on the guest operating system. An agent is used so that it can communicate with the backup server and also does all the work, like a copy, compression, etc… But with this old way of backup, you may quickly stumble on problems. For example, ridiculous resource consumption on the virtual machine (VM) can affect the performance of all VMs running on the host. Very likely you will experience failed or stuck backups. Nakivo Backup and Replication is a next-generation backup that leverages all technology that VMware provides for the best backup experience.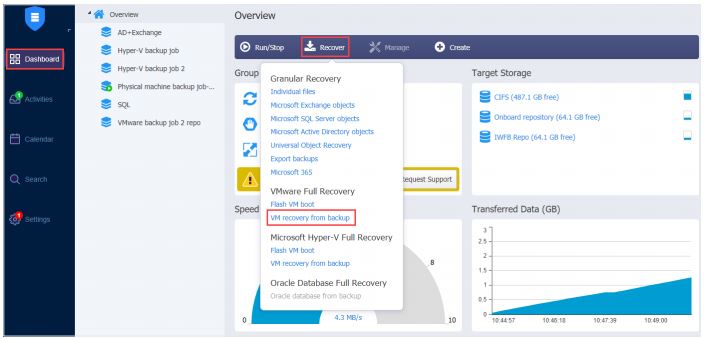 For example, the vStorage APIs were introduced with vSphere that replaced the VMware Consolidated Backup framework. The vStorage APIs provide the most efficient mechanism for vSphere backup. The previous generation with the use of the agent doesn't use the latest features, unfortunately.
Incremental Backups to Improve Backup Speed
Changed Block Tracking can improve backup speeds. CBT keeps track of any storage blocks that have had their data changed since the last backup. By using incremental backups you can increase the speed of backup but you can also save a lot of storage space. It is also much more efficient to send only the changes to a secondary location or the cloud. You will save on time and if using the cloud, also the money.
Snapshots Are Not Backups
Once you try snapshots you will love it. In case of problems, you only click on the restore and you have the original state within seconds. But, snapshots do not copy your entire VM data. The hypervisor creates only a block of changes. A particular type of virtual hard disk that has a parent/child relationship.
Snapshots use additional disk space on your datastores. Each snapshot can outgrow the size of the original disk. There come problems, the more snapshots you have running, the greater it can impact the performance of the host.
Virtual machine snapshots should never be used as a primary backup, period. But snapshots are great if you have to upgrade the system for example. If the upgrade fails, you can quickly revert to its original state.
3-2-1 Rule and Copy Your Backups to a Secondary Location
At this time, you simply can't afford to have all their backup data in a single location. In the past multiple backup locations were part of IT best practices. Now, with all the ransomware and state-sponsored hackers, I can not imagine running backup with at least one off-site. You don't need to have rented space. You can use the cloud for affordable secondary locations.
3-2-1 rule is as follows:
1. Three Copies of Data. In addition to your primary dataset, keeping at least two additional backups is the best.
2. Two Different Media Types. One Media can be NAS the other TAPE.
3. One Offsite Backup Copy. Physical separation between copies means two locations as far away as possible
It is important to note that you should not save the backup on the backup server.
Don't save on backup resources. We all want the shortest backup windows possible. That means we have adequate hardware for your backup server so it doesn't become a bottleneck when performing backups. Bandwidth is only one of many requirements. CPU and Memory resources are equally important. The backup server is doing extensive operations and if resources are limited you can expect slow backup and we don't want that. Make sure you follow your backup vendor's hardware recommendations for the backup server. Backups can slow down if the backup server does not have the required resources.
Test your backups
Do you test your backups? How do you know that backup can be recovered in case of failure? You will never know if your vSphere backup is ready for recovery unless you test. But if you had to test backups regularly, that would consume a lot of your time, yes? We all had those problems a couple of years ago without modern backup and agent-based backup.
But in this time when a great backup solution is much more than a backup, you can leverage automation to your advantage. Do you know that Nakivo Backup and Replication can test your backups? After the backup is completed, it will start all Virtual Machines and will notify you via email. That way you know for every backup that can be restored properly.
Create Application-Aware Backups
Backing up your application data properly is key to protecting your application data. Microsoft SQL Server, Microsoft Exchange, Microsoft Active Directory are such applications that rely on transactional consistency to avoid data corruption. That's why it is very important to properly interact with such applications to maintain the consistency that is required. Otherwise, the data can become corrupted. Consistency is maintained by using application-aware backup. If the backup is aware of such applications you can be assured that backup is done properly.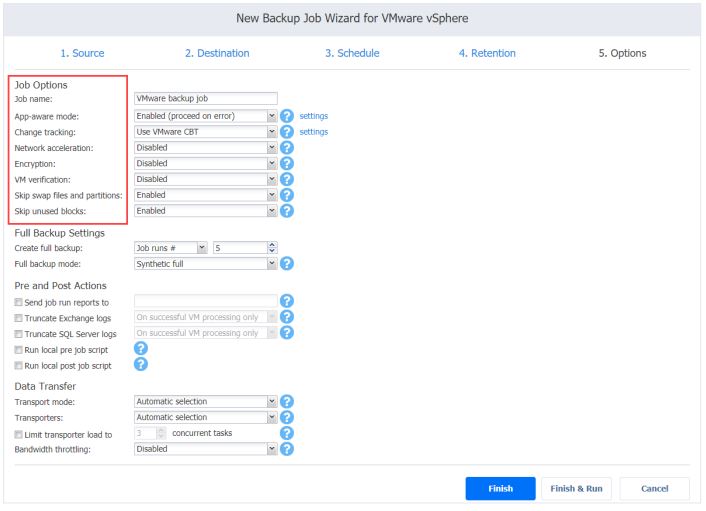 When application-aware backups are used, VSS is invoked and can maintain data consistency when backups are started of your business-critical application VMs.
Leverage the best of technology.
You have several tools to increase backup speeds and regulate network bandwidth available in your network. NAKIVO Backup & Replication uses LAN-free storage access modes, Direct SAN access mode or HotAdd, for VMware backup jobs. You can divide production and backup data streams. That way the software increases backup speed and lowers the load on your network.
Network Acceleration is my favorite feature. It can shorten backup windows and reduce network load when performing backups over WAN or in busy LAN environments. For example, when you have a secondary location with lower bandwidth you can speed up the backup to that location. With Advanced Bandwidth Throttling, you can set limits on how much bandwidth backup jobs use. That is super helpful when you have to perform backups during office hours without interfering with core business operations. You can adapt at any time by increasing or limiting the bandwidth.
You can try Nakivo backup for free in less than 5 minutes.