EaseUS has released version 7 of EaseUS Backup Workstation. The most noticeable and most appealing feature is complete visual overhaul. Previous versions had outdated look and with version 7, EaseUs created a beautiful product which is packed with features ready to be deployed in every type of corporation.
EaseUS Backup Workstation 7 is Windows 8 compatible. Another feature that stand out compared to competition is pricing. It's much cheaper than competition as you can save up to 50% compared to several "well known brands".
EaseUS Todo Backup Workstation 7 Review
When you open EaseUS Backup Workstation 7 you will notice a new look.It looks great. Even though icons are positioned in the similar way you will notice that when you hover over an icon with a mouse, animation is more fluid, more responsive. Maybe that is just a feeling but it does feel faster.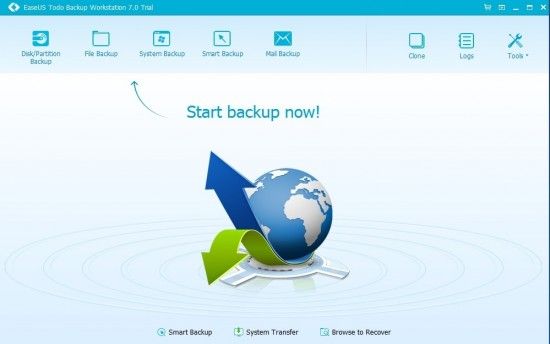 Creating a backup for the first time is easy even for novice user, below the icons you will see which actions you can perform.
You can backup Disk/Partition, Backup only files that are important, create System Backup or create Mail Backup. It can't be simpler than this. Important feature is System Transfer – when you will migrate your computer to a new hard disk or SSD drive, you will be glad that Todo Backup Workstation 7 can do that as well. Usually, you have to buy a separate tool for that.
EaseUS Todo Backup 7 supports several locations where you can backup your data. You can backup to another disk, ISCSI drive, NAS device and even Tape.
On the right side you will notice a Tools button. When you click on the icon a menu will open with several options you can choose.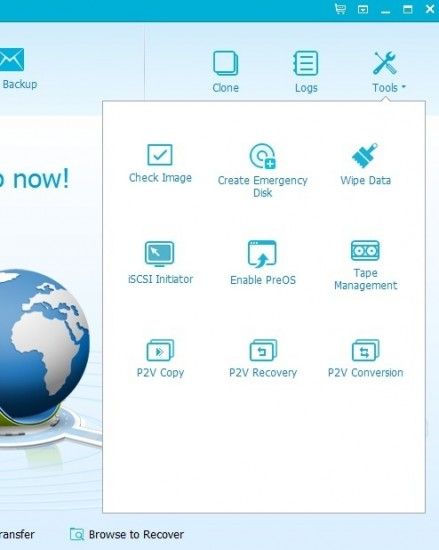 Among the features you will notice – Enable PreOS. PreOS is an option to boot  to recovery environment. This is helpful when you can't boot to Windows. When enabled Windows Boot Manager will start. You can choose to boot to Windows or to PreOS.

When you run EaseUS Todo PreOS, EaseUS Todo Backup Workstation will load in WinPE environment.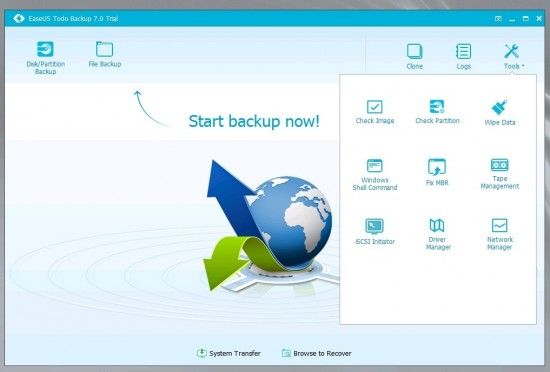 Not all features are available but you are able to backup, recover, Fix MBR, Check Partition, Wipe Data or manage network locations including ISCSI.
EaseUS Todo Backup Workstation 7 Features
Virtualization support – P2V Copy, P2V Recovery, P2V Migration
GPT/UEFI support
Restore to dissimilar hardware
Incremental / Differential backup
Schedule Backup
System restore via WinPE bootable disk
Block-level disk imaging
EaseUS Todo Backup Workstation 7 New features
New interface
New smart backup feature – Todo Backup will backup only files that were changed
Automatic updates
EaseUS Todo Backup Workstation 7 review – Conclusion
EaseUS Todo Backup Workstation 7 is a great backup product for backing up Laptops and Workstations. It's reliable, looks good, simple to use and you won't break a bank to protect data of your users.
Corporate users will be glad to know that you can buy additional product called Central Management Console. By using CMC, you are able to remotely manage multiple installations. You can also mix and match Workstation and Server installations and manage both. I did bare metal restore with previous version and had no problems. Data recovery won't be a problem and as a bonus you also get migration to a new drive/SSD and disk wipe functionality. Great bundle.
EaseUS Todo Backup is available in several editions including Home and Server editions. You can find more information on EaseUS website.