Hello Guys, how are you doing? Today, we are going to discuss one of the asked questions in our blog on how to unlock Windows 10 laptop password if forgotten. It is not big news that nowadays people use very strong and secure passwords to encrypt their computer and laptops to keep it away from strangers. But, if you keep changing your password regularly then there's a high chance that you might get perplexed and forget the password of your own PC.
Forgetting your Windows 10 laptop password will be a furious and stingy moment because without the correct password, even you won't be able to access your own PC and thus, all the data and documents in your laptop will be inaccessible. If you have a password reset disk of your laptop then certainly changing the password of your PC will be not difficult but most people don't even care to make one until they are swamped on a situation like this.
But never fear, in this post, we will show you how to unlock Windows 10 laptop without a password reset disk. That's where iSeePassword – Windows Password Recovery Pro comes into action.
What is iSeePassword – Windows Password Recovery Pro?
It is an innovative and meticulous solution to reset Windows 10 laptop password without any issue. It sophisticatedly removes the password from your computer making it easier to access your computer normally just like before. Over millions of users has downloaded it and successfully reset their password from their computer in the most desperate times. The best feature of this program is that it removes the password from your computer without even deleting a single file from your computer. So, it is guaranteed that 0% data loss will occur with this program.
Benefits of using iSeePassword – Windows Password Recovery Pro –
Unlock any Windows computer or laptop by creating a password reset disk in 2 ways – USB driver or CD/DVD.

Supported in all Windows OS versions – Windows 7/8/10/Vista/XP, Windows 98/2000 and even the older Windows servers.

Compatible with over 8000+ laptops models and brands like Asus, Sony, Samsung, Dell, Lenovo, HP, etc.

Destroy password from all kind of user account types such as root, administrator, local and Microsoft account.

With the latest version of this password reset tool, you can even reset the password of domain accounts.

Supported in all types of hard drives such as IDE, SATA, HDD, SDD, FAT, FAT32, NTFA and so on.

24X7 support available.
Guideline to use iSeePassword – Windows Password Recovery Pro –
You will be required to have access to a working computer or laptop with administrator rights and an empty CD/DVD or USB flash drive. Then you are all set to unlock your Windows 10 laptop.
Step 1. From the different accessible computer, download and install the program on a Windows computer. Next, insert the USB flash drive into the computer and hit the "Burn USB" button from the main UI of the software. If you are going to use a CD/DVD to achieve this task then rather click on "Burn CD/DVD".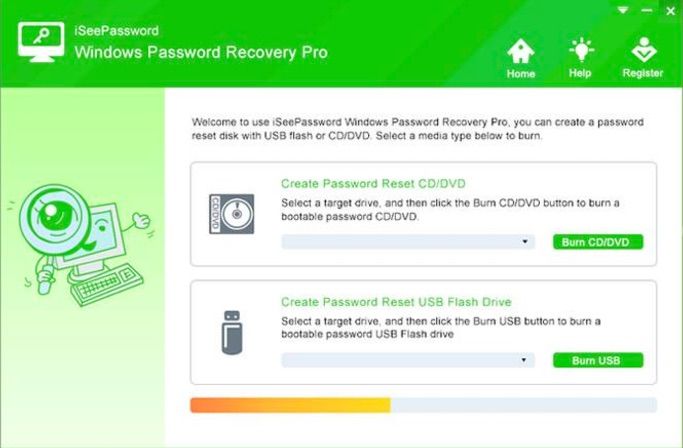 Step 2. Wait for few minutes patiently until the program creates the password reset disk successfully. After that, remove the flash drive from the computer and return the borrowed computer to its owner because you don't need it anymore.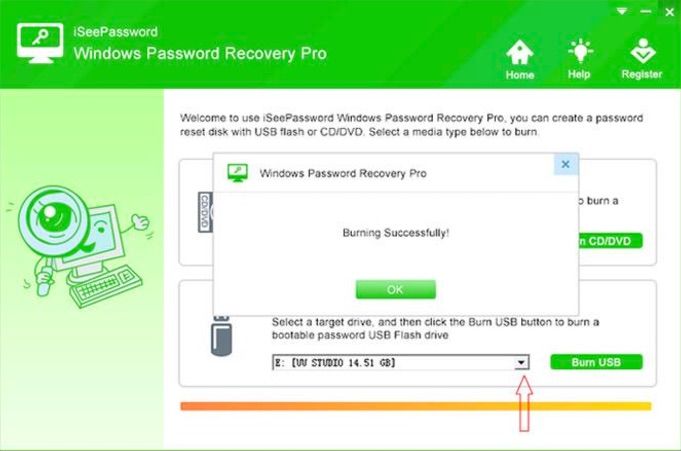 Step 3. Insert the password reset disk/USB flash drive to your main computer and wait for the password reset tool to display on the monitor. Now, choose the targeted user that is locked and the Windows OS version you are using, say Windows 10. That's it, now hit the "Reset Password" button and wait for the tool to completely remove the password from your PC.
All Done! Restart your laptop and it should not ask you any password now. You can check your system now and no data should be deleted at all.
Pros
No data loss will occur with this tool.

100% password recovery guaranteed.

Remove any length or strength of passwords. It can even remove 20+ characters length of the password.
Cons
You can analyze all the accounts in your laptop with the trial version but in order to remove the password, you will be required to pay a small fee to unlock your PC or laptop.
Conclusion
Protecting your computer and laptop is highly recommended due to increasing hacking attempts every day. Additionally, it's a great way to prevent strangers and intruders accessing your computer. But remember, secure and strong passwords cannot be memorized often and if you forget it once in a while then don't panic because iSeePassword – Windows Password Recovery Pro is here to save your day. And if you are choosing any other product then don't forget to read the reviews and ratings of the program before using it.