Several years ago when I really devoted my soul to IT, there was a website and it was a really great asset for IT Professionals. DNSStuff.com was powerful tool for every admin, as it provided essential DNS tools, you entered domain name and it showed you all the information, good things and most importantly bad things.
It was great resource and number one on my IT tools list.
Later on, they decided to make it commercial and if you wanted any insight in to you domains you had to pay. Looking back, I remember I could not really afford it in the long run, as it was subscription based and I didn't had that many domains to manage. Also new, free tools appeared that filled the void.
Anyways, now I am happy to report that dnsstuff.com got freed, again by the great company called Solarwinds.
Kudos to you guys, you are making great products and also giving back.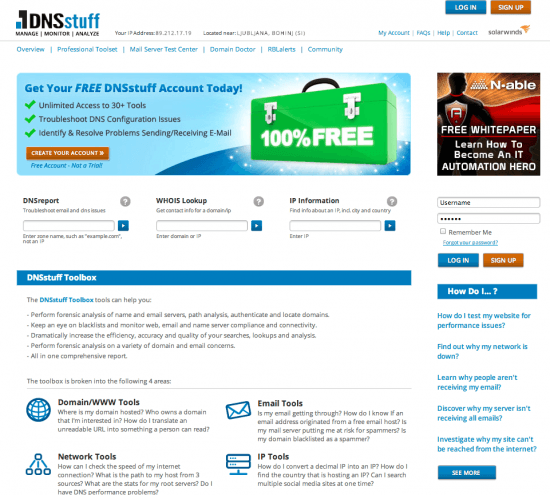 DNSStuff.com features
DNSStuff can be a first tools to check DNS problems related to emails, for example, you can check if your email server is on the blacklist
Please visit dnsstuff.com and create free account – yes, FREE.
Get your free account on DNSstuff.com
It's back on my best of IT Tools list.
Need to review couple of Solardwinds products soon. Great company.