Great Sysadmin utility for IOS ManageEngine PingTool has several tools that are needed by Sysadmins.
Usually when you need those tools the most you just happen to be out of the office, without a computer.
Don't be fooled by the name PingTool as it is small Swiss army knife for IOS. And free
Tools that are present in PingTool are:
Ping Tool
Traceroute
DNS Lookup
Response Time
SSL Monitor
Scan Ports
Host List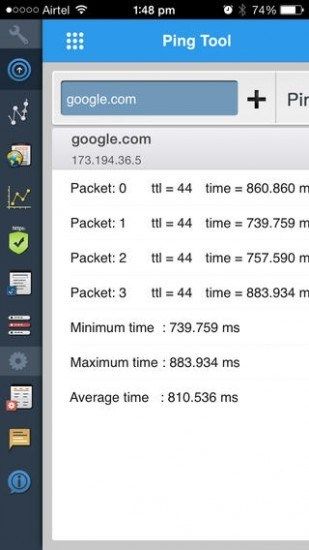 * Monitors the availability of the servers, routers, devices in a LAN environment.
* You can check your website availability.
* Monitors 5 hosts simultaneously using icmp ping.
* Gives Minimum/ Maximum/ Average trip time of the packet from the host.
* Health status of the hosts are displayed with color coded alerts.
* Shows time-to-live value for each packet received from the host.
* Traceroute websites and servers.
* Shows number of hops packet takes to reach destination server.
* Gives Round trip time in a elegant graphical view.
* Remembers host list information, so that you can avoid frequent entering of host details.
* Supports retina display.