In today's fast-paced and data-driven business landscape, data protection is of paramount importance. Organizations of all sizes, ranging from small businesses to large enterprises, need reliable and efficient backup solutions to safeguard their critical data and ensure business continuity. VM Backup (formerly Altaro VM Backup), a leading provider of backup and recovery solutions, has been at the forefront of delivering innovative and feature-rich backup solutions for businesses. With the release of VM Backup Version 9, the company continues to raise the bar, offering comprehensive data protection for modern businesses.
VM Backup (formerly Altaro VM Backup) Version 9, comes with a host of powerful features and enhancements that address the evolving backup and recovery needs of businesses in a rapidly changing IT environment. Let's delve into the key highlights of this latest version.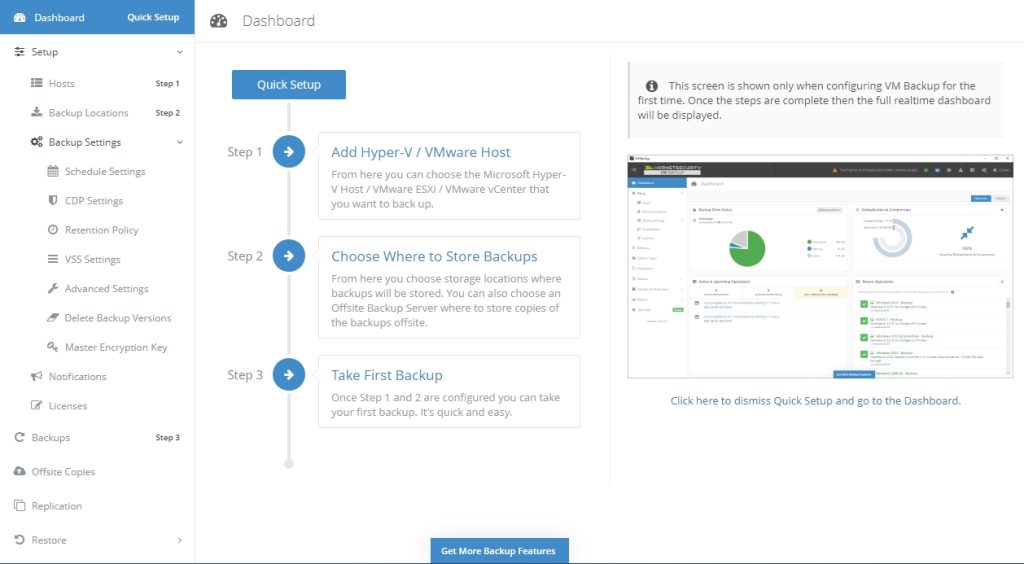 Efficient and Fast Backups VM Backup Version 9 leverages advanced technology to deliver efficient and fast backups. It employs deduplication and compression techniques to reduce the amount of data that needs to be backed up, resulting in optimized storage utilization and faster backup times. This is particularly beneficial for businesses with large datasets or limited storage resources, as it helps save storage space and reduces backup windows, ensuring that critical data is protected without impacting production systems.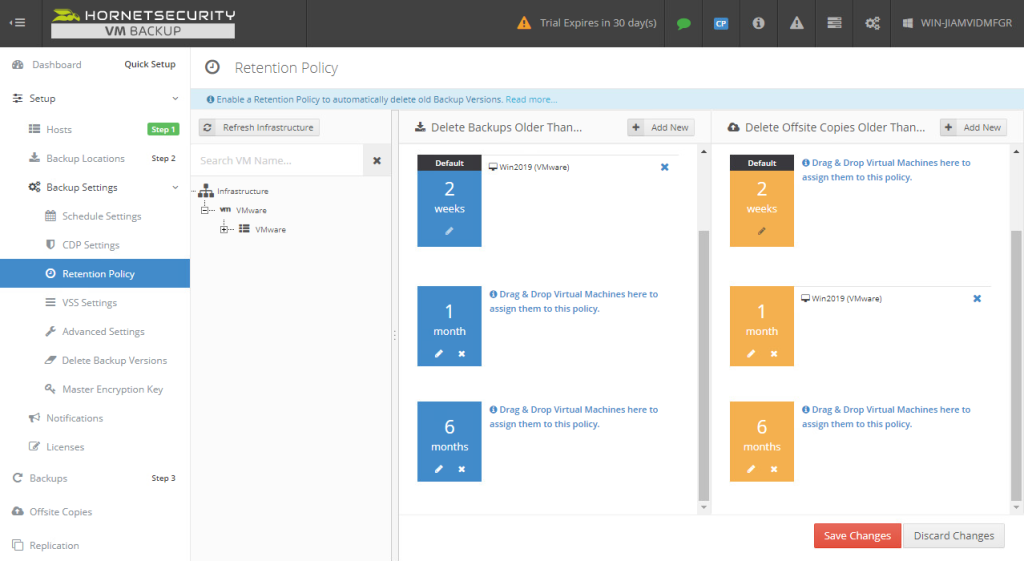 Flexible Backup Strategies VM Backup Version 9 offers flexible backup strategies to suit the unique requirements of different businesses. VM Backup uses deduplication, meaning that that the first backup will copy all data, while all subsequent backups will only backup the changes. This enables businesses to strike the right balance between data protection and storage space utilization, while also providing options for granular recovery of specific files or folders as needed.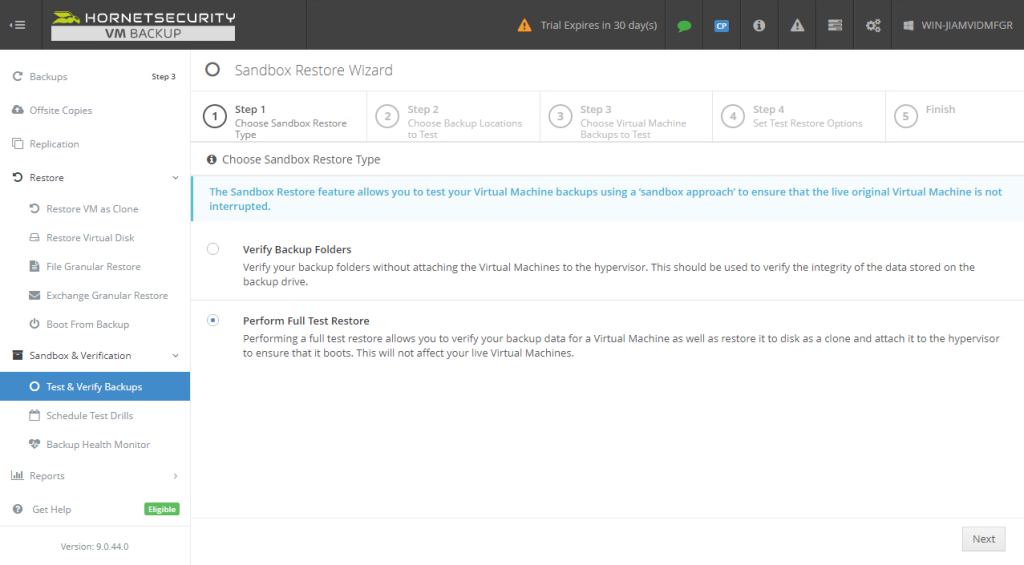 Enhanced Cloud Management Cloud backup and recovery are becoming increasingly popular for businesses due to their scalability, cost-effectiveness, and ease of use. VM Backup Version 9 enhances its cloud management capabilities, making it easier for businesses to back up and restore data to and from the cloud. It supports a wide range of cloud storage providers, including Amazon S3, Microsoft Azure, and Wasabi, allowing businesses to choose the cloud storage option that best fits their needs.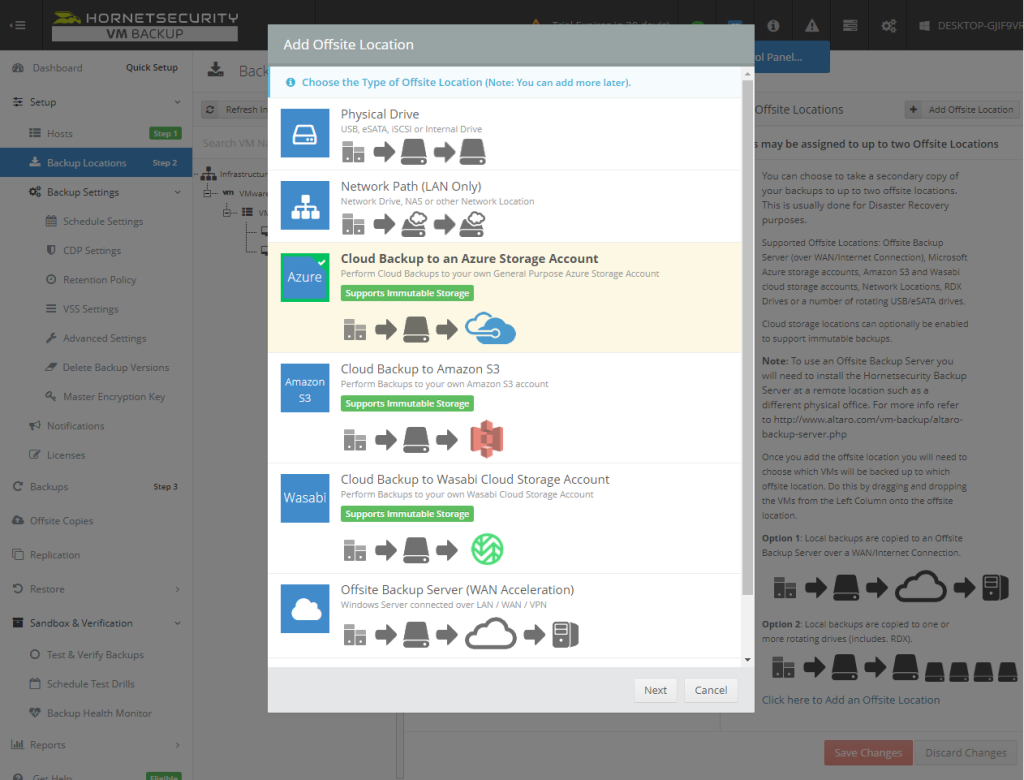 VM Backup Version 9 also provides cloud storage replication, which enables businesses to replicate their backups to multiple cloud storage providers for added redundancy and data protection. With the latest version, VM Backup supports Cloud Backup to an Azure Storage Account.
VMBackup version 9 – All about Ransomware protection
Ransomware protection by leveraging immutable backups on cloud object storage – One of the key features of VM Backup Version 9 is its use of immutable backups on cloud object storage, which ensures that backup data remains tamper-proof during the defined immutable policy period. This means that once data is backed up, it cannot be erased, modified, or deleted by anyone, including cyber-criminals attempting to deploy ransomware. This provides an additional layer of protection for your data, giving you peace of mind knowing that your backups are secure and cannot be compromised by ransomware attacks.
By leveraging cloud object storage for immutable backups, VM Backup Version 9 offers several benefits for businesses. First, it ensures that your backup data remains intact and unaltered, even in the face of ransomware attacks. This means that even if your primary systems are compromised, you can still rely on your immutable backups to recover your data and restore normal operations quickly.
Additionally, VM Backup Version 9's immutable backups provide an extra layer of security on top of the existing offsite storage functionality. Offsite storage is essential for protecting data against local disasters such as fires, floods, or hardware failures. However, ransomware attacks can also impact offsite backups if they are accessible and modifiable. With immutable backups, VM Backup Version 9 ensures that your offsite backups are protected from ransomware attacks, adding an extra layer of security to your overall data protection strategy.
Another advantage of using VM Backup Version 9's immutable backups on cloud object storage is that it eliminates the need to retain unnecessary data and incurs high costs for long-term retention. VM Backup Version 9 allows you to define the immutable policy period, and during this time, the backed-up data remains unchanged, eliminating the need for additional retention copies. This helps you optimize your storage utilization and reduce costs associated with retaining redundant data, as the retention operates seamlessly on the cloud repository.
VM Backup Version 9's ransomware protection features are easy to set up and manage. The Control Panel provides a user-friendly interface for configuring and monitoring backups, including the immutable backup settings. You can define immutability when setting up an offsite backup location – any VM assigned to an "immutable" backup location will have offsite copies taken with the defined immutable policy, while VMs assigned to backup location which aren't immutable will have regular offsite copies taken which can be modified and/or deleted. This makes it simple to implement ransomware protection as part of your overall data backup and recovery strategy.
Improved scalability and robustness – VM Backup Version 9 also boasts improved scalability and robustness, making it ideal for managing large infrastructures with ease. The revamped backup repository ensures robust long-term storage and more efficient utilization of disk space, allowing you to efficiently manage your growing data needs. Additionally, data retention in the offsite repository can now run concurrently with other operations, providing even greater efficiency and flexibility in managing your backups.
Simplified Management – Managing backups can be complex and time-consuming, especially for businesses with limited IT resources. VM Backup Version 9 simplifies backup management with its intuitive and user-friendly interface. The Centralized Control Panel provides a single pane of glass for managing all backup and recovery operations, making it easy for businesses to configure, monitor, and manage their backups from a single location. The console also offers customizable reports, providing insights into backup performance, storage utilization, and other critical metrics, enabling businesses to monitor their backup operations effectively.
Application-aware Backups – Many modern businesses rely on a variety of applications to run their operations, such as databases, email servers, and virtual machines. VM Backup Version 9 offers application-aware backups, which provide consistent and reliable backups of these applications. It supports popular applications, such as Microsoft Exchange, Microsoft SQL Server, and VMware, and ensures that these applications' data integrity and consistency are maintained during the backup.
Conclusion
In conclusion, VM Backup Version 9 offers a comprehensive and reliable solution for businesses looking to protect their critical data. With its innovative ransomware protection features, including immutable backups on cloud object storage, VM Backup Version 9 provides an extra layer of security to safeguard against the increasing threat of ransomware attacks. The optimized scalability and robustness of the software make it well-suited for managing large infrastructures, with efficient long-term storage and data retention capabilities. The user-friendly interface and centralized Control Panel make it easy to configure, monitor, and manage backups, ensuring a seamless experience for IT administrators. Overall, VM Backup Version 9 is a powerful and efficient backup solution that provides peace of mind, enhanced data protection, and cost optimization, making it a great choice for businesses of all sizes.