Internet Explorer 11 is part of Microsoft Windows 8.1 which was released released to manufacturing in August and in October it was released to general public. In October Microsoft released Internet Explorer 11 for Windows 7. In coming weeks, Internet Explorer 11 will be available on Windows update as an automatic update.
Why administrators don't like having Internet Explorer 11 to install automatically is because in their organisation they may use web applications that are not compatible with Internet Explorer 11.
Reason is pretty simple, web applications were not updated to work with the latest Internet Explorer. If application is not compatible with the latest version, it may not work at all or it will not be show correctly and will be unusable.
Before you decide to block IE installation, you can test application first. If it does not work, you can try using compatibility mode. In most cases it solves the problem.
There are three ways to block Internet Explorer 11 to automatically install:
1. How to block automatic Internet Explorer 11 installation using registry
You can block the upgrade by changing a registry value. To change the value, you have to open REGEDIT (Click on a Start button, in the search field type regedit. Once it opens you will find the value is under following path:
HKEY_LOCAL_MACHINE\SOFTWARE\Microsoft\Internet Explorer\Setup\11.0
Add a DWORD value named:
DoNotAllowIE11
Set the value to 1 in order to block, Set the value to 0 in order to unblock. Value 1 will stop automatic installation. The same procedure can be used when the new version gets released, just watch out for the version number as this solution will not work as the version will be different.
2. How to block automatic Internet Explorer 11 installation using Internet Explorer 11 Blocker Toolkit
Download Internet Explorer 11 Blocker Toolkit from  Microsoft. Run it, Accept the agreement, run CMD as the Administrator. Then run blocker toolkit, select location where to extract files, enter in CMD:
ie11blocker.com /B, that will block deployment on local machine.
You should know that different registry keys are used to block automatic installation of Internet Explorer 9, IE 10 and IE 11, that means that you have to block every version. Don't forget, when new version will be released, you will have to block it again.
User can still install IE 11 manually though. Above procedures are only used to block automatic installation from Microsoft Update.
Users of WSUS or SCCM do not need to block automatic IE11 installation as they control installation of Microsoft updates with both tools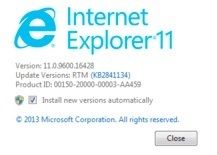 3. Use Intelliadmin Network Administrator
Intelliadmin Network administrator is a great tool for Administrators that can save you a lot of time. One of the features that is updated with every Windows release is blocking installation of the latest version of Internet Explorer. All you have to do is to select computers, choose action (in this case block installation of IE11) and enter domain administrator credentials. Last action is to press the button to start the opreation.
I guess this is also the most simple solution, especially for newbie admins.