Would you like to use Thunderbird to connect to Exchange EWS? Perhaps some other email client? Or your company still uses Exchange 2003 and you have Outlook 2011 installed on you Mac?
There are various scenarios where use of other than Outlook email clients would be beneficial to the company or individuals, but, sadly EWS support is only available in Apple Mail and email clients for mobile phones.
Just yesterday I had such case and fortunately there is a nice solution called Davmail.
How to use any email client with Exchange EWS
What is Davmail?
The main goal of Davmail is to provide standard compliant protocols in front of proprietary Exchange. This means LDAP for global address book, SMTP to send messages, IMAP to browse messages on the server in any folder, POP to retrieve inbox messages only, Caldav for calendar support and Carddav for personal contacts sync. Thus any standard compliant client can be used with Microsoft Exchange.
You can use Exchange features such as EWS Email, Calendar and Contacts with standard protocols.
Davmail is written in Java and is available for Linux, OSX and Windows. It can be run as a standalone application or as a web app. Do you know it's open source? How to use any email client with Exchange EWS? Easy, install Davmail and use it as Exchange front end.
Installtion is very simple, basically next, next, next.
In the sidebar you will notice orange icon. You can use it to open Davmail.
All you have to set is exchange EWS path, ports,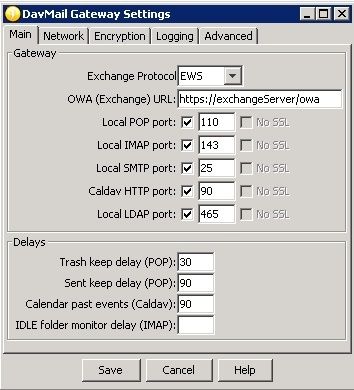 then add domain and that is basically it.
Now setup email client, enter hostname or ip of the server where DavMail is installed, protocols and you are set. You can also add Ldap for contacts and WebDav for Exchange synchronisation. You now have a fully functional email client with access to company contacts and calendar.
You can get it on Sourceforge homepage
If you are looking for a way to connect Thunderbird to MS Exchange you can via plug in. In case you are looking for Outlook alternative with Exchange support, you can check eM Client review.