One of the tools I loved the most for documentation was called DekiWiki by MindTouch. Later it was renamed to MindTouch Core in order to put emphasis on the basic – opensource functionality. On top of the Core edition, they created an Enterprise product which was later sucked into a subscription-based cloud service. Unfortunately, the core edition disappeared along with enterprise version. But the product was really great. Simple to use and maintain.  I am pretty sure there were other people using it and were looking for alternatives. There are many wiki products, some are only available as open source (media wiki), some are available as open source with enterprise edition as an option and some have their own licensing model. Some are exclusively commercial while some companies found an interesting model like the company called Bloxware.
Lessons Learned Server review
Lessons Learned Server is a documentation tool which is commercial, but what is interesting about the product is the price. It's very affordable. I mean, very very affordable. For a small team of 5 user accounts the price is only $45 and for a team of 15, the price is only $135. That is great, but if your team is a size of 10 users and you don't plan to publish more than 100 pages, the price is FREE. I think the free plan covers most small IT teams and in case you require more pages, you can easily upgrade.
What about the installation and functionality?  Because the application is written in PHP, installation is super easy. The application uses a Space and Page structure. You can think of Space as a Project. For example, in IT world Space would be named User Application manual, Licences, Desktop Standard installation manual.

When you are documenting a procedure or a program, you will also need to attach screenshots. Some Wikis have this strange habit where they insist on uploading screenshots first to the picture repository which you can then use on the page. Lessons Learned server supports pasting directly from the clipboard to the page. This is also one of the top features of this CMS.
Sometimes when multiple users are working on the project you would like to know what was happening with documentation. You can see all the recent pages that were created, comments that were posted and files that were uploaded.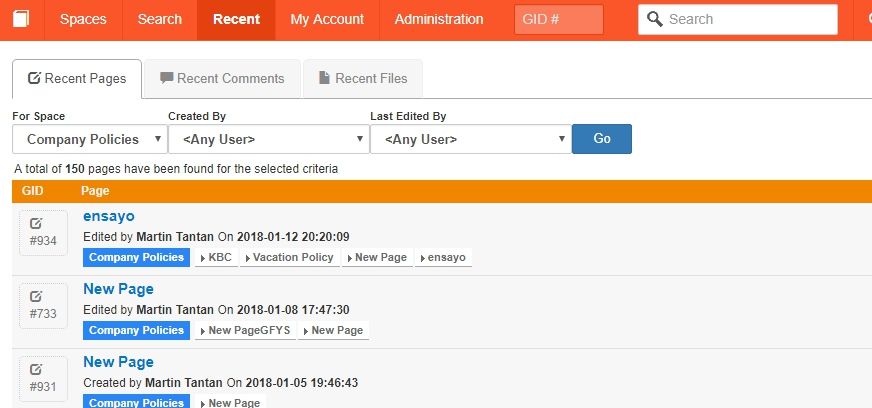 If your colleague deleted a space, you can restore that space, so the system is quite powerful. In addition, all documents have revision history tracking where you can view, rollback or delete previous revisions.
Also, the search functionality is very good. Content is indexed in real-time. Search supports complex boolean, phrase and wildcard queries.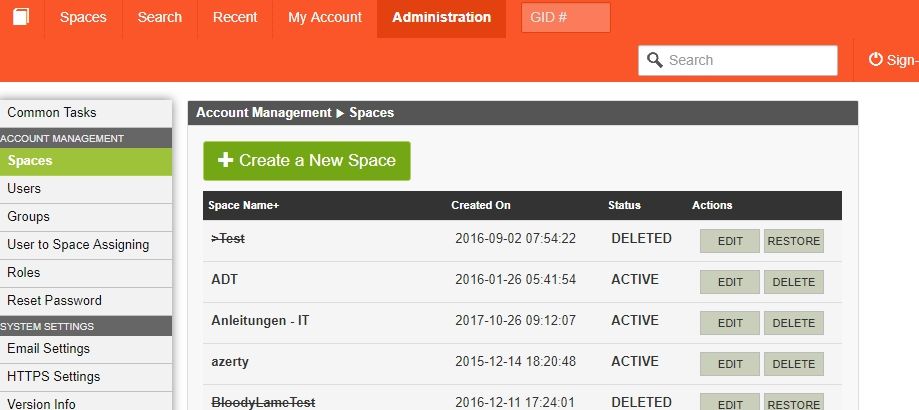 The administration is simple and intuitive. You can quickly manage, Spaces, Users, email and HTTPS settings. One of the options that are great is built in backup, where you can download the snapshot of your server. Compared to MediaWiki that is a blessing.
Conclusion
Lessons Learned Server is very nice and solid solution for documentation. It can be used as a company-wide solution or just for a department use. The price is great and it even has a free edition which can be enough for small teams. I like every aspect of the product. Perhaps locating the Space may be hard for first-time users. Looking at the changelog, the current version of the product is 3.0.1 and it looks like it has it hasn't been updated for a year. Hopefully, there is heavy development on version 4 underway as it would be a sad to for this nice product to go on the same path as DekiWiki. If you want to have a peak you can log in to the demo area and test Lessons Learned server without installing it on the demo page.