In January 2013 I have published a post called LibreOffice in the Enterprise where I shared experiences we had with LibreOffice migration. In the end I mentioned Visio support in LibreOffice Draw and that I was able to replace MS Visio. One of the problems I had was finding high quality icons (stencils) for LibreOffice Draw. You see, LibreOffice has become a solid Visio replacement, and with every new version is becoming a viable Visio freeware alternative.
While there are some LibreOffice computer and network shapes and a number keeps growing, there is still a shortage of High-quality shapes to build network diagrams.
Fortunately, Mr. Mark Oellermann, who works for VRT Systems, contacted me with great news. He created LibreOffice Network diagram icons of high quality. The shapes are isometric and very similar in style to MS shapes. Icons are licensed under Creative-Commons. Meaning they are free to use. They are available in both LibO and OO extension repositories. In addition, they have been packed in Fedora 19 and 20 repositories.
I love them and I already see how LibreOffice Network diagram icons will help me with network diagrams.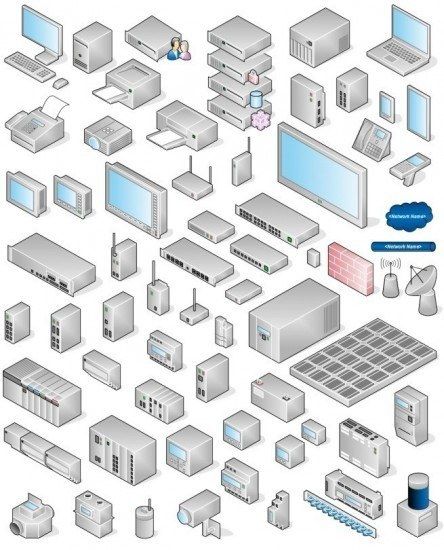 Let's take a look which shapes are available:
Switches
Workstations and Laptops
Servers and Rack servers
Printers
Cameras
Telephones
Access points
Firewall
Monitors and Televisions
Printers
Tablets
Stocktake scanners
Automation and energy management
Mr. Mark said he will push out a new release with new darker variant and some logical networking symbols in Rev. 1.0.7. 
Update: After 6 months, I went to see the progress of the Shapes project. WOW, just wow.
What I found was an impressive update, now at version 1.2.0.
A lot of new shapes have been added. If you are looking at a Cisco style shapes, they are present. Switch, Router… anything you need. There are many different designs for switches, printers and handheld devices.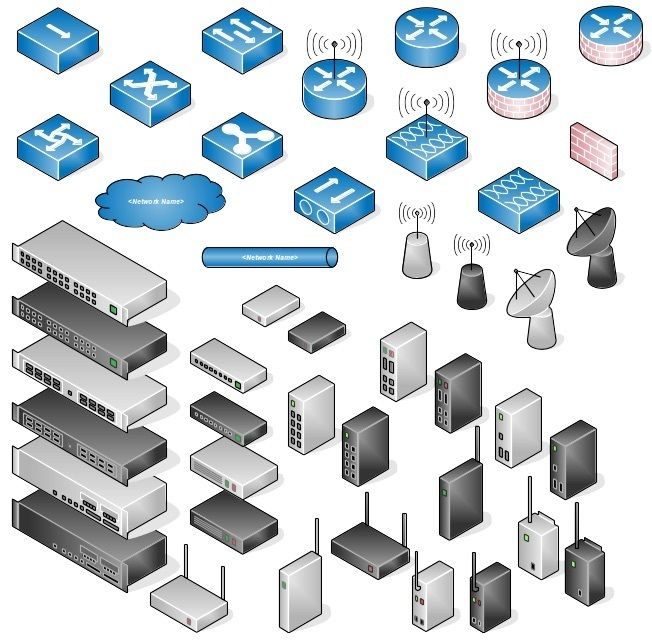 I am really happy that people were added the the list, and you will find even table scanners, additional printer, computer and laptop design.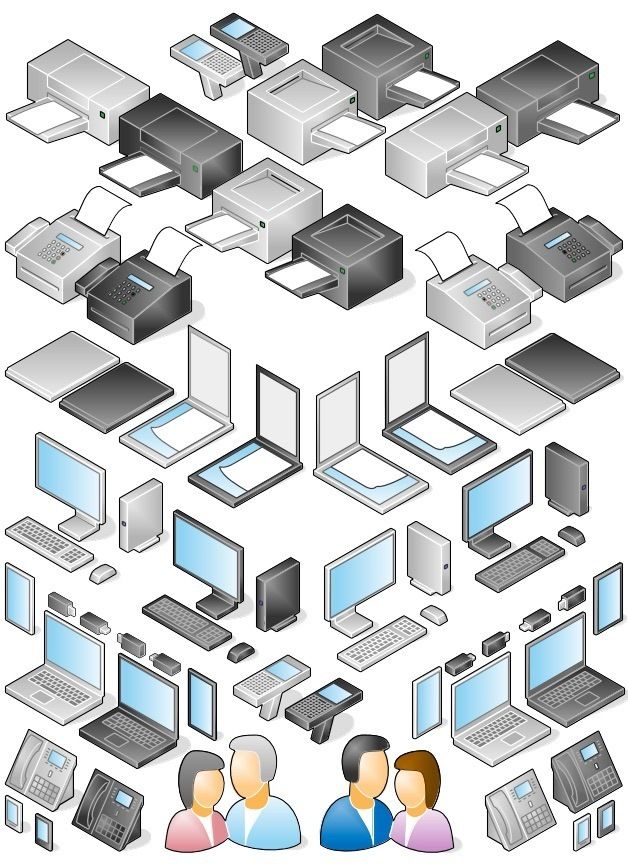 And at last, my favourite ones, Servers, Server cabinets, objects for Databases, folders, permissions, web server, objects, many combinations with server and type for example web server, database server and so forth.
In addition, a new color was added to every shape. Dark grey is a nice addition to the light grey. Some shapes were duplicated to create new shapes with different a angle. A lot of shapes are made for industrial automation with objects for SCADA, DCS, PLC and RTU's. All in all, there are over 180 shapes in both colors.
Shapes can be used in both, commercial and free projects. While extension can be downloaded from VRT website, it has been provided in Apache OpenOffice and LibreOffice extension repositories.
You can find the latest version of LibreOffice network icons on VRT Systems website. Thank you Mark, for Libreoffice Network diagram icons and I wish you don't stop with your creation.