I host ITSMDaily.com on Digitalocean. I always wanted to try Linode. Linode had a promotion for black friday which I gladly accepted. At first I just couldn't find time to run some tests, but now I was challenged to start an interesting project which I gladly accepted.
I have to admit that using Linode proved a good decision.  Good experience alone was not a reason for this article.
What really made me write a Linode review were some quasi reviews I stumbled when deciding whether to use Linode or Digitalocean. They were comparing Linode to a Bluehost VPS. Surely Linode scored the worst.
Linode rocks
When you move your website to a VPS you will immediately notice the difference compared to shared hosting. Shared hosting uses a server to host many websites.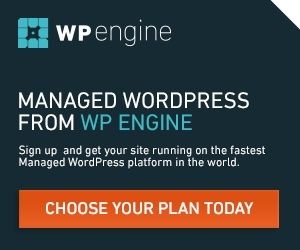 Usually they host too many websites in order to increase earnings. That means that beside your site, there are many websites on the same server. Because of over-subscription, you have notice sluggish admin area performance and first byte is usually very bad.
If some websites use bad plugins, they can drag experience of the remaining websites. If you open a support ticket, why your website is performing as bad, they will tell you to check your plugins. Even though you may be running without plugins.  Speed not only affects experience you have with the website, it also affects your site position in Google search.
First thing you will notice when you will migrate your website is speed. CMS backend will become responsive, website will load much faster and first byte will become so low that it won't be shown as an issue in Google page speed. Plugins that were supposed to be a cause of problems with shared hosting, won't cause problems anymore.
You will love writing content and you will enjoy using many plugins (I use approx 50 plugins without a problem)
What you should know before moving to Linode
With Linode, you will get VPS (virtual private server) which comes preloaded with default Linux installation. That means that out of the box, VPS is not ready to host a website out of the box. First you need to configure Linux and install a web server like Apache or Nginx, MySQL, secure it with a firewall and in the end move your website.
There is no familiar Cpanel which would help you configuring domains and help you install CMS of choice.
While it looks complicated to use a VPS, trust me, it's not a rocket science. If you are a bit technical in nature, you could learn fairly quickly how to use a command line and how to set up a webserver.
If you prefer to use CPanel, there are free alternatives which do the same job just as well are more than enough to host your own website.
My story when moving to a VPS hosted website
I was playing with VPS idea for about 4 months. In this time, I moved from several shared hosting providers. Even some which were using SSD drives. They all shared the same problem. Speed and availability just weren't good. First I tried Zpanel which looked really nice, but in the end I have settled on a Virtualmin. Virtualmin is easy to setup and works really well. When you run setup program, it installs web server, mysql, configures virtualhosts and everything so that you can manage your VPS in the same style you have before with cPanel.
Later on I became familiar with CMD and got to like really like Linux. I discovered that using CMD is easier and faster than doing things graphically. Terminal gives you power and freedom. I also found out a very easy way to set up a webserver which can server 168 Million hits for $10.
Linode review of features
Linode has a pretty mature management panel. First thing to do when you decide to use a VPS you have to select your plan.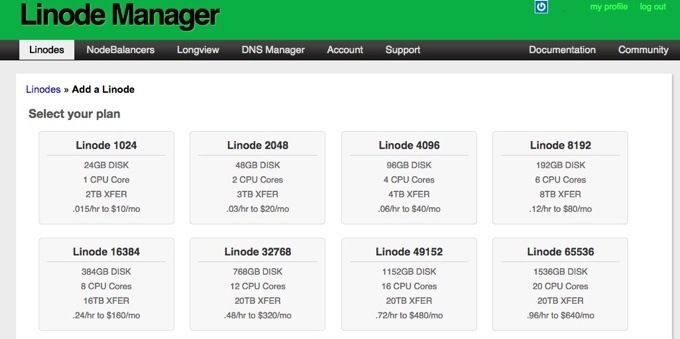 If you are advanced user you will like the option of Node balancer which you can use for your high traffic sites. Nodebalancers are managed load balanced service which you activate to distribute incoming traffic over one or more Linodes.

You can also sign up for backup plan or even managed services if you don't want to have anything with configuration. In that case Linode staff will take care of your site.
Another benefit of Linode management panel is Integrated support system. You don't have to log in to another system like it's usually done with web hosting providers. When you create a ticket, you will receive a fast response directly inside the panel.

Platform is mature. I have tested support and received an answer almost instantly. Linode availability is one of the best in class. They have 6 datacentres spread across the globe: Dallas, Fremont, Atlanta, Newark, London and Tokyo.
Pricing
Unlike some myths on the internet, Linode is not expensive. I have seen some comparisons that are misleading. In most cases pricing is compared to bluehost. First you have to understand that they both target different type of customers. Bluehost is targeting customers who are used to and require cPanel. On the other hand, Linode is targeting developers and advanced users who are used to setting up a web server. Linode uses super fast SSD drivers while Bluehost uses slower, rotating drives.
Price for a Linode basic plan is $10 1 vCPU, 1GB Ram, 24GB SSD and 2TB transfer. If you add another $10 ($20) vCPU is upgraded to 2 and Ram is upgraded to 2GB. You will also receive 3TB transfer. This plan can also be compared to the starter plan from Bluehost. The next plan is Linode 4GB. It features 4 vCPUs, 96 GB SSD storage and 4 TB transfer. This plan is also the plan where pricing advantage really shows for Linode. From this plan on, pricing difference grows even further.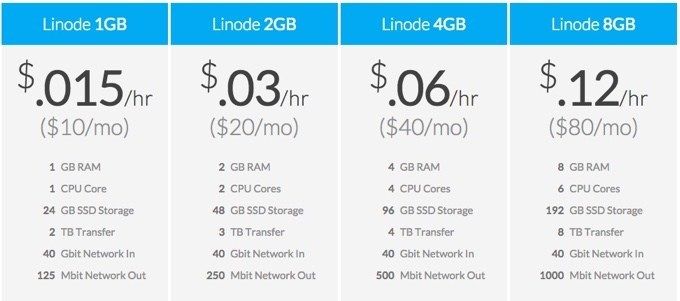 Standard package from Bluehost is the best bang for the buck with Bluehost. For $30 you will get 2 vCPUs, 2GB Ram  and 30GB of storage. You will be limited to only 1TB of transfer so if you are using bandwidth oriented services, you better look elsewhere. But as soon as you need to upgrade to a higher plan, Linode will have an advantage in pricing. The higher the plan, the bigger is the difference in price. If we compare Linode 8 GB plan to a Bluehost ultimate plan, you will pay $40 less with Linode, yet you will get additional 2vCPUs and additional 4TB of transfer.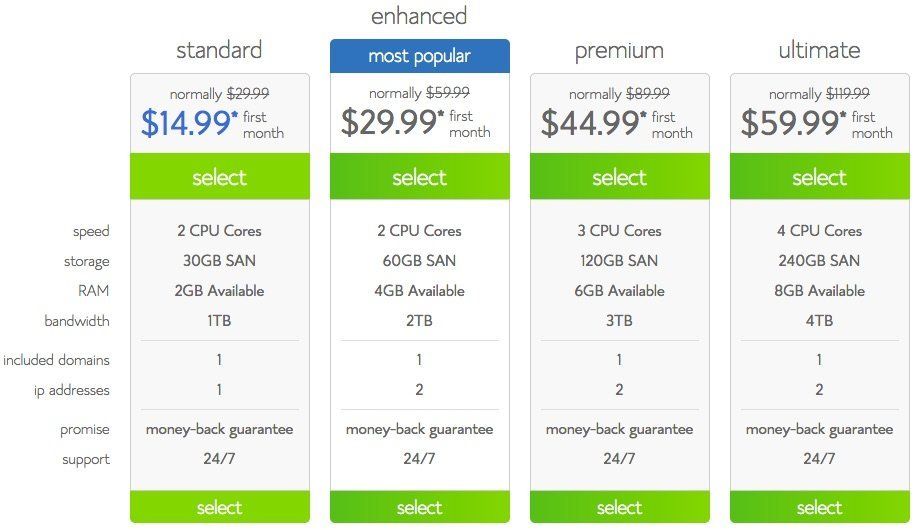 Linode is the best $40 VPS provider
Linode is almost on par with Digitalocean albeit with some minor differences. Linode does not offer a $5 plan. $10 and $20 plans are almost identical. You get a little more space (6GB) with Digitalocean in a $10 plan. But as soon you start looking at a $20 plan, Digitalocean looses advantage, you get 8TB space more with Linode.
But wait, there is more, as soon as you start looking at a $40 plan, Linode bursts ahead with additional 2vCPUs – 4vCPU in total, compared to DigitalOcean's  measly 2vCPU's and you also get 36TB more of storage space. Don't even look at the $80 plan as you will get additional 2 vCPUs, 112TB more SSD storage space and additional 3TB transfer. More of everything.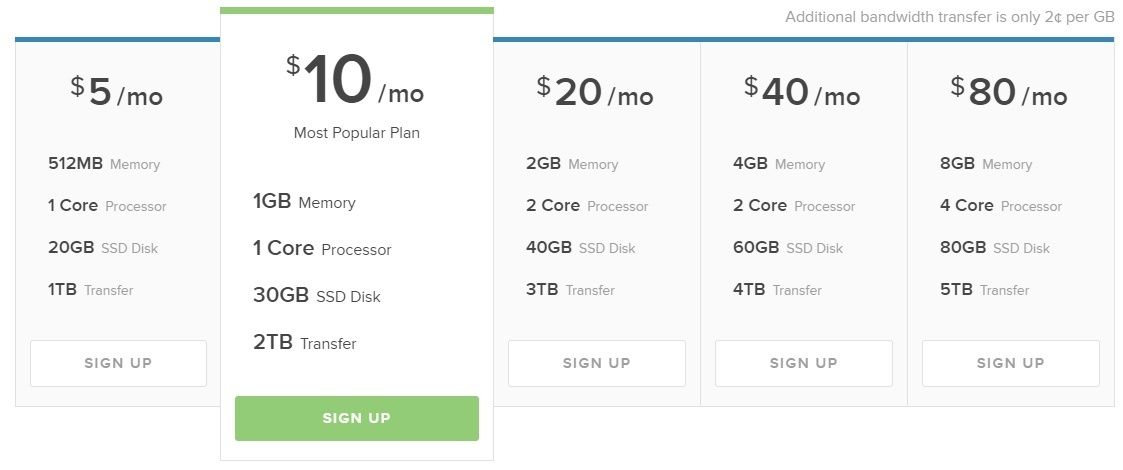 Conclusion
Linode was founded in 2003 by Christopher Aker. In the last 12 years, they learned a heck about the hosting and the cloud. Vast experiences contribute to a VPS hosting with almost no downtime. They are quick to adjust to market trends and prices. The latest price drop was quite significant making it one of the most reliable and affordable VPS hosting companies.