How to make Remote Desktop more efficient? Have you ever asked yourself if there is a way to manage Remote desktop connections? Instead of manually opening every session?
There is a way, it's free and it's from Microsoft. It's called MS Remote Desktop Connection Manager.
Remote Desktop Manager is small in size, yet it packs a lot of features in cca. 800Kb. It's using built in Remote desktop services, with additional wrapper so that it can show multiple windows and save settings information. Great, what about alternatives? Is Microsoft solution really the best?
Free Remote Desktop connection Managers
I am really glad there is a choice. Some people prefer Microsoft solutions. Then again, some people prefer open source solutions. No matter the choice, I bet you can find solution that you will like for managing remote sessions.
Microsoft Remote Desktop Connection Manager
The best addition of remote desktop manager is that you can have multiple remote desktop sessions in one window and manage connection via folders. On the left side, you have links to your servers. Every server can have saved information of username, password, graphical settings (in case you have a slow link to a location this can come handy)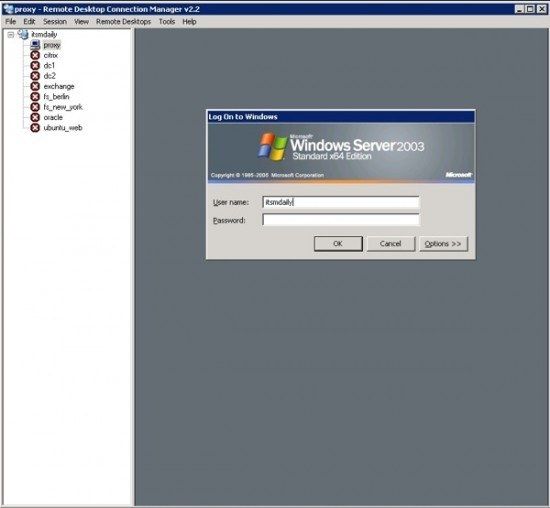 It's easy to organize servers into groups.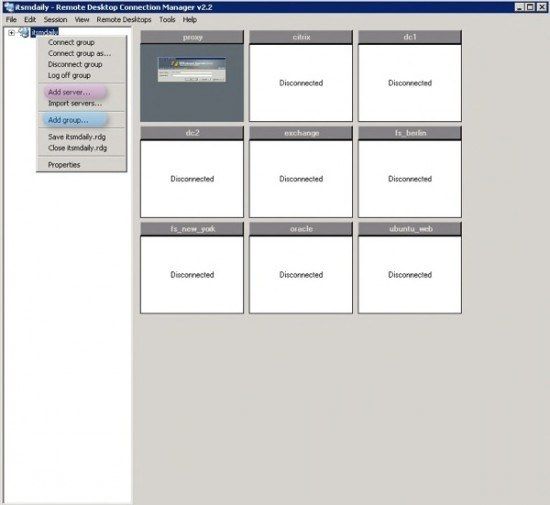 The best thing is that it's free, and that it's very usable. It can save you a lot of time, especially if you have to manage multiple servers. You won't have to type MSTSC like crazy anymore every time you need to manage a server. Once configured I recommend saving config file to a safe place, just in case your computer crashes or something. With the recent 2.7 release, Microsoft improved:
added support for Virtual Machine connect to console
Added smart groups
Windows 8 remote action support
Added support for Windows 8, 8.1 and Windows Server 2012 editions
 Devolutions Remote Desktop Manager
Microsoft solution is simple and great if you only have to manage couple of servers. What about when you have to manage a lot of servers? To complicate a bit, you also have to manage Linux servers, Cisco switches and complete infrastructure? Then Remote Desktop Manager from Devolutions is the one you can take for a spin. It's on top of my list of IT software I can't live without anymore. One of the reasons is that it's available on Windows and OS X. I use Windows in the office and Mac at home. I can easily connect to the same devices at home and in the office.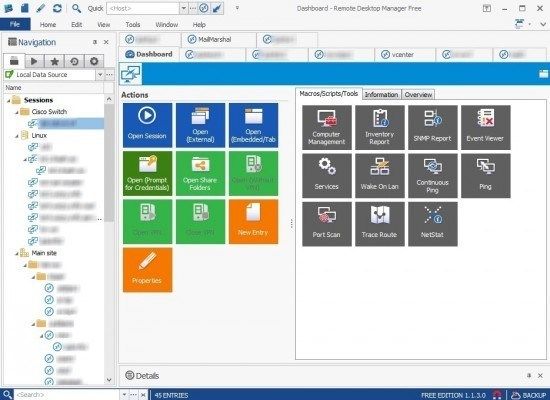 It's packed full with features and latest versions brought great improvements in usability. In addition to RDP it supports many other protocols and connections such as: Citrix, HP RGS, VNC, SSH, Telnet, Putty, HTTP, FTP, LogMeIn, Dameware Mini Remote, VPN, Terminal Services, Radmin, etc… Credentials can be saved to the local database, protected by encryption so that it can't be accessed by unauthorized personnel. You can also save credentials to external applications specialized for password management such as: Secret server, KeePass, LastPass, Pleasant Password Server, 1Password, Password Safe and even Windows Credential Manager. Large organizations can use central password repository to secure access to passwords and improve security.
It integrates pretty well with popular services such as
Windows PoweShell
Microsoft Azure Console
Most VPN Connections
Hyper-V dashboard
Intel AMT support in order to remotely control computers when powered off
etc…
But the functionality doesn't end here, you can use it to store sensitive information like Credit cards, Bank information, Contact information, Email accounts, Alarm codes. By using Document Manager you can attach many documents like contracts, Network Diagrams, FAQs, Agreements, SLA's and many more. With the recently released Cloud File Browser you can share your content in the cloud.
Remote Desktop Connection Manager Standard version is free and can be used for most of IT tasks. If you find features to limited you can easily upgrade. You can check comparison sheet to see if it can solve your problems.
Terminals is a complete replacement for Remote Desktop (mstsc.exe). It features tabbed interface and it supports asset management. You can create groups and move servers to and from groups easily. Just like Remote Desktop Manager it support additional protocols. In addition to Remote Desktop you can use the following protocols:
VNS
SSH
VMRC
Telnet
RAS
Citrix ICA
HTTP or HTTPS based viewers
It will make your job easier by providing most used network operations like Trace Route, WMI, TCP connections, Time Sync, DNS Lookup, etc…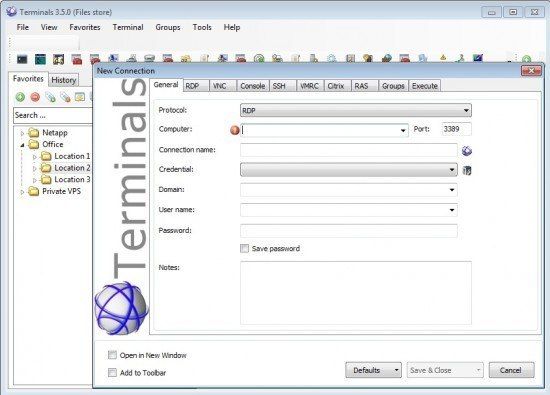 Terminals project is an open source project which is being actively developed. It's hosted on a CodePlex and is available for free. It can be easily used as a RDP replacement.
RD Tabs is another tabbed remote desktop client.  It's a very simple tool, but don't think that it ain't powerful. It will surprise you with features like connections thumbnails, advanced editing, screen capture of remote desktops, command line scripting, and 64 bit support. It requires .net framework.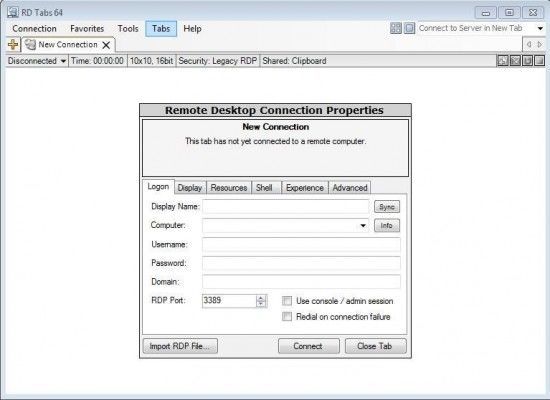 Another simple multi tabbed RDP alternative. It's really small and fast utility written in C++.  What's really nice about this gem is that it's portable and USB key friendly. You can manage remote desktops in groups. Connection inherit credentials from groups. It features drag and drop support, you can connect to console and you can change connection port. It's true that it won't win based on features list, but it's loved by many due to it's simplicity, portability, speed and size.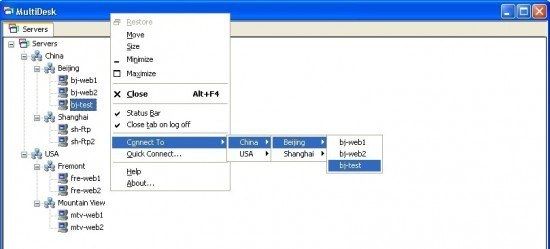 Many of you remember mRemote. One of the first tabbed RDP managers. mRemoteNG is a fork of once great utility. It features support for the following protocols: RDP, VNC, ICA, SSD, Telnet, HTTP, HTTPS, rlogin and Raw Socket Connections. It requires .NET framework 3.0. It's also available as a portable edition.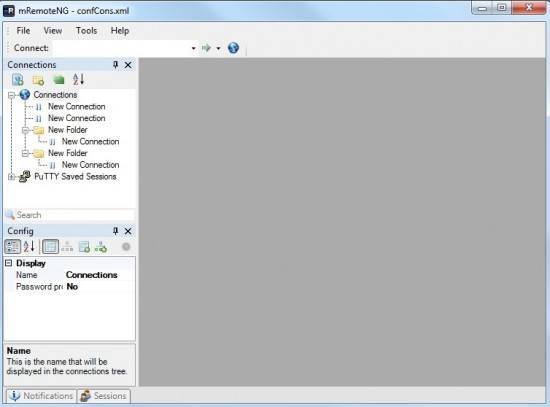 First time you see EasyConnect, you will think you are looking at the Chrome Browser. But don't let the look fool you. It's a great open source utility with fresh take on Remote Desktop Connection Managers. It supports RDP, VNC SSH and remote PowerShell connections. It can be extended via plugins. Passwords are encrypted and stored in your windows key store.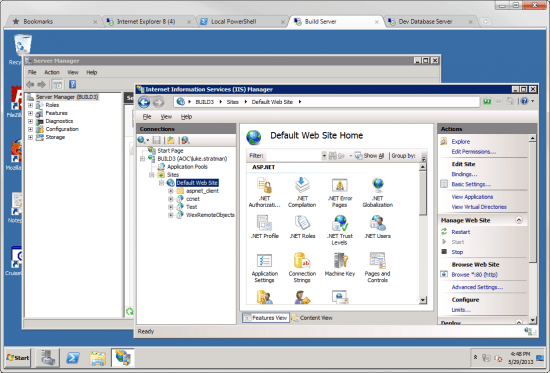 Cord is available exclusively on the Apple platform. It is a beautiful app. Server list pop's out on the side and has a nice 3d shaded effect. In terms of protocol support it supports only RDP. As you scale the window, client is resized automatically. You can easily switch between fullscreen and window. For a while it was one of the best RDP clients on the Mac, but it seems that development stalled a bit.
The biggest strength of 2X client lies with multiplatform support. It supports Linux, Windows, OSX, Chrome, Android, iOS, Windows Phone, it's available even as a Facebook app. I tried the client once on the Mac but since moved to RDM. Still, this tool can come handy in some situations.
Summary
I wish I could say the best product is……. Each product has it's benefits. Some people prefer to use a program that does one thing and does it well, some people like to use the smallest in size, most optimized program for one task. On the other hand, some people prefer to use solution that is packed with features so that they don't need to use another program.
I really like Remote Desktop Manager but I can see some people argue that it's bloated.
I am really happy that there is a choice, and from the listed programs, choice is really extensive and free. At least compared to several years ago when you could count free RDP managers with two fingers.