Nakivo is regularly updating its flagship product called Nakivo Backup and Replication. Nakivo is also a top-rated backup In the industry. addition to bug fixes, this minor release also brings several features that will come in handy to many businesses. Nakivo Backup and Replication can be installed on Windows, Linux, Synology, and various other brands of NAS systems. In addition, Nakivo can be deployed as a virtual appliance on VMware and even Nutanix AHV.
One word about regular updates that Nakivo is known for. They regularly release improvements throughout the year. Nakivo was the first to support VMware 8 in the 1.7.2 release. While it is not the best practice to migrate to the latest VMware, you have the ability to back up VMware 8 is amazing.
News is covered daily by Ransomware attacks, new zero-day exploits, company XYZ being hacked, vulnerabilities in firewalls, etc… We live in dangerous times. It's only a matter of time before a company you know will fall victim to a ransomware attack. In many cases companies that were hacked would not have to pay for ransomware extorsion if they had a good backup, that was tested, on several locations, and was immutable. Unfortunately, as it often happens, when the company is attacked, backup also falls victim to the attackers. The latest release of Nakivo Backup and Replication has some serious improvements for making backup safe.
One of the improvements is support for Microsoft Azure Blob support as a repository. You can back up your complete infrastructure and send your backups hosted in Azure Blob. You can also send only the most important data to save cost. In the Blob Azure storage, you can set up immutability and ensure data is safe from hackers.
Nakivo Backup and Replication 10.7 features
Nakivo is always improving its user interface, hence they did some improvements in the latest version. There is now a new Overview tab that displays key statistics for your Nakivo Backup & Replication deployment. On the Overview tab, you can see information about your jobs and Job statistics, Activities, Speed of transfer, and Information about Backup Repositories. Backup size, etc…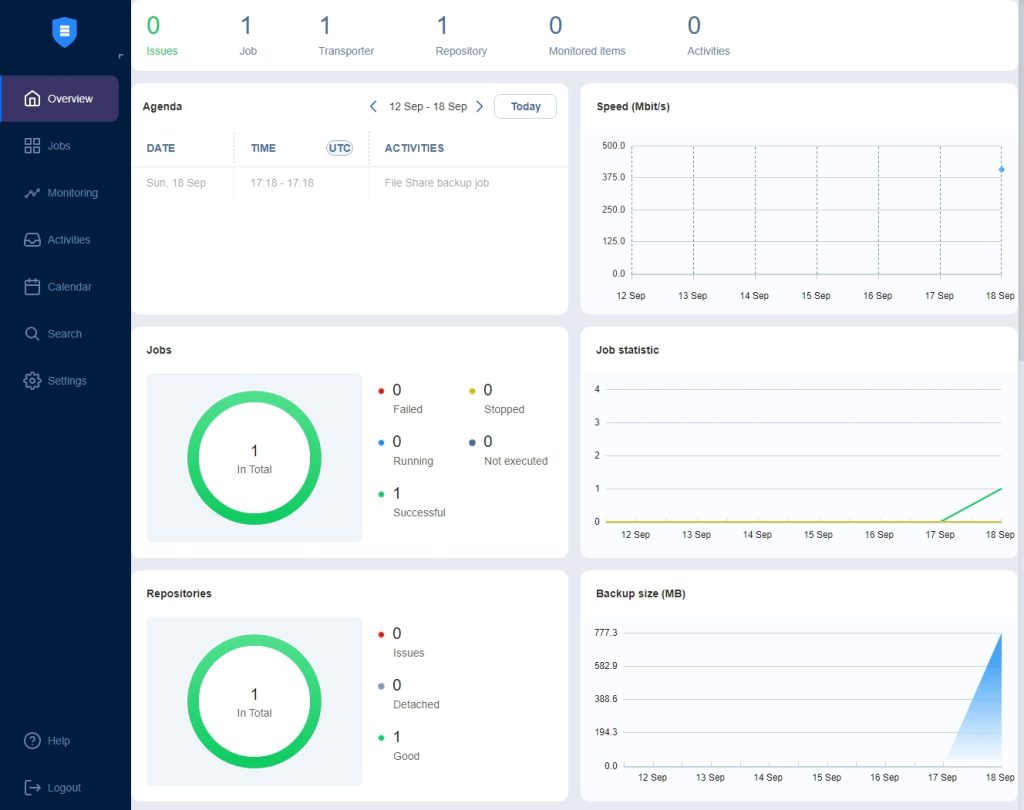 Microsoft Teams Support – With the latest version you can backup and recover Microsoft Teams data, including channels, posts, tabs, or the entire team.
Backup to Backblaze B2 – I am sure there are many companies that didn't want to leverage cloud storage for increased backup security. One of the main reasons is cost. Backblaze is an innovative company that develops its own backup appliances in order to bring down the prices the consumers. You can send backups and backup copies directly to Backblaze B2. You can instantly recover critical workloads when needed. In addition, you can apply immutability to data stored in Backblaze B2 to prevent accidental deletions, comply with regulations and protect data from Ransomware.
Microsoft Azure Blob support – You can add Microsoft Azure storage accounts and Backup repositories located in Microsoft Blob storage to Nakivo. Backups sent to Microsoft Blob can be made immutable.
Wasabi immutability – You can make backups stored in Wasabi Hot Cloud storage immutable for as long as you need.
Native Microsoft 365 Change Tracking – NAKIVO Backup & Replication now supports the use of native Microsoft change tracking for Microsoft 365 backup jobs. This feature is supported for mailboxes (non-group mailboxes) and Teams. All existing Microsoft 365 jobs will be switched to this new option. Each job's first backup run using this option will take longer than previous incremental runs, as it re-scans all source data using Microsoft change tracking. As such, consider editing these jobs and switching over to Microsoft change tracking gradually.
Improvements:
Added immutability support for backups located in Wasabi Hot Cloud storage.
Added an option to configure Transporter auto-refresh prior to scheduled job runs.
Added an option to block emails from being read during Microsoft Exchange and Microsoft 365 recovery jobs.
Users may update and install physical agents on physical machines manually.
Added an option to remove previously configured Active Directory integration.
Added support for Ubuntu 22, RHEL 9, SQL Server 2022, and ASUSTOR ADM 4.1.
Bugfixes and stability improvements.
Conclusion
Nakivo is a king of updates. They update their product between major releases, often with small yet noticeable improvements. The fast pace is incredible yet, each release is stable and thoroughly tested. You can install/deploy on almost anything – from Windows, Linux, various hypervisors, and the various NAS products. You can try Nakivo for free – the installation takes less than 5 minutes.