In today's fast paced, technology-driven world, ensuring the safety and integrity of your business data is very important. Nakivo released latest version of NAKIVO, Backup and Replication 10.9, a comprehensive solution that takes data protection and recovery to the next level. With its advanced features, user-friendly interface, and seamless integration capabilities, NAKIVO empowers organizations to safeguard their critical information effortlessly.
In this article, we will explore the latest features and benefits of NAKIVO Backup and Replication 10.9, highlighting how it can benefit your data protection strategy. One of the standout features of NAKIVO Backup and Replication 10.9 is its intuitive user interface. Designed with simplicity in mind, the software offers a seamless experience for both novice and advanced users. The clean and organized layout allows users to navigate through the application effortlessly, reducing the learning curve and enhancing productivity.
NAKIVO's web-based management console provides centralized control and monitoring of backup and replication tasks across multiple environments. This browser-based approach eliminates the need for complex installations and enables easy access from any device, ensuring hassle-free administration and monitoring on the go. NAKIVO Backup and Replication 10.9 offers a wide range of data protection capabilities, making it a versatile solution for businesses of all sizes. With support for virtual, physical, and cloud environments, NAKIVO ensures that your data is protected regardless of the infrastructure you use.
Nakivo Backup and Replication 10.9 features
Nakivo was built for virtualized environments, NAKIVO utilizes incremental backups with change tracking technology, resulting in shorter backup windows and minimal impact on system resources. The software supports leading hypervisors such as VMware vSphere, Microsoft Hyper-V, and Nutanix AHV, enabling seamless integration with your existing virtual infrastructure.
In addition to virtual environments, NAKIVO extends its protection to physical machines, including Windows and Linux servers and workstations. By leveraging image-based backups and application-awareness, NAKIVO ensures reliable and consistent backups, enabling faster recovery and reducing the risk of data loss. Cloud-native organizations can take advantage of NAKIVO's support for popular cloud platforms like Amazon Web Services (AWS) and Microsoft Azure. With easy-to-configure backup policies and flexible recovery options, NAKIVO simplifies cloud data protection, ensuring business continuity and compliance with data governance regulations.
New features in the latest release:
Bare-Metal Recovery – Streamlined recovery of physical servers. You can restore physical servers from backups to the same or identical hardware. Just click on recover, select the Bootable media. You can choose to create ISO file or create bootable flash drive. If you click on a bootable flash drive, all you have to enter is name of machine, username and password, on the next step you provide the path to the flash drive. Nakivo Backup and Replication 10.9 will then create a bootable media which you can use to recover your backup. You can also create an ISO file which you can use to boot or create a bootable media yourself. That way you Eliminate the need to re-install operating systems and software. You can easily recover from incidents or roll back undesired changes/deletions made beforehand.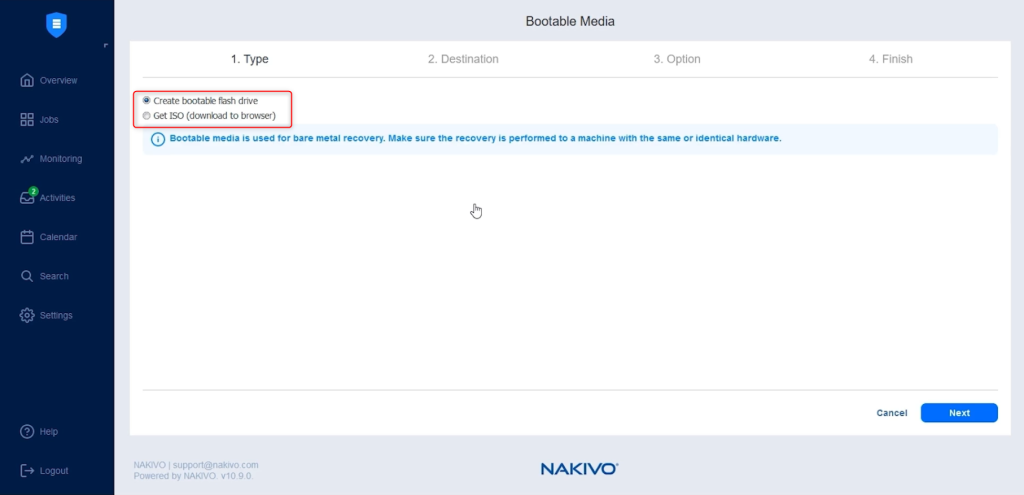 Backup Malware Scan – If you want to ensure Ransomware-free recovery you can integrate Nakvio Backup and Replication with anti-malware software and scan backups for malware before recovery. Supported anti-malware software are: Microsoft Windows Defender, ESET NOD32 Antivirus, Kaspersky Internet Security, Sophos Intercept X, Open Source based Clam AV and Sophos Protection. By using Backup Malware Scan, you can ensure that recovered data is ransomware free. This feature comes very handy in this time as Ransomware attacks are on the rise year over year.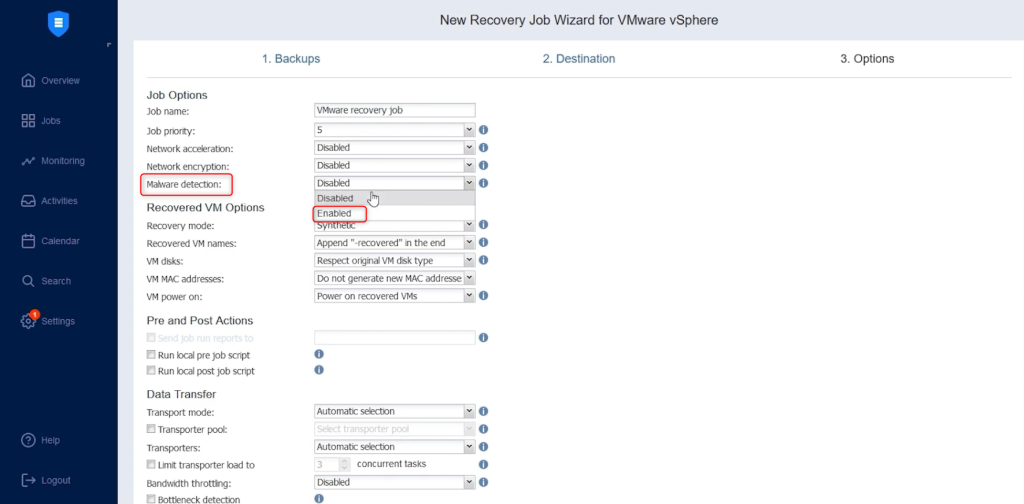 Direct Recovery From Tape Recovery from tape has seen significant improvement. You can now recover virtual machines and EC2 instances directly from backups stored on tape without using staging repositories. Recover VMware vSphere VMs, Microsoft Hyper-V VMs, Nutanix AHV VMs, Amazon EC2 instances and Physical machines as VMs.
New OS support
In addition, Nakivo Backup and Replication 10.9 supports vSphere 8U1 – the latest version of VMware's platform and Debian OS support. You can now Install Nakivo Backup and Replication on Debian operating systems and/or protect your Debian OS-based physical machines.
Additional features enhancements are:
Direct Connect – Securely connect to the remote resources of tenants, including VMware Free ESXi hosts, physical machines and NAS-based Transporters.
External Database for Multi-Tenant Deployments – Switch from the internal H2 database of NAKIVO Backup & Replication to an external PostgreSQL database to maximize reliability in multi-tenant environments.
Improvements
Users with only a Microsoft 365 Student SKU no longer require a paid NAKIVO Backup & Replication license.
Added the option to truncate Microsoft Exchange Server and SQL Server logs to the Nutanix AHV backup job wizard.
Added the ability to browse to a directory in the Destination step of the Hyper-V replication, recovery, and flash VM boot wizards.
ARM-based instance types may now be selected when deploying Amazon EC2 instances.
Reports can now display Vietnamese, Japanese, Korean, Chinese, Arabic, and US special characters.
SaaS repositories now display the space consumed by individual recovery points.
Lowered the minimum configurable block size for processing data to 4 KB.
Improved the UI refresh behavior for tables.
Added support for Nutanix AOS v6.5 (LTS).
Contact lists are now included in Microsoft 365 backups.
Conclusion
NAKIVO Backup and Replication 10.9 offers robust replication and disaster recovery features that help organizations minimize downtime and ensure business continuity. By creating replicas of VMs or physical machines, NAKIVO enables quick failover in case of system failures or data corruption.. By using network acceleration, NAKIVO optimizes replication speed and reduces the amount of data transferred, which is perfect for offsite and cloud basedlocations. Organizations can set up replication jobs according to their desired RPO (Recovery Point Objective) and RTO (Recovery Time Objective).
NAKIVO Backup and Replication 10.9 is a powerful and user-friendly solution. With its comprehensive data protection capabilities, seamless integration with various environments, and advanced replication and disaster recovery features, NAKIVO empowers organizations to safeguard their critical information effectively. Whether you operate virtual, physical, or cloud-based infrastructures, NAKIVO's intuitive interface and robust functionality ensure a reliable and streamlined data protection strategy. You can test the product for free for 14 days – visit the free trial page to download installation for your type of OS, it is very easy to install, and you can be up and running in no time.