Nakivo released a new version of its highly popular backup software Nakivo Backup and Replication 10. I am sure a lot of you guys have been waiting for vSphere 7 support and I am happy to say that it is here. You can now protect your latest vSphere environment. As more services are moving to the cloud, cloud storage can be an effective addition to the trusted on-premises backup repositories. With the latest version, Nakivo supports Wasabi's online storage for a cost-effective backup strategy.
The previous release supported Amazon S3 buckets for backup and recovery of virtual and physical infrastructure.
The latest version also brings FULL P2V recovery for physical machines and adds a Linux Workstation backup.
But what surprised me the most is a facelift to their HTML5 web interface. Do you know that Nakivo was the first virtual backup vendor to have an HTML5 only web interface? Nakivo started a revolution. Now, they improved the interface and made it even better. What is absolutely amazing is that you don't need Adobe Flash or any other plugins to make the UI behave well. It just works.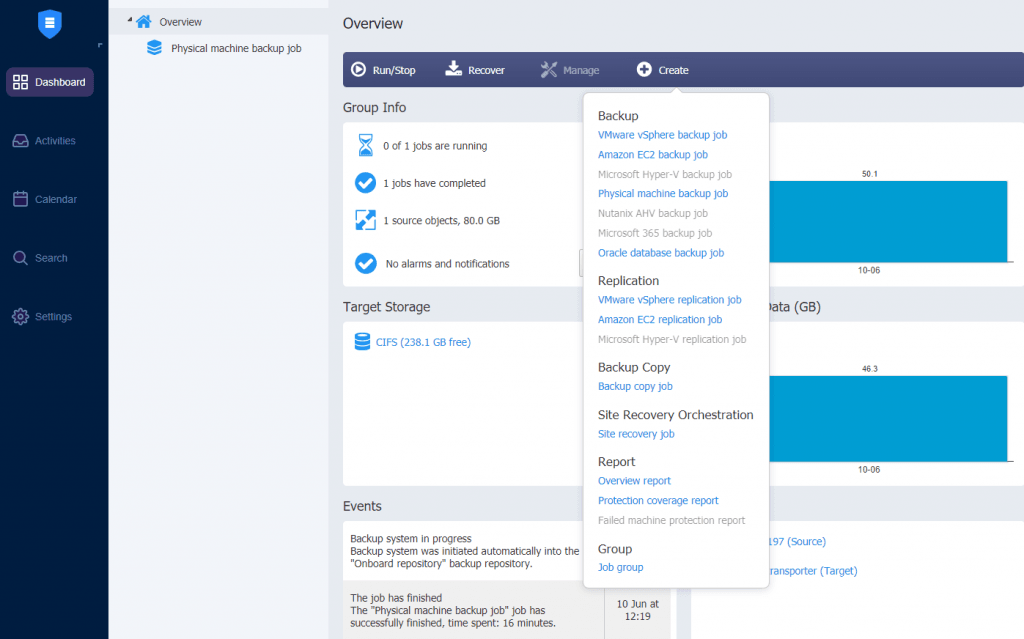 What about the installation? Installation is another area where Nakivo shines. It is faster than the time you need to make a coffee. Especially if you deploy Nakivo on a Synology, as a VMware appliance, or even if you choose to install Nakivo on a Windows machine. Installation is almost done in an instant. Nakivo has really mastered deployment. I mean, you can deploy/install Nakivo on Nutanix AVH, different NAS systems (Synology, QNAP, ASUSTOR, FREENAS. WD), Amazon AWS EC2, and even Raspberry Pi.
New features in Nakivo Backup and Replication v10
Support for vSphere 7 – Support for The most anticipated version of VMware vSphere v7 has landed in Nakivo Backup and Replication v10, meaning that now you can move vSphere 7 to production as you can backup and protect your virtual infrastructure.
Full P2V Recovery – You can perform physical to virtual migrations or you can recover physical machines from backups to VMware VMs. P2V Recovery is now production-ready. A full P2V Recovery creates virtual copies of virtual machines ready for your environment.
Backup to Wasabi – Who doesn't know Wasabi? It is a cost-effective alternative to Amazon S3. You can send backups and backup copies of both, virtual and physical machines, applications like Oracle databases, and Amazon EC2 instances to Wasabi.
Linux Workstation Backup – You can perform application-aware, incremental backups of Linux workstations running Ubuntu Desktop. Ubuntu desktop versions 18.04 and 20.04 are supported. Bother Ubuntu versions are LTS, meaning Long Term Support. You can quickly recover entire workstations or restore individual files and objects directly from the backup.
User Interface Enhancements – Nakivo has enhanced interface of the Nakivo Backup and Replication web interface in order to improve user experience.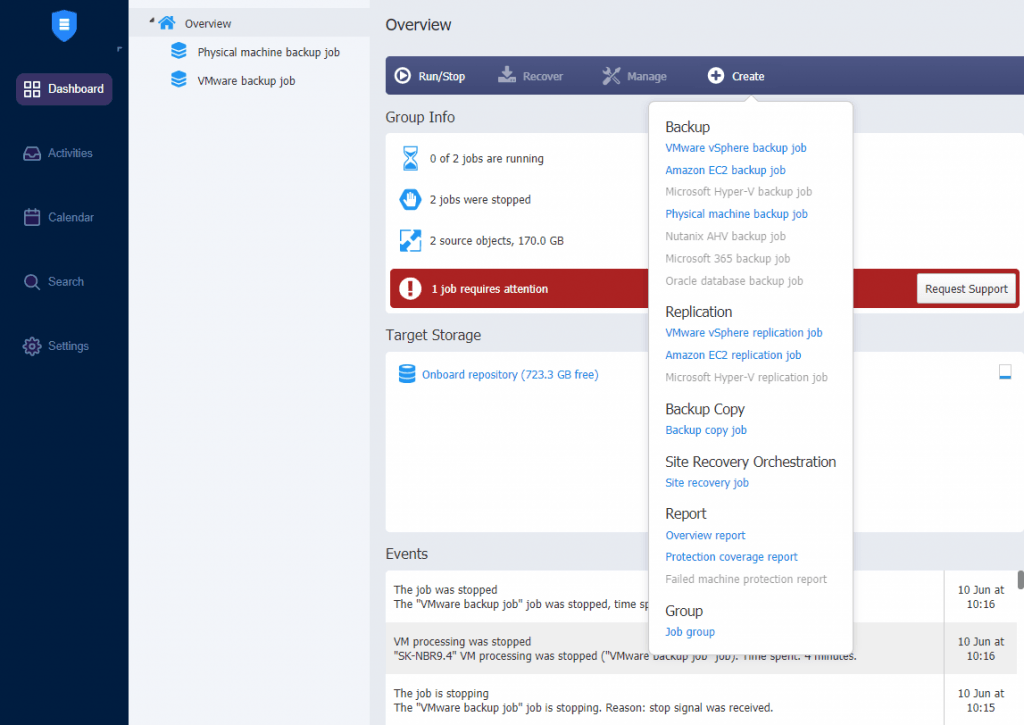 Improvements:
In addition to the new features, Nakivo has implements some improvements:
Application Permissions for Microsoft 365 accounts have been updated. Make sure you make the necessary changes to prevent backup and recovery jobs from failure.
CentOS v7.0-7.6 support
Linux workstation support
Improvements for Backup to Amazon S3
Conclusion
Nakivo release v10 of Nakivo Backup and Replication. Nakivo has matured, as a company and its product is now top-notch. New features and improved user interface really bring a new level to the whole experience. Did you know that Nakivo implements also reliability improvements? In v10, they improved backup copy jobs, improved reliability when you restart a recovered VM, improved reliability of VMs that were recovered from encrypted source, improved Authentication to Active Directory, and improved deployment. v10 is a great release, you can download and test the trial free for 30 days from Nakivo free trial page