Nakivo Backup And Replication is a great product and best of all it is very affordable. You can read why I like it so much in a review I did a while ago. One main advantage Nakivo has over other, even major vendors is ease of use, stability, lower resources requirements than some competition and global deduplication that works across complete storage repository.
One major difference between Nakivo and some other established Backup vendors is the way they release new versions. There are vendors whose release version are being dictated by marketing folks. They only release major versions and of course there are many new features added to the latest and greatest. With Nakivo, things are slightly different. It reminds me to Intel's Tick Tack release where first they release new Technology, then they improve the technology with smaller improvements, and again they release New Technology.
Nakivo has similar release methodology. For example, after they released version 5, version that followed was 5.5 again followed by 5.6. Instead of waiting and waiting for major release, they decided to add improvements faster and help customers get some of the features faster.
Nakivo Features in the package
Nakivo is already a pretty solid product. Under the hood it packs most features that are needed for enterprise-grade backup product. The product is available as an appliance or as an Windows based program you can install on the server. In same cases, admins prefer to use Linux appliance as it saves some licensing costs.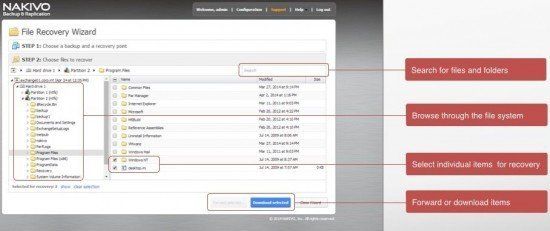 You are able to search for files and browse through the files system. You can restore individual files or even Folders. In the end, you can also forward and download objects.
Exchange objects recovery
You can search for and browse through the tree for objects that require a recovery.
Active Directory Objects Recovery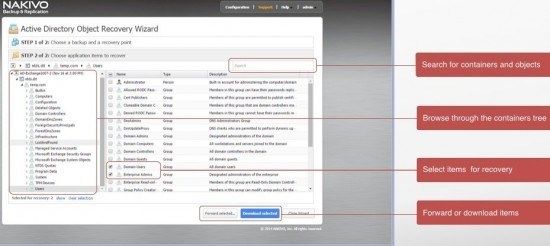 Just like with AD, File and Exchange recovery, you can search for and restore objects from Active Directory.
Multi-Tenancy and Self-service
You can setup tenancy and run a cloud-based backup service.
Nakivo does not use agents to perform backups. Applies to both, Linux and Windows virtual machines.
You are able to replicate your data to another site easily.
Nakivo Supports Microsoft Exchange, Active Directory, MS SQL, Oracle and other applications, making sure that data is backed up consistently
Global deduplication and compression
Unlike Veeam which does deduplication per job, Nakivo uses deduplication for entire repository. Effect is much less space used for backup.
Instant VM recovery aka Flash VM Boot
Behind fancy name Flash VM Boot, is a feature which enables you to run your backup directly from backup repository. In case major disaster, you can save a lot of time by booing from backup directly.
New features in Nakivo Backup & Replication 5.6
Since this is a point release, you won't find an extensive list of features. Instead, this release adds one feature that is really important for administrators to be sure that their backup is reliable and they will be able to restore in case that disaster strikes.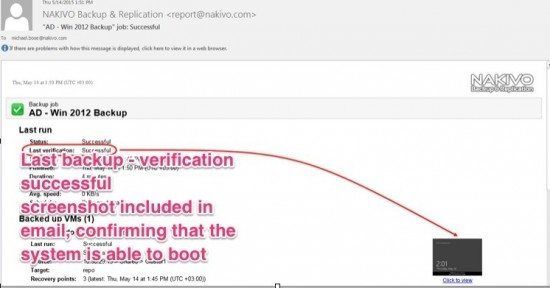 One of problems with regular backup is that you never know if backup integrity is really 100% and you will be able to recover. What does it help if you receive notification that backup was completed successfully but one you try to restore the backup you are unable to? Nakivo added a nice and welcome improvement called Screenshot verification.
Once backup is complete, it Nakivo runs the backup in the background in isolated environment verifies that is able to recover and as a proof sends a screenshot to your email.
Job History and Point in Time Reports
There are two improvements to reports.
History report: You are able to generate a report for a period of time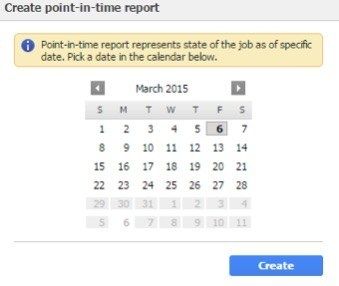 Point in Time report: You are able to generate a report for a particular day.
In addition, the following improvements are part of 5.6 release:
Auto backup of product database
HTTP API for tenant management
Optimization of space reclaimed
Reduced list of time zones in job creation wizards
Nakivo Pricing
Nakivo is available in 4 editions. The main difference between the essentials version and non-essentials is that essentials is limited to 6 licences per organization. Feature set is the same.
Let's take a look at feature comparison: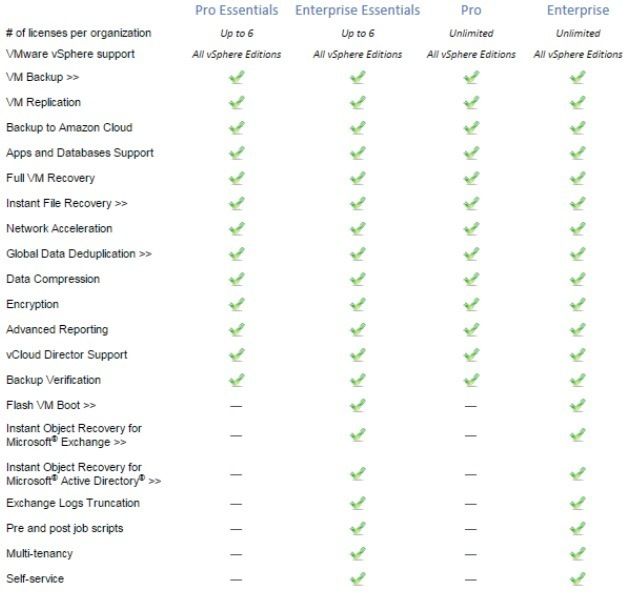 Nakivo prices:
| | | | | |
| --- | --- | --- | --- | --- |
| Edition | Edition Pro Essentials | Essentials Enterprise | Pro | Enterprise |
| NAKIVO Backup & Replication | $199 per socket | $299 per socket | $399 per socket | $599 per socket |
There is also another edition called Cloud provider Edition which has the same feature set as the Enterprise but is intended for qualified service providers on a per VM monthly rental basis.
With the purchase of Nakivo License, one year of support and maintenance is included in the price. Another interesting thing about Nakivo is that it is charged for the source side of backup and replication which is really great.
Conclusion
Nakivo is getting better and better with every release. Feature set is almost on par with the best vendors and the price… is 's simply amazing. In some cases up to 4 times cheaper than competition. When evaluating you have to take in to consideration that Deduplication is awesome as it's working across all VM's in the backup repository. The means that you will save a lot of space. I know some companies who moved to Nakivo due to great dedupe results, in turn saving a lot of space (some vendors are charging additional license fee for deduplication and some are recommending to use external product for better results. Nakivo is in great for Synology based backup repositories due to global deduplication.
When you add pricing to comparision, Nakivo is clearly a winner. No wonder they experienced amazing growth.
WMware professionals will be glad to know that NFR edition is available for their lab, free of charge.