Nakivo has released Backup and Replication v8.0. The main theme of the release is a Site recovery feature which allows you to create site recovery jobs. Let me tell you that this is a big technological leap for Nakivo. With Site recovery, you can orchestrate various actions. For example, you can gracefully shut down source VMs, run a final VM replication, change replica VM IPs, connect replica VMs to appropriate networks, set the replica VM boot order. Actions will get executed in the right order. With orchestration, you can finally move your infrastructure properly to another site. For example, You have a Domain controller, DNS, DHCP on one server called DC. Part o your infrastructure is also MS Exchange, Email SPAM filter, MS SQL, file server, and Citrix.
With Nakivo Backup and Replication 8, you can finally follow the correct procedure for a sane startup of all the services. First, you will start the DHCP and DNS Server. Next one to start is email spam filter, followed by MS Exchange. Next server to start is MS SQL followed by a file server so that when users run ERP SQL is already started. Only when both SQL and File server are running, Citrix can start as users connecting via Citrix need to access files and SQL. This is a very simple scenario but it shows what used to be hard to do automatically or very expensive. Well, now this is easy and very affordable.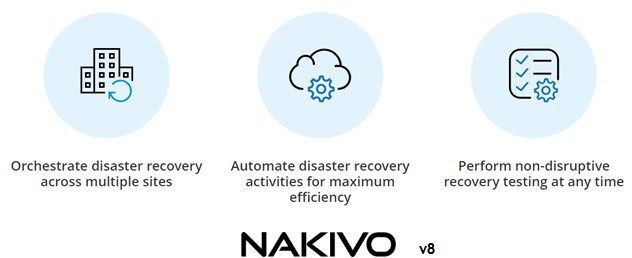 Nakivo's development is a beauty of engineering. They release often with just the right amount of features. That way they avoid adding unnecessary bugs. At the same time development is underway for major features which are released when they are ready. If you remember, in version 7.5 they have added support for the latest vSphere along with support for Data Domain Boost. They improved Bandwith Throrrling and extended with advanced features.
Nakivo Backup and Replication 8.0 is here, whats new?
Advanced Site Recovery
By using Site recovery jobs, you can automate the recovery process. The example above can give you some insight into what you can achieve, but possibilities are vast. You can use the following steps: gracefully shut down source VMs, run a final VM replication, change replica VM IPs, connect replica VMs to appropriate networks, set the replica VM boot order, verify successful recovery, send email notifications, etc.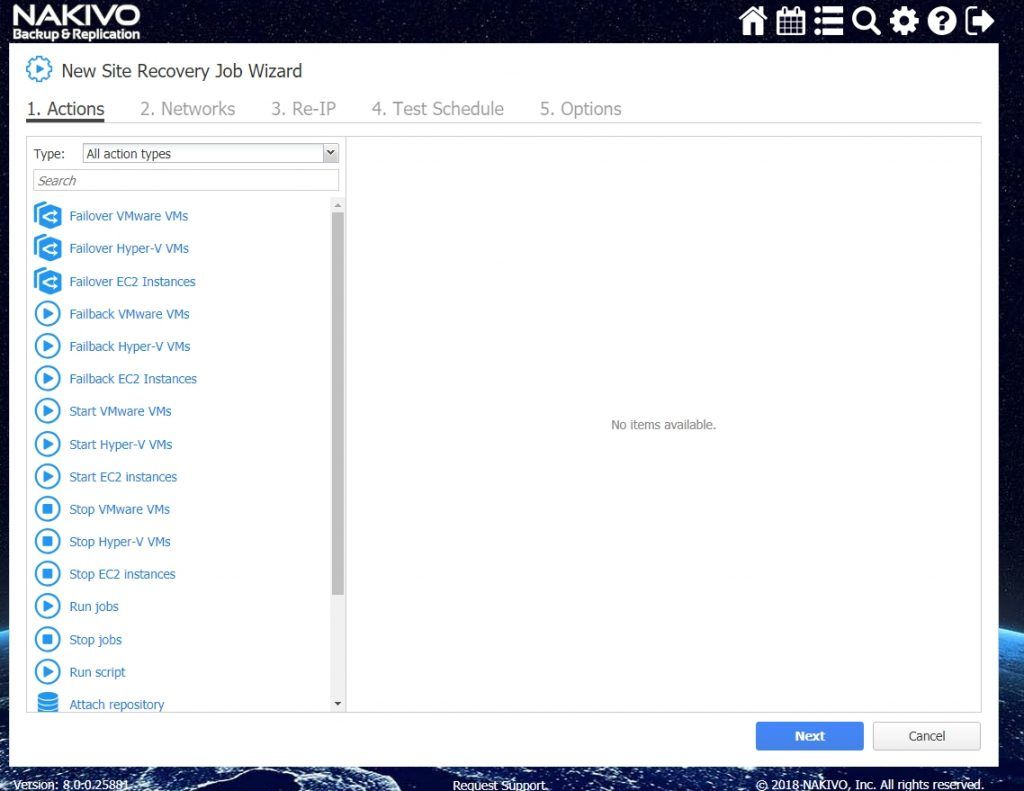 Site Recovery Testing
You can define recovery time objectives (RTO) for recovery workflows. In addition, you can schedule site recovery testing so that test will be performed at the time you know won't disrupt your users. The tests can verify whether site recovery can run successfully and if the recovery process can be completed within the target time frame.
Single-Click Site Recovery
You can start a planned failover, emergency failover, failback, and data center migration in a single click. You can setup a single recovery workflow for an entire organization or create multiple workflows for individual departments, branch offices, etc.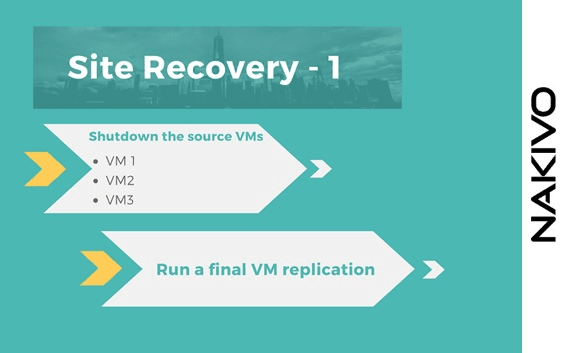 All-in-One Availability Solution
The most important part of this new functionality is that solution for data backup, deduplication, granular restore, replication, and site recovery does not require a separate license. All aspects of data protection and recovery can be managed from a single pane of glass and are covered by a single license.
Conclusion and pricing
Maybe you don't know but functionality like this can easily set you back for $10.000 +. And that is for just 25VMs.
What is the best about this release is that you get this functionality as part of the Enterprise package. Unlike other vendors, Nakivo didn't invent the fourth edition with double pricing. Nor does it charge a separate cost. Enterprise edition starts at $299 per socket without any feature or capacity limitations. This release will certainly save a lot of money to some companies and improve availability to all Enterprise package customers.
The press release can be found on this link.
You can check the Nakivo website here.