Nakivo Backup and Replication 9.1 has been released. Even though only a point release, it is one that makes me most excited. I also think it is time you try Nakivo if you still didn't have a chance. You see, the product is constanlty evolving and the usefull features keep coming. The feature I think is the most important in this times is Tape support. Ransomware attacts are still rising and without a proper backup your company can close the doors. Cost of extorsions are rising and in some cases, even if you pay the ransom, you wont get your data back.
Tape support enables backup to tape unit or tape libraries. You supports tapes from LTO3 and later. You can use standalone tape drives or tape libraries, what is more interesting is ability to use Amazon AWS VTL for backups. You can use tapes for long term archiving or you can use tapes to be able to send backup to secondary location for a very low cost. For example if you don't have a secondary office, you can rent a vault in the bank for a low fee. That way you can easily follow 3-2-1 rule and you won't break a bank, plus you will be ransomware proof.
Physical server backup for linux servers is a new feature in the latest version. In version 9, Nakivo has added support for Windows servers. Since Linux servers are being more popular each day, you can use Nakivo to backup some Physical servers, and it does not matter Windows or Linux. You can backup both operating systems.
Phyiscal Laptops and Phsysical Worksations backup can save your company from buying a seperate product and also it will save you by duplicate work. With Nakivo you can use the same, HTML5, web based product to backup Workstations and Laptops.
What are the benefits of Nakivo Backup and Replication?
If you are not familiar yet with Nakivo Backup, let me tell you what makes this lovely product so great. I would start with top installation options, as you can install Nakivo on Windows Server, Linux, a wide variety of NAS devices like Synology, QNAP, WD, Asustor, Netgear, FreeNAS, and even ARM-based Raspberry PI.
It supports VMware vSphere, Microsoft Hyper-V, Nutanix AHV, Amazon AWS EC2, and now even physical Windows and Linux servers.
Nakivo Backup and Replication 9.1 in-depth
The following features lead the latest release:
Native Backup to tape
Tape backup still remains one of the most if not the most reliable and cost-effective means for long-term data retention. NAKIVO Backup & Replication v9.1 provides a complete tape management solution and supports LTO 3 and later tape libraries, standalone tape drives, and AWS VTL. NAKIVO Backup & Replication v9.1 offers enterprise-grade tape backup features, including tape device management, tape cartridge management, and tape backup management in one solution. Customers can track all tape cartridges, their location, contents, and status. Users can also browse, search and filter all tape backups, see cartridges that should be used to restore a machine to a particular point in time, and so on.
Physical Linux Server Backup
NAKIVO Backup & Replication v9.1 can now back up physical Linux-based servers. This feature extends already excellent support for virtual (VMware, Hyper-V, Nutanix AHV), physical (Windows Server) and cloud (AWS EC2) servers.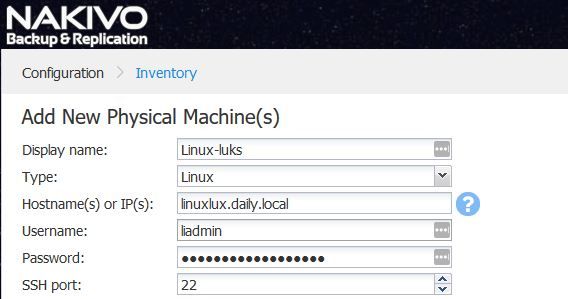 NAKIVO Backup & Replication leverages a proprietary change tracking technology. That enables Nakivo to perform incremental backups of Linux-based servers, improving backup performance and lowering storage space requirements. Users can instantly recover files, folders, and application objects directly from compressed and deduplicated backups. In addition, NAKIVO Backup & Replication allows for recovering physical Linux Server machines to VMware and Hyper-V VMs.
Physical Workstation Backup
NAKIVO Backup & Replication v9.1 can now back up physical Windows workstations. Backups are incremental and can be automatically compressed and deduplicated just like any other backup.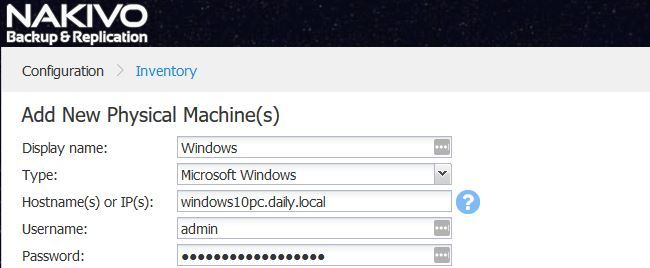 Users can instantly recover files and folders from workstation backups in addition to restoring workstations to VMware and Hyper-V VMs.
Instant Verification
NAKIVO Backup & Replication 9.1 boasts of an updated version of backup and replica verification. The Instant Verification feature can instantly recover a VM from its backup or boot a VM replica with networking turned off and then check the OS heartbeat via VMware Tools or Hyper-V Integration Services. With the instant verification feature, customers can ensure that their backups and replicas can be successfully recovered.
Conclusion
Another stellar release from Nakivo. I think that features from the latest release fulfill the most common requests users had. Version 9.1 is a great release and you can try one of the several installation options. From Linux, Windows, NAS, Raspberry PI, VMware OVA appliance… You can quickly spin up the product and see for your self how great this product is.