In the ever-evolving landscape of data management, businesses are constantly seeking efficient and reliable solutions to protect and optimize their valuable information. Two key players in this arena, Nakivo and Wasabi, have emerged as a dynamic duo, providing a comprehensive approach to data backup, recovery, and storage.
Nakivo offers a robust suite of solutions designed to simplify and enhance data management processes for businesses of all sizes. One of its standout features is its cloud-native architecture, allowing seamless integration with public clouds like Amazon Web Services (AWS), Microsoft Azure, and Google Cloud Platform (GCP).
Nakivo's flagship product, Nakivo Backup & Replication, is a versatile solution that addresses the diverse needs of modern businesses. The software enables users to perform automated and incremental backups of their virtualized environments, supporting platforms such as VMware, Hyper-V, and Nutanix AHV. This flexibility ensures that Nakivo can adapt to the specific virtualization infrastructure a business may have in place.
The beauty of Nakivo's approach lies in its emphasis on simplicity without compromising functionality. The user-friendly interface streamlines the backup and recovery process, making it accessible even to users without extensive technical expertise. With features like instant VM recovery and granular recovery options, Nakivo ensures that businesses can swiftly and effectively restore their critical data in the event of a disaster.
Now, let's turn our attention to Wasabi, a cloud storage provider that has disrupted the traditional data storage landscape with its innovative approach. Wasabi is known for its hot cloud storage, offering a cost-effective and high-performance alternative to other cloud storage services. The company's pricing model, with no hidden fees and predictable costs, has been a game-changer for businesses looking to optimize their storage expenses.
What sets Wasabi apart is its commitment to providing a secure and reliable storage infrastructure. With data centers designed to meet the highest standards of security and compliance, Wasabi ensures that businesses can trust their valuable data to be stored and accessed with the utmost protection. The integration of features like immutable buckets further enhances data durability and protection against ransomware attacks.
How to integrate Wasabi to Nakivo Backup and Replication
Integrating Wasabi with Nakivo Backup is a straightforward process that can enhance your data management strategy by leveraging the cost-effective and secure cloud storage provided by Wasabi. Here's a step-by-step guide on how to integrate Wasabi with Nakivo Backup:
Configure Wasabi Bucket:
Log in to your Wasabi account and create a new bucket. A bucket is a container for storing objects (files) in Wasabi. Ensure that you configure the bucket settings according to your storage needs.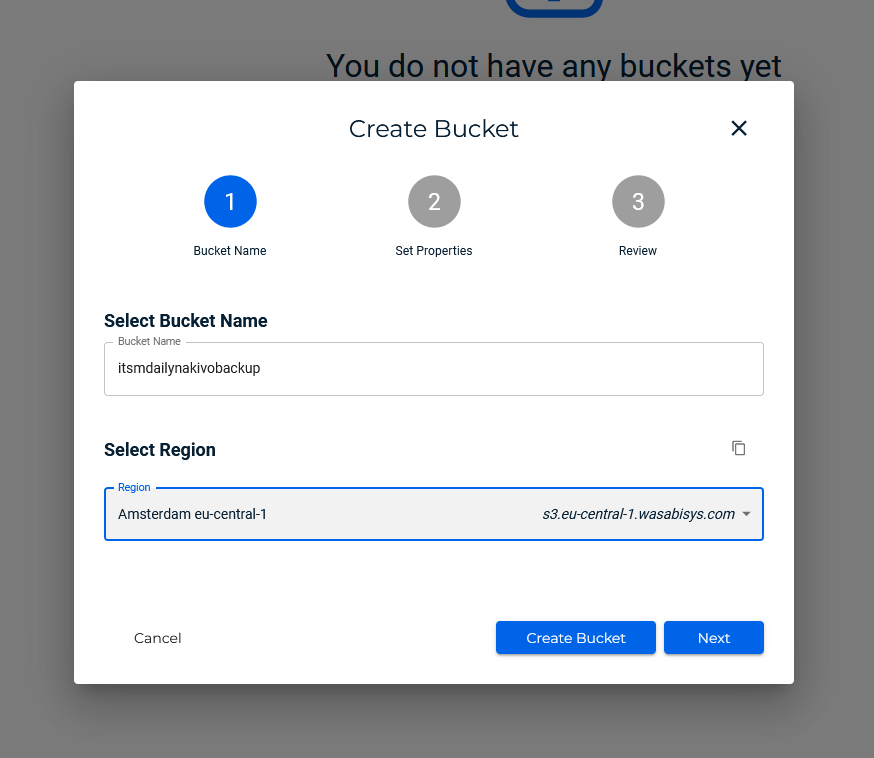 Obtain Wasabi Credentials:
You will need the access key and secret key associated with your Wasabi storage.
Install Nakivo Backup & Replication:
If you haven't already, download and install Nakivo Backup & Replication on your virtualization server. Follow the installation wizard to set up the Nakivo software.
Add Wasabi Repository:
Launch the Nakivo Backup & Replication interface and navigate to the "Configuration" tab. Click on "Repositories" and then "Add Backup Repository."
Choose Wasabi as Repository Type:
In the "Add Backup Repository" wizard, select "Wasabi" as the repository type. This will prompt you to enter the Wasabi credentials (access key and secret key) obtained in step 2.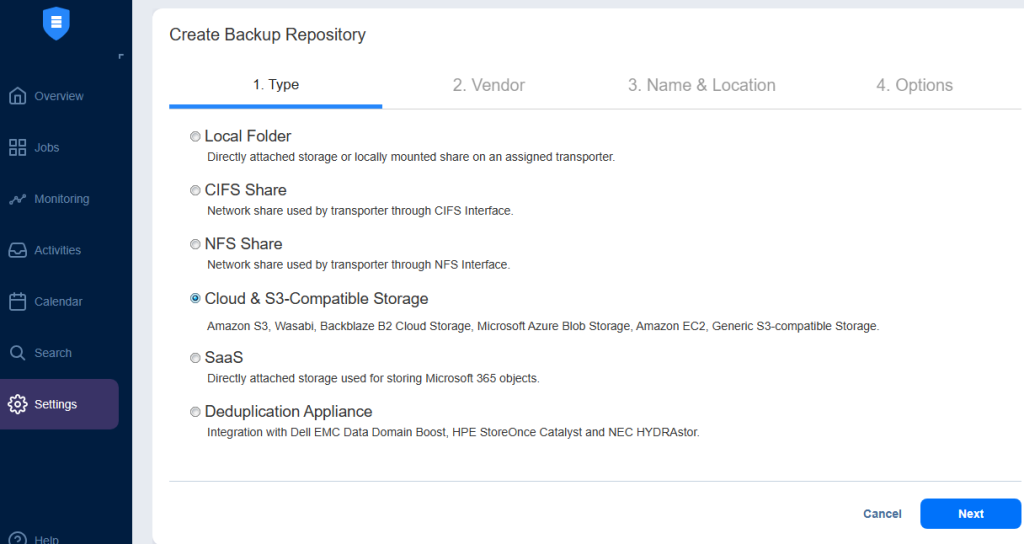 Configure Wasabi Repository Settings:
Enter the required Wasabi storage settings, including the endpoint URL, bucket name, and the folder within the bucket where you want to store your backups. Adjust other settings, such as encryption and retention policies, based on your preferences.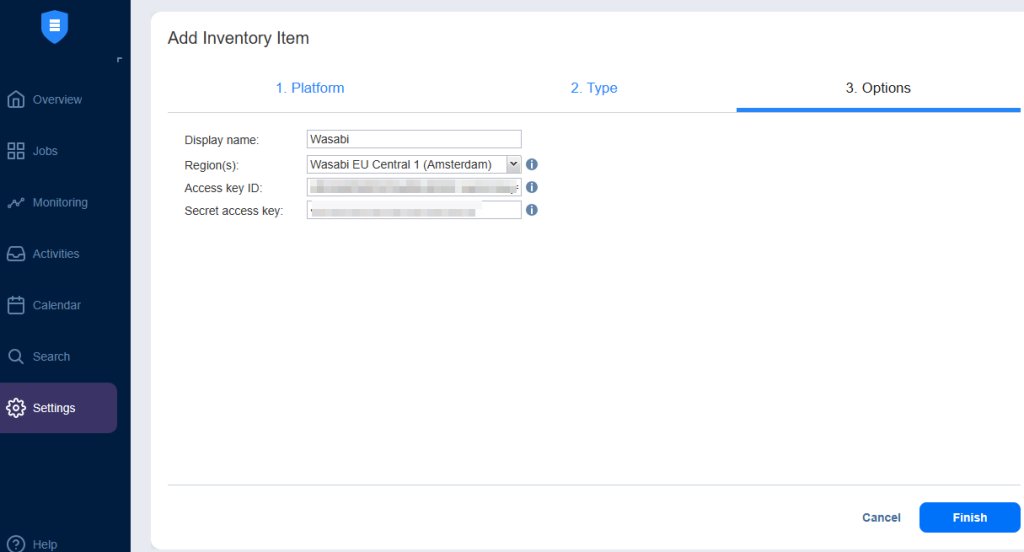 Test Connection:
After entering the repository settings, it's advisable to test the connection to ensure that Nakivo can communicate with your Wasabi storage. This step helps verify that the credentials and settings are correct.
Complete the Repository Setup:
Once the connection test is successful, proceed to complete the repository setup. Review the configuration settings and click "Finish" to add the Wasabi repository to Nakivo.
Create Backup Jobs:
With the Wasabi repository added, you can now create backup jobs within Nakivo Backup & Replication. While you can use Wasabi for the backup repository, you can also use Wasabi for the Backup copy job. That way, you can have one local copy for faster restoration and one stored in Wasabi as an additional security measure (follow the 3-2-1 rule)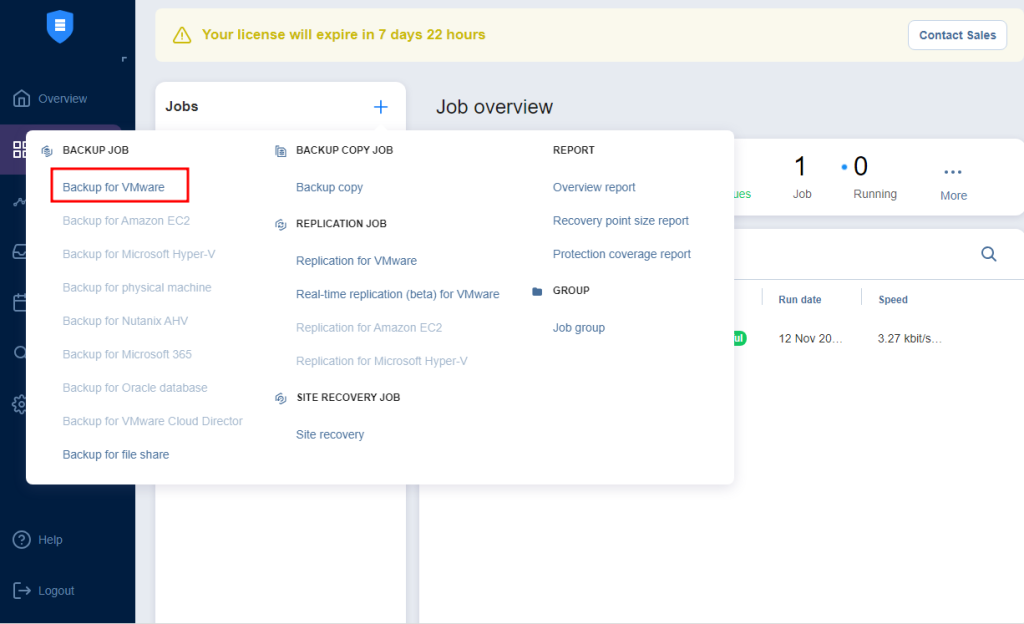 Define the virtual machines you want to back up: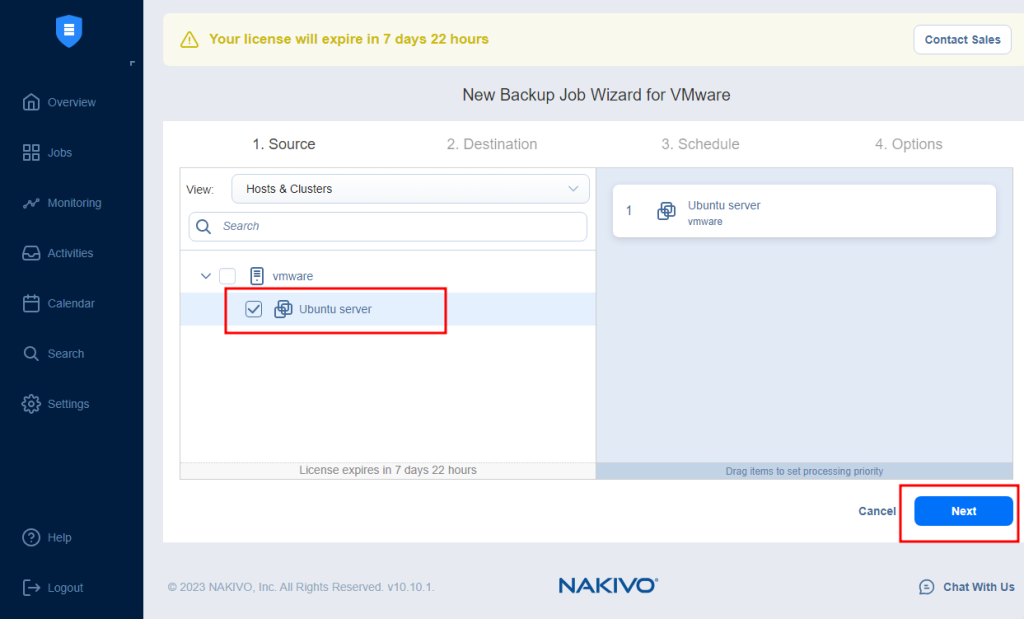 Choose the Wasabi repository as the target for storing backups: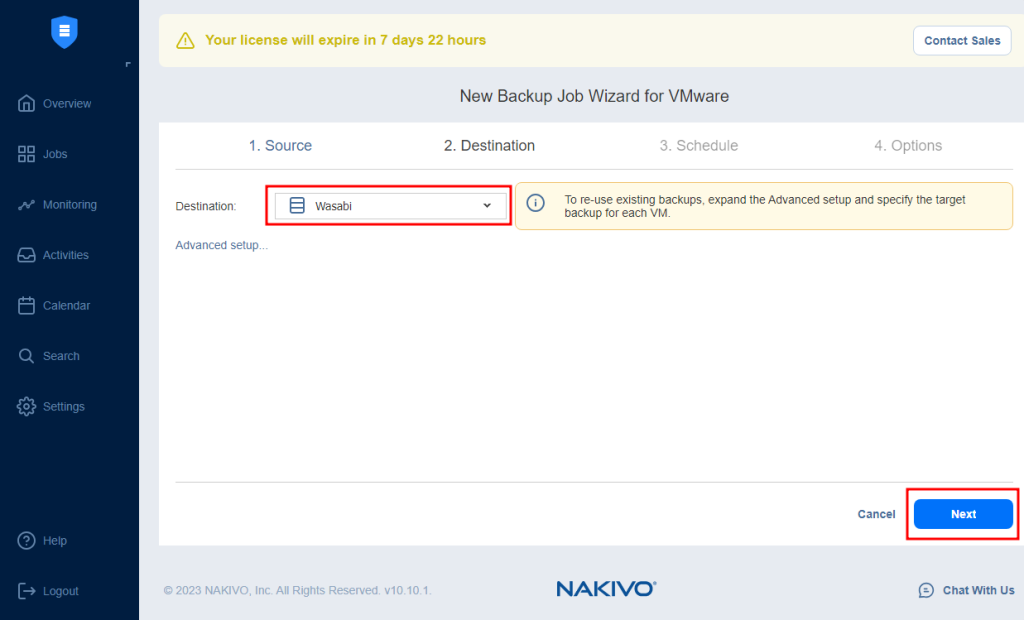 set the backup schedule: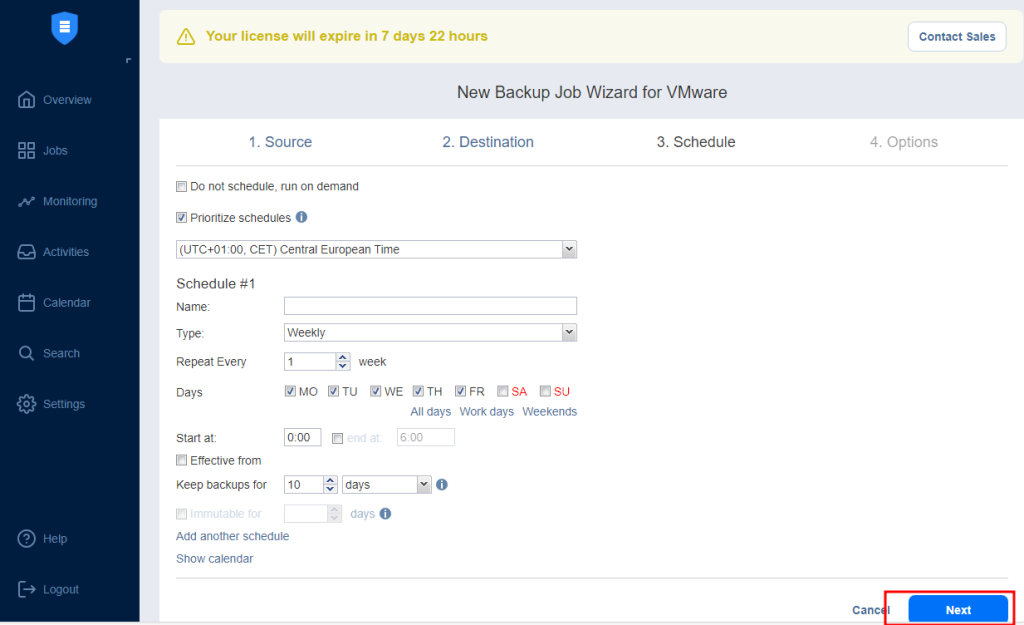 You can also set additional options. For example, you can enable App-aware mode, type of change tracking, Network Acceleration, Network encryption,  VM verification, etc… You can also select the type of Full backup mode and set when to create a full backup. In addition, you can also select to run pre and post-actions.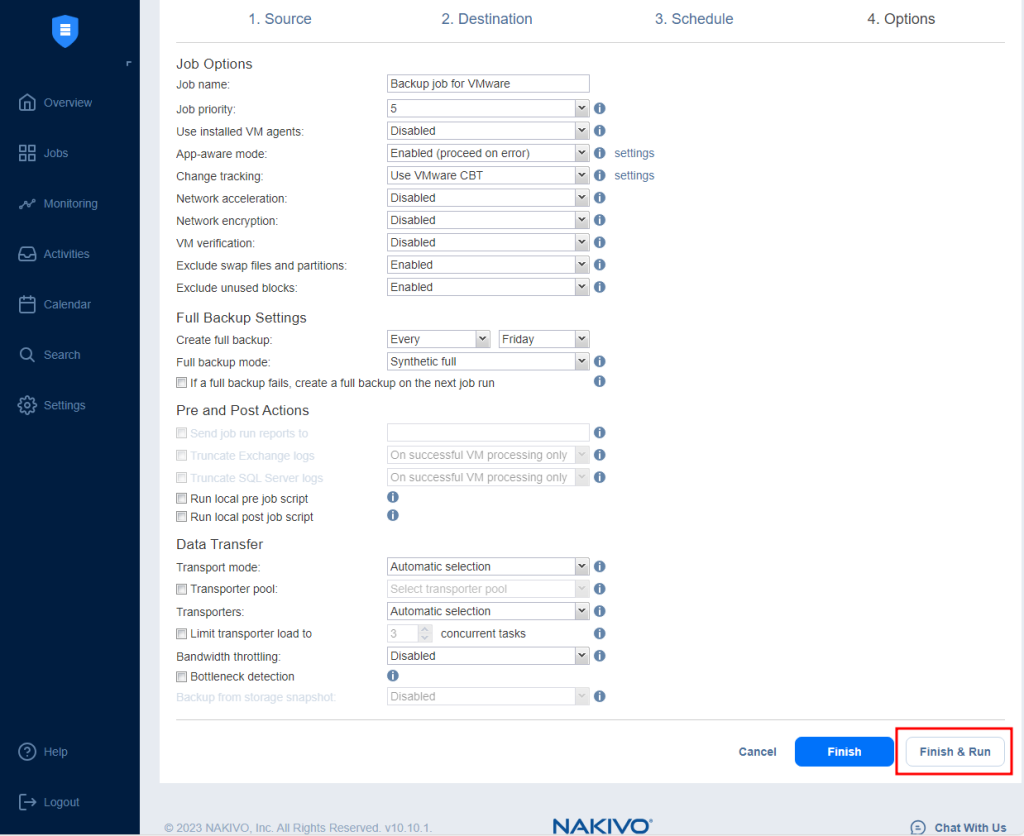 Once you have configured the backup job, you can complete and schedule backup job or you can choose to Finish and Run the job immediately.
Monitor and Verify Backups:
After configuring backup jobs, monitor the backup status within the Nakivo interface. You can verify that backups are successfully stored in your Wasabi repository and check for any potential issues.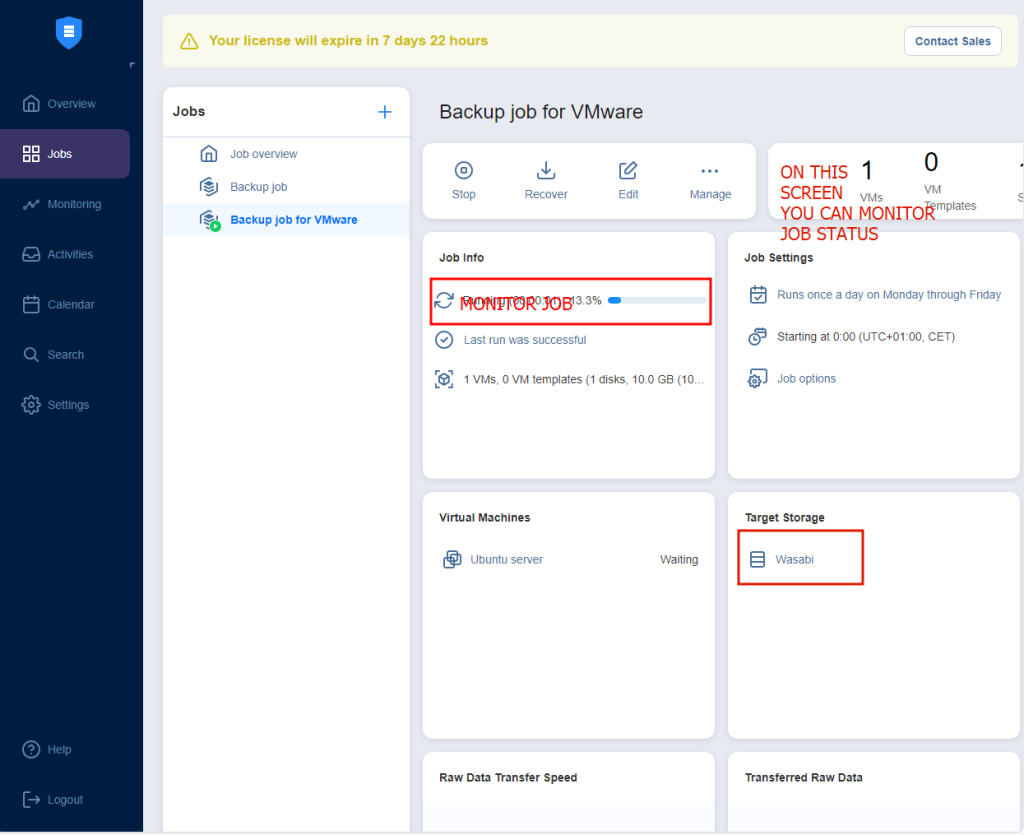 Perform Test Restores:
To ensure the integrity of your backups, periodically perform test restores. Nakivo allows for granular recovery, so you can restore individual files or entire virtual machines from your Wasabi backups.
By following these steps, you can seamlessly integrate Wasabi with Nakivo Backup, creating a robust data management solution that combines the efficiency of Nakivo's backup and recovery with the scalable and secure cloud storage provided by Wasabi. This integration enhances your ability to protect, store, and recover critical data in a cost-effective and reliable manner.
Conclusion
The synergy between Nakivo and Wasabi becomes apparent when considering the seamless integration between Nakivo's backup solutions and Wasabi's cloud storage. Businesses can leverage Nakivo's capabilities to perform automated backups of their critical data and then seamlessly store these backups in Wasabi's cloud. This integration creates a comprehensive data management ecosystem, combining the efficiency of Nakivo's backup and recovery with the cost-effectiveness and scalability of Wasabi's cloud storage.
One of the key benefits of this integration is the ability to implement a three-two-one backup strategy effortlessly. This strategy recommends having three total copies of data, stored on two different media, with one copy stored offsite. Nakivo facilitates this strategy by creating multiple copies of data through its backup and replication processes, and Wasabi serves as the ideal offsite storage solution with its cloud infrastructure.
Moreover, the integration of Nakivo and Wasabi contributes to a more resilient data management strategy. In the face of unforeseen events, such as natural disasters or cyberattacks, businesses can rely on the redundancy and geographic distribution provided by Wasabi's cloud storage to ensure the availability and integrity of their data. If you are evaluating a backup solution give Nakivo a try it only takes 3 minutes to install.