Nakivo just released a new version NAKIVO Backup & Replication v10.5. Despite the pandemic, Nakivo has been releasing updates and has been developing new features for the past year. Nakivo has a bright future in front of them and the latest update is proof that the company has a vision and execution. This version got me really excited because it has two features that are needed badly by every IT environment, I think.
NAKIVO Backup & Replication v10.5 new features
VMware Monitoring – Do you know how resources of your servers are utilized? Do you know why there are bottlenecks and why some apps are running slow at times, even though they are running fine most of the time? VMware monitoring gives you that insight into the performance of your servers and can let you see and monitor CPU, RAM, and disk usage of your hosts and VM's. You also gain insights into disk usage of your VMware vSphere datastores. In the dashboard, you can see real-time and historical data which you can use to analyze historical trends and pinpoint performance issues while at the same time, you can anticipate future processing and storage needs.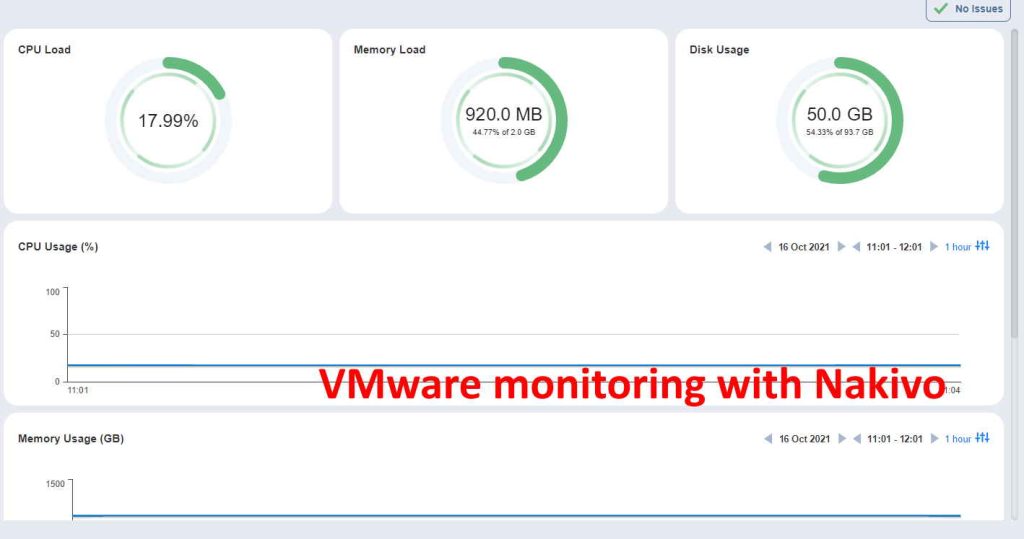 Hardened virtual appliance – Ransomware has been a hot topic for the past few years. Attacks are increasing and the cost to solve the problem has increased dramatically. Hardened Virtual Appliance is a great solution to combat possible breaches and loss of data. As backup is the most important part of company data protection Nakivo has made the process a bit more secure with an innovative solution. Simply, Hardened Virtual Appliance offers a simple way to deploy Nakivo Backup & Replication and protect data against ransomware. Backups that are sent to a repository deployed as part of the virtual appliance can be made immutable for a specified period of time. What is special about such an approach is that even superusers cant modify or delete backups or revert immutability.

Backup of VM Templates – You can now backup and recover custom VM templates to and from VMware vCenter or ESXi hosts.
User Interface improvements – In order to improve the user interface and make it more intuitive, Nakivo has made improvements to the General tab in the settings.
In addition to the major features, the following improvements are part of the latest release:
The solution can now display full license information, including a full licensing model breakdown and used/licensed workload details.
More consistent format for alarms and notifications.
Improved two-factor authentication for Active Directory users.
Improved tree UI component for easier management of large itemsets.
Backup copy jobs now skip data unpack/pack if the source and target Backup Repository share the same type and compression.
The solution more easily identifies backups with corrupted recovery points.
Enhanced tracking of virtual machines in Microsoft Hyper-V clusters during job runs.
Data unpack is now skipped for new backup copy jobs. A mapping run is required to apply the improvement for existing backup copy jobs.
Support for Asustor ADM 4.0.
VMware Virtual Appliance and Nutanix AHV Virtual Appliance are now based on Ubuntu 20.04 LTS.
Transporters can now be grouped into transporter pools. If this option is selected during the job creation process, only the transporters that belong to the selected transporter pool shall be used during the job run. This can be useful for allocating resources of the specific transporters to the job.
Conclusion
The latest Nakivo release brings two important features that can increase the protection of company data. If you have not used Nakivo before, I hope you find a couple of minutes to spare. Deployment is very easy and it takes just a couple of minutes. You can get a FREE trial from Nakivo Website.