Nakivo released NAKIVO Backup & Replication v8.5 comes with support for Nutanix Acropolis Hypervisor among many other features. Nakivo is growing fast which can also be attributed to the new features they keep adding and unique support for many NAS vendors. This release deserves a special spot in Nakivo arsenal of successful releases. A complete list of supported hypervisors is now the following: VMware vSphere, Microsoft Hyper-V, Amazon AWS EC2 and Nutanix Acropolis Hypervisor.
We covered Nakvio Backup and Replication 8.5 Beta, where we covered another great feature called VM Replication from a backup file which reduces stress on the hosts and storage array as the replication does not require additional snapshots.
Nakivo also listens to MSP – Manage Service Providers and SMBs. A lot of MSPs like SMBs uses Open Source FreeNAS for their storage. With the latest release, Nakivo has added support for FreeNAS, meaning you can install Nakivo on the FreeNAS operating system. That way you have the backup appliance as close to the storage as possible making the backup process faster and cheaper. Nakivo now supports all the major NAS vendors like Synology, QNAP, ASUSTOR and WesternDigital NAS.
New features in NAKIVO Backup & Replication v8.5:
Windows 2019 support: In the latest release Nakivo brings support for the latest releases, this time it can be installed on a Microsoft Windows Server 2019.
Per Machine subscription licensing: What a great idea, listen to this. Rather than being locked into a specific Hypervisor vendor, you can purchase a per-machine annual subscription for Nakivo Backup and Replication. One of the benefits of such licensing is that you increase your cost for backup as you grow. Pricing starts per $17 machine/year. You can select from MS Hyper-V, VMware vSphere or a Nutanix Acropolis. That way you can switch between hypervisors without additional cost.
Replication from Backup: If you are serious about your infrastructure protection then you are probably running backups and replicas for critical VMs. You need backups for backup archiving and replicas for quick restores in case of problems. The latest version of Nakivo Backup and Replication can create replicas from existing backups. That way the load in infrastructure is minimal.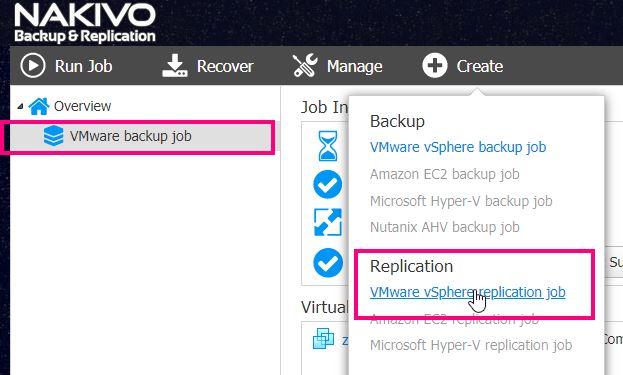 FreeNAS support enables software-defined backup appliance: As I mentioned before, Nakivo Backup and Replication v8.5 can be installed on a FreeNAS. That means that you can create a cost-efficient backup appliance which is not limited to specific hardware. Did you get a hint? You can set up your hardware appliance for the fraction of the cost of the appliances vendors. If you are MSP you can deploy cost-efficient backup appliances to your customers. One of the benefits of such appliances is that they serve as great protection against the crypto type of malware.
Nutanix AHV Support: Nakivo Backup and Replication now supports Nutanix. Many Nutanix customers will be happy to be able to use a great backup product for their platform and perform application-aware, image-based, incremental backup across VMware, Hyper-V, Amazon EC2, and Nutanix AHV environments.
Auto-Update: Auto-update is a welcome feature as it will save you quite some time when using the product. Now when you want to update to the latest version you can do so directly from a web-based interface with just a few clicks.
Raspberry PI Ransomware Proof Mini Backup Appliance: It may sound strange for Nakivo to support Raspberry PI which you can use to create a light but a fully functional backup appliance. Did I mention that it can be configured to be ransomware-proof? Well, What is great about this is that Nakivo architecture is advanced that it is easy to support ARM architecture. If you think that ARM is only for tinkers, check out these ARM servers from Gigabyte. But if you like the idea of Ransomware Proof Mini Backup Appliance but find Raspberry PI too limiting, you can check out the Rock PI, a great alternative to the PI with support Gbit LAN, PCIe based M2 drives and USB 3 ports.
You can download a trial version and test to see how easy it is to install and use Nakivo Backup and Replication. The latest update is amazing and I already see some great uses for ARM support. In addition, Auto Update, Nutanix support, Free NAS support, Replication from Backup and latest MS Windows Server 2019 Support make v8.5 of Nakivo Backup and Replication a worthy update.