Nakivo has released the latest version of their backup product Nakivo Backup and Replication. This time Nakivo Backup & Replication version 8.1 brings improvements also to the User Interface, making navigation throughout the product much easier. Items like Inventory, General, Repositories, and Transporters are now shown in a more user-friendly format. Enterprise users will appreciate that. In addition, innovation never stops with Nakivo, the latest version introduced Policy-Based Data protection, Universal Object Recovery, SSL certificate installation for increased security – not bad huh.
Nakivo Backup and Replication 8.1 features
Lets take a look at new features.
Policy-Based Data Protection
I can't imagine IT without virtualization. In these days, almost all the servers are virtual and the ones that are not will soon become. The more servers we have, the more servers we have to manage and backup. Backing up a dozen servers is completely different than backing up hundreds of servers. In order to maintain a high quality of data protection, administrators have to keep up with all the changes that are taking place in IT. Management is making quick decisions, more data is required for better decisions and new virtual servers are being created. There must be a better way to protect existing and newly created servers.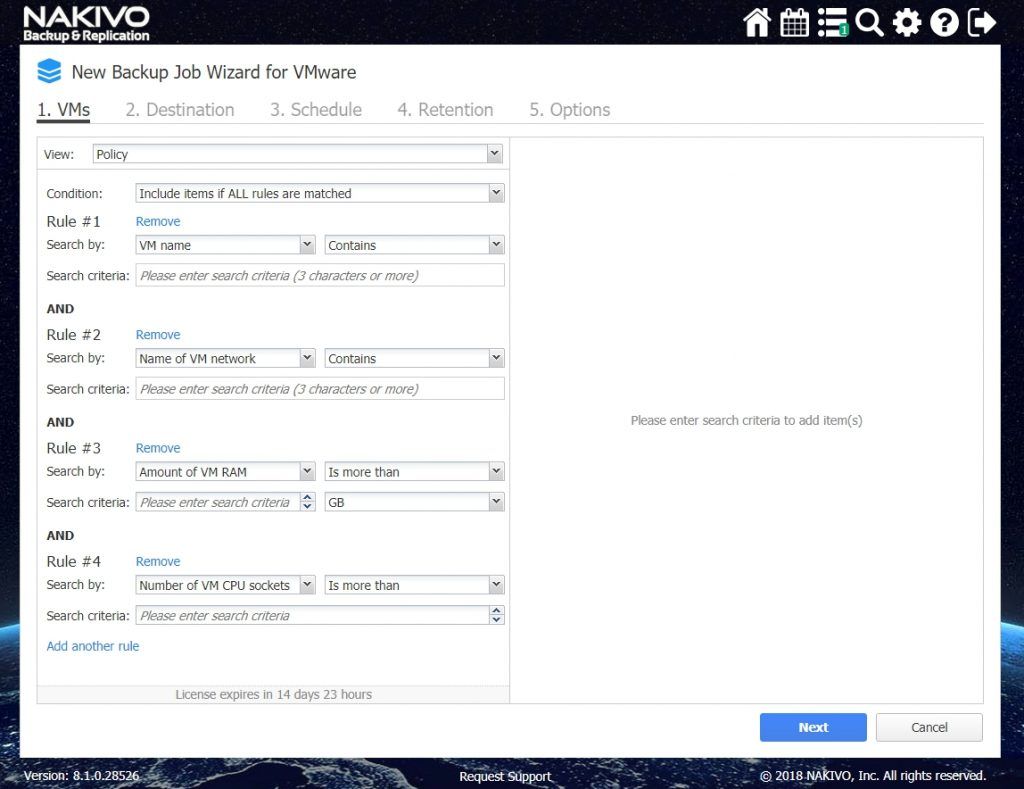 Nakivo Backup & Replication 8.1 tackled this problem and made the job much easier for System Administrators. A solution comparable to auto-pilot that is used on Airplanes. The newly developed Policy-Based Data Protection feature will make manual data protection management go away by automating backup, replication, and backup copy jobs.
With 9 parameters currently available, you can create an automated job that will backup servers based on your conditions. For example, in the next 7 days, we will create 3 new Oracle servers, we will create 2 Linux servers with 8 CPU cores and there may be servers that can exceed 300GB in size. What we can do with our policy is almost magical. We can choose to backup all servers that have Oracle in the name. We can choose to backup all servers that have 8 CPU cores. We can choose to back up all the servers that exceed 300GB in size.
When new servers that match our rule are discovered they are included automatically in the backup scope. You can use the only condition in the policy or you can use all nine that are currently available. This is the start of something amazing.
Universal Object Recovery
Nakivo Backup and Replication has native support for many applications where, by using application recovery, you can recover individual items. If the application was not supported you had to recovery entire VM and only that you were able to recover individual items. With Universal Object Recovery, Nakivo has added support for applications that are not supported natively with Universal Object Recovery. In order to recover individual objects without full VM recovery, all you have to do is to mount disks from the backup to a VM and then use Native application management tools to recover required items. This feature will make the recovery process much faster and will, in turn, save many resources like it is normal for an Enterprise-grade solution.

SSL Certificate Installation
Until now, Nakivo Backup & Replication used a self-signed certificate for increased security. In the latest version, Nakivo went a step further and in order to increase security further added a feature where you are able to import your own SSL certificate. That way you can ensure that the connection to the Nakivo is always secure.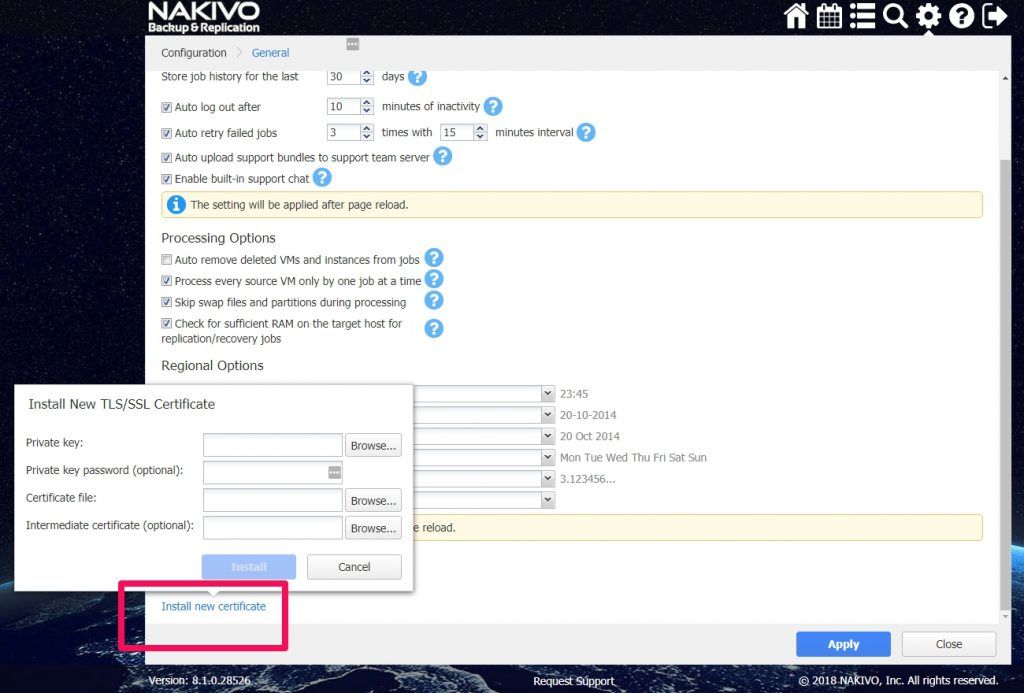 Conclusion
Nakivo Backup and Replication 8.1 is the latest release which follows Nakivo tired and tested release cycle. Every release brings just enough features to make users of Nakivo excited. Every release brings just the right features to make the daily job easier. At the same time, each release is tested thoroughly. The latest release brings Policy-Based Data Protection for increased protection, improved UI to make navigation easier. All things considered, this is a great release. You can download the trial edition to test new features.