Nervepoint Access Manager can solve password management problems to a lot of companies. Yesterday I was looking at reports in our Service desk solution for the last 3 months. I wanted to know which are the most common incidents and how to optimize our work to have less problems.
I was shocked that 70% of all requests were related to password management. That percentage was so high because of vacations during the summer. But still, Password incidents are the most common. Imagine that you can reduce those 70% by giving users ability to manage their own passwords and reduce stress on your Service Desk. How I wished we had Password self service solution in place.
When searching for a solution I stumbled on a product called Access Manager from a company called Nervepoint. From the first look it had all the features I could imagine and as a bonus they provide VM appliance with 30 days trial. Benefit of VM appliance is that you can  import it in your Virtual infrastructure easily. That way you don't have to spend time on installation, you are up and running in no time. You don't require installation media and installation procedure is almost none.
Nervepoint Access Manager Review
Nervepoint Access Manager is a Password self-service solution which has support for multiple directory services like Active Directory, Linux, Solaris, Cloud systems – Google apps and Office 365. The best thing with Access Manager from Nervepoint is that users can manage their own passwords without any IT intervention. Helpdesk will have fewer calls and could focus on other tasks or solve other tickets faster. Another aspect of password management is time saving as end users no longer have to wait for helpdesk to resolve their tickets.
Nervepoint Access Manager Installation
I downloaded VM appliance. To set up appliance you won't spend much time. You enter basic settings like username and password, network configuration and you are ready to open NervePoint Access Manager in a browser. Application is easy and quick to set up. Once you login, Access Manager Installation wizard guides you and helps you to set up Active directory so that users can be imported and managed.
When Active directory is found you continue to setup credentials.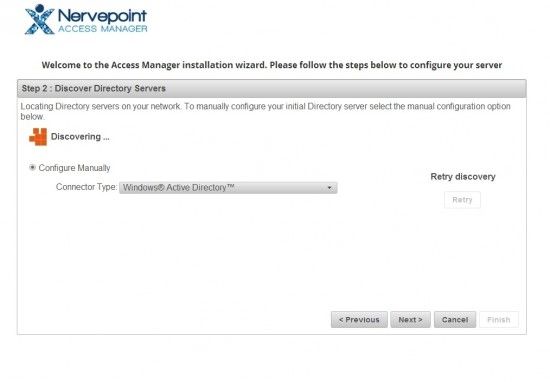 In case Active Directory or other directory type was not found, you can manually enter required settings.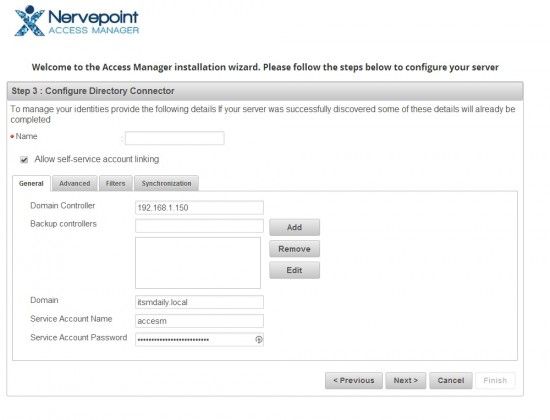 When all the settings are correct, installation wizard imports Active directory information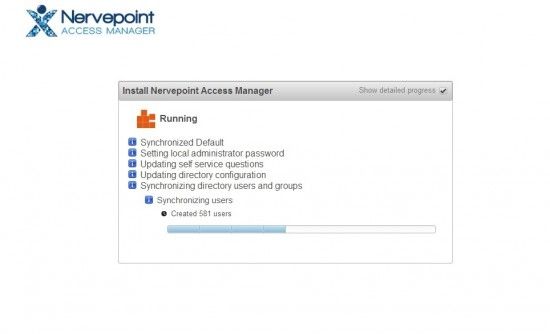 Complete installation should take you less than 30 minutes.
Nervepoint Access Manager Interface
Nervepoint Access manager is a web application. That means that it can be accessible via browser. That's great since every computer has browser installed. When User opens Nervepoint Access Manager, he/she is presented with simple to understand interface. There are four options to choose from.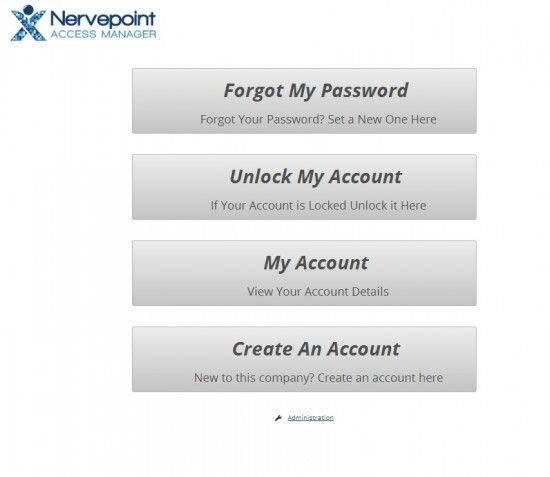 My Account is used to manage users account. Here users can change their password, see password policy, manage their contact data and manage their questions/answers.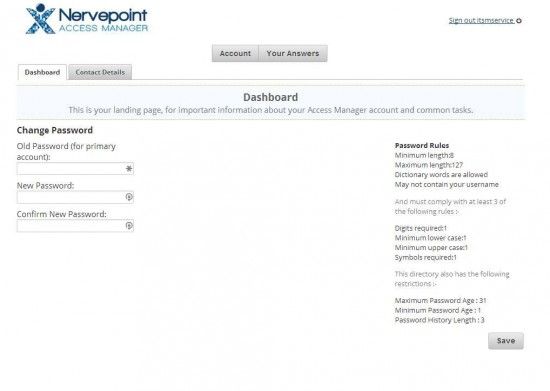 Users can provide their answers to predefined answers or create their own questions and answers.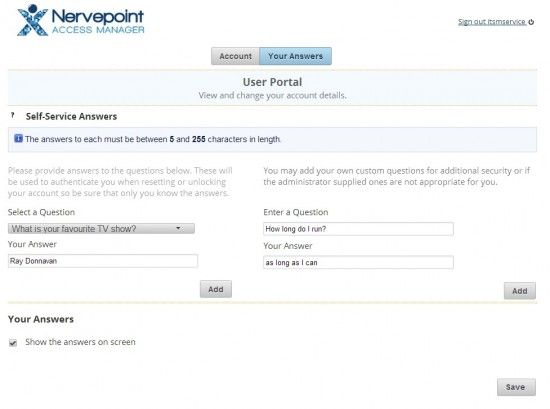 Forgot My Password – is used when user forgets his/hers password. To unlock account user has to enter username. Click Next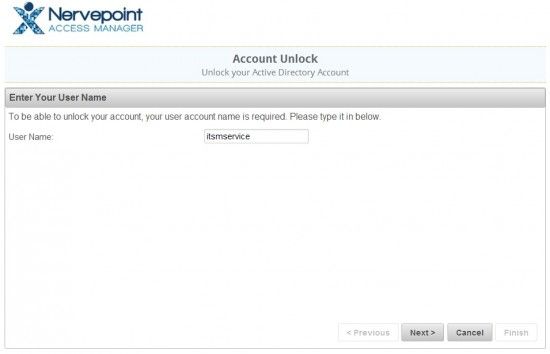 Then user has to answer security questions. Click Next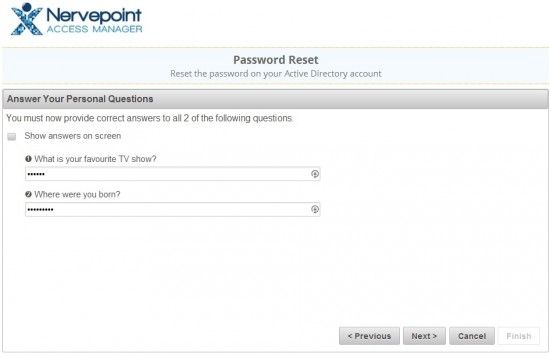 User can now set a new password. On the right side, there is a password policy summary, users can easily understand how to form a new password. Once user confirms with Finish, operation is complete and user has new password.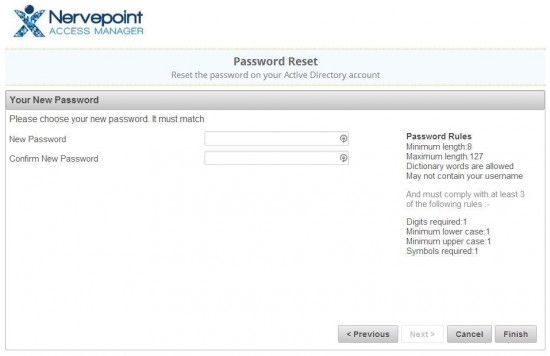 To unlock account, user has to enter his/hers account
User has to enter security answers and voila, account is unlocked.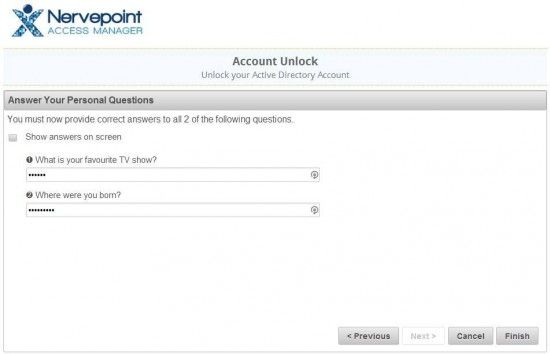 Mobile users will be glad as Access Manager also has mobile application which users can use to remotely unlock their account, reset their password or manage their account.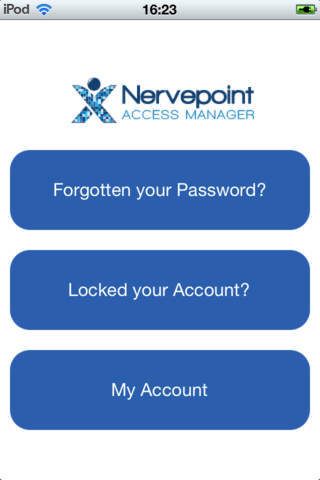 Nervepoint Access Manager Desktop integration
The best part of Nervepoint Access Manager is desktop integration. While web and mobile interfaces are great and can be usefull many times, desktop integration is what will set your IT department really free. First you have to deploy small application on computers that you manage. You can install it manually or you can use various deployment options to install application on all your computers.
When user is locked or password is forgotten, user has an option, right in the login screen to take appropriate action.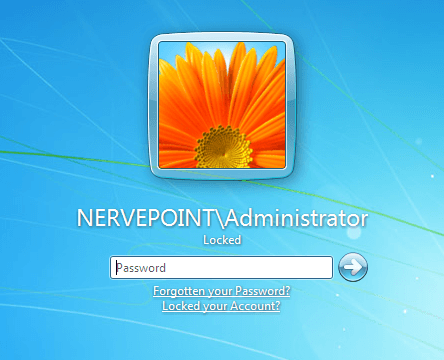 When user clicks on Forgot my password? or Locked your account?, Credential wizzard window will open. Here he/she will enter answers and account / password problem will be solved.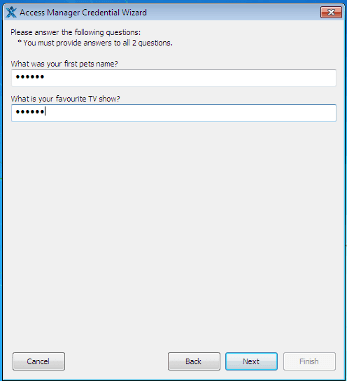 Nervepoint Access Manager Desktop Integration feature alone makes Nervepoint worth every penny.
Nervepoint Access Manager Dashboard
Nervepoint managed to integrate simplicity with powerful feature set.
Dashboard looks great, you can see information about accounts activity. You also see licensing information and SSL certificate expiration.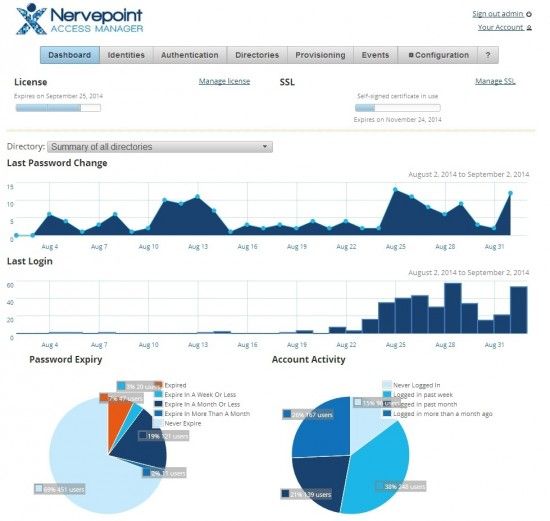 But don't let nice looking dashboard fool you. Behind great looking dashboard there is a product you can customize and secure to your requirements.
You are able to modify users front-end and enable / disable features, add IP restriction, enable reCAPTCHA and Validation. As an administrator you can configure how many words and answers user has to enter and what is the minimum word length. You can manage all the questions or you can let users to manage questions on their own. You can also configure one time email or SMS notification.
Account creation workflow
Another great feature of Nervepoint Access Manager is ability for users to manage accounts on their own. You can dedicate users who are department managers as Nervpoint Access Managers. Access Managers can approve new user creation. That way, your IT Department no longer has to create new users accounts.
When you enable users to edit and open new accounts, you can choose which fields users can populate  in AD. That way you have complete control over new user creation process.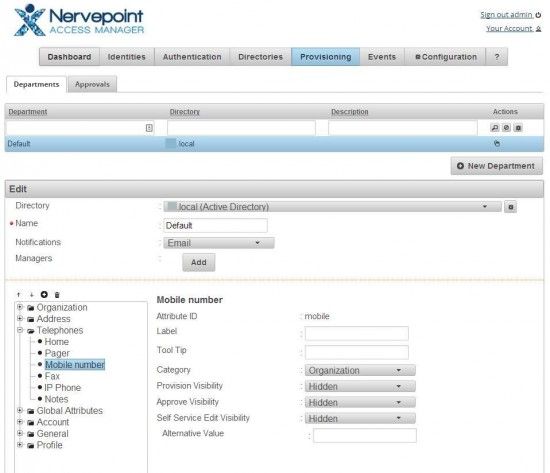 To add a user who will have a Manager role and manage own department is easy. Enter department and username. Manager will receive a new user requests when users will create their account. He/She will be able to approve, reject and modify users account.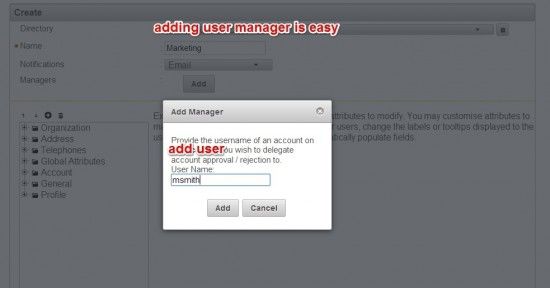 When User Manager logs to Nervepoint Access Manager he is presented with notification that approvals are waiting for approval.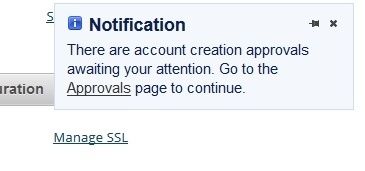 You will see a list of users that require approvals. By default fields are disabled, but you can enable them and change information.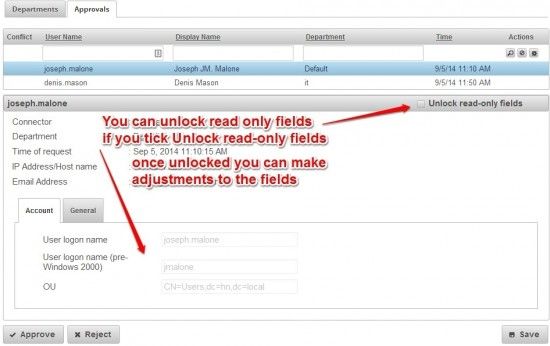 The best part of User provisioning is that department manager is involved in the whole process of user creation. They can also keep track of users who are leaving the company and can disable them easily. From experience, it may take a month or even more for IT to get information that user is no longer with the company. In that time, user can do a lot of damage
 Account linking
Nervepoint Access Manager can manage multiple services. While Active directory is the one which is used the most there are companies who use other services as well. Access Manager from Nervepoint supports AD, Linux, Solaris, Google Apps and Office 365.
You can add additional accounts to your account:

When you choose to reset your password, you can choose to reset to all accounts or only main account.

If you change your password or unlock your account Nervepoint Access Manager will  present action confirmation.
Nervepoint Access Manager Email Notifications
Nervepoint Access Manager hidden gem is notification system. I have seen separate products which charge for Email expiry notification. Price for 400 users alone could cost $2000. With Access Manager this functionally is included in price. Emails can be customized, you can also add SMS notification. Access Manager has support for a SMS gateway.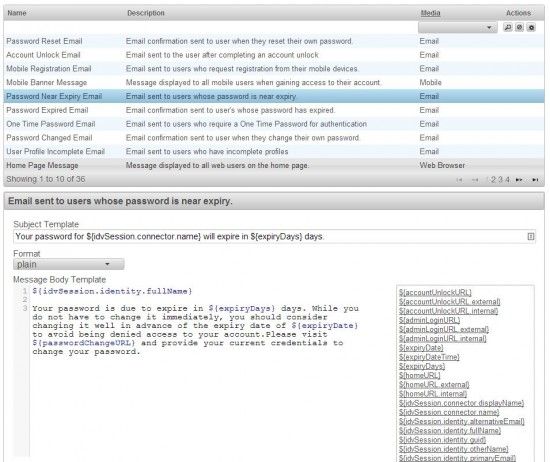 Access Manager Theming
Usually IT department uses portal for end user interaction. Portal functionality usually includes Helpdesk, Knowledge base, Wiki and similar services. If you want, you can match the look of Access Manager with such applications. Or you can adjust the look to match company branding.
You can select from themes and you can even add your own CSS.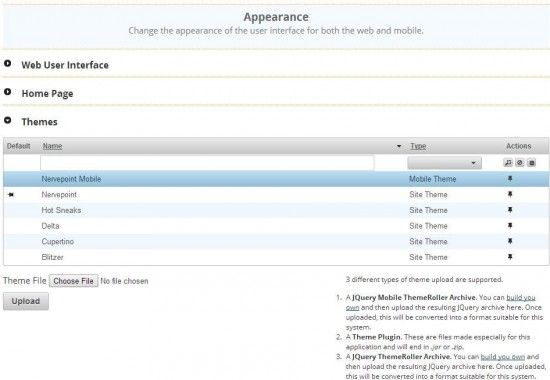 Nervepoint Access Manager Models and Pricing
Access Manager is available in two editions.
Virtual – The best option if organizations are using Virtual Infrastructure
Hardware appliance – Dedicated hardware appliance which is installed in client's data-center. Commonly used with organizations without IT staff or without own infrastructure.
Access Manager has many available options when it comes to pricing: Pricing is user based. Pricing can be subscription based or perpetual based. You don't own Subscription based license, and you have to renew it each year. With Perpetual licensing you own the product and can use it for as long as you wish.
Nervepoint Access Manager pricing example for 400 users:
| | |
| --- | --- |
| Annual subscription | 400 USD |
| Perpetual License | 1575 USD |
| VX100 Virtual appliance – rated for over 2000 reconciled users | 4998 USD |
Nervepoint Access Manager pricing compared to competition:
| | | |
| --- | --- | --- |
| | Nervepoint AccessManager | Manageengine SelfService Plus Pro edition |
| Annual 2000 users subscriptions | 1495 USD | 1995 USD |
| Perpetual pricing 2000 users subscriptions | 4485 USD | N/A |
| Unlimited users | 4998 USD | N/A |
As you can see, pricing is very affordable and suitable for smaller environments as well.
Nervepoint Access Manager review – conclusion
What I really like about Nervepoint Access Manager is ease of use. Installation, configuration and user interaction with the program, it's all very intuitive. If you are mostly running on premises infrastructure you can be at peace knowing that in addition to Active directory, Linux, Solaris it supports Cloud implementations as well. With Cloud services rising, there may come a day when you will have to manage those as well.
Pricing is also a great plus, as you won't get broke implementing proper Identity management solution. I assumed that pricing for such products is too high for most companies, but this is not the case with Nervepoint. When you consider that users can manage their own account and that you can delegate approval process to other users rather IT admins you have a winner. Because of workflow and dedicated department manager, Security will improve.
Users who use multiple accounts (AD, Google Apps, Office 365) can link those accounts and can manage them as one. When they change password, Nervepoint will change password on all of them.
Nervepoint Access Manager is super easy, packed with features, affordable solution for your identity management needs. They also provide a free version which is limited in features but can be used in some scenarios. You can download free trial from Nervepoint Access Manager website