When I was contacted by Microsoft for a license Audit I admit I was a bit scared. Auditing Microsoft licenses is not some easy task you do and forget. I see two problems:
1. Not all computers are turned on when you want them to be.
2. Depending on your strategy you have to consider Windows server access CAL. CAL can be a USER based or a DEVICE based.
Microsoft recommends using only one type of licenses. In some cases you save a lot of money by mixing this two types. When you need to manually review CAL's, you can retrieve information about users who log on to the computer and a computer name easily with PDQ Inventory, then you can export to Excel and filter users accordingly. As for other Microsoft products, information you get from Inventory is instantaneous. At first I thought I have a problem, but soon, I was glad I found this super program.
PDQ Inventory review
PDQ Inventory is made by a company called Admin Arsenal. It can be used as a separate application or as a companion to PDQ Deploy. PDQ Inventory is very powerful on it's own, but really shines when they get used together. Unlike ManageEngine DesktopCentral, PDQ Inventory is very affordable. Major difference is in licensing. With PDQ Inventory, you license by the version (Free, Pro, Enterprise) and by the number of users USING the application. For example, if you are the only person managing IT in your company, you will only pay for one user, where as with other similar products, you pay by the number of devices you audit.
Per device type licensing in Inventory products can quickly lead you to insane expenses. On the other hand with PDQ products, per user type of licensing starts with affordable pricing and allow you to manage ALL Windows computers and ALL Windows servers. Imagine a scenario where you get audit notification only to discover that you have to pay for additional N devices you would like to review.
Anyways, the other major difference compared to DesktopCentral is that the product is not web based. At first I thought that this is a disadvantage only to discover that the experience it's pretty good. Thank you guys.
A problem solver
By using the product you will solve several problems you may face with current solution. Last one being the price.
Let's take a look at some of the benefits of PDQ Inventory and what problems it can solve out of the BOX:
Finding computers that are disabled or are having DNS related issues.
If you clean disabled computers in AD, finding them in PDQ Deploy is easy. You will also see if a computer is turned on or off.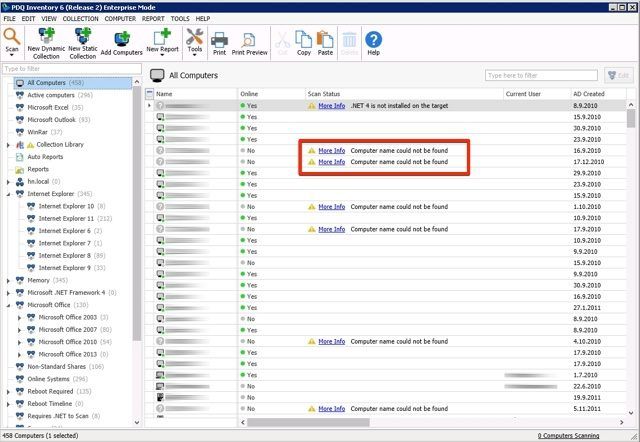 Entire environment at your hands.
PDQ Inventory has pre-made collections of information at your disposal. You can see all your computers and servers. In addition, by using pre-made collections you get information about Internet Explorer versions, Memory size, .Net Framework version, Microsoft Office version, Computers that require reboot, Windows versions and so on. In each collection you will see which computers are part of that group. That way planning for RAM upgrade or Internet Explorer upgrade is pretty simple.
If you know that some users have problems because they only have 2 GB of RAM, you can easily see how many computers you have to upgrade, you can easily sort computers by type so that it's easy to source quotations from the vendors. You can do all sorts of planning pretty quickly. For example, looking to upgrade Microsoft Office Licences? Some computers have still version 2007, you can see in a second how many upgrades you have to buy, or on how many computers you have to deploy the latest version.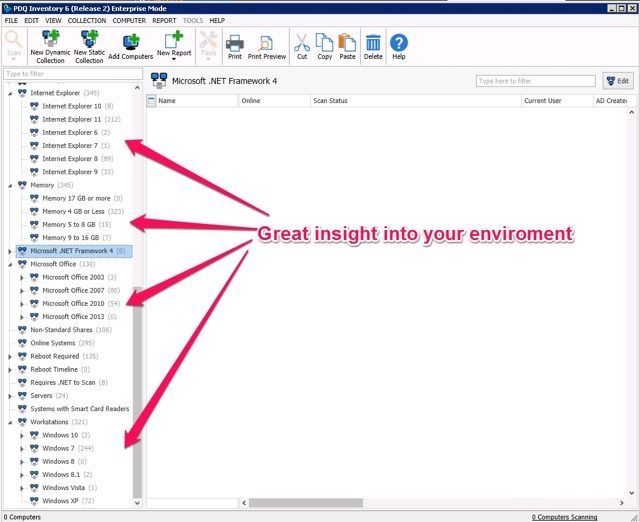 Most popular applications and version information
PDQ also has a set of Collections libraries with a set of useful application that most companies use. Finding computers which have installed a program is again a matter of one second. Want to see how many and which computers have WinRar installed? Maybe Java or Flash? No problem.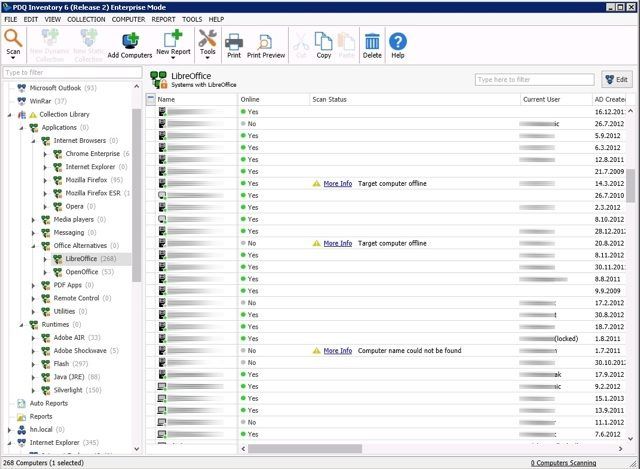 Computer and Server Reporting 
PDQ Inventory also has a set of reports that you can use to quickly retrieve information about your environment. You can create your own reports and you can send reports via email.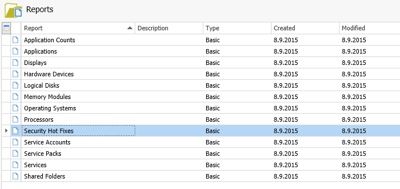 When you need to see information about one computer, you select it from the list, double click on it and select what type of info you are looking for. You can check software installed, hardware information, computer brand and type, display information, basically anything related to a computer or a user.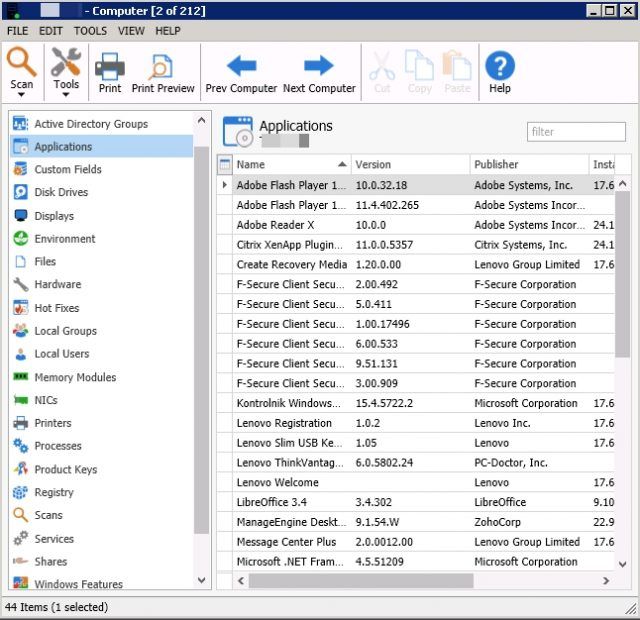 Microsoft Office Licences information (or any application)
Collection Libraries that are created by default are a great way to quickly find the most commonly requested information, right from your environment. But they don't cover applications that are installed in your environment.
In that case you can create your own Collection Library. PDQ Inventory has a set of Filters which you can use to match your information requirement.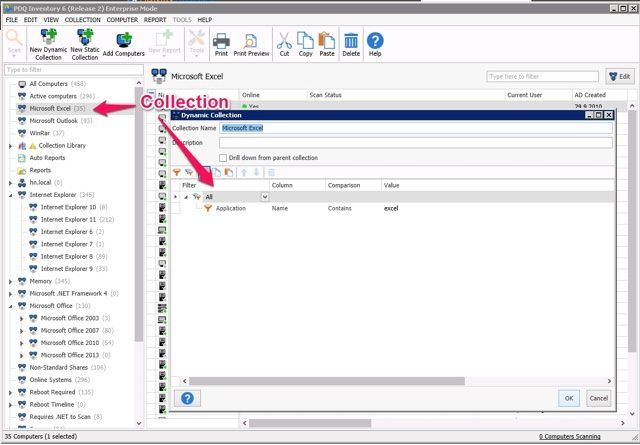 For example, default collection library collects information only for Microsoft Office. If you also use Microsoft Outlook or Microsoft Excel as a separate application, PDQ Inventory will count it as an additional Microsoft Office license. In that case, you can create custom sets for Separate Office applications. You can also create custom library for application you use in your company.
PDQ Inventory Speed, Usability, support and a price
Product is very responsive and scanning speed is amazing even on WAN locations.
Usability is top notch, icons are big, so you can quickly navigate around and perform actions. The program can run as a service and perform inventory automatically or you can run it when you need to. Most of the Libraries are predefined so you can start using it immediately. For the software you use you can quickly create your own filters.
Regarding Support. Admin Arsenal has a vast library of videos covering practically every question you may have about their products. Videos are short and you can easily fast forward to the exact configuration you are missing. Updates to the product are also frequent. Just now a new version was released adding new collections for the latest Office 2016 and Office 365.
As for support, if you send them an email, they will respond quickly and resolve your question.
Pricing is one of the best on market for this kind of program. A Professional version is 250$ per user and Enterprise version is 500$ per user. They also provide FREE version which is a bit limited in features but can get the job done.
And don't get me started with advanced features like automatic un-installation (very useful for apps that you want to remove from your environment), Active Directory Syncing and Registry scanning.
As you can see, audit at first seemed like a daunting task. But PDQ changed my perception and impressed me so much that I highly recommend it to everybody looking to inventory their environment. Oh, and a you can sign up for a FREE 14 days trial version – fully functional.