Why you can't be 100% sure that your website can't be penalized by Google? There is a simple reason called human nature. Friend called me and he told me that he lost about 40% traffic on his website. I asked him if low quality content could be the problem. After investigating he told me that his first articles were copies of blog posts around the internet and some didn't have any text inside, just pictures. He said: "I didn't know If writing will remain my passion or not. I didn't know If I will have time to keep up writing and I didn't know If I will quit for any other reason. After two years I know that passion to write is not something you lose." And time? Well, you can always find time if you want. From this experience I know now that I should have crawled my website sooner, like a search engine spider. Two programs that are the best, are available for OS X. They are called Screaming Frog and Scrutiny. The main reason to audit and review on site SEO, is that you can avoid penalty. It's also something you don't think about too often.
How to improve quality of your Website
After two years I changed WordPress theme to the one I felt was appropriate for itsmdaily.com V3, it was really visually appealing but it caused me too much problems. What I learned from this experience is:
Now that I fixed the problem with the website I decided it's time to check for possible on site SEO issues. Even more so because few low quality posts can drop entire domain ranking.
Google Panda evolved greatly and it can penalize your entire domain (before it penalized the content only). In turn you loose rankings and coming back can take some time. In order to prevent this from happening we have to look at reasons why Panda will penalize your website.
If you don't have time to analyze why your ratings fell, you can check a great free service called Fruition Google Penalty checker. When you grant access to Google analytics, it will compare your traffic with the Google algorithm events. For example, you will see immediately which algorithm affect your site and you will know how to act. For example, it could be Penguin, Panda, The Quality update, mobile update, Pigeon and the list goes on. Service is really great as it will show you visually which events impacted your website. For the good or for the bad.
How to audit Panda algorithm website problems
To check possible Panda problems and to improve your website quality in general, you have to focus on the following areas:
Website with low quality content (thin content)
Website with wrong SEO structure
Website with Duplicate content
Website with poor grammar
Slow website load time
Website with over optimized SEO
Website with useless content and content farms
Important factors for search engine ranking which you want to check as well:
Broken links – 404 errors
Meta description on every post
Duplicate page titles
Robots.txt file
Word count on page by page basis
Internal links on each page
External links on each page
Short content
If you have been running a website/blog for at least two years a lot of content has been accumulated. Reviewing every article manually takes a lot of time. I heard many great things about Screaming Frog Spider but It just would't work on my Mac. Screaming Frog SEO Spider threw an error: Screaming Frog SEO Spider needs Java 7 on OSX.
As I have some apps that require Java 6 I didn't have time fixing the problem. I searched for alternatives.  Xenu's Link Sleuth is a program that is mentioned the most as a Screaming Frog alternative. Unfortunately  while being free, Link Sleuth is also not available on OS X. There are some alternatives which have much less functionality but what I found was something better. Something native to OS X and something with perfect name Scrutiny. Scrutiny is a native OS X application, meaning you won't need a virtual machine to make it run and you won't have a problem with Java. Looking at features it has all that is needed for end of year website review.
Scrutiny for OS X Review
Scrutiny is a native, OS X only application which is much more than just a SEO spider crawler showing you how Google sees your website. Scrutiny can help you prevent Panda penalty, improve your website quality, improve user experience with the website and improve your on site SEO. It can help you rank higher and most importantly it can make your website better in every way.
Scrutiny has many great features. When you start application you have to add site you would like to analayze. After initial scan, you are presented with options.
You can check broken links, create sitemap, check for SEO parameters, validate your website against W3C standards, check spelling and grammar, set up website monitoring, test website load speed, set up website scanning and search for text in particular pages.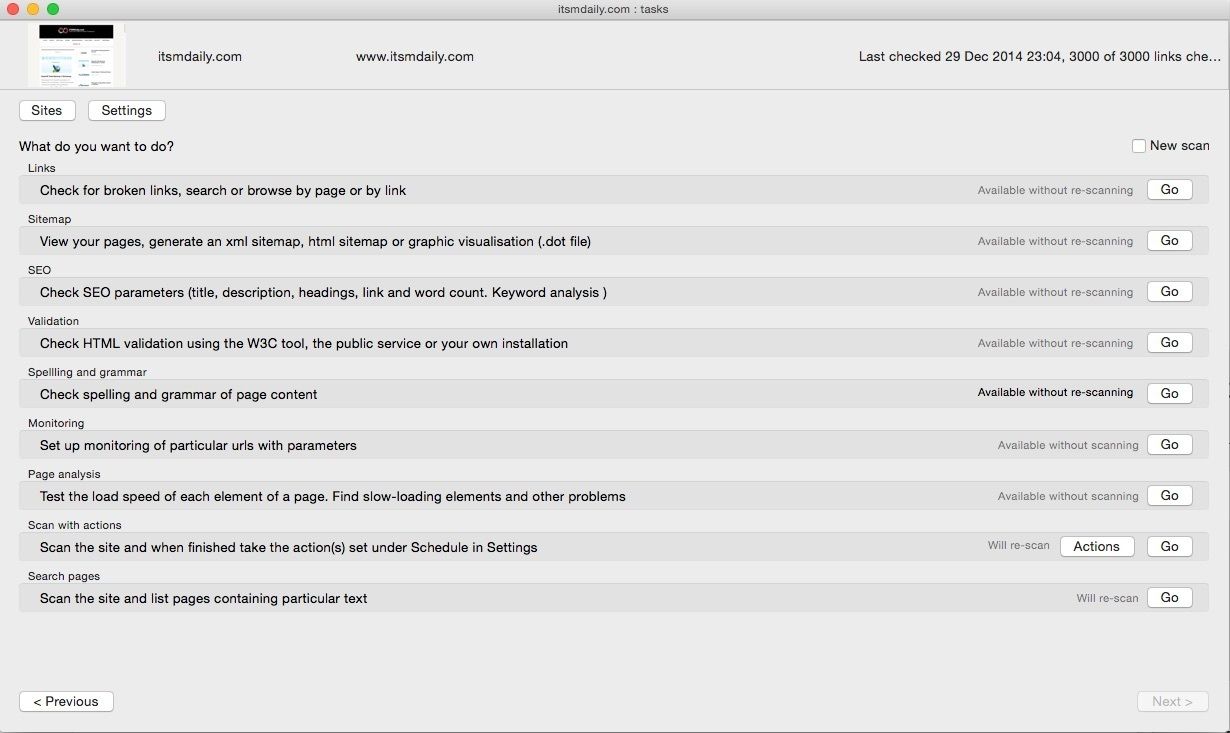 Scrutiny has many options for scanning. Depending on the web server size you can increase scanning speed with many scanning threads. Scan will complete sooner, but load on web server will increase. You can reduce threads so that you won't break the web server. Before you scan can choose to not scan PDF's or scan for Grammar and Spelling among other things to increase the speed.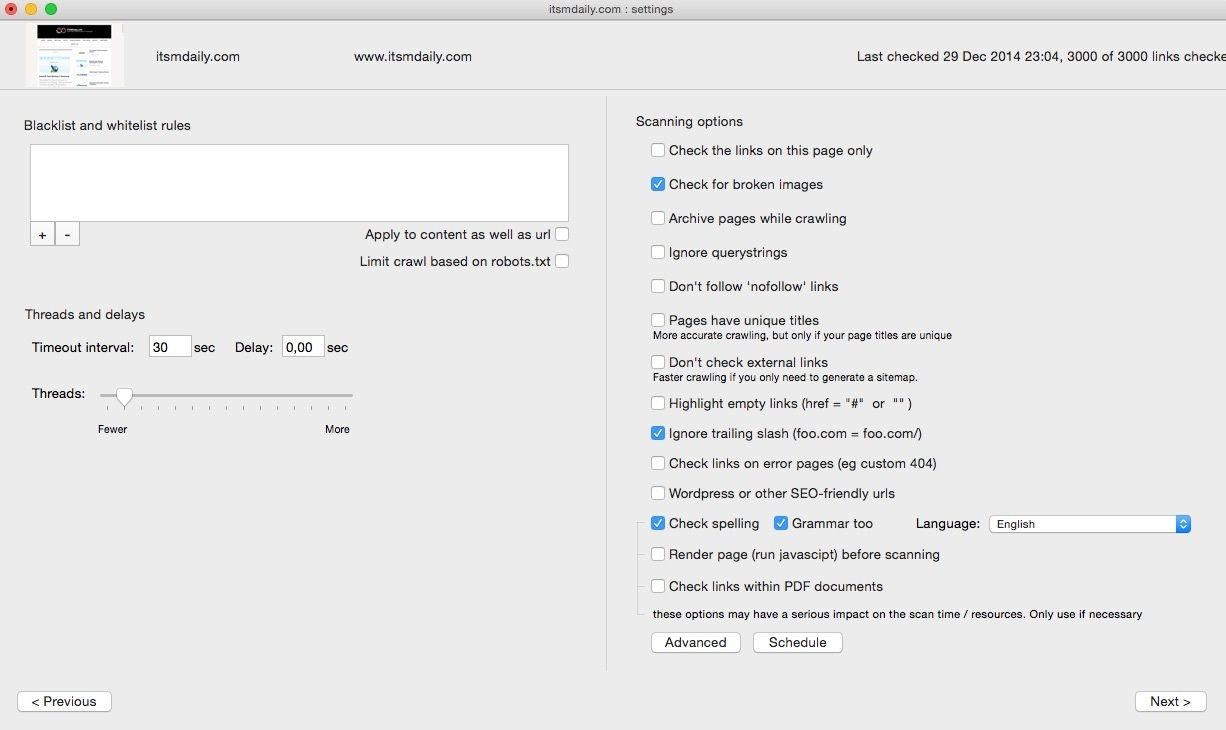 For websites that require authentication  you can set it up in the advanced settings.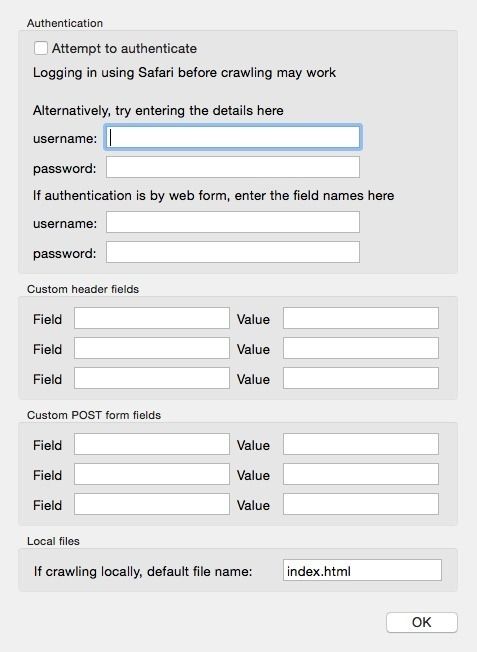 Check your website for broken 404 links and images
broken links not only contribute to ranking and possible Panda effect but are also bad for user experience. You click on a tick box to show you only broken links, which can make reviewing broken links much faster.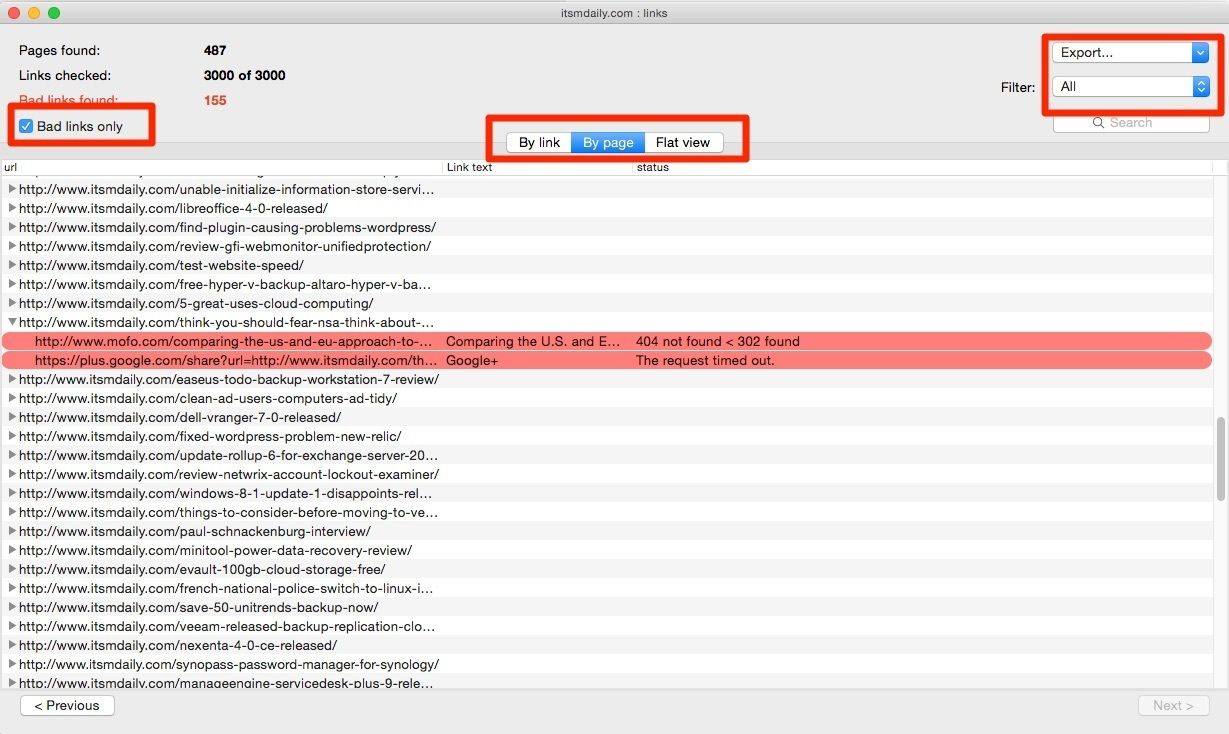 If the website has many articles, you have great filtering options. You can filter broken links by broken links for Internal links, broken links for External links and broken links for Images. You can also export broken links as CSV or HTML. Scrutiny can also scan for links inside PDF documents.
Why you should run Scrutiny after you change your website permalinks?
When you first start WordPress website, you will soon learn that instead of ugly default permalinks like http://example.com/?p=123 it's better to use readable and nice permalniks. A lot of people choose something like http://www.example.com/2014/10/postname. When they later decide to change permalinks to a simple and better permalinks variation like http://www.example.com/postname they forget to change interlinks inside the post to the new structure. Why you should? Because they remain in the old permalinks structure: http://www.example.com/2014/10/postname. I am part of' 'those people" so I was very happy when I learned that Scrutiny can help me with this.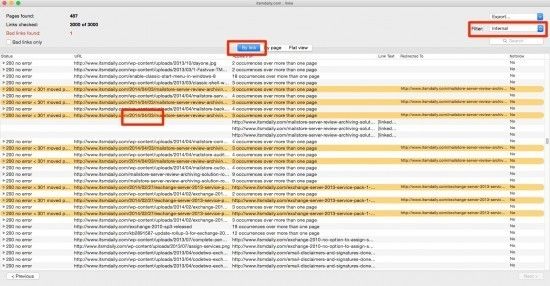 When you filter by internal links, Scrutiny will automatically color links where you have redirects applied. Orange color will make going through all the old links a breeze. You can also sort links by the status and see all the links in one place. Then you can export links to CSV or HTML.
Test your website load speed with Scrutiny
There are many great tools to test your website speed and load time. Having this option in Scrutiny is another benefit for your website audit. You will see response time and load time for every item. You will also see compressed and uncompressed size. Having this feature built in, you can get first impression for the website size and load time.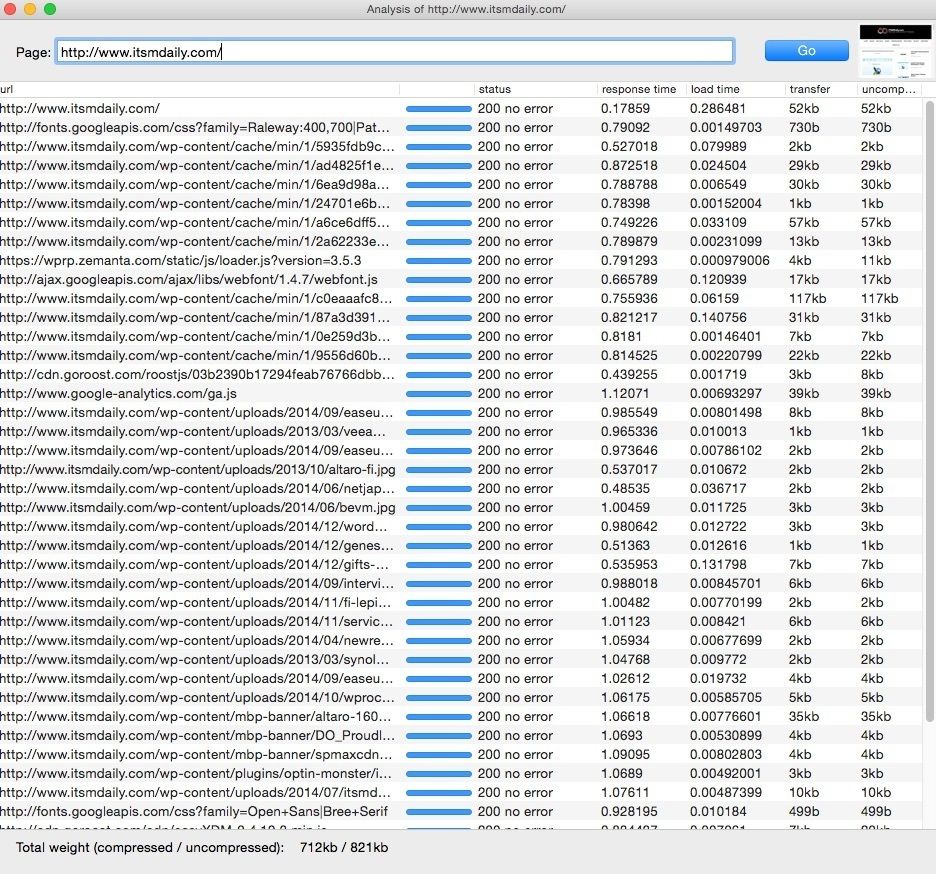 You can also set up automatic website monitoring.
Audit your SEO
Scrutiny SEO feature will give you all the information about your onsite SEO. You will see the following information about your articles:
Title,
url,
Description,
Main headings,
response time,
Link count,
Word count,
Internal backlinks count,
Last modified date,
Robots information,
Canonical link,
Content size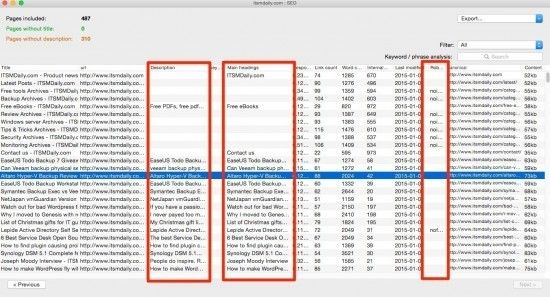 Now, let's take a look how you will benefit from this information. What I like is that you have complete overview of your website in one windows. You can compare Title to Main heading, You can scan through meta description of your posts to look for stuffed keywords. In the past, meta description for a post was used to stuff relevant keywords in order to rank higher. Search engines hardly take any notice for meta keywords now, but your site can be penalised if you still use them.
How you can benfeit from Scrutiny SEO feature?
You can look for Title size and opportunities to optimize titles for a better SEO
You can immediately spot articles with low quality – thin content and decide if you want to improve the quality or noindex it
Look for stuffed meta keywords
Audit your website Spelling and Grammar with Scrutiny
You really should audit your spelling and grammar. I have used spelling feature in WordPress with mixed results. When you write you may misspell a word and it's not always discovered. I found that there are still many spelling and grammar mistakes once I analyzed my articles with Scrutiny. You will see how many Spelling and Grammar mistakes are per article. Beside Url and Title Column, there are also Spelling and Grammar. When you double click on a post, new window will open for Spelling and Grammar review where you will see Grammar and Spelling mistakes along with Suggestions.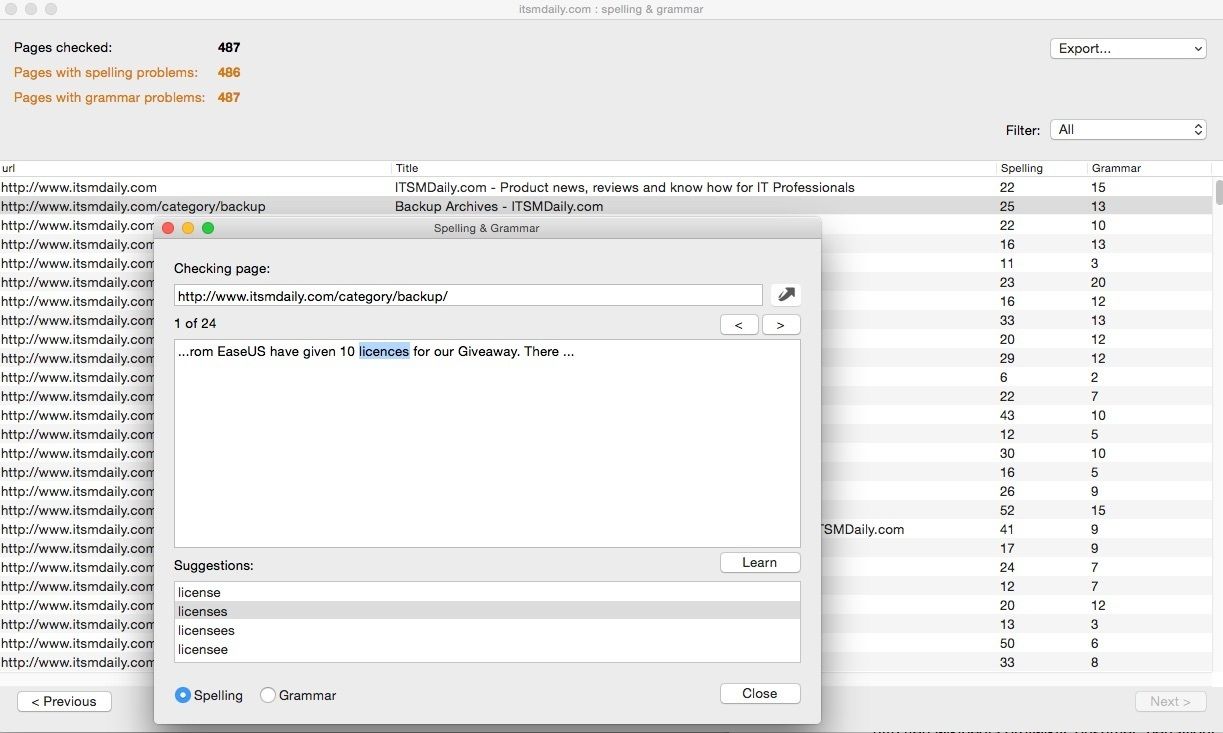 When I first opened couple of articles I was shocked to see that spelling mistakes are present. Blush.
Monitoring
Monitoring is a feature of Scrutiny which enables you to monitor url's. You can set up monitoring interval. While setting is minute, you can enter 0.5 for 30 seconds or 0.083 for 5 seconds. You can choose the method GET or POST and you can manually set expected response.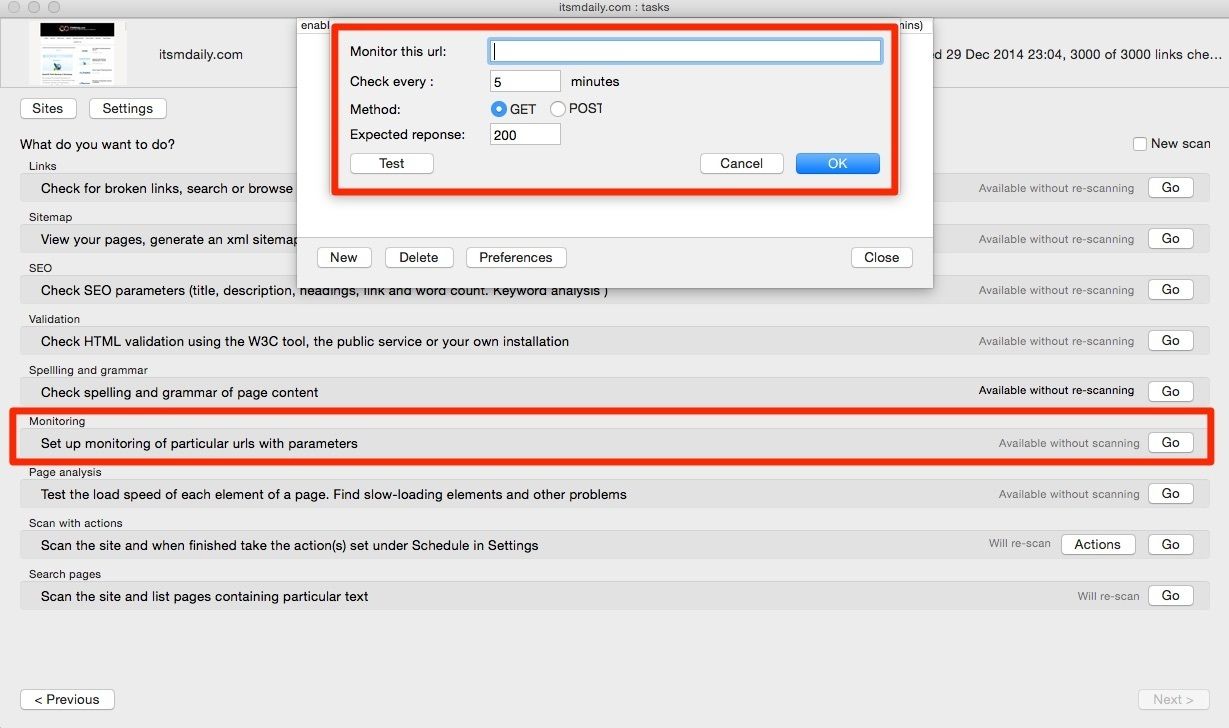 Schedule, Reporting and Sitemap
With Scrutiny you can fix your on site SEO, but what will you do when you finish your audit? If you have your own blog, most likely you will forget about it. What you can do is to set up a schedule. You can set up a Weekly or Monthly schedule. Once you the scan is complete you set up Scrutiny to send you email notification and save summary to a HTML or PDF file. That way your website will remain "clean".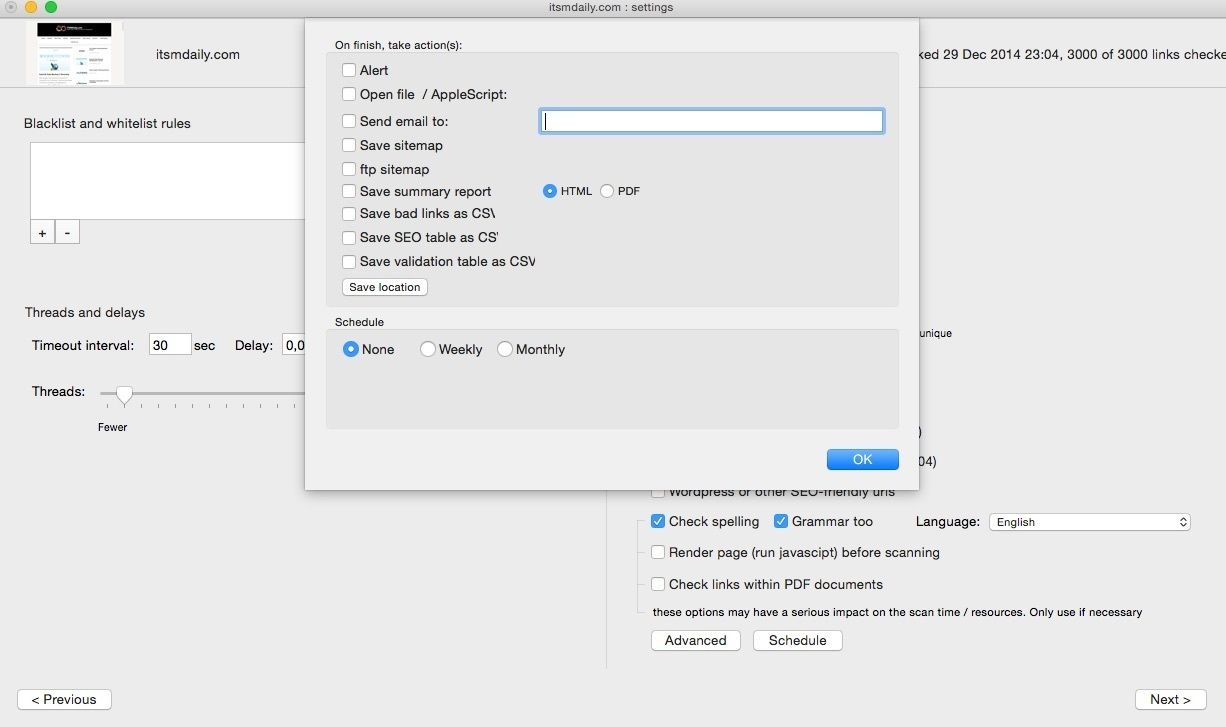 If you use HTML website, you can use Scrutiny to create a sitemap for you. You can set up FTP credentials which can be used for automatic upload.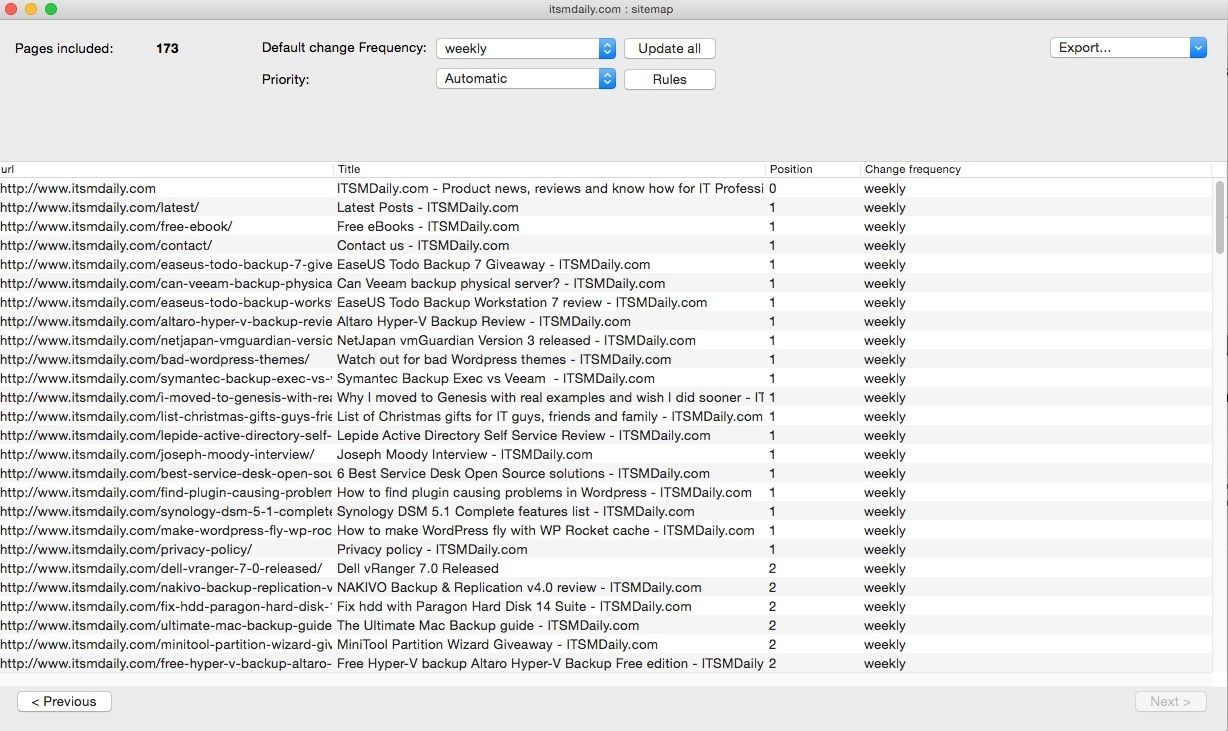 Scrutiny for OS X review Summary
I am really happy I found Scrutiny. I was able to easily  spot the problems. And and it will help keep my site in good shape for the future. But if you more than one site you can manage many sites and scan them on schedule.
One of the major difference between Screaming Frog SEO spider and Scrutiny is that Scrutiny has 30 days trial no limit on features. In those 30 days, you have access to full functionality and are not limited in any way. If you can't afford Scrutiny, you are able to fix your site in 30 days. Second difference is that Screaming Frog is a 12 month license where Scrutiny is perpetual license. Third difference is price, Screaming frog is £99 where Scrutiny is £60 / $95. Much cheaper and affordable for smaller site owners. 
You can find more information on Scrutiny website. I just noticed that until 7th January, price is reduced for 50% due to a new year discount with a promo code 16FBF8EE. You can enter promo code inside the program when you make a purchase.