Quorum is a San Jose, California-based company dedicated to backup, recovery and business continuity. They have developed hardware backup and disaster recovery appliances that are easy to use and easy to maintain. Usually, hardware appliances are associated with enterprise deployment, but Quorum has a wide and diverse range of hardware appliances that are also appropriate for smaller environments where the price is important.
Quorum has used their experiences and created a Disaster Recovery as a Service (DRaaS) Cloud solution that combines advanced cloud capabilities with hardware-based disaster recovery. Quorum has 4 optional solutions to meet your recovery needs. Quorum provides purpose-built hardware appliances, but you can deploy on your own hardware as well. You can have an appliance on-site, off-site on another company-based location and you can leverage Quorum cloud for bullet-proof disaster recovery. Quorum will replicate your entire data center and provide instant recovery both onsite and offsite.
Quorum uses a web interface meaning that you don't need to install additional software to manage it. Quorum is very easy to use. Some vendors complicate the whole experience, like where even the most simple operations take some time to master. With Quorum, the web interface is created with the user in mind. You just tell your RTO and RPO requirements and onQ does the rest. Servers are backed up with incremental forever, meaning that no more time-consuming full backup to manage and replicate.
The first backup can run for a couple of hours, depending on how many servers you have to protect, but after the first run, the system will switch to incremental system snapshots, which only take a fraction of time and can be scheduled to occur as frequently as required, ranging from 15 minutes to 24-hour intervals. Where appliance shines is with automated Disaster Recovery testing of the servers it protects.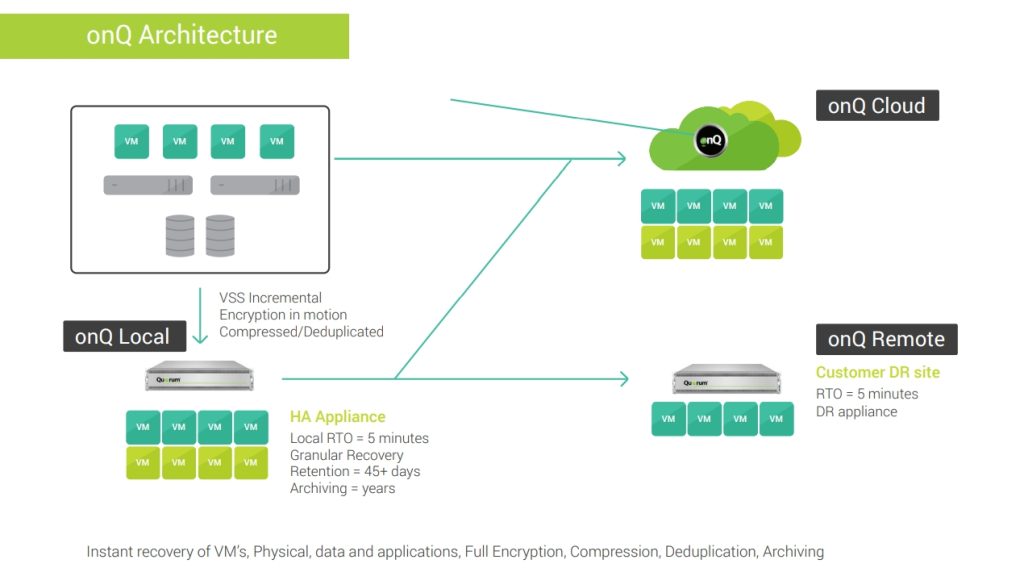 In the old days, backup administrators should have tested every backup. But in reality, almost no one tested the backup. The process took a long time and required additional hardware. But with Quorum, the appliance is leveraging automation and AI to perform those tasks for you. That means that every backup that is run, is also tested so you can be sure that the backup can be recovered. In case the system detects a problem with the recovery process, administrators will receive an email notification so they run additional tests to find the problem.
Quorum 6 with VMware Integrated protection review
Quorum has an easy-to-use web interface, meaning you don't have to install any additional software. Traditional backup solutions require installing the software on a server which is then used to manage all the settings. Some backup solutions use management software that you install on your workstation to manage all the backup settings. With a web interface, you don't need any of that. By using your browser you can log in from everywhere.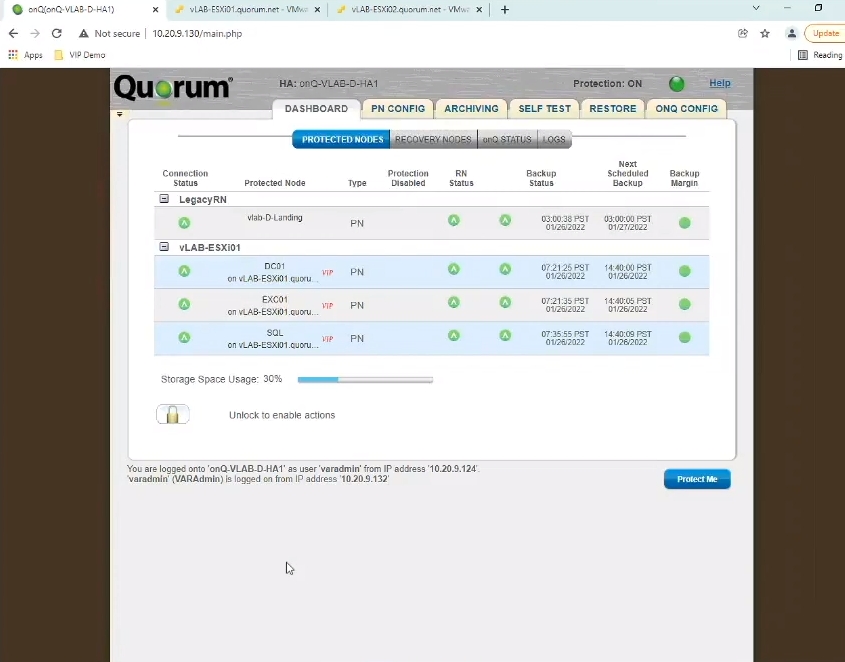 Quorum VIP (Quorum's VMware Integrated Protection) is a solution that allows Quorum to backup VMs from the host level instead of at the file level. Because of new technology that makes improving the speed of backup by up to 95%. It also offers more failover and failback options than ever before. In the latest version Quorum can protect Windows, Redhat and Suse Kernels of Linux from VMware. In addition, it offers the option to instantly failover to the onQ appliance or failback any VMWare supported OS back to a current production VMware host. With VIP, companies can leverage VMware Storage VMotion to move data back from the onQ to the production. Why is that important? Because you don't need to schedule any downtime for the VM.
Quorum onQ Process – Quorum requires an agent on the VM that uses VSS to back up the changes to each file on the machine. This makes the solution ubiquitous to any environment.
Quorum onQ VIP Process – The onQ VIP process instead uses and proxy VM to interface with the VMWare host directly by using VSS to quiesce the data. The benefit is that it backup only the changes to the VMDK file instead of the need to scan each file within the disk. This drastically improves backup speeds and allows the onQ to hold the VMDK. Quorum can attach the VMDKs to a host on-demand in the event of a disaster to restore the data to production. What makes Quorum technology unique is that it can also make supported OSes boot instantly from the appliance itself. For example, If the entire VM host is out of service, or the company lost the entire site, the onQ can boot the recovered servers directly from the appliance or Quorum Cloud. I know that many will question that, as you require some serious hardware to run such tasks. Quorum appliances are equipped with NVMe cache producing 25,000 to 30,000 IOPs of performance, meaning that the server will run at or better than production speeds for many customers.
Quorum VIP Failback – Quorum onQ is holding data in the native VMDK format. If the servers are recovered by mounting the VMDK back to production, administrators have the benefit of using VMware Storage V-Motion to migrate the data back to the VM host. You don't need to power down the host, so there is no added downtime to the disaster.
Secure – All backups on the onQ are immutable and contain a virtual air gap, which makes them hidden to ransomware to ensure the data is intact and available when you need it the most. All data is encrypted in transit and at rest.
Private Cloud – Quorum has built a private cloud for use as the DR location in the event your primary location goes down for example in event of a disaster. The cloud has dedicated compute and storage resources to meet any kind of disaster, and you can even use it for testing scenarios. Another topic is networking. Quorum supplies each customer with their own Virtual FireWall setup and is dedicated only to the customer for VPN, web, mail, or any other IP traffic needs. The goal of Quorum Cloud is to fulfill the role of your primary network if you have a disaster and need to run from their DRaaS cloud for any amount of time.
VIP in the Cloud – Quorum is constantly adding VM hosts so that you have the same performance and benefits for new servers as you have had for any other servers Quorum protects. In the event of a disaster at the customer site or when a customer performs a test, Quorum Cloud administrators are there to help you mount your VIP protected servers to these hosts and ensure all of the networking demands are handled so you can recover.
Failback from the Cloud – If you ever had to failover to a disaster recovery site, the first challenge you will face is how to move all of that data back into your primary site. Quorum has already planned for this scenario. You have several options to get data back to your facility.
You can restore directly from the cloud to your local servers or VM hosts. If internet speed is sufficient this might be the ideal solution.

If your primary location is recovered and you have a local appliance still functioning, they can "reverse the streams" so that while you are running in the cloud, local Quorum is working as your HA location and your appliance will act as the DR to receive the replicas. When required you can restore from the local appliance.

If you have a large amount of data, or your bandwidth is low, and you have lost your local appliance, Quorum keeps hardware in their cloud-ready. replication to the hardware is started immediately. Then they send you the data so you can recover locally.
One of the best features is the ability to start the instance you protect directly from the backup. For example, MS Exchange goes down, instead of waiting for the backup to be restored, you can just start the instance from the backup. That way you can be up and running in no time. You can also run the instances from the backup test patching, upgrades, etc…
Ransomware protection – last line of protection
People assume that the easiest targets for bad actors are end-users and SMB's. While that is true, money that can be extorted is from end-users and SMB's is peanuts compared to large enterprises. If you think that large enterprises like retail chains, the defense sector, health care, and pharmacy industries can't be hit because they dedicate more resources to prevention you are wrong. There were many large cases like hospitals, Pharma and defense sector are continuously targeted. Ransom can go up to a million US dollars which is an insane amount. Now, imagine that important data is encrypted which you can in theory get decrypted if you pay. But what happens if you pay and data is not decrypted? You can see why having bulletproof data protection is important. Let's take a look at the scenario if you are a Quorum user. If you get hit with ransomware, you can follow the scenario below:
Turn the servers off

 – In the discovery phase, it is important to turn off the servers and search for patient zero, the first device that got infected. This may take some time but is beneficial.

Keep working

– From the Quorum dashboard start a clone of your production server from the time you know is clean. As this is a clone, you can run it in production for as long as needed.

Clean your systems

 – Cleaning your systems may take time. Don't worry, take your time. While the clone is running, it is being backed up.

Failback to production

 – When your systems are clean and back online, you can simply failover from onQ back to production. All the changes that occurred while the systems were running will be migrated back to production.

 
Conclusion
Quorum is a great product. It enables you to keep your mind off the backup and disaster recovery as the appliance does the heavy lifting. Backup is being tested in the background so you can be sure that in any event, you can recover. Should you lose the site, Quorum cloud is there ready to minimize the downtime.
Quorum solution is great protection for your data, with security features like Offsite Recovery, Encryption in Motion, and Encryption at rest. It is also very flexible with On-site HA, Offsite DR, and Cloud DRaaS. Don't forget about Automated testing. With Quorum you can expect an RTO of 5 minutes. In addition, you will gain painless management (quick deployment, set it and forget it), Cyberattack protection (immediate Recovery from Ransomware, Virus, Malware), Cloud services (Patch testing, upgrades, and configuration change), Migration tools (failback to similar or different hardware, from Physical to virtual, virtual to virtual, virtual to physical hardware), Advanced replication (Bidirectional, Hub-and-Spoke, Round Robin Between Multiple Sites) and built-in compliance (HIPAA, PCI, SOC2).