It's hard not to think about HDD reliability when more and more data is consumed. Just think how backup evolved. I still remember fresh stash of tapes for backups. Now, only I only care about disk backup. Should you do a backup to another high end storage? Nah, it doesn't make sense, only the most recent, in case of storage failure. Backup repository should be cheap and reliable. Best of all, you need to have multiple locations where you keep your data.
Most common backup repository is a cheap NAS, like Synology, Netapp, Thecus…Devices are cheap, but you also need cheap drives. This leads us to another matter, which drives to choose? Which drives are the most reliable? What about drives for use in home applications?
If lowest price is your priority, you have asked questions like: Seagate vs Western Digital vs Hitachi? Green, Black or Red series?
Western Digital vs Seagate vs Toshiba
Bakblaze is one of the most interesting online backup companies ever. What makes them different is their open custom storage design. They call it a POD, and interestingly, once Backblaze announced their first open pod design, they inspired many to build one. Among success stories is also Netflix, they use it for buffering at telecom providers.
Now, Backblaze released their drive reliability  study.
What is interesting to see is high failure rate of Seagate drives. The most problematic drives are 1,5TB followed by 3TB drives. 4TB drives are more in line with Western Digital.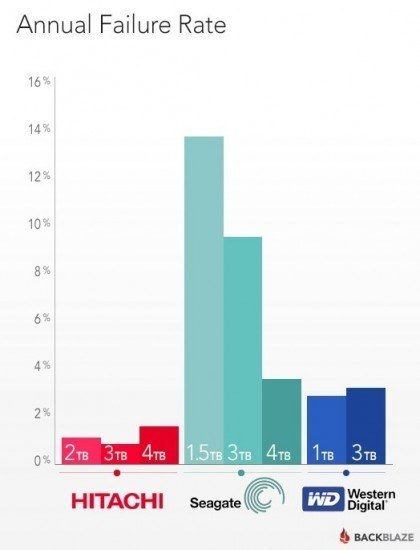 Another topic is Survival Rate in Months, measuring how old are drives when they fail. Western Digital has almost flat line, first failure occurs in the first months and then it spreads across the life span. With Seagate, there is extreme failure rate which happens when drives turn around 18 months old.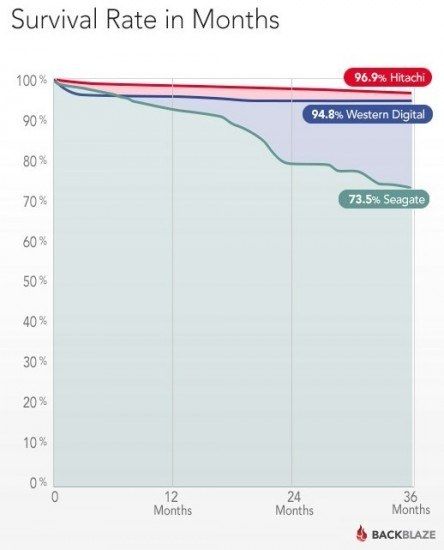 Most reliable hard drive 2014 is: Hitachi, with the lowest failure rate.
Very interesting study, I encourage you to see it