Synology has announced the availability of the DiskStation DS1520+. DS1520+ is a 5-bay storage system which is made for home and small office environments. The DS1520+ is ideal for data backup and organizing multimedia libraries. Major feature is its scalability so users can create a personal cloud which can easily grow.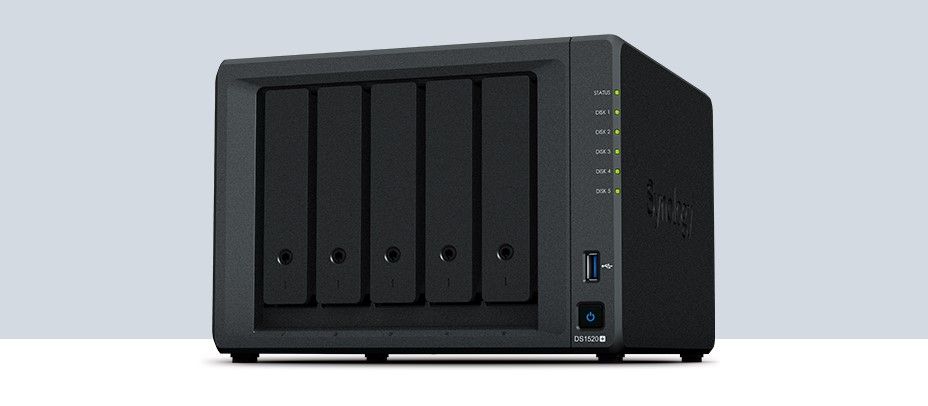 In it's core, the Synology DS1520+ is powered by an 4-core Intel Celeron Processor J4125 (it runs at 2.0 GHz but it can burst up to 2.7 GHz). It is equipped with dual M.2 2280 NVMe SSD cache slots and four 1GbE network ports. It has five bays and they support both HDDs and SSDs of up to 16TB, and you can choose 3.5 inch or 2.5 inch drives. You can expand the total capacity easily. When you purchase Synology extension units you can expect a maximum raw capacity of 240TB.
Synology DS1520+ is faster compared to predecessor. In fact, it's faster 13.8% in Drive Indexing, 25.9% in photo indexing, and 126% in PHP response.
The DS1520+ supports Synology's cross-office file syncing and sharing solution. That technology allows users to seamlessly synchronize data across individual sites. Meaning that large and most-frequently-accessed files can be available on local networks. Users can easily set sharing permissions so that only the necessary files are available to specific users. The new DiskStation supports Synology DSM – DiskStationManager, which can replicate snapshots, manage multimedia, backup virtual and physical devices, secures home and offices with the surveillance station, and even install virtual machines with virtual machine manager.
CPU
CPU Model
Intel Celeron J4125
CPU Architecture
64-bit
CPU Frequency
4-core 2.0 (base) / 2.7 (burst) GHz
Hardware Encryption Engine (AES-NI)
Memory
System Memory
8 GB DDR4 non-ECC
Memory Module Pre-installed
8 GB (4 GB + 4 GB)
Total Memory Slots
1
Notes
Please select Synology memory modules for optimum compatibility and reliability. Synology will not provide complete product warranty or technical support if non-Synology memory modules are used for memory expansion.Synology reserves the right to replace memory modules with the same or higher frequency based on supplier's product life cycle status. Rest assured that the compatibility and stability have been strictly verified with the same benchmark to ensure identical performance.
Storage
Drive Bays
5
Maximum Drive Bays with Expansion Unit
15 (DX517 x 2)
M.2 Drive Slots
2 (NVMe)
Compatible Drive Type* (See all supported drives)
3.5″ SATA HDD2.5″ SATA HDD 2.5″ SATA SSDM.2 2280 NVMe SSD
Maximum Internal Raw Capacity
80 TB (16 TB drive x 5) (Capacity may vary by RAID types)
Maximum Raw Capacity with Expansion Units
240 TB (80 TB + 16 TB drive x 10) (Capacity may vary by RAID types)
Maximum Single Volume Size*
108 TB
Hot Swappable Drive
Notes
"Compatible drive type" indicates drives that have been tested to be compatible with Synology products. This term does not indicate the maximum connection speed of each drive bay.The maximum raw capacity is not limited by the maximum single volume size. Synology NAS models may utilize capacities over the maximum single volume size as long as each volume created is below the limit. (Learn more) Each internal volume (may consist of multiple drives) is expandable up to 108TB.
External Ports
RJ-45 1GbE LAN Port
4 (with Link Aggregation / Failover support)
USB 3.0 Port
2
eSATA Port
2
File System
Internal Drives
BtrfsEXT4
External Drives
BtrfsEXT4EXT3FATNTFSHFS+exFAT*
Notes
exFAT Access is purchased separately in Package Center.
Appearance
Size (Height x Width x Depth)
166 mm x 230 mm x 223 mm
Weight
2.62 kg
Others
System Fan
92 mm x 92 mm x 2 pcs
Fan Speed Mode
Full-Speed ModeCool ModeQuiet Mode
Brightness Adjustable Front LED Indicators
Power Recovery
Noise Level*
20.8 dB(A)
Scheduled Power On / Off
Wake on LAN / WAN
Power Supply Unit / Adapter
120 W
AC Input Power Voltage
100 V to 240 V AC
Power Frequency
50/60 Hz, Single Phase
Power Consumption*
36.67 W (Access)
15.51 W (HDD Hibernation)
British Thermal Unit
125.21 BTU/hr (Access)
52.96 BTU/hr (HDD Hibernation)
Notes
Power consumption is measured when it is fully loaded with Western Digital 1TB WD10EFRX hard drive(s).Noise Level Testing Environment: Fully loaded with Seagate 2TB ST2000VN000 hard drive(s) in the idle state. Two G.R.A.S. Type 40AE microphones, each set up 1 meter away from the Synology NAS at the front and rear. Background noise: 16.49-17.51 dB(A); Temperature: 24.25-25.75˚C; Humidity: 58.2-61.8%
Temperature
Operating Temperature
0°C to 40°C (32°F to 104°F)
Storage Temperature
-20°C to 60°C (-5°F to 140°F)
Relative Humidity
5% to 95% RH
Certification
EACVCCICCCRCMKCFCCCEBSMI
Warranty
3 Years
Notes
The warranty period starts from the purchase date as stated on your purchase receipt. (Learn more)
Environment
RoHS Compliant
Packaging Content
Main Unit X 1Accessory Pack X 1AC Power Adapter X 1AC Power Cord X 1RJ-45 LAN Cable X 2Quick Installation Guide X 1
Optional Accessories
Expansion Units: DX5172.5″ SATA SSD: SAT5200M.2 2280 NVMe SSD: SNV3400VisualStation: VS960HD/VS360HDSurveillance Device License Pack
DS1520+ is available today, and is from the latest generation of their 20-series. MSRP is $699.99. More information – Synology DS1520+