The first time I saw slim Disk station I thought that it's flawed by design. Why one earth would one one use 4 bay DS for slim drives? Especially since you can use regular Disk station and fill it with small 2.5" drives. I never payed a lot attention to slim series… Until I got a chance to review Synology DS 414 Slim. I admit, the first second I saw it, I fell in love. It's so small… you can't believe your eyes. You can place it on you palm and it will feel natural. It's light. It's small, light and Sexy.
I tried to capture the size with various shots but was unable to show you how small it really is. And how great it looks. You have to see it with your own eyes.
Synology DS 414Slim review
First picture compares 3.5" HDD, Coffe pot,  and iPhone to DS414Slim. Unfortunately it's not visible how small it really is. On the front it has one USB3 Fast speed port which you can use to connect your external driver or printer to DS414 Slim.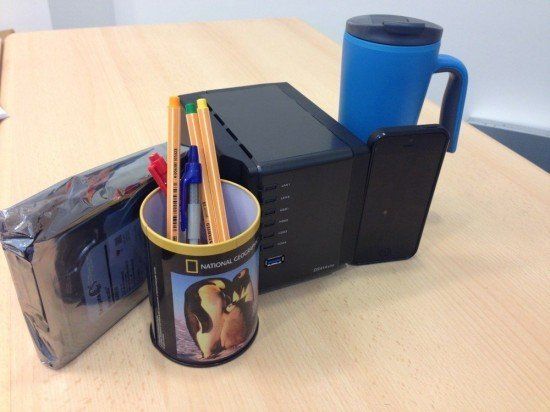 On the back it has another USB3 fast speed port, 2x 1Gb Network ports and power supply plug. 2.5" Cradles are easy to take out. The best thing with Synology series 4 is screw less design. You don't need screws to mount HDDs to the cradle.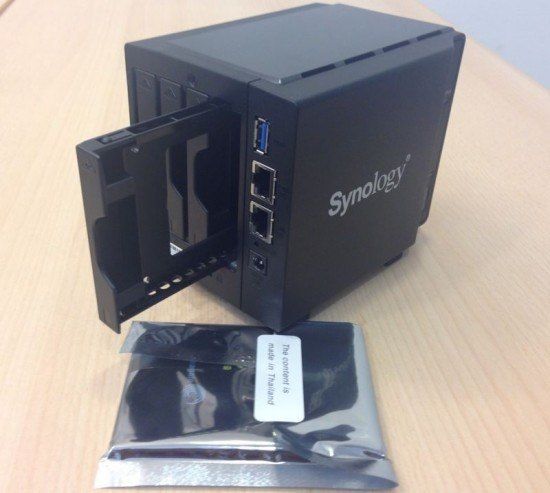 On picture below you can see DS414Slim compared to Heineken can, yet the shot can't show the right size. If you have small cans at home (it can be Coca Cola) and if you place them on the side you will get a feeling about DS 414Slim small size.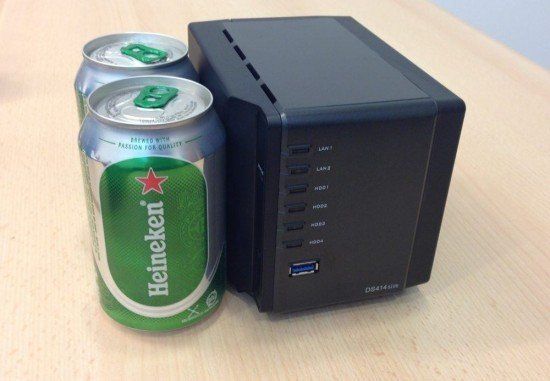 DS414slim compared to IMac 27"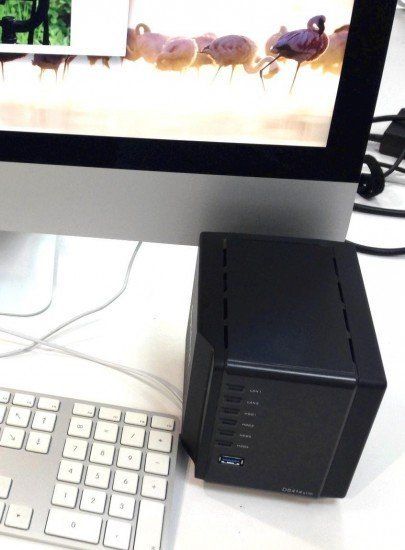 DS414slim compared to Macbook PRO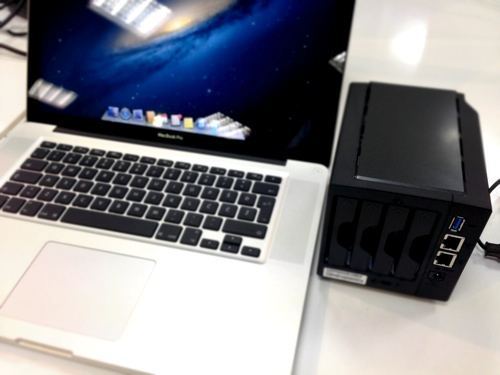 It's really small and cute. You can easily place it on your desk, either behind or aside computer. You wont hear it. Fan is at the bottom and it's very silent, if you fill it with SSD's you won't hear it. But if you fill it with spinning drives, chances are you may hear spinning drives.
Synology DS414 Slim performance
Synology DS 414Slim has SoC Marvell Armada 370 with floating point unit and encryption engine, running at 1,2 GHz. It has 512MB Ram, that is twice as much as it's predecessor DS 411Slim. Maximum supported capacity is 6TB via 4x 1,5 TB drives.
For File copy performance, I tested transfer of 4GB file to and from DS414Slim.
Read speed: 96,2 MB/s;
Write Speed 56,2 MB/s.
The same 4GB file was transferred via ISCSI protocol:
ISCSI Write speed 48 MB/s;
ISCSI Read Speed 55 MB/s.
I bought one for computer and VM backup. It's really a nice little gadget.
Now that flash got cheaper, you can easily find $99 SSD's. It would be a shame not to have SSD's inside. You can use it for backup, lab or use any of the useful applications that are available for Synology.