Synology DS414j has been released. It's THE NAS for small to home offices.
The DS414j is the first NAS with new MindSpeed Comcerto 2000, 1.2 GHz budget CPU and a USB 3.0.  port. It's running latest DSM 5.0, Performance is great for budget 4 bay NAS, read/write speeds above 100MB/sec and 80MB/sec.
It has support for 5TB drives, and has a max storage capacity of 20TB (4 x 5TB HDD).
Power consumption is Only 8.5W in HDD Hibernation and 36.7W on access, noise level is 19.8 db. What's interesting with DS414j is that unlike other models from the same series, it didn't receive a face lift. Design is still similar to the old model only the color changed to black. To gain access to drives, you have to open back side via two thumbscrews.On the back side, there are two usb drives, one is USB2 and the other is USB3. You will also find power connector and LAN port. Drives are using caddies and are hot swappable, but the system to replace hard drive in caddie is not-tool less like other models. You have to use screwdriver. To turn it on, you have to press a powered button which is located on front mask. HDD indicators are come in green Led powered lights which combined with black color give a special professional feel to DS414j. You should know that DS414j does not support expansion via Synology extenders. You can only use 4 drives. If you wan't more capacity you will have to upgrade to the next model
It's ideal for home users and small business owners, it comes with dual core processor which is the first time j series got more power. It can store 20TB of data which is a lot for SMB. You can also use cloud features and make use it to full potential.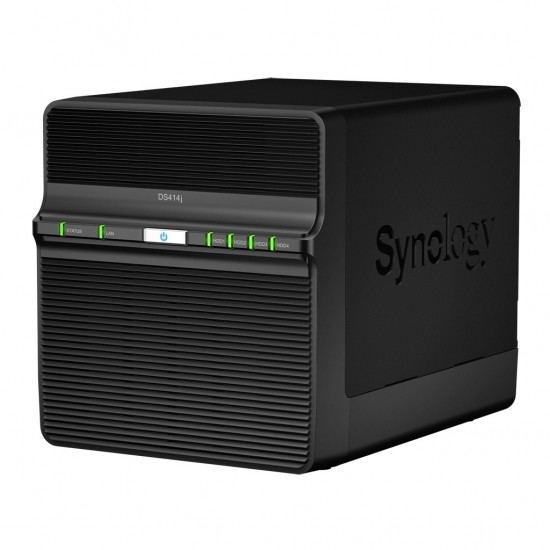 With DSM 5.0, users can enjoy:
Private cloud

which can be used instead Dropbox for privacy and more space.
File sharing in the office you have to share files, usually servers were used which were quite expensive, not you can easily use Synology.

Data backup 

Backing up computers in the office or home is not a problem anymore. You will have enough storage to fit backup for a while.

Camera recording 

You can record feed from cameras in your office / home and access it from anywhere. You can also use phone to access feed or recordings.

Multimedia
VPN
Great user interface 
And so much more, DSM is evolving so fast. Usually Synology releases 2 versions per year, every one with more and better features. That means that in 2 years via software update you will receive new features without buying new device. Cloud functionality is evolving rapidly, sharing in the cloud is the new trend.
We have used it's older brother DS411j for several years and now we can easily replace it with DS414j, not only does it draw less power, it's also faster. To recap, DS 414j is fast, silent, old design but with black color it does look nice.