Synology Diskstation has many uses. Synology app store has the most popular applications available for you to download, install and use with easiest and best experience. If you dive in and test all available applications you will notice that you spent a lot of time. Reason is that amount of applications is really that great. After a while, when you settle with Synology and know what it can do, you get additional ideas for it's use. How great would it be if DSM had feature X or application Y.
One such idea is Password manager that would run on your Synology. Keepass is a great password vault for private use but it's not accesible in the cloud. What about Keepass alternative that is accessible in your private cloud and runs on Synology?
Do you have any doubt about using using a cloud password service for storing your passwords? You may have thought about keeping your passwords away from NSA.
Ultimately what you need is a private password cloud, for your eyes only, yet web based so that it could be used in the browser anywhere you are and on any computer. If you use Synology NAS, you already have your own private cloud, the only thing missing is a private, cloud based password repository.
Synopass Password manager for Synology
Synopass is a PHP password manager, free, third party application, created by Ray Chan for Synology devices. It has support for older DSM 3 and 4 and the latest version 5 as well. When new DSM version will be released, Ryan will update the server package so that you will be able to upgrade without losing your passwords.
What's so good about Synopass?
When you login to Synopass you will notice that login is Secured via master password which you have to enter before you can see the items.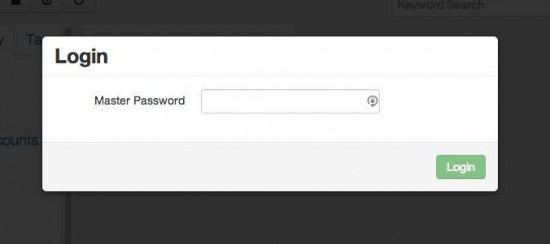 Once you login, you will see categories on the left side and items on the right side.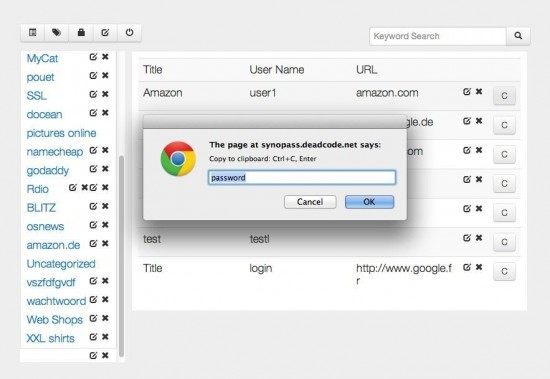 You can add, edit and delete entries. When you need a password there is a C button, once you press it, window will pop up with the password you can copy to clipboard. You can edit entries via edit button and you can also delete entries with the x button.
On the left side you have categories which you can remove or edit. You can also use tags.
Synopass installation is simple. It's DSM 5 compatible and has a mobile client for Android devices. IOS client is in development, but you can set up your DSM to use it from a browser.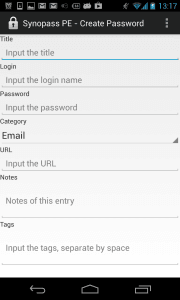 Security was enhanced in 1.2. Ryan added support for 2 factor authentication for Google Authenticator, he added nonce check for web service and added push notification when password was viewed.
In addition, he improved security by disabling all the web services if wrong password was entered for N consecutive times. And as an additional  measure, you have an option to receive email when GCM Registration ID is changed.
Synology is a great device which you can use to host your own private cloud, now you can have your own private password manager accessible everywhere you go.
While Synopass is not the most featured packed password manager, it is enough to get the job done. All while being available in your own private cloud. You can access your passwords from around the world. And it's available for Synology.