A new batch of computers just arrived, so we started deploying images with Smartdeploy. Smartdeploy is just a easy to use imaging solution using Microsoft technologies for making the system images. The problem applies to all similar solutions including Sysprep and Image X.
The standard process for creating a deployment image involves installing the Windows Automated Installation Kit, Creating a Windows Preinstallation Environment, Installing Windows 7, Starting computer in Audit mode, Generalize computer, Capturing a computer to an image and finally creating new Windows 7 installation media for the custom image. When you build your custom installation and confirm that image is working, you should not have any problems. Unless there is a problem with installation media, network or any medium related problems.
Because we never had any problems with deployment of our image before, this occurrence seemed very strange.
While we were deploying an image all of the sudden, we received this error:
Windows could not parse or process the unattended answer file for pass [specialize]. The settings specified in the answer file cannot be applied. The error was detected while processing settings for component [Microsoft-Windows-Shell-Setup.]
How many time do you get errors with sysprep? I know, but when they come up it's not a happy moment. They are not so easily found and when you find a problem they are either easy to solve or thay are hard to find. In either case they take at least some of your precious time.
At first I said wow, I must be happy this doesn't happen every day. So after giving it some thought I got to know how awkward the problem was.
sysprep fails at microsoft windows shell setup error message (screen shot taken with a camera, that's why is a bit blurry):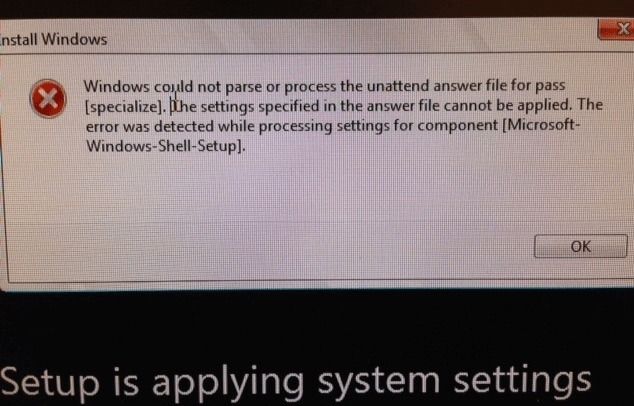 The sysprep fails at microsoft windows shell setup error is caused in the phase when Sysprep is processing Windows Shell Settings. Most likely cause for this error is a wrong License key.
I restarted deployment, entered Windows 7 serial number again, made sure (double checked) that the number is the right one and waited for deployment to complete.
While looking at the process I confirmed that wrong Licence key was entered. It's very easy to fix that with Smartdeploy for further image deployment.
But as an alternative, you could check for bad keyes in
HKLM\Software\Microsoft\Windows NT\CurrentVersion\ProfileList
If wrong keys are listed Sysprep will return an error when copyprofile=true, change or delete bad keys and you are good as gold.