There are many backup solutions for physical servers. But what are really the Top Backup solutions for physical servers? Most companies migrated their load to the cloud or on the virtual infrastructure. But there is still a requirement for specialized solutions to be hosted on physical servers. SMBs also tend to use physical servers, mostly for sharing files or a locally installed ERP solution. Even if the server has a RAID array, data must be backed up. There were many cases where people assumed that RAID is great protection and data can't be lost. RAID is not backup. An incident will happen. It is not a matter of if, but when. Regardless of the type of hardware or redundancy. Something will go wrong. A fault may not be related to the IT guy, managing the infrastructure. The loss of electricity can cause data loss. It can also cause a failure of critical components in the server… Or sometimes components are built with bad capacitors that fail after a certain time. Even weather conditions can wreak havoc on your data.
In order to be safe and ready for failure, backup software can save your data. There are still a lot of users of legacy backup software, which is overpriced, over-complicated, and cannot scale well to the cloud or virtual infrastructure once you grow your business.
Top Backup Solutions for physical servers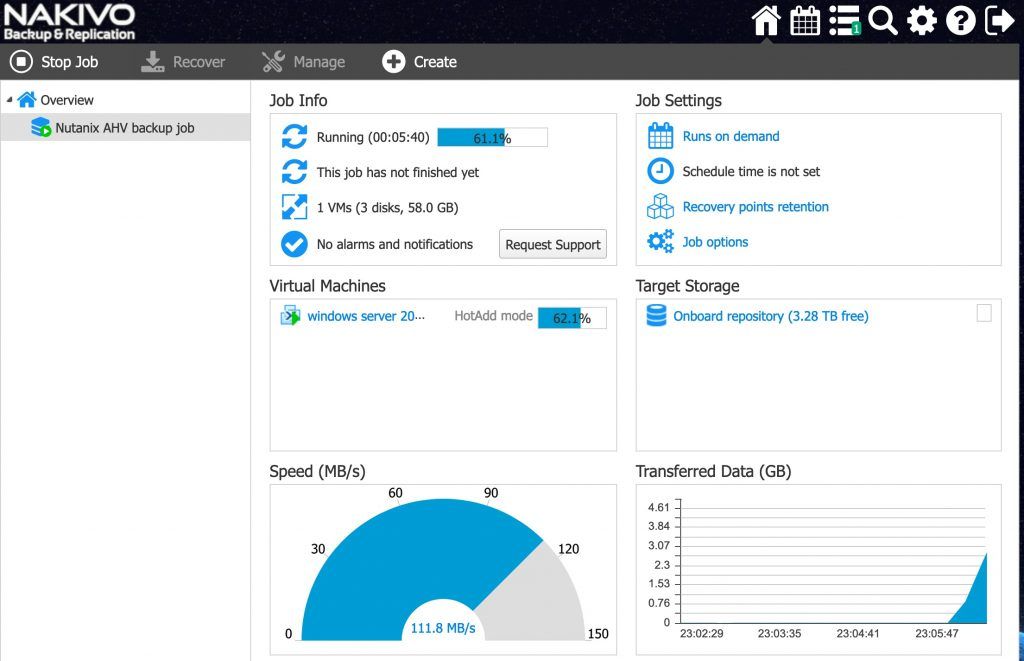 Nakivo Backup and Replication is an affordable, full of features, modern backup which is built for virtualization and the cloud. They have an amazing product, that can be installed on any platform, it is HTML5 based so you can use a browser for configuration. It is great for businesses of all sizes. SMBs will benefit from the deduplication, the option to install it on the NAS, and replication… They added support for physical servers, and they also benefit from global deduplication. Nakivo Backup and Replication can be installed on Windows, Linux, and various NAS devices… Nakivo supports a multitude of applications like Microsoft Exchange, MS SQL, MS Active Directory, MS SharePoint, Oracle, and other apps. You can back up individual files and objects. Companies using multiple locations can tap into WAN acceleration and save on the bandwidth cost and in turn speed up the backup process. When you add global deduplication to the mix, you get a perfect product.
Amazon AWS, Hyper-V, VMware, Nutanix support
Global data deduplication
Instant recovery of files and individual objects, boot from the backup
Various deployment options, including Raspberry PI
Backup, replicate, offsite and in the cloud with WAN acceleration
Great price
Application-aware backup with multiple applications support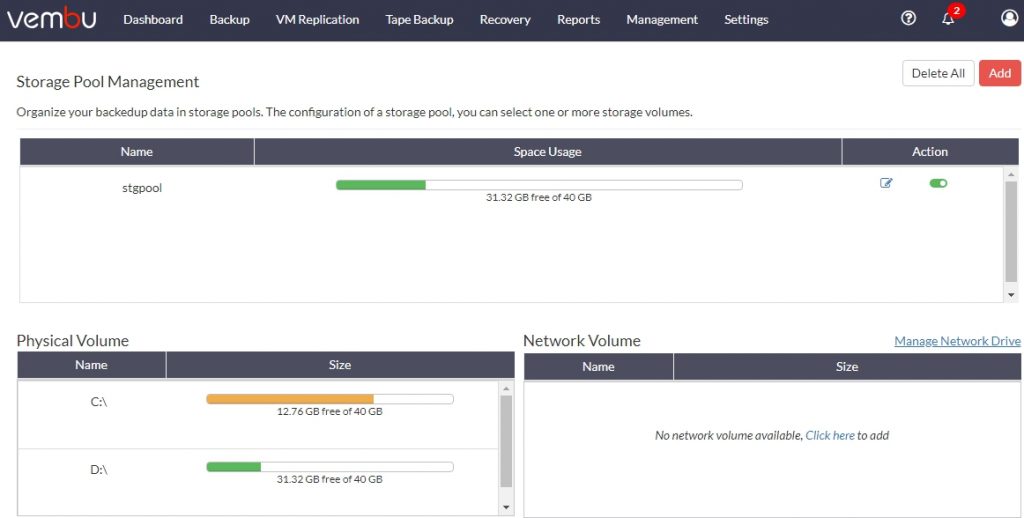 Vembu BDR Suite a comprehensive Backup and disaster recovery solution with the purpose to protect data across virtual and physical environments. It aims to address organizations of any size. Windows Image Backup can back up Windows Servers and Workstations via disk-image backup. It supports Bare Metal Recovery, Changed Block Tracking, and Cross-Platform Migration. If your laptop dies, you can quickly restore it to the same or different hardware. In addition, Offsite DR can ensure double protection. Live replication to an offsite server with WAN optimization and bandwidth throttling can protect your data even if your data center goes down. Vembu has nice features such as Agentless Backup and Replication, Advanced Retention Policies, Quick VM Recovery, Bare Metal Recovery, Advanced Reverse Incremental, Native Tape Storage Support, Automatic backup verification, and Cross-Platform migration.
VMware Backup and Replication
Hyper-V Backup
Windows Image Backup
Files and Application Backup
Office 365 Backup
Online Backup
Disaster recovery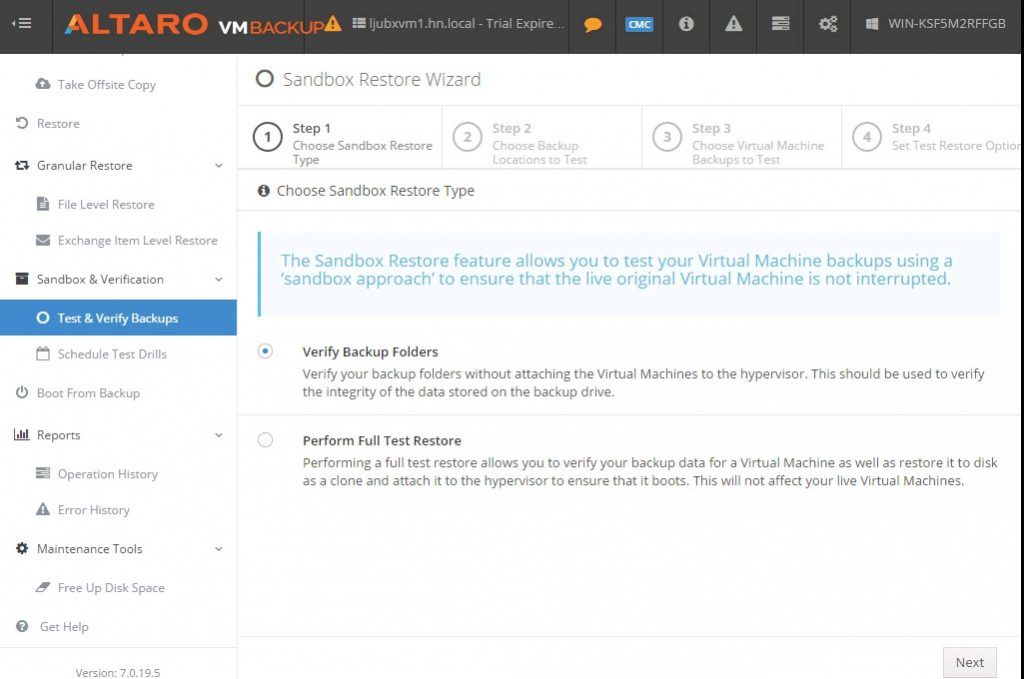 Altaro is an established backup vendor. Its main product is Altaro Hyper-V & VMware Backup & Replication. Altaro launched a free product called Free Windows Server Backup. You can back up Windows Physical Servers and in case of disaster, restore them to a virtual environment running on a Hyper-V.  You can create a schedule and manage the product via the great-looking local management console. It is easy to use and uses Altaro Inline deduplication so you can save on storage costs. Just like it is P2V – Physical to virtual backup solution it is also a Disk2VHD solution. As this is a freeware product, support is done via forums, but it does have a vivid roadmap with many features like offsite copies.
Backup and Restore physical servers
Easy to use
Backup Schedule
Storage savings via inline deduplication
Freeware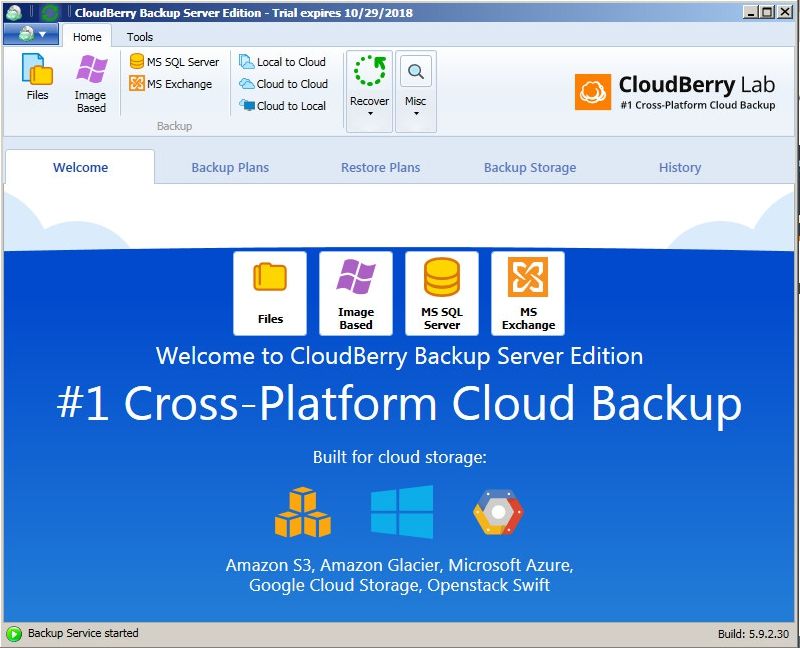 MSP360 Backup for Windows OS (If you don't know the MSP360 brand, maybe you have heard about Cloudberry) is a great backup product for physical devices. It can back up Servers and Workstations. It has built-in native support for the cloud. You can back up to many cloud destinations like Microsoft Azure, Google Cloud, Backblaze b2 cloud storage, OpenStack, and wasabi. In addition, you can back up to Internal Hard Disks, External hard disks, USB drives, Network Attached Storage, and Network shares and the list does not end here. It features a Bare-Metal Restore. You can restore Windows Server as a virtual machine in the cloud. You can restore to dissimilar hardware. It can restore to Hyper-V or VMware. It has built-in support for MS Exchange and Microsoft SQL servers. It can restore Mailbox-level items and MS SQL data from backup files.
Restore the cloud VM – MSP360 backup allows you to deploy Windows server Image from a backup copy image as an Azure VM or Amazon EC2 instance and get running in the cloud in a few steps.
Image-based Backup – It features dissimilar hardware or virtual machine restores due to the Block-Level volume snapshots.
256-bit encryption – Backups are encrypted with the 256-bit strong keys on the source side. All data that is sent to the cloud is encrypted.
Cloud and local backup – You can back up a Windows server or Workstation to the cloud storage of your choice or you can use a local backup.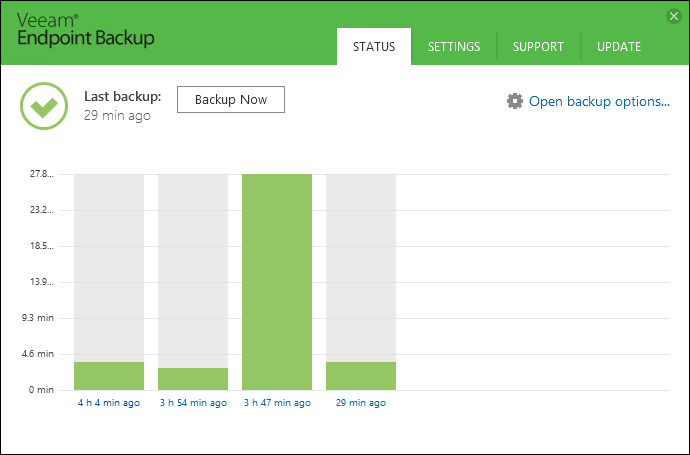 It's Veeam that started a backup revolution. In the time of Legacy backup, Veeam had the courage, to start from scratch and focus solely on a virtual backup. In those times, agents for VMware were expensive and backup was slow. Backup APIs were not that open and it was difficult to tap in to completely different development paradigm. Now backup APIs are a completely different story in Hyper-V and VMware and it is much easier to develop backup software. Still, Veeam is on of the best vendors for virtual backup. For a long time, Veeam focused solely on the virtual infrastructure, have they have shifted their focus also on physical devices. You can use Veeam Agent for Microsoft Windows to backup laptops, workstations, and servers. The basic agent is free, but if you need additional features like multiple jobs, then you have to pay for the professional version. Veem used to be affordable, but its price increased a lot from the start. They did try to compensate for higher prices with additional editions which are more suitable for SMBs, but I can't loose bad feeling when each year, at the end of the year, I receive an email notifying their customer about a 15% price increase, year on year. If you speak with their customers, they love the product and reliability which really counts, but the bad feeling remains. Depending on your needs, you don't have to choose the most expensive edition and reliability has it's price. Veeam is one of the best and now you can also back up physical devices.
Synthetic full backups – You can eliminate the need for a periodic full Windows server backup, with forever incremental backup to save storage space and backup window.
Application-aware processing – By using application-aware processing you can ensure consistent backups, including transaction log truncation.
USB backup – You can also backup on USB drives, to improve the protection of critical data.
Backup to local cache – When mobile users are not connected to the company resources, you can back up to the local cache and when the target is available, cached backups are synced.
Conclusion
While you may already be using a solution for physical servers, perhaps even a legacy, there is a modern alternative. Many solutions are cost-efficient. Many vendors that were virtual only, dedicated their resources to fill the last niche – physical servers. Let's admit, most businesses have migrated to the cloud. Companies that are just starting, are much more likely to start using the cloud. But, there is still a market for backup for physical servers and if you are looking for a good product, here I hope you can find one. They all provide a free trial and have public prices. What I like now, is the ability to use one solution for virtual and physical devices. Unified and deduplicated.