Backup is still not a priority with most of the users. I have heard a lot of stories with disastrous outcome.
We live in digital age where most information is in digital form. Important pictures we snap of family, friends, children, newborns.
Work we do for school, college, business Offers, contracts, scanned documents, job applications. The list goes on. Even thought we have important information on a computer we think that disaster won't happen to us. That our laptop won't get stolen, that our HDD won't crash because we upgraded to SSD. Or we just think that all that backup thing is too complicated. In the Ultimate Mac Backup guide we will dismiss some of the backup myths and look at solutions that work for peace of mind.
This most common backup myths
Backup restore is too complicated. Even though we may be able to setup backup, restoring data is too complicated. Setting up backup and restoring files is very simple with tools like Time Machine and it's free.
Backup is slowing down computers. When backup will run, computer won't be responsive anymore, we won't be able to use it for that period or we could hardly work. I don't have any speed issues with my backup. In case you have speed issues you can schedule backup to run in hours that you are not at the computer.
Backup can't be used with external drives at all. I only have a small HDD inside computer, it will be full soon and I won't be able to use computer anymore. Every backup software has an option to backup to external hard drives or network shares.
Cost of external drives External drives – They cost too much, I can't afford buying external drives. You can get external drive for 50$ and up. There are great deals on special occasions like Fathers day, Black Friday or Cyber Monday. You could also use HDD from old computer and buy external case External cases can be bought from 12$.
Time Machine backup
Integrated in OS X, Free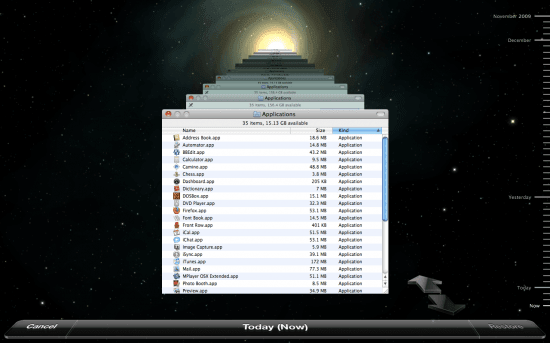 Time Machine is one of the best backups for OS X. It's very simple to setup. Once you set it up you can forget about it. You can backup to external drive or network share on a NAS (Synology, Qnap, FreeNAS). The best part of Time Machine is restore. When you want to restore a file, beautiful window opens with the content you would like to restore. To navigate in time you use two arrows back and forward. Users who are "scared" of restores can fear no more.
Online backup

Online backup is great alternative to local backup. You can use it as a main backup, or it can be used complementary to local backup. Great thing about online backup is price, you can backup for as low as 5$ per month. Another benefit of online backup is that you are not limited by the size of backup. Some of the best Online backup vendors offer unlimited backup for 5$. If you worry about security, Crash Plan (you can read my Crashplan review here) solved that with private key, by using private key your online backup is secure. Downside of online backup is that initial backup can be slow. If your internet is limited by the slow upload speed, full backup will take a long time. Another great online backup is Backblaze
Carbon Copy Cloner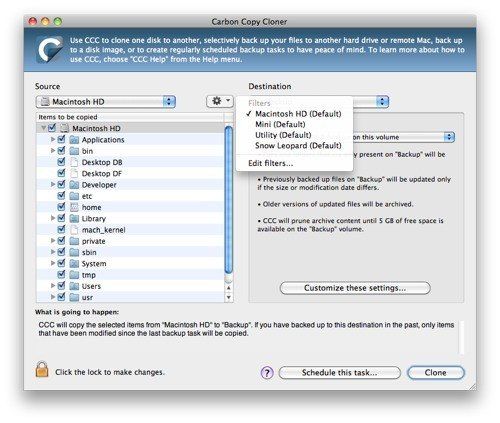 You can create computer image with a great program Carbon Copy Cloner. In case your computer crashes and you get a  new computer, you can restore the image and continue working. Carbon Copy Cloner can backup to external drive and network share. It's also great for migration to a new computer.
Best practice for backup
There is no excuses for not having proper backup set up. If you have a feeling that nothing could go wrong, and you don't have any backup in place, you will learn the hard way sooner rather than later.
The best option for backup is to have multiple copies on multiple locations. One way of doing this is to have Local backup with additional Online backup. You could also backup to external drive and network share. Crashplan has an option to back up to your friend over the internet and this feature is available in free version.