It looks like Vembu is the one company to watch in the backup scene. I mean these guys are in turbo mode in the last year. They have improved Vembu backup with new features but what I like the most is that they are really trying to bring the product closer to every market segment who are running either VMware or Hyper-V environments.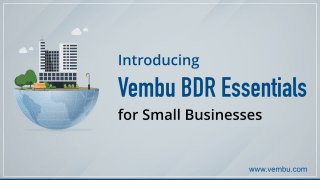 I would like to show you a new edition, just released called Vembu BDR Essentials, which can protect up to 50 VMs on up to 6 CPU sockets. You see, the Essentials edition is up to 50% cheaper than the normal Vembu BDR suite, as explained in the Vembu Essentials article published on their blog. You can see from the pricing perspective that the target market for this edition is smaller companies.
The definition of the SMBs size varies from Country to Country. For example, in the United Kingdom, a company is being defined as an SME if it has fewer than 250 employees. In Switzerland, SMB is defined if it has less than 250 employees. In Kenya, SMBs employ from 50 to 100 people. In Canada, SMBs must have at least one hundred and fewer than five hundred employees. But in the USA, SMB companies can reach even 1500 employees.
For many SMBs 50 virtual machines or 3 hosts with each using 2 CPUs is more than enough. Similarly, VMware offers Essential editions – Essentials and Essentials Plus. SMBs having an option for a cheaper solution is much appreciated as IT budgets are usually much lower. The Vembu BDR Essentials is a subscription-based solution. Currently, pricing for the VMware Standard edition is $108 per year per CPU socket while the Enterprise edition is $180 per year per CPU socket.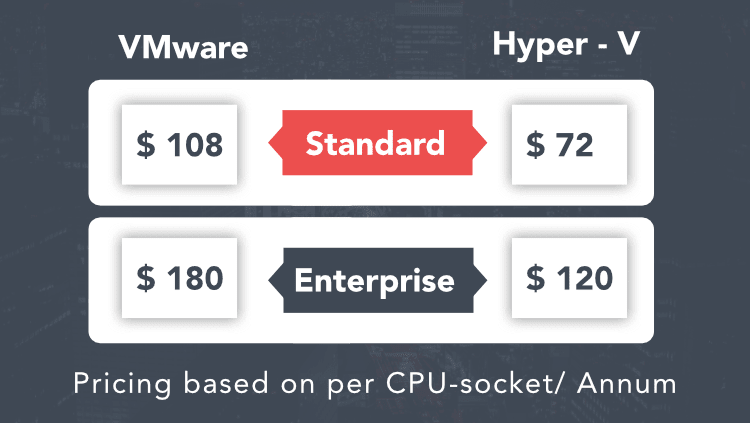 What is even better is the pricing for Hyper-V users. Pricing for the Hyper-V Standard edition is $72 per year per CPU socket while the Enterprise edition is $120 per year per CPU socket.
If you remember not so long ago, they released a Standard edition, which removed some features usually used by enterprises but has introduced much better pricing. The standard edition is a bit cheaper version, with some enterprise features removed. Still, the Standard edition is very decent as it does not impose limits on the number of virtual machines you can backup, also it still features many functionalities for which the Vembu has been known for like: Instant file recovery, Quick VM recovery, Granular recovery of MS-Apps. At the same time, they have also added support for the latest VMware vSphere 6.7. With the Essential edition, they bring the product even closer to the small business market.
Features galore
What features make Vembu a popular choice? Agentless VMBackup is one of the features which makes your backup experience great as you are not required to install agents on your servers. You can say goodbye to the problem related to the agents, like high CPU utilization. For faster backups, transport mode is automatically selected, and you can easily back up multiple VMs in a single job.
To prevent loss of data during business hours, Vembu offers Continuous Data Protection that lets you backup data every 15 minutes. So that an RPO of less than 15 minutes can be easily achieved.
By using Vembu Universal Explorer, you can easily browse, view, restore and recover individual items from Microsoft Applications. For example, Microsoft Exchange, SharePoint, SQL, and Active Directory can be easily recovered, including individual items without restoring the entire image first.
In order to prevent downtime, you can use technology like Quick VM Recovery. In case of disaster, you can run your virtual machines directly from backup, and once the dust settles, you can complete a restore. That way you can also quickly test a backup.
Conclusion
Vembu BDR Essentials edition is a fantastic way for SMBs to use a feature-packed product for fraction of the price. Sure, it has limits but once the company grows, it can easily upgrade to the Enterprise edition and lift the limits imposed by the Essentials edition. You can expect savings of up to 50% compared to Vembu BDR Suite. Did you know that Vembu has a trial edition that you can use for 30 days, with all features unlocked? That way you can quickly test all the features. Compared to the "old days" when you had to install agents on the servers, the installation procedure is much faster now, all it takes is about 15 minutes (download excluded), it's worth it.