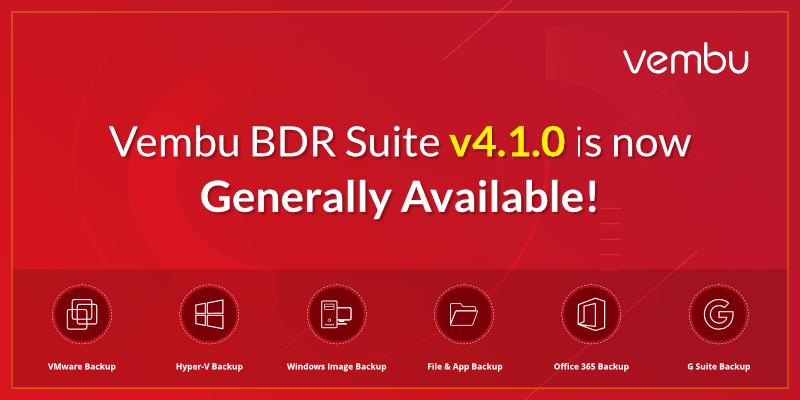 Vembu embarked on its Backup and Disaster Recovery venture in 2002. Vembu first started in the service provider space but has quickly evolved into a major player in the backup field. For the last 17 years, they have been focusing on building a comprehensive backup solution. They have customers over the world in different sectors like public, private, and government with the goal of protecting their data. Some of their customers are Kawasaki, Fujitsu, SAMSUNG, EPIC GAMES even NASA. Vembu partnered with VMware, Microsoft, NetApp, HP, Amazon, and RedHat so that they could create a strong partnerships with industry-leading technology vendors.
Vembu BDR Suite doesn't make you choose to back up just one part of the infrastructure. For example, some vendors only provide virtual backups or physical backups. Also, you can back up both VMware and Hyper-V virtual machines as Vembu supports both hypervisors. If you are in the process of migrating from Hyper-V to VMware or vice versa, Vembu can help with migration as well, as you can restore your virtual machine on either.
Major features of Vembu are :
VMware Backup and Replication – Vembu agentless Backup & Replication, protects VMs hosted on the VMware ESXi and vCenter environments. Vembu solution can recover instantly in case of major outbreaks via Quick VM Recovery. It supports Cross-hypervisor migration, known also as a V2V (virtual to virtual migration). You can also start Failover and Fallback.
Hyper-V Backup – You can backup VMs on Hyper-V Cluster, CSV, and SMB share. In case of an outage, you can use Quick VM Recovery to quickly start the VM from the backup. In addition, you can use granular recovery to restore files and applications.
Windows Image Backup – Are you still using physical servers? Maybe Workstations, Laptops? You can use Windows Image Backup to ensure a complete backup of physical servers, Laptops, and Workstations. Because backup is image-based, you can recover the entire machine in a virtual environment instantly. You can also restore individual files, folders, or applications items. Image-based backup supports Changed Block Tracking, Bare Metal Recovery, and migration to another platform via P2V (Physical to Virtual migration).
File and Application Backup – You can granularly backup files, folders, databases, and applications. You can back up locally or to the cloud. Vembu supports Windows, Linux, Mac, and NAS devices. You can granularly backup MS Exchange, MS SQL, MS SharePoint and MS Outlook. In addition, you can enable continuous data protection.
Offsite DR – In case you have a secondary location, you can utilize Vembu Offsite DR to replicate your data Offsite location. When your data center goes down, you can retrieve all your data from offsite DR. You can even start the servers on the offsite location.
Cloud DR – You can benefit from local and cloud backup with Vembu Cloud DR. For example, the primary copy of your data can be stored locally on-premise while you can replicate secondary copy to the Vembu Cloud. You can restore from anywhere, WAN accelerated with Inbuilt Compression and Encryption.
New features in Vembu BDR Suite v4.1.0
The latest release brings a number of enhancements, features, and fixes to improve overall stability and performance.
Hyper-V Incremental Backup using RCT
Vembu BDR Suite v4.1.0 uses Microsoft's native Resilient Change Tracking (RCT) to keep track of changed data blocks in virtual disks of Hyper-V VMs for VMs running on Microsoft Hyper-V Server 2016 or later.
Application-Consistent Backup for Oracle
If you are using the Oracle database this is an important feature for you. You can now enable application-aware processing and create transactionally consistent backups of the Oracle database running on VMware VMs.
VMware Backup Proxy
VMware proxy enables you to take fast and efficient backups of VMware VMs by offloading the VMware backup process from the BDR backup server to one or more dedicated proxy server. By using the backup proxy, you can also scale the backup infrastructure easily.
Scale-out File Server
Backup support to protect Hyper-V VMs data on the Scale-Out server.
System Files Exclusion
You can save a lot of data when performing image-based backups. Vembu has the option to exclude the system files (pagefile.sys & hiberfil.sys) for image-based backups such as VMware, Hyper-V, and Windows. This option is supported on Windows NTFS volumes only.
Integrity Check Management
The latest version brings enhancements to the Integrity Check Management. In the previous version, the 3-tier backup verification was: Boot test, Mount test, and integrity test will take automatically every 24 hours to check the recoverability of the backup physical/virtual machines. But from this version forward, the Integrity check management option provides the flexibility to customize the 3 tier verification process. Now it can be based on your needs, for example enabling any or all the 3 tests. You can set up how frequently you would like to run integrity checks and so on.
In addition to all the listed features, Vembu BDR Suite 4.1.0 has many additional enhancements and bug fixes not listed here.
You can test the Vembu yourself for 30 days, free of charge. Download the latest version and see how easy it is to protect the entire infrastructure.