One of the benefits of Vinchin backup is its vast support for multiple virtual platforms. VMware and Hyper-V users can select from the extensive list of backup products, but what if you are using a hybrid platform in your data center? Many companies don't want to rely on one platform or want to optimize costs, so they rely on several virtual solutions to optimize their workloads.
The problem with multiple platforms is data migration. For example, if you want to move virtual servers from one platform to another you stumble on a problem. There are no built-in tools. Also, if you want to recover a virtual server to another platform, you don't have any tools built-in. Vinchin with its extensive virtual platform support shines also with migrations, you can easily migrate workload from one virtual platform to another. Vinchin supports more than 10 virtual platforms including VMware, Citrix XenServer/Hypervisor, XCP-ng, Oracle Linux Virtualization Manager/oVirt, OpenStack, Sangfor HCI, Huawei FusionCompute, and H3C CAS/UIS among the others.
Installation
Vinchin Backup & Recovery installation is a remarkably straightforward process. You can create a USB drive that you can use for the installation. But you can also mount an ISO image and use it for installation. When you boot your server there are a couple of things you must set up to start the installation. You can set date, time and time zone, keyboard, and Language.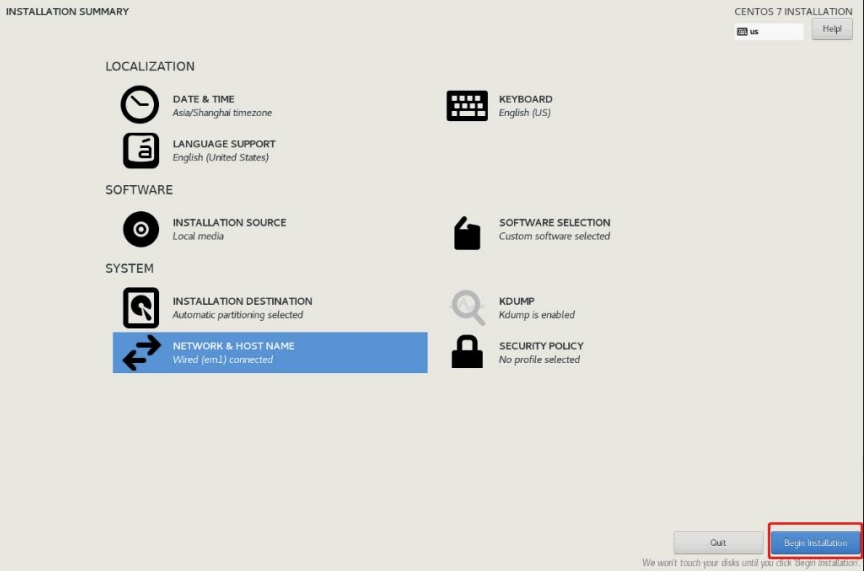 You must select the installation destination, set up the network and hostname.
If you have more than 200 virtual machines or 50 TB of data, you can optionally install a Vinchin backup node to share the workload with the backup server.
After installation is complete, you log in to the web console where you have to change the default password. In the web console, you can also add a proxy server.
User interface
Vinchin has designed easy to use web user interface. The main benefit of a web interface is that you do not have to install a client on a computer where you would like to manage it. All you need is a web browser and you can start using the backup.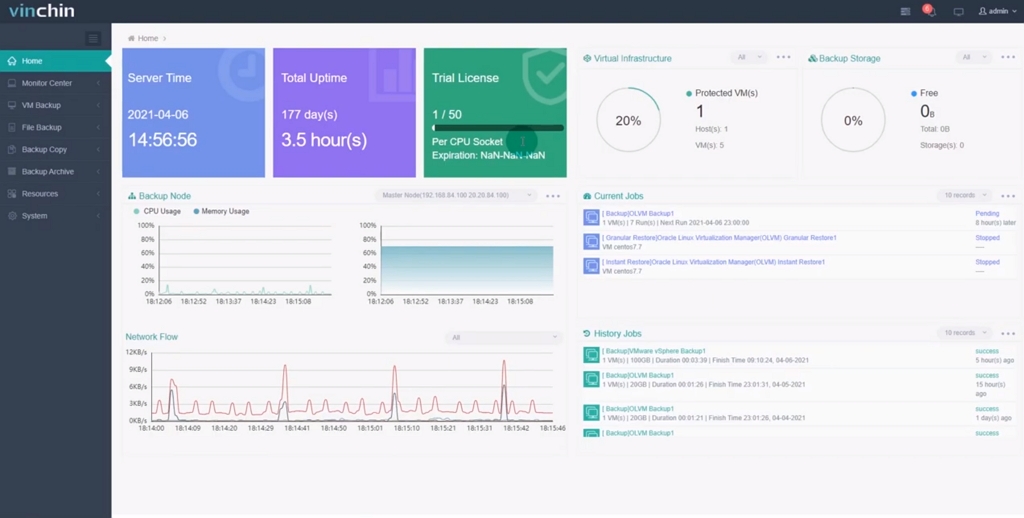 All tasks can be set quickly and you don't need to read hundred pages of manual.
In addition to great UI, you will also find great reporting tools.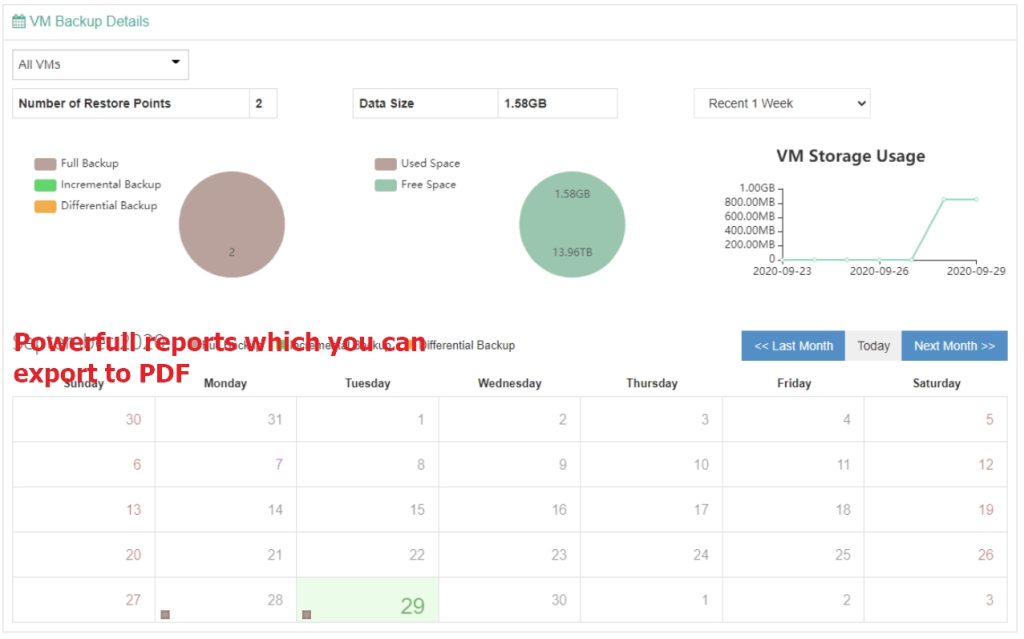 Vinchin Features
Vinchin is certified by leading virtualization vendors which proves that it is reliable and trustworthy backup software. They support workloads natively meaning that they communicate with the platform by all the standards and operate with the native APIs of that platform. Vinchin has great support, you can expect a response to any service request in 1 hour, 24/7.
Backup is image-based and does not require any agents on the VMs. To improve performance, Vinchin will use multiple threads for data transmission which will speed up the overall backup and recovery process.
Deduplication and compression are used for backup for reduced backup size. They have also created a technology called BitDetector which will exclude swap files, partition gaps, and unpartitioned space during backup.
You can set up a full backup, forever incremental backup, and differential backup. If you are using SAN in your infrastructure Vinchin Backup and Recovery can use a LAN-Free path (FC, ISCI, NFS) so you will not affect the network, plus, you will maximize the speed of the backup.
Built for speed
Vinchin Backup and recovery can instantly recover the entire VM from any restore point – regardless if it is a full backup, incremental backup, or differential backup. In terms of time, Vinchin can recover a TB-size VM in 15 seconds and all VMs can be recovered in 2 minutes.
You can also run backups in an isolated environment. For example, if you want to test the update procedure or if you want to test the backup. Again, speed is on our side as an isolated environment and target VM (or multiple VMs) can be started in a minute)
Advanced system protection
Vinchin has support for self-protection with the configuration backup feature. You can rely on an automatic configuration backup but if you plan to install patches to the backup system, upgrade the backup, or plan on repository expansion, you can manually start the configuration backup. If anything goes wrong, you can easily restore using the backup data.
Vinchin is an ideal Backup for databases
Some backup products do not have built-in support for databases. That means that when the backup runs, a database is not aware that backup is taking place. In such cases, you may not have a consistent backup of the database. Vinchin has support for a hot database consistent backup. Database support is included for Oracle, MS SQL Server, and MySQL – the most popular databases. Databases are particularly important for application performance. It is not uncommon to install databases on physical servers to squeeze the maximum performance. Unlike some backup vendors who only support virtual environments, Vinchin has built-in support for physical servers as well, so you can rely on one solution for your backup needs.
Conclusion
Vinchin has developed an excellent product with great functionality. If your virtualization platform is not VMware or Hyper-V, the choice of backup products is limited as most vendors support only those two platforms. I can see XCP-NG being used more often and additional backup options are great for the platform. Vinchin has a 60-day trial – I think the longest trial option among all backup vendors so you can test the product to the fullest.