Version 7.0 of Vinchin Backup & Recovery, which has been highly anticipated, is set to be released soon! This latest release will introduce several new features, such as NAS backup, physical server backup for both Linux and Windows servers, VMware backup verification, MariaDB protection, and advanced Hyper-V protection. Below is a quick overview of the new features you can expect in version 7.0.
V
Mware Backup 
V
erification
Vinchin Backup & Recovery v7.0 now supports automatic backup verification for VMware users in an isolated verification lab. This feature enables VMware administrators to validate the integrity and accuracy of backups and ensure they are well-prepared for disaster recovery. Data retrieval success heavily depends on the quality of backups, and any compromise in their integrity can lead to business continuity issues. In the past, incomplete or invalid data may have been transferred to backup software, posing a threat to data availability in the event of an interruption. With Vinchin Backup & Recovery v7.0, VMware data verification allows for fully-automated validation tests in a lab that has the same setup as the primary site but does not affect the production environment. Backup verification is crucial to guarantee backup data availability and ensure that organizations can restore backups from any data loss event.
N
AS Backup
Network Attached Storage (NAS) is a flexible and scalable storage medium widely used by many enterprises across industries to store various data such as pictures, files, videos, etc. Backup plays a crucial role in rescuing lost data. By saving another copy of data on your NAS device, you can seamlessly restore it with minimal impact on business reputation and finances. With Vinchin Backup & Recovery 7.0, not only does it support NAS backup, but it also performs it exceptionally well. It assists in setting up a complete and efficient NAS backup plan with high-performance massive file backup, flexible job scheduling, and storage-saving data compression features. Additionally, the Backup Copy feature can be fully utilized to create extra NAS backup copies on secondary or offsite storage for better preparation for emergencies.
Linux & Windows Server Backup
In addition to VM, NAS, and database backup, physical server backup is equally important. With our new release, Vinchin Backup & Recovery 7.0 now extends its backup capabilities to include physical servers running critical applications. This latest version offers reliable and efficient application-aware backup for both Windows and Linux servers. Customizing the backup plan is made easy with a variety of features that can be configured through a single web-based console, just like virtual machine backup. Data security is a top priority for Vinchin, and we employ robust security mechanisms to protect vital data. The AES-256 encryption standard encrypts data, and password verification is required for every recovery request. Additionally, the transfer path is encrypted with SSL encryption technology during the entire process to provide further protection. Many companies still use physical servers for file sharing, cost-saving, or locally installed apps, and Vinchin Backup & Recovery 7.0 is an excellent solution for such cases.
MariaDB Database Protection
Great news! Vinchin Backup & Recovery 7.0 now supports MariaDB, one of the most popular database servers globally. This latest release includes comprehensive backup strategies and security measures for MariaDB. V7.0 offers automatic backup and recovery with self-defined scheduling and multiple database backup types for MariaDB in both physical servers and VMs. Moreover, restoring MariaDB database backups to arbitrary destinations, such as the original database or a new one, is simple. Control over databases is also accessible from the web-based console. Rest assured that all backups saved in the Vinchin server will be secure via the AES-256 encryption standard, even in the event of ransomware attacks or primary site failure. Data security is further ensured with Backup Storage Protection and other measures in place.
Extra Bonus
In addition to its powerful backup and recovery capabilities, Vinchin Backup & Recovery 7.0 also offers a more user-friendly and dynamic data visualization interface. This feature includes statistics from daily operations to facilitate straightforward data management.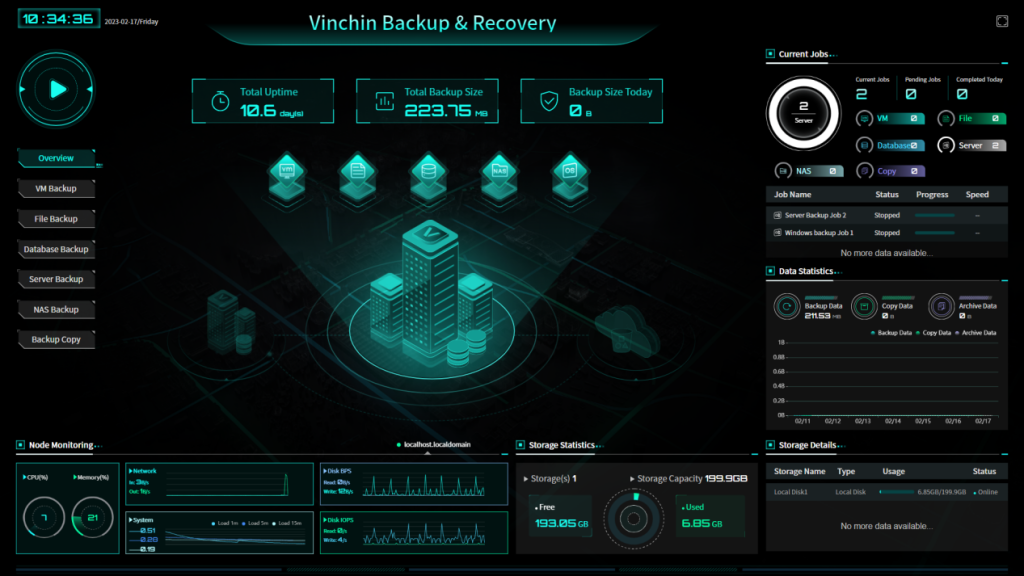 The interface can even be projected onto a big screen for meetings or continuous data monitoring. With this data visualization feature, businesses can make data-driven decisions from a broader perspective. Would you like to try out these new features? You can download a 60-day free trial of Vinchin Backup & Recovery 7.0 and discover even more surprises.