In the past two years running this website, I learned a lot about WordPress. First thing I noticed is how I got to love it. I admit that at first I was a bit cautious, especially since I had to choose a platform. Joomla, Blogger, WordPress? You know, that decision will mark your future. Will you have to migrate to another platform after two years? Hm, that wouldn't be a great experience. But amount of time you have to spend and all the things you have to learn in order to keep SEO juice when moving to another platform is just, too much of everything. Time better spent writing or learning new IT stuff.
Now, I  love my decision for using a WordPress. I had great but I also had bad experiences. What I learned in the process changed the way I look at plugins.
WP Rich Snippets review
WP Rich Snippets is one of the plugins you get when you buy AUTHOR HREVIEW. In the package you get, are three plugins. Author Hreview is the first plugin that started WordPress review revolution. Because of it's unique look, author decided to create another plugin called WP Reviews. Wp Reviews was a great upgrade in both functionality and features. Third, last and most feature complete plugin is called WP Rich Snippets. This is also the one that can be fully extended with additional Add ons.
What makes WP Rich Snippets so great is that it's modular. You can use just the plugin, but then when you need additional functionality, you can easily install add on's.
If you read a computer magazine, you have stumbled on a review area. In the review area, there is a summary of good and bad about the product, score and editors note. Similarly to the magazine you can have your own review area on your website. You can use reviews as a bonus on top of your regular content or you can base your entire website on a review niche. For example, Laptop review website, cameras review website, VPS review website, Restaurant review website….
One of the benefits of having reviews on your website is a Google feature called Rich snippets. In some cases, Google can pick up your review and if properly marked with SCHEMA, it can show nice stars along the heading.

Having rich snippets in search results is important. Your review may be on a fifth spot in search results. Usually, people click on a first position. Maybe second and third. But with rich snippets, your review stands out. That way you can increase conversion and drive traffic to the website you would not without using the snippets.
Increase conversion
Everyone who runs a website has the same question, how do I increase conversion, how do I increase number of clicks to my links? If you place links only in the content, links can be missed. Reason is pretty simple, when users are screening your content, they may miss a link due to skipping the part you think they will spend more time. With Wp Rich Snippets plugin you don't have to worry about conversion. Why? Because it's done in a way to grab attention.
Users screen the content and open links in the new tabs for reading after main content. Or, they can be inpatient and go straight to the source. In both cases, smartly designed review box can help you convert.
You can see that visitors click most of the times on the button which is part of the plugin. And the button is clicked without reading the content first. The reason is that it's on the perfect position and it has the right color so that is seen. You can easily experiment with the colors with the Customize add on to increase conversion even further.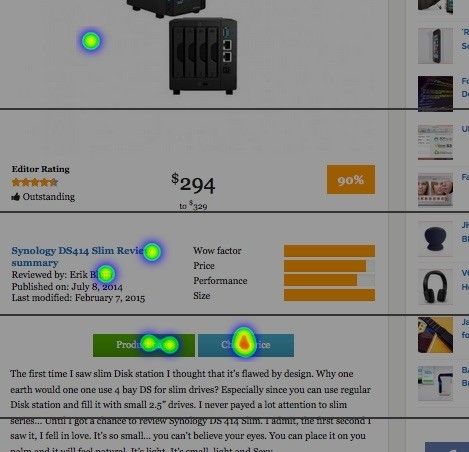 Second benefit of WP Rich Snippets is conversion for affiliate websites. When you place your aff. links inside the article they may get lost. WP Rich Snippets makes conversion high by presenting graphical elements (buttons) on the top and at the bottom. Usually visitors screen your content most visitors pay attention to top of the post, then they scroll down and stop at the bottom. By having buttons also at the bottom, visitors won't miss links.
Third benefit is when you use review widgets in the sidebar. You can engage with your visitors and they will spend more time on your website by reading similar reviews.
Review explosion
I think that settings are really well thought, just like design of visual elements. What about the visuals? How do WP Rich snippets reviews look? What can snippets do for your site? First, it will help you show rich snippets in Google search.
Once they reach your article, they will screen the content. In some cases they will read everything you have to say, but mostly they will go through the content quickly and read only what they will find interesting.
Before the content, they will see a review box. In the box, there is the Editor rating, and a Review summary. At the bottom of the box there are two buttons you can put to a great use.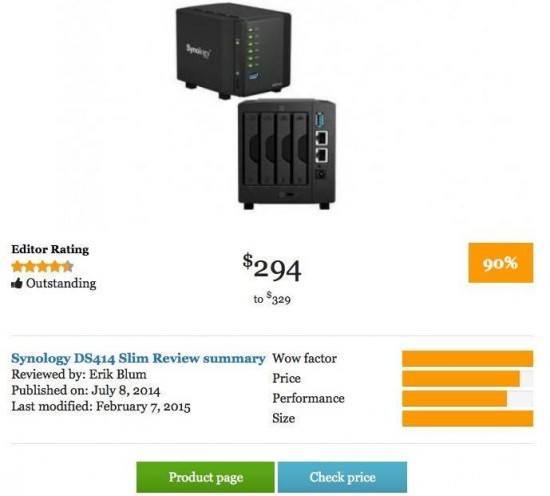 Once they reach the bottom of the post, you can show call to action box with the review summary. Again, you can include buttons with your links.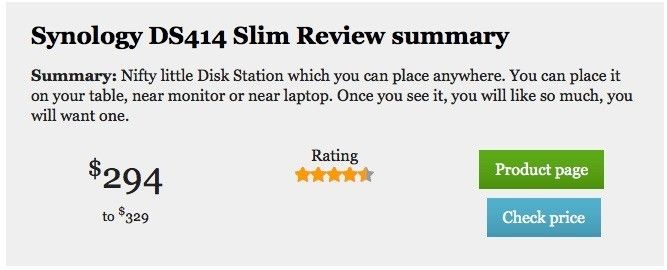 That way, chances for a user to click on the link are pretty high. Because call to action box is at the bottom, it's colored in light grey. Not only does it have a professional look, but because of the color which is different than the page background, it is bringing attention to the summary.
Your reviews can stand out. They can look pretty and they are optimized for conversion. What about PRO sites which main focus is reviews? Let's take a look at the following example.
Comparison Table Add-on 
Comparison Table is used to compare several products next to each other. You can view all important information listed in easy to view and easy to decide manner. You can see review rating,  price, criteria, description and out bound links. You can set which fields will be shown and can easily exclude price for example.
[wprs-compare type="rating" cpt="post" ids="1865,2803"]
 Ranking Table Add-on
Ranking table is best used used when you want to show product rankings. For example: iPhone is the best, on the second spot is Galaxy X, on third space is LG G 12 and so on.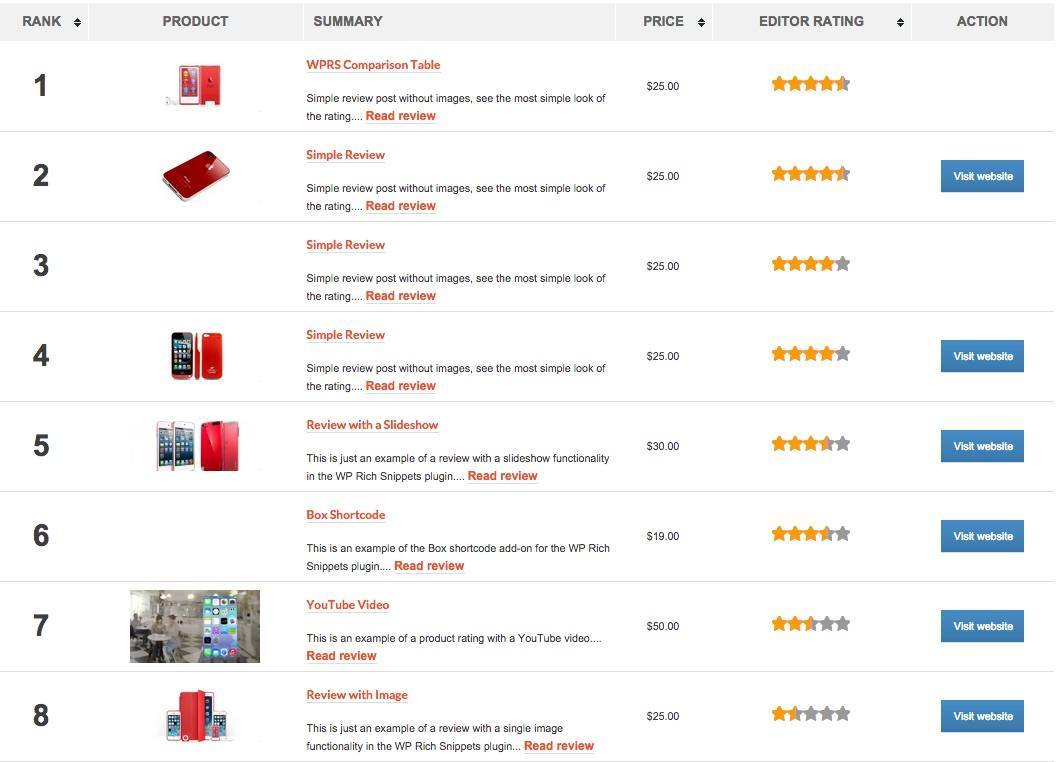 Engage with your visitors
WP Rich snippets also provides a way to engage with your visitors. You can enable users reviews so that visitors can rate the products. They can share their ratings and add rating to products you reviewed like VPS, Laptops, etc… If you are a photographer users can rate and comment on your photos.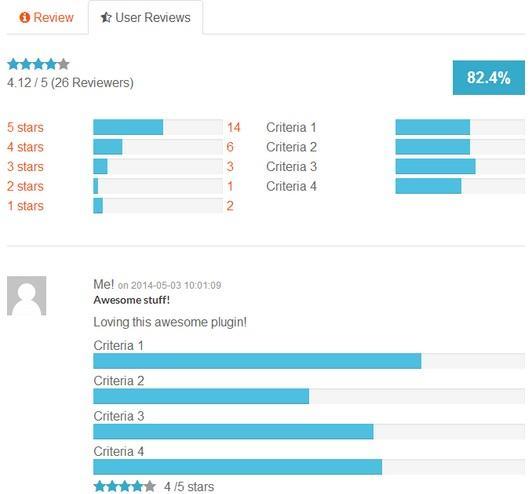 Why having a good plugin is important?
I was not expecting this, but was shocked when I decided to update several plugins. Wp review PRO plugin that I used in the past had update notification. I checked the changes and noticed that they fixed structured data testing errors and warnings, on March 14th. 19 days after WP Rich snippets posted on a blog that all the plugins have been updated.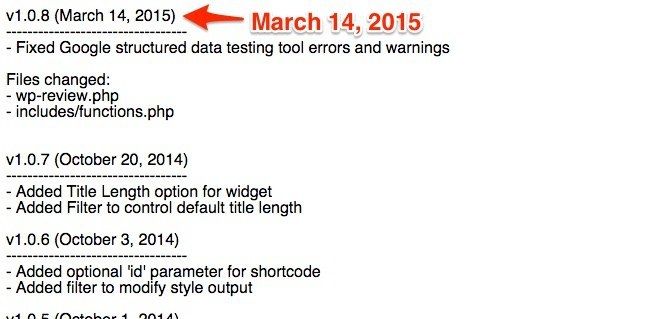 On the other hand, let's take a look at blog post from Authorhreview website notifying its customers that plugin was updated.
Imagine that Google would make changes in way that would prevent your reviews to be shown on search results, how long can you be without additional traffic that rich snippets bring to your site?
WP Rich Snippets speed performance
Whenever I install a plugin I test how heavy is about using of server resources. Before I installed WP Rich Snippets I checked VPS performance. Server response time was 380 ms. You can see fluctuations that are normal, I was afraid that after WP Rich snippets installation I would see spikes that go above 1000ms. Also, I was afraid that average response time would go above 500 ms. Ok, I have installed the plugin, placed reviews to the products I have reviewed. Tired, I went to a bed.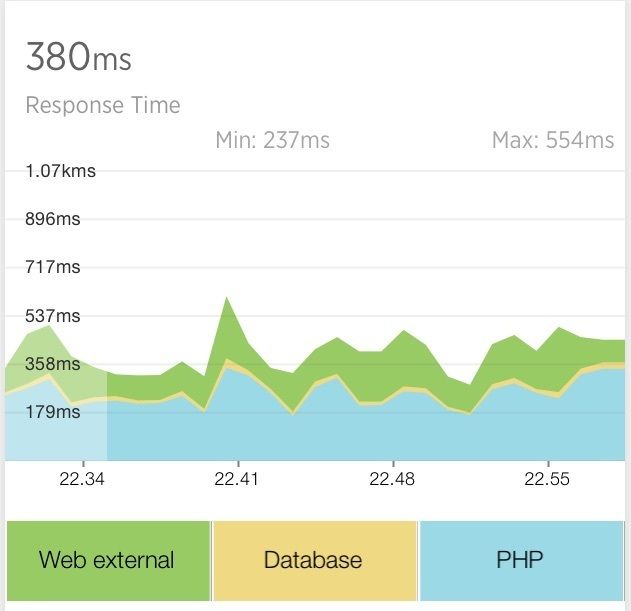 In the morning when I woke up, I checked how the server performs. To my surprise, there was no increase on the server load. Performance was pretty much the same as it was before the plugin was installed.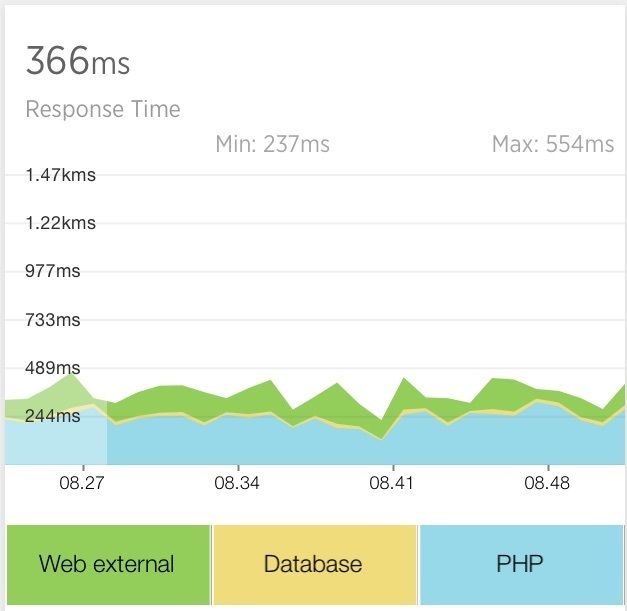 It's important that plugins don't drag your website performance down.
Use only the best quality plugins
In the past to years I had experiences with both:
First time, you set up you setup your website, it's better be good. Bad themes can ruin your Adsense, SEO and even performance. The same applies to plugins. Like most websites where reviews are published, I wanted to add a review snippet somewhere on the site. Before the WP Rich Snippets plugin I decided on a plugin called WP Review Pro. It's a premium plugin and it costs some money. At first it was working fine, but after one update, my website stopped responding. It was showing a blank page. I said holy moly, wait a minute. Something is wrong.
After investigation I discovered that problem is related to WP Review plugin update. Latest update was buggy and it destroyed my website. When visitors reached the website, site would not load. It showed a blank space. What a mess. But the thing is, I didn't check the website after plugin update. After 3 hours have passed I was noticed there was a problem. If I had a longer errant, I could easily find the problem after a day.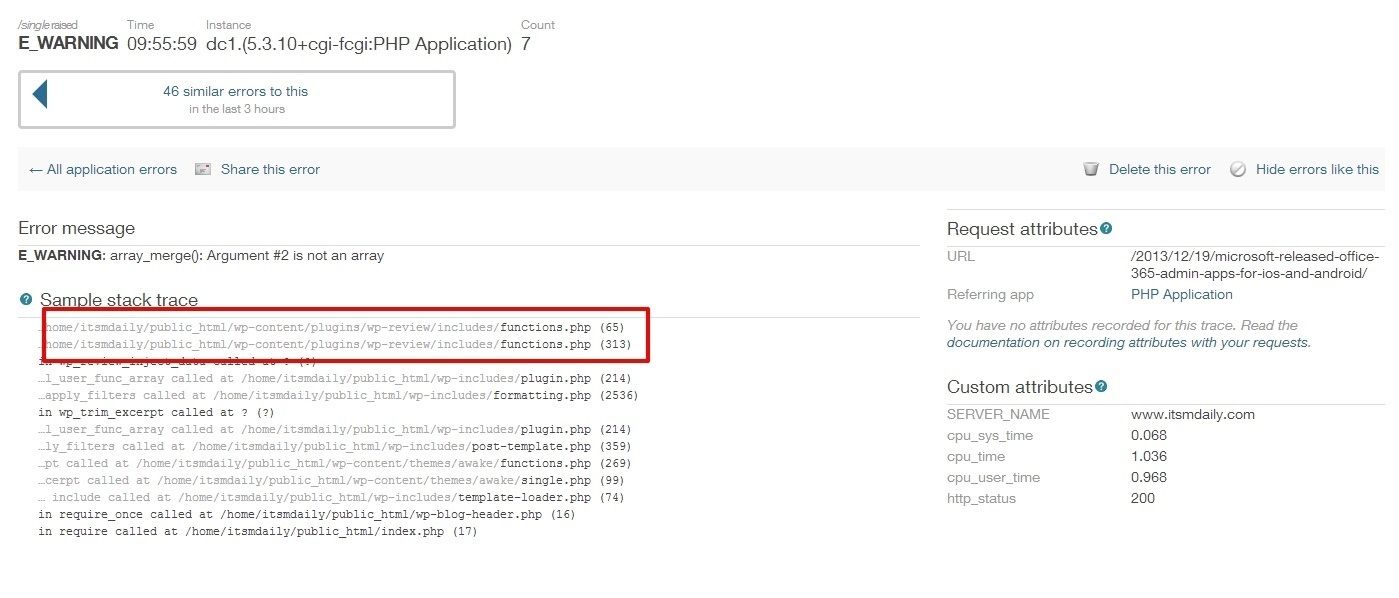 Then when I discussed experiences I had with a friend he gave me the best idea. He said, just because of similar problems, we had audited our themes and all the plugins we use on our company website. We use only the best so that we don't run in to similar problems.
I went out for a hunt and found what I believe is the best, most feature rich review plugin for WordPress. Just like it's said for a Genesis to be one of the best frameworks, WP Rich Snippets is one of the best review plugins for WordPress. What have I learned? That I was missing on so much.
WP Rich Snippets Settings
Backend settings
It's amazing how this plugin is well thought. I mean, author thought about every aspect of review website. In order to minimize post work, you can set default currency, you can define where WP Rich Snippets will be shown. You can show it on a post or on a page or even both. Affiliates will love Disclose feature, which if enabled shows additional link on a review – Disclosure and points to a page where you have posted disclosure about your website. You can also choose if you want links to open in the same window or a new window.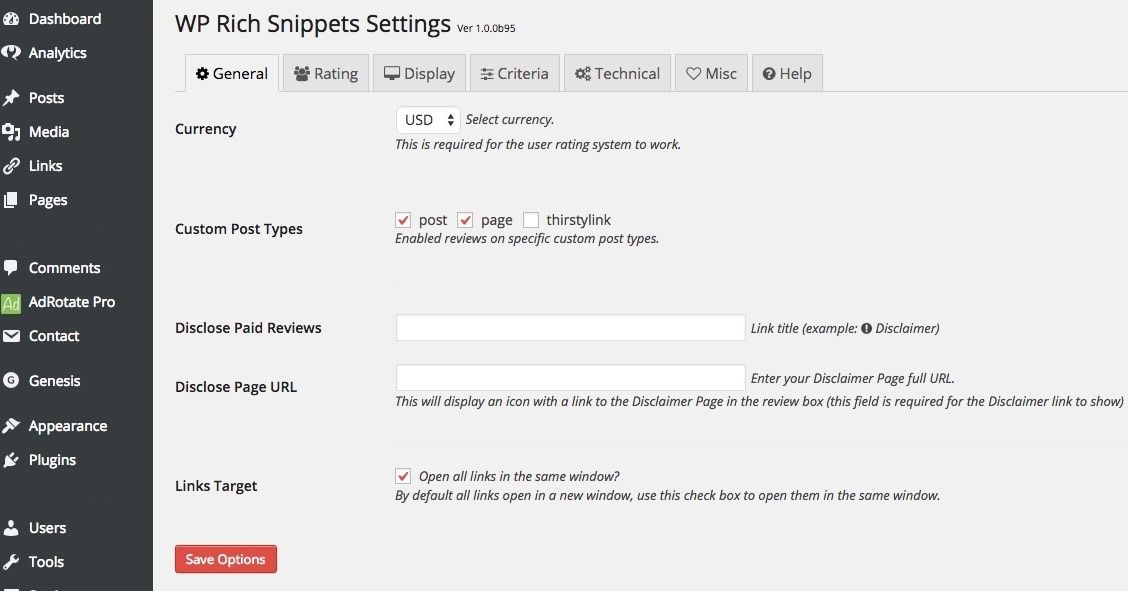 On a Rating tab, you can enable reviews for site visitors. Visitors can participate in reviews by giving their own score. You can enable a feature that users must choose a rating. You can enable enable IP Address check to prevent multiple ratings.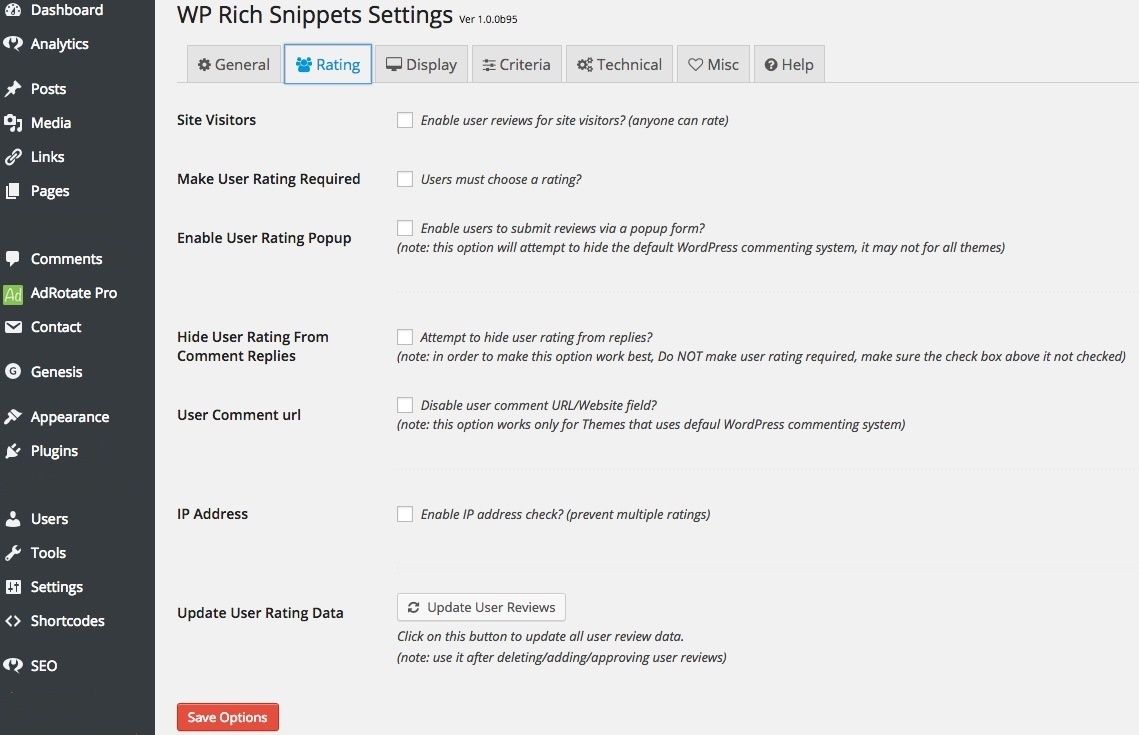 Under Criteria Tab, you can set default criteria. If you have a website like mysuperlaptopreview.com you can set default criteria that is used on every laptop review. If you have a restaurant / furniture niche website, you can set default criteria that is used in your niche. This will save you a lot of time in the long run.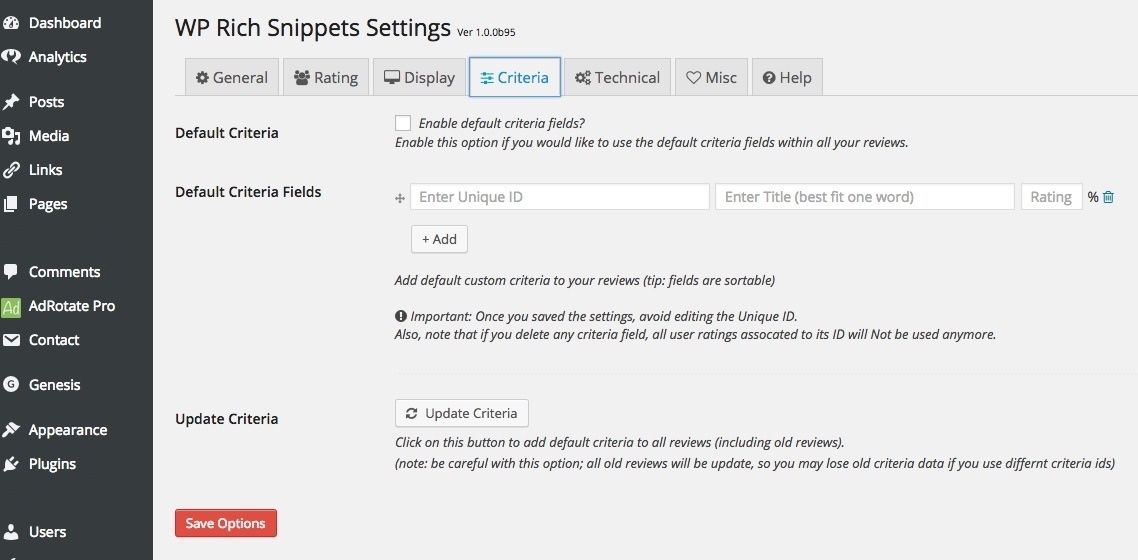 On a Display tab, you can choose to show a review box below the content instead of default top position. You can choose to hide criteria and avatars on user reviews.
You can choose to order user aggregate reviews by Date or Rating and you can even enabled pagination for user reviews. In case you would like to hide Author on reviews you can do so. You can also hide date, last modified date, Price or just the currency Symbol.
You can define color for default buttons and you can also change default text or buttons. By default two buttons are named More details and Demo. You can change this to anything you like. You can also add Font Awesome icon in front of a button by using a selector.
You can choose to disable to include featured images in a box, you can unlink pictures from a review box for a better picture SEO and you can who FREE instead of showing 0.00 price.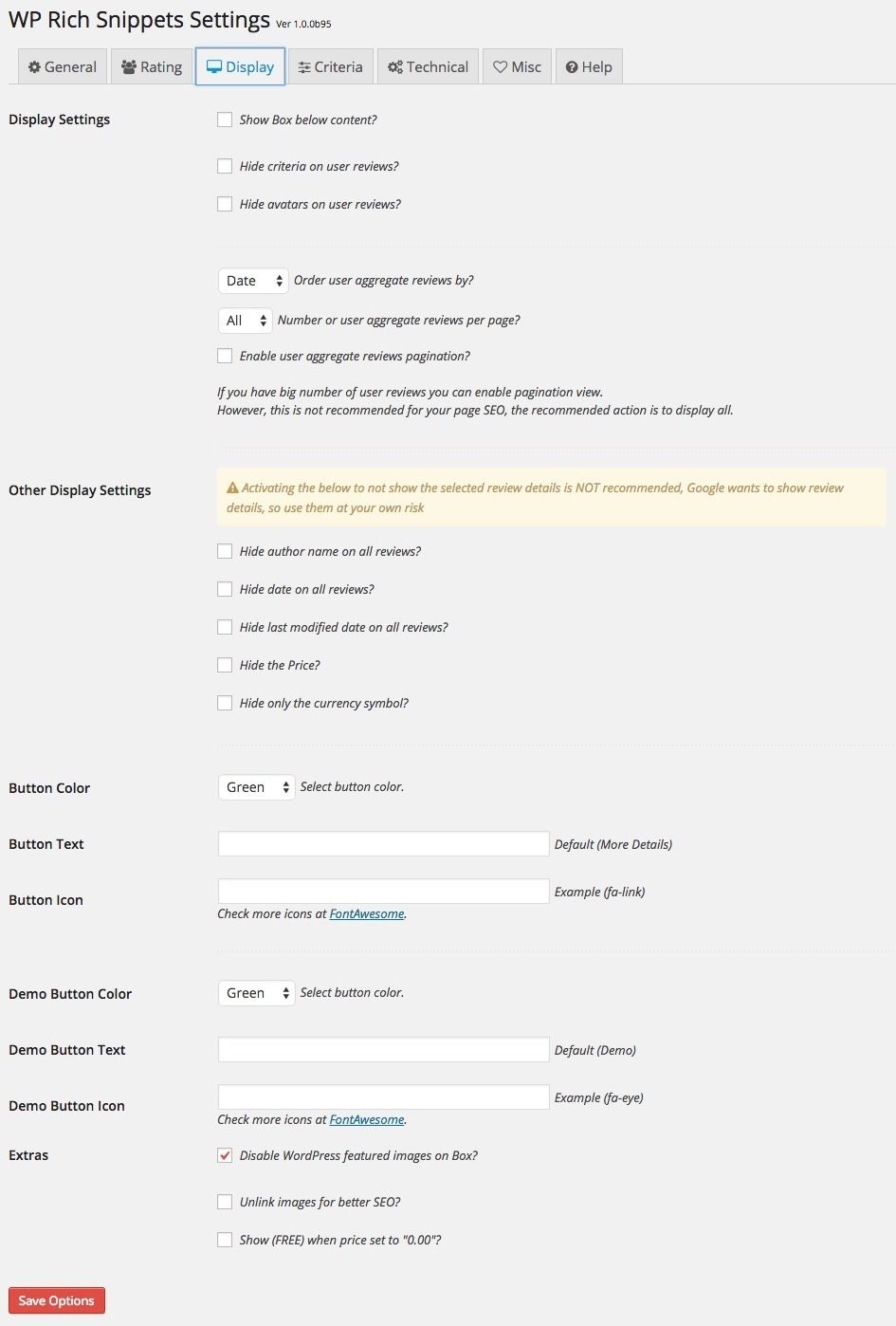 Technical tab is dedicated to performance. You can disable loading of stylesheet, you can do this if you want to include plugin CSS in you theme CSS file, this is great for performance. The same applies to Bootstrap styles, Font Awesome and jQuery. While this is not a feature everyone will use, the ones who will, will be really grateful as they will be able to optimize website for speed. The last option is a reset button. It's colored with red and it's rightfully so. If you decide to stop using a plugin, you can reset validation key and all the options.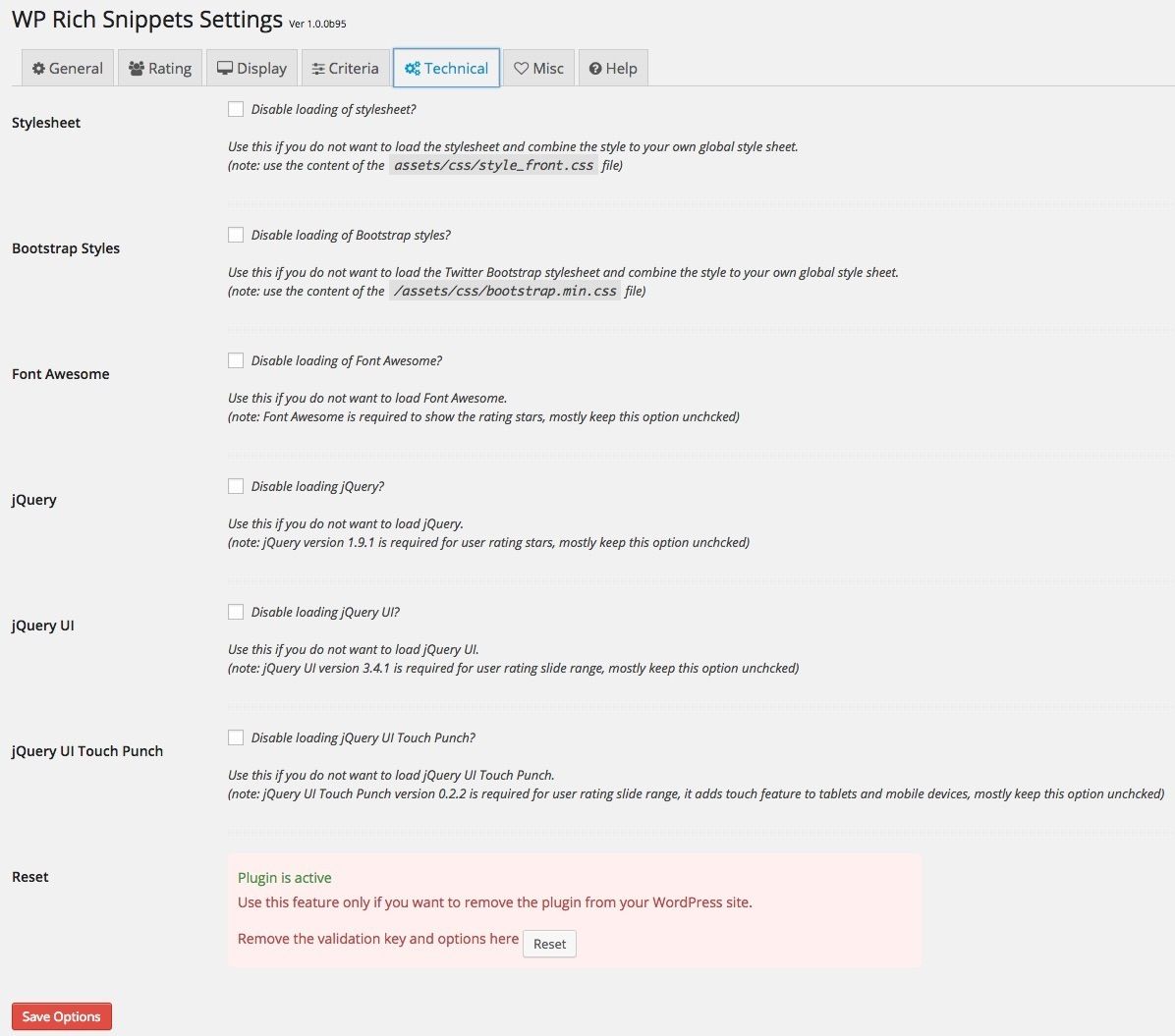 In the Help tab, you will find shortcodes for Pros and Cons which you can add anywhere to inside the post or a page.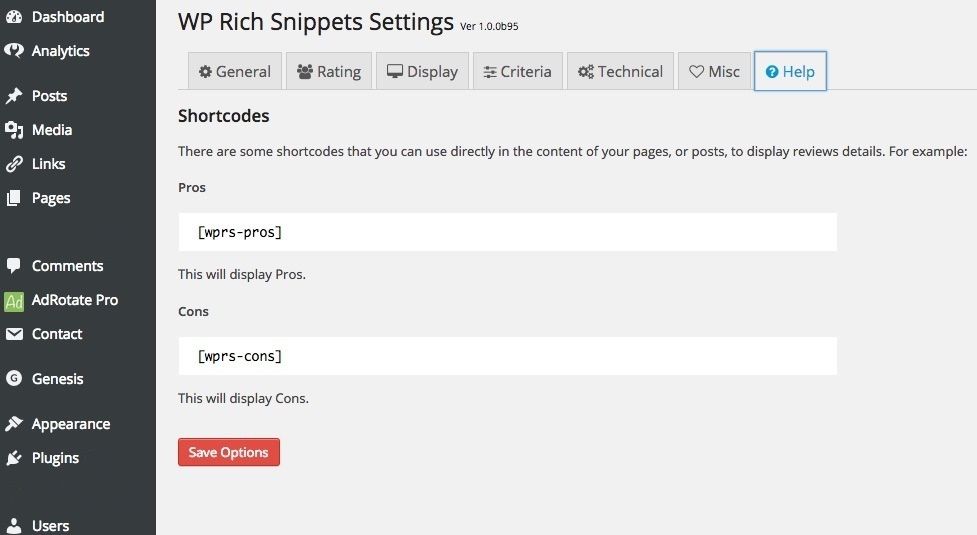 Review settings / post 
Below the post you will find a review area. It's a box where you can add data for your review. In the main settings you can choose a rich snippets type: Review, Product, Organization or a Restaurant. You can choose a review type to be Rating or Percentage. You score the the product and add description.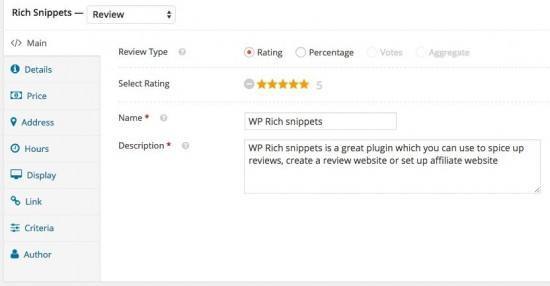 In the Details section, you add Pros and Cons about the product. By using this section, you can add two additional boxes below the article which are colored in green and red (if you scroll below you will see how it looks) in order to stress good and bad things about the product.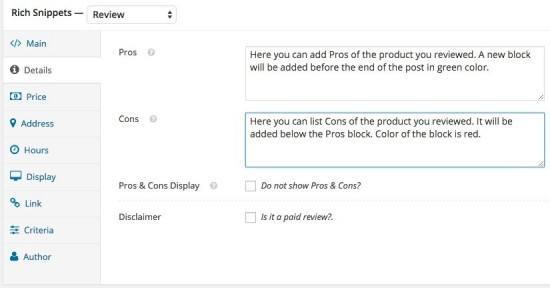 In the Price section, you can add pricing information, you can add a price or a price range. You can also add price of 0 and in the settings you can set that when zero is entered, it will say FREE instead of 0.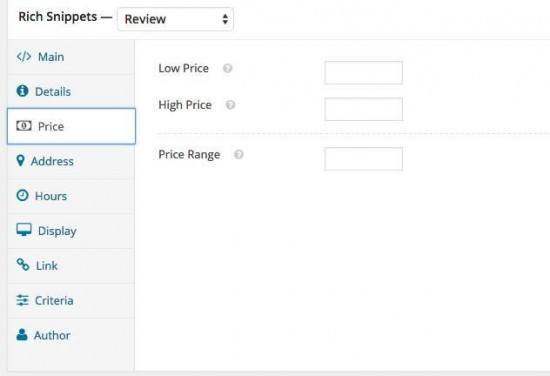 Address can be used to add an address to you your snippets. It's a great option for reviewing restaurants.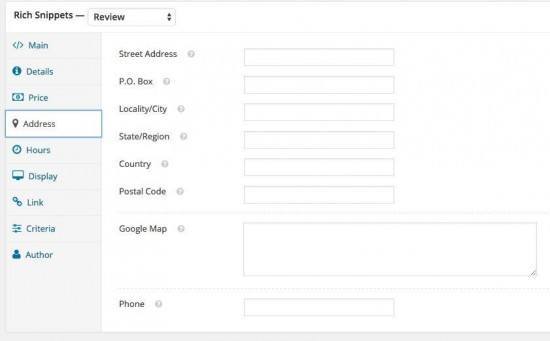 Just like an address, opening hours can be used to show additional information via rich snippets in Google search.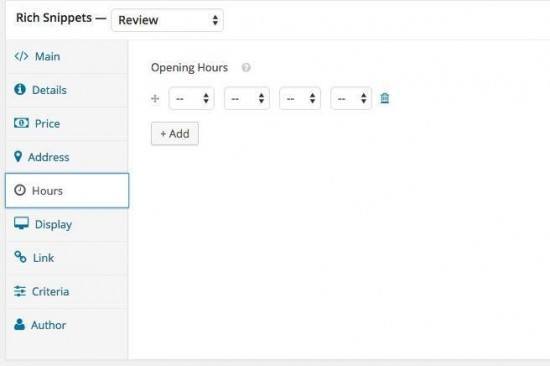 In the main review box you can add a picture of the product you reviewed. But you are not limited by the picture only. You can even add a video and a gallery slider.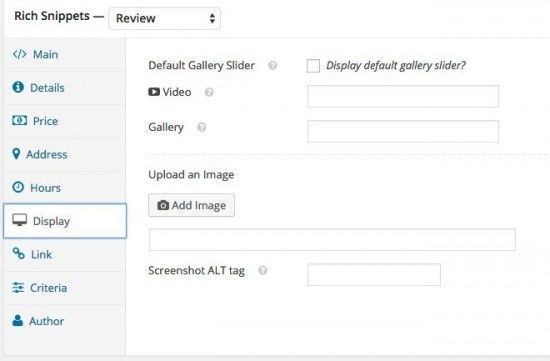 Unlike other plugins, Rich snippets includes buttons by default. Strangely, buttons are one of it's advantages. Why? Mainly because you can still find review plugins that require that you use shortcodes for buttons. Another benefit of it's buttons is placement and design. Buttons are placed just below review box and below call to action box (add on you have to install separately). Size of the buttons is just right, they are not hidden and the colors just scream for a button click. You can see that this is a professional plugin as by default links of the buttons are nofollow. You can enable dofollow on a review basis. You can also choose to open link in the same window (by default new windows will be opened when you click on a button)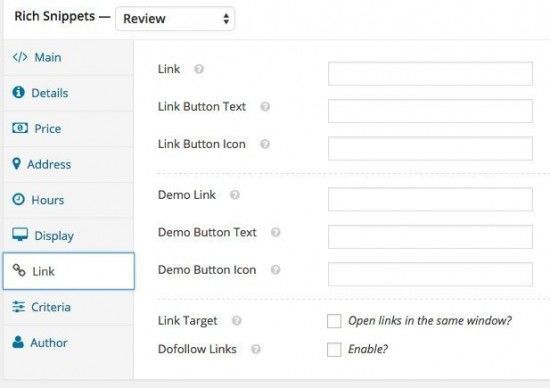 Criteria can be predefined. That is really useful if you have a website dedicated to the same type. For example, if you focus only on restaurants, laptops, plugins, etc… you will appreciate pre populated Criteria.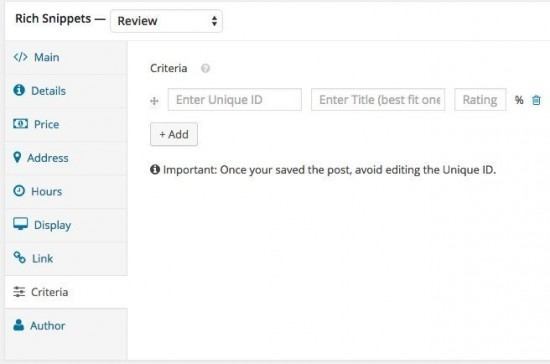 If there are multiple authors on your website, you can choose another author.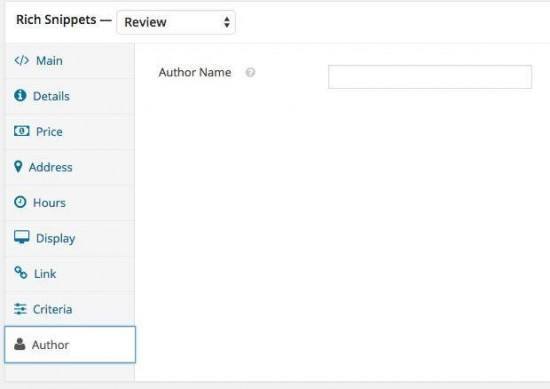 If you installed Customize extension, you can use WordPress customize section to change appearance of the Rich snippets look. Defaults look great by default by the way.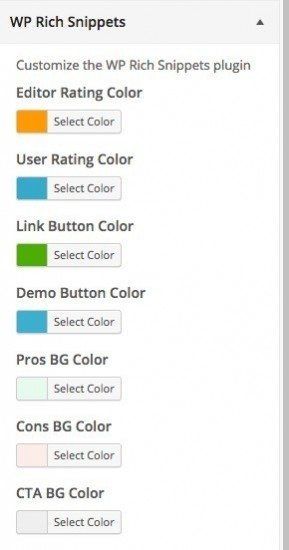 Pricing
WP Rich snippets is available as part of the plugins bundle where you get 3 great review plugins. Difference is being in the visual design and extensibility. Wp Rich Snippets plugin can be easily extended with several add-on's. There is also a free plugin available in WordPress plugin repository, which is great a great way to test a plugin.
Price for 3 plugins is $69 (promotional price), $139 (promotional price) for multi site and $199 (promotional price) for multi site including all add on's. In this price you are entitled for updates and support for one year. For a limited time, $299 Ultimate deal is available where you get all plugins and all add on's with lifetime updates and support.