Zentyal Linux is extremely nice SMB Server replacing defunct MS SMB Server for some people. At first evaluation a couple of years ago, I passed, mostly due to bad GUI. Now I was blown away when I saw the progress these guys have made. If you are supporting SMB clients, you can test Zentyal Linux, perhaps you will be surprised what it can do and how easy it is to mange. I have a case from time to time for this kind of set up, now I have a viable option. Zentyal Linux is based on Ubuntu. It's available in two versions, commercial and free so when your clients afford or need support they can go commercial.
Zentyal Linux updated features:
New GUI Latest Samba 4.1 release
New Users and Computers interface
Authentication on an external Active Directory server
GPO support Organizational Units (OUs)
New IPS module
L2TP support in the IPsec module
Faster Zentyal GUI
New headless (remote administration only) installation in the expert mode
Faster boot
Easy upgrade from an existing Zentyal Server 3.0
Some of the features of Zentyal Linux are:
Mail server,
Groupware,
Instant Messaging server,
LDAP Directory server,
File sharing & domain services,
DHCP and DNS server,
Web and FTP server, firewall.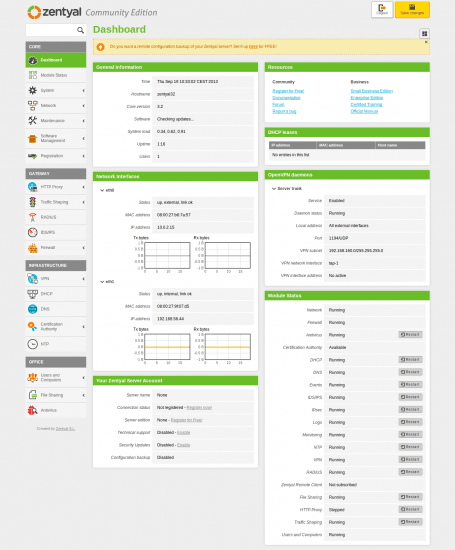 You can grab free edition here