Combodo ITop Service desk review is one of few reviews that made me smile.
Reason is that it's so feature rich, that it could replace commercial service desk software.
It has all of ITIL functionality: Service desk, Configuration Management, Incident Management, Problem Management, Change Management and Service Management.
Best of all, Combodo ITop service desk is free  and part of 6 Best Open Source Service Desk solutions.
Configuration management module
CMDB is integral part of Combodo Itop. Good first, you can manage configuration of everything, Servers, computers, Contacts, Locations, Contracts, Network devices…. You can create your own. Just the fact, that there is CMDB module is great. CMDB is essential part of every bigger IT.

Now, the bad. Everything you need to keep track of, has to be manually created. For example, would you like to keep track of IOS version? With ITop you can, but you have to create every version manually, this is also the reason why so many CMDB projects fail. While the idea of CMDB is great, it often fails. Imagine keeping track of Locations, Racks, IPs, IOS versions, Software, Hardware… manually.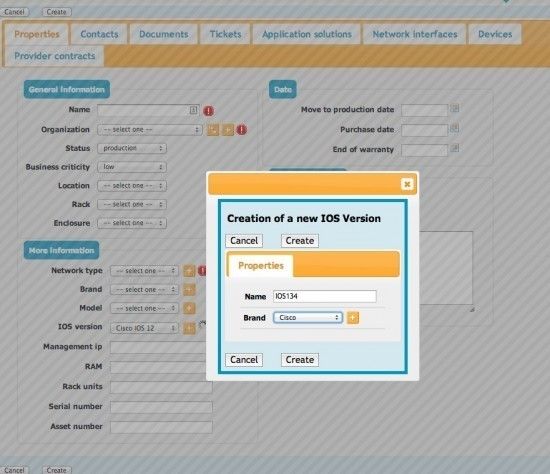 Your colleague updates one router to new IOS version, who would update data? Who would check that Router indeed runs that version? Who would check that 100 servers have version X of software really installed? After a year CMDB becomes a mess. Unless you have software that can automate tracking most of the changes. Keeping track of software, IPs, IOS versions, changes to router, switch configurations can be automated. So can tracking software… This is one area that when Implemented will ignite ITop to rock the world. Trust me.
Service desk module
Helpdesk dashboard has nice overview of Help desk state. You can quickly see how your department fares with efficiency.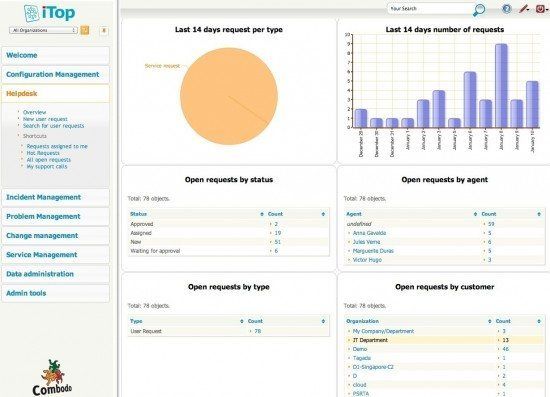 When you go to Open requests, new page opens, first half of the screen is search filter. Bottom half is dedicated to open tickets.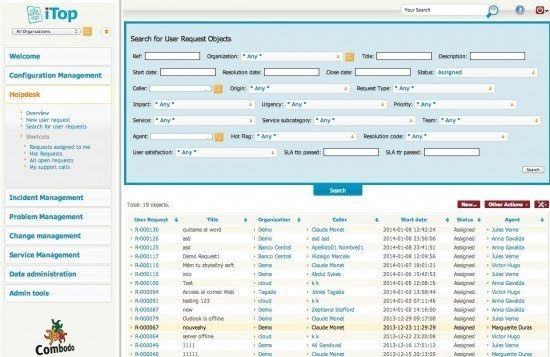 I don't know what is the reason they dedicated half of the screen to search, if you want to see open tickets you have to scroll down to get overview, but perhaps developers had use case where they found it useful.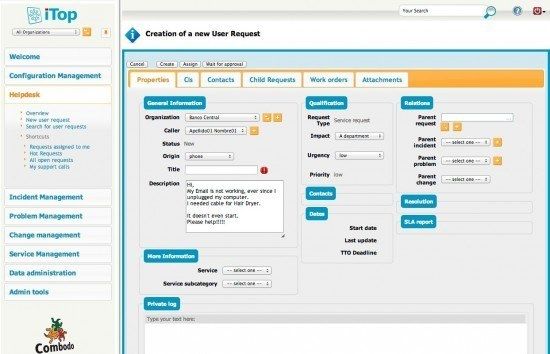 Creating new tickets is simple. All in the right place.
Ticket view is, great, just like it should be.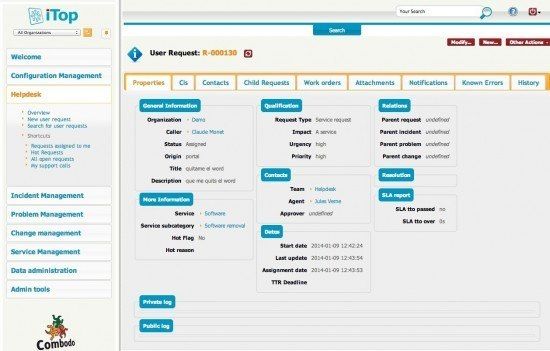 Change Management
Change Management module is similar to Help desk Module. Dashboard presents data for the most recent changes.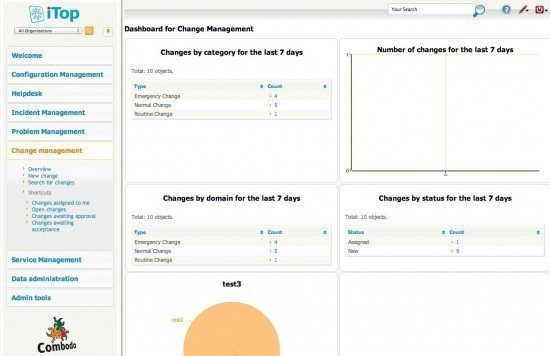 Looking at change ticket, it has all the features one might need.  Related incidents is there, Related problems check, Child changes, Attachments, Notifications, History, yes, nothing is missing.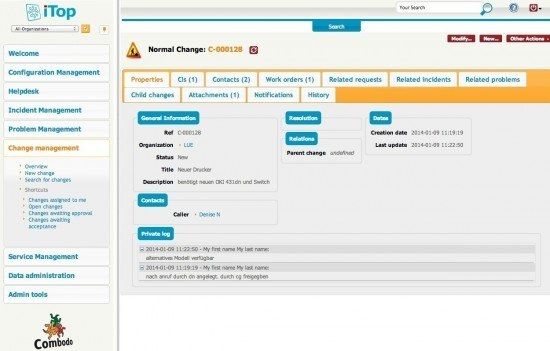 Problem Management
Problem Management Dashboard is showing you problems by the service & priority, also there is unassigned problems view, just in case you have to discuss what is the status of why they are not resolved, you can export the list via email or CSV file.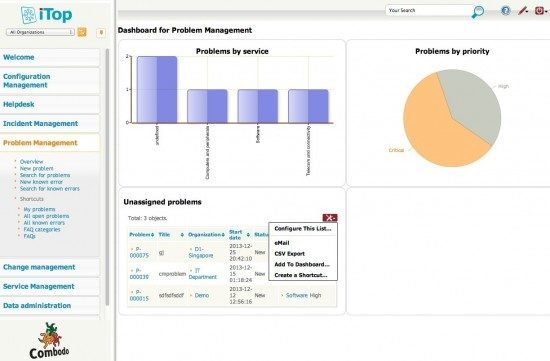 Creating new problems is simple. With problems, it's great to have working CMDB, as you can get bigger picture of the problem. You can add relations, can connect changes to the problem… nothing to add here. It's a very solid product.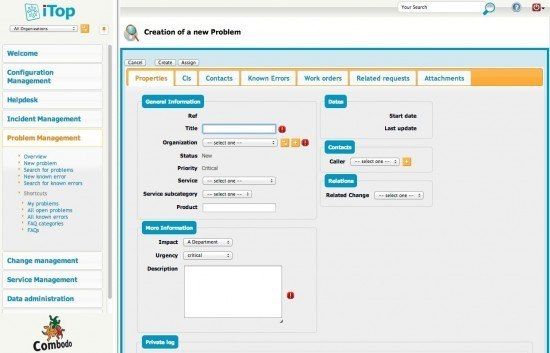 Service Management
Last on features list is Service Management. Dashboard is showing you info which Contracts expire soon.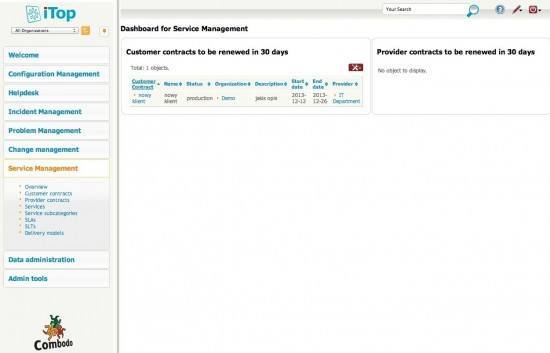 Adding contracts is simple. You can assign contacts, link services that were purchased or are sold, attach documents, Cis, and link Contracts. Nothing to add here.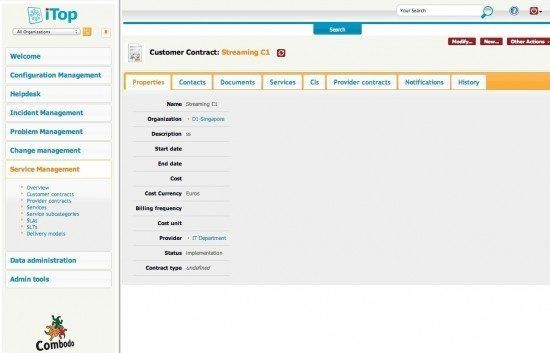 If you are using a lot of services from other vendors or you are provider of services, it's easy do have all documentation in one place.
Oh, did you know they have mobile app? Free as well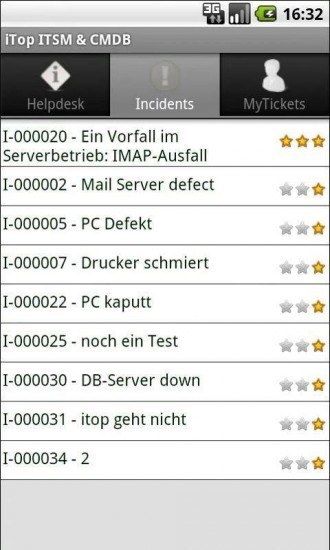 Conclusion
If you need a robust AD integration and single Sign On there are viable commercial alternatives,  SAMANGE, ManageEngine Service Desk Plus  and Freshservice will make the job done.  But while Combodo ITop has some short comings it is one of the best complete Open Source Service Desk solutions I have seen. I admit I am very impressed. Maybe the UI could be enhanced and automated change tracking addition would be great. New features I would like to see implemented are: Budgeting and resource planning, Task management,  Technician availability planning, perhaps one or two more and then it would be perfect. What I really miss is an option to assign technician in open request view. AD integration could also receive some love and SSO would be great. Aside from this 2 problems, hats down.
Itop is described as:
iTop is service provider oriented, it allows IT engineer to manage easily multiple customers or organization. iTop, a robust OpenSource web 2.0 application, delivers a feature-rich set of business processes that enhance IT management effectiveness, drive IT operation performance, improve customer satisfaction and provide executive insight into business performance. iTop is completely opened to integrate with your current IT Management infrastructure.
ITop may not be for every one, and It will take you some to configure it. But once you start using it, you will like it.
What so great about Open Source? If you need a feature, you have access to source and you can add features that you need. At the same time you can save some money.
ITOP is one of the best Open Source Service Desk solutions and I just hope that developers will work on missing elements like SSO and automated CMDB to bring it closer to a wider consumer base. Let's see what the future brings, we may be surprised.